Five Arguments for American-Made Buses & How 'The Atlantic Cities' Got It Wrong
A Foothill Transit Proterra Ecoliner
As a member of the Jobs to Move America coalition, I was more than a little dumbfounded to read a blog post by Brandon Fuller promoting a study authored by three economists from UCLA and Cornell University that criticizes taxpayer investment in American-made buses. Fuller's post appeared on The Atlantic's Cities website, which also tweeted: "@AtlanticCities: Subsidies require cities to buy American-made buses. Change that, and bus services can be cheaper"
Huh? The Jobs to Move America campaign offers a real-life rebuttal to the study's theoretical arguments against American-made buses. Here are five reasons Fuller and the research he embraces are wrong:
1) The best use of American taxpayers' money is buses Made in America.
Fuller's argument that sending taxpayer dollars overseas is a better investment than buying American-made buses simply does not add up. Why? Because approximately $5.4 billion of Americans' federal tax dollars are invested annually in buses and rail cars for public transit systems. Undoubtedly, the wisest use of taxpayer funds is to bring direct benefits to the taxpayers themselves – by improving our transit systems, boosting our local economies and creating family-supporting job opportunities.
During Jobs to Move America's pilot project, community groups advocated to attach good jobs and meaningful opportunities for American workers to a Los Angeles Metropolitan Transportation Authority contract for 550 clean‐fuel buses. LA Metro awarded the $305 million contract to New Flyer Industries, which agreed to hire 50 workers and build a new service and assembly center in the Los Angeles area, and add 150 new jobs to its Minnesota factory. Surely, this was a better investment of millions of Angelenos' tax dollars, than awarding a contract where most manufacturing work would be done outside the U.S.
2) Buy America policies are on the right track to create U.S. jobs and stimulate the economy.
Fuller is flat wrong when he says that, "by insulating U.S.-based bus makers from foreign competition, the Buy-American requirement puts American taxpayers in a perverse position." In fact, the Federal Transportation Administration's "Buy America" policy is a commonsense policy solution precisely because it provides an incentive to foreign-based manufacturing companies to invest American taxpayer dollars here in America. Competition between global companies bidding for large bus manufacturing contracts still exists, regardless of incentives like Buy America, which help create U.S. jobs and stimulate our economy.
3) Cheap Doesn't Mean Better When it Comes to Buses.
Echoing the research paper, Fuller fallaciously equates foreign-made buses with cheaper prices and better quality, writing that "buses in Tokyo and Seoul are about half the price of U.S. buses. Chinese buses, the vehicle of choice in the wealthy city-state of Singapore, are even cheaper."
The opposite is true — high-quality, safe and reliable buses are most likely to be produced in the U.S. by high-road companies that invest in their employees, ensuring that we have trained and skilled workers producing the vehicles.
There can be a huge "cost of cheap" when buses are made with low standards and a lack of accountability. Look at the recent scandal when the prominent Chinese-owned company BYD, contracted to build electric buses for Long Beach and Los Angeles, was fined nearly $100,000 by the California Department of Industrial Standards for labor law violations that included bringing Chinese workers to L.A. and paying them just $1.50 an hour.  On December 9, news broke that BYD will delay delivery of Long Beach electric buses because they need more time to undergo federal safety testing.
4) It is greener and better for the climate to make American buses in America.
The Atlantic Cities post is wrong in asserting that, "Americans pay more to subsidize public bus fleets that impose comparatively high costs on the environment and public health." There are many American companies making high-quality, cleaner buses, such as South Carolina-based Proterra's electric buses being built for California's Foothill Transit, and Northern California company Gillig's compressed-natural-gas buses manufactured for Cleveland Regional Transit.
Moreover, transporting components of a bus to and from subcontractors across the world creates a significant amount of carbon pollution. Bus manufacturers can reduce climate impacts if they simply green their supply chain by making more American bus parts, in America.
5) It's in the best interests of global companies doing business with American taxpayers to create American jobs.
Fuller's post obscures a fundamental fact: The bus-making industry is dominated by large, profitable, global corporations that often make business decisions to shift production of valuable or significant components of American buses outside of the U.S. in order to increase profits, to take advantage of "cheap labor" and other low standards in the developing world, or to provide good jobs in the company's "home country."
At the same time, tens of millions of Americans cannot find a good-paying job to support themselves and their families, and many American communities lie devastated because of decades of manufacturing jobs lost overseas — justified by the very same misguided arguments for "free trade" and "foreign-competition" that Brandon Fuller and the UCLA and Cornell researchers promote today.
The solution is for big global manufacturing companies to build more — not fewer — American buses in America.
The solution is for global bus manufacturers profiting from American taxpayer funds to take responsibility to address the American jobs crisis.
The solution is Jobs to Move America, Buy America, and other policies that wisely invest in American-made buses.
(Rachele Huennekens is the National Communications Specialist for Jobs to Move America.)

What the NLRB's About-Face on McDonald's Means for Franchise Workers
While the National Labor Relations Board is currently divided 2-2, the confirmation of another Trump appointee will restore the Republican majority — which is bad news for fast-food-chain workers.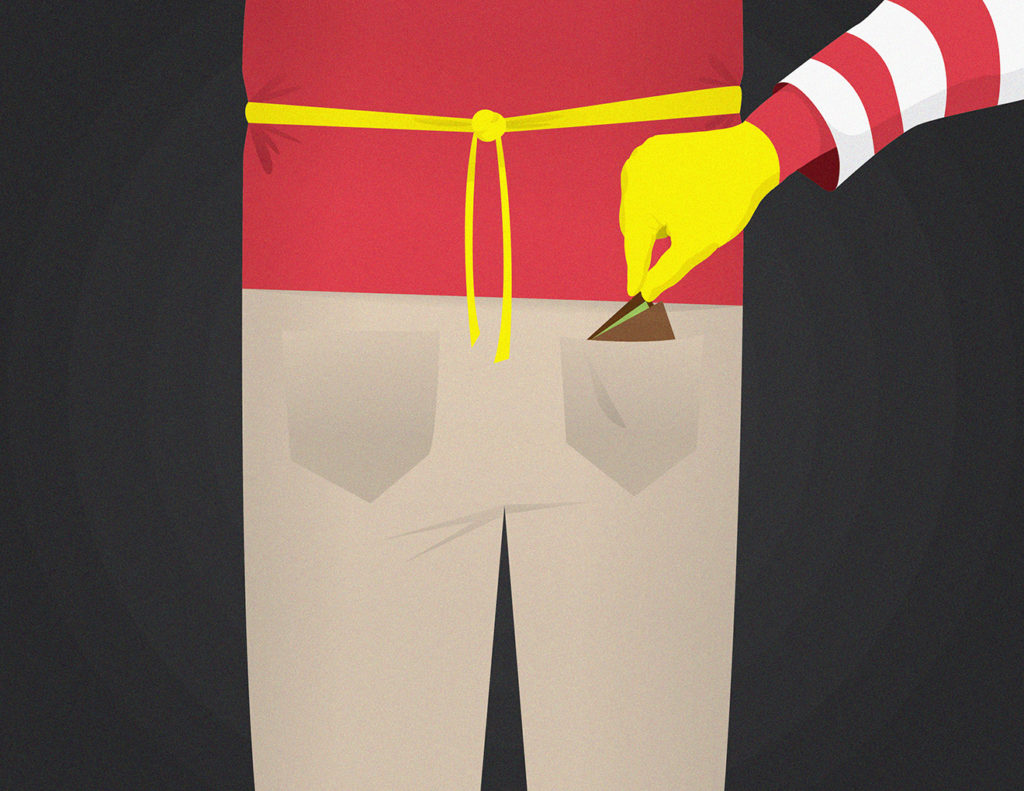 ---
With Donald Trump's election, the momentum at the NLRB is now with employers.
---
Workers at McDonald's joined the union-backed Fight for $15 campaign because many found that they could not get by on minimum wage without the help of family and public assistance. But joining that campaign spurred retaliation, with dozens of employees alleging that they lost money or their job for organizing to get better pay.
Enter the U.S. National Labor Relations Board.
In a victory for workers, the board decided the McDonald's Corporation was jointly responsible for punitive actions against employees across the country because the company dictates, among other things, how those employees cook and clean. That 2015 decision, in a case called Browning-Ferris, established a broad definition of "joint employer." It made franchisors potentially liable for the actions of individual franchises, citing the "indirect" control they exercised over employees and their workplaces. And it meant fast-food chains, among others, would have to collectively bargain with employees who joined a union.
Donald Trump was elected president the next year. By December 2017, the NLRB was back on the side of business with respect to who is and who is not a joint employer, the board overturning with a 3-2 vote the "indirect control" standard of Browning-Ferris.
Then a Republican member of the board retired, evenly dividing the NLRB along partisan lines. The board's inspector general then issued a report in February 2018 saying the December decision never should have been made — that, in particular, a Trump appointee should have recused himself due to a conflict of interest. The decision was thrown out, with congressional Democrats, such as Massachusetts Senator Elizabeth Warren, calling for hearings.
By that point, however, the NLRB had already ordered its lawyers to retreat in the most visible battle over the "indirect" joint-employer standard.
When an administrative trial began back in 2016, the NLRB had said McDonald's was jointly responsible for alleged labor violations at its franchises, including reduced hours, surveillance and wrongful termination of employees who had been organizing for better pay.
"If McDonald's is involved in determining working conditions at its franchised operations, it is responsible for what happens to workers subject to those conditions," NLRB lawyer Jamie Rucker said at the time.
But the NLRB sought and won a 60-day suspension of that trial earlier this year. Lawyers representing the Fight for $15 movement and its allies say the NLRB is now rushing through a proposed settlement that would see McDonald's get off without a finding of joint liability — which won't make it any easier for low-wage workers to collectively bargain.
"What I see is an attack on workers' ability to form a union," said attorney Marni von Wilpert of the progressive Economic Policy Institute (EPI). "If you were able to find a joint-employment relationship with the corporate [franchisor], then all of a sudden they all have one big employer, and all the employees can go to corporate McDonald's. That's really what it's all about, whether workers can organize."
Under the proposed settlement, McDonald's admits no wrongdoing, but its franchisees agree to cover back pay for workers fired as a result of their organizing.
The NLRB "is proposing a sham settlement," said Mary Joyce Carlson, a lawyer representing Fight for $15. "McDonald's directed a wave of retaliation that stretched from coast to coast and included illegally harassing, surveilling and firing workers in the Fight for $15. The hardworking cooks and cashiers who were organizing to get off of food stamps and out of poverty deserve a ruling in their case, not a settlement hammered out at the last minute in collusion with the Trump administration."
With Trump's election, the momentum at the NLRB is now with employers. Any setbacks would appear to be temporary: while divided 2-2 for now, the confirmation of another Trump appointee will restore the Republican majority. Once that happens, the NLRB can be expected to seek another opportunity to overturn the Browning-Ferris joint employer standard.
While Browning-Ferris did not explicitly pertain to the franchise model, it clearly spooked those who depend on it — and inspired those who think franchisors like McDonald's should be liable for the mistreatment of employees at locations bearing its name.
Fight for $15 has prioritized organizing at fast-food businesses, but forming unions is extremely difficult when a dozen small restaurants with the same name may have a dozen different owners. There are over 14,000 McDonald's restaurants in the United States, with only one in 10 owned by the corporation. The ability to collectively bargain with McDonald's, the corporate franchisor, would make a union's task easier — and help address the sort of labor violations that regulators routinely find at fast-food franchises. An EPI report says unionized workers are half as likely to be victims of wage theft, for example.
At an April 5 hearing, Fight for $15 attorney Kathy Krieger urged NLRB Administrative Law Judge Lauren Esposito to reject the settlement. Krieger argued that McDonald's had conspired with its franchises to thwart worker organizing, the corporation recommending, she said, that franchisees "restrict crew members from taking their meals or their rest breaks outside the crew room" as a means "to prevent concerted activity."
McDonald's attorney Willis Goldsmith said the company would never accept a settlement identifying it as a joint employer. "The franchisees, they're independent business people," he said. "They did whatever they did, and if they are willing to concede that, they're going to have to pay people. It's not our job."
While it appears the NLRB under Trump will ultimately reimpose the stricter, pre-Browning-Ferris standard that a joint employer must have direct rather than indirect control of workers, industry groups aren't taking any chances.
Jenna Weisbord, a communications manager at the International Franchise Association to which McDonald's belongs, said her group is looking to Congress to pass the "Save Local Business Act," which would legislatively reimpose the pre-Browning-Ferris standard. "We understand the Senate will take on this task later this year," she said of the bill, which passed the House last year.
A television ad campaign sponsored last year by the franchise association and the U.S. Chamber of Commerce argues the measure would restore "balance to labor law" in the face of a "runaway government agency." That agency, in the era of Trump, is increasingly tilting in the favor of business.
---
Copyright Capital & Main