Fire and ICE: California Gets Ready for Workplace Immigration Raids
Co-published by The American Prospect
In California, the potential impact of workplace raids is enormous. Of the nation's estimated 11 million undocumented immigrants, over 2.6 million live in this state – almost one in every 10 California workers is undocumented.
San Francisco workers supporting AB 450, introduced by Assemblymember David Chiu, at podium. (Copyright David Bacon)
Co-published by The American Prospect
At the end of February immigration agents descended on a handful of Japanese and Chinese restaurants in the suburbs of Jackson, Mississippi and in nearby Meridian. Fifty-five immigrant cooks, dishwashers, servers and bussers were loaded into vans and taken to a detention center about 160 miles away in Jena, Louisiana.
Their arrests and subsequent treatment did more than provoke outrage among Jackson's immigrant-rights activists. Labor advocates in California also took note of the incident, fearing that it marked the beginning of a new wave of immigrant raids and enforcement actions in workplaces. In response, legislators have written a bill with legal protections for workers, to keep the experience from being duplicated here. At the same time, training sessions have started to ensure that undocumented employees know their rights during any job-related immigration enforcement action.
In California, with many times the immigrant population of Mississippi, the potential impact of workplace raids is enormous. Of the nation's estimated 11 million undocumented immigrants, over 2.6 million live in this state – almost one in every 10 California workers is undocumented. They make up almost half of its farm workers, and over 20 percent of its construction workers. The National Restaurant Association says that of the country's 12 million restaurant employees, nine percent are undocumented, while the Restaurant Opportunities Center estimates that in large cities they make up almost half of that industry's workforce.
Agustin Ramirez, an organizer for the International Longshore and Warehouse Union in California, told Capital & Main the Mississippi raids have heightened fear here. "What we have seen in the past, and the threats from Trump, tell us this is coming. We may not have had a raid like this here yet, but we can see the sky is dark, and we know it's going to rain. We just don't know when."
The legislative response in California came from United Service Workers West, the union for janitors, security guards and airport workers affiliated with the Service Employees International Union. "We want to lead the nation with the strongest resistance efforts to protect workers, not just in the community, but in the workplace," explained David Huerta, USWW's president.
In cooperation with labor attorney Monica Guizar, USWW worked with San Francisco Assemblymember David Chiu to craft Assembly Bill 450. The measure, called the Immigrant Worker Protection Act and introduced March 24, addresses workplace immigration raids in four ways:
AB 450 requires employers to ask for a judicial warrant before granting access to a workplace by agents of Immigration and Customs Enforcement (ICE).
The bill prohibits employers from sharing confidential information, like Social Security numbers, without a court order.
If there is an immigration raid, or if an employer is told by ICE to hand over information that employees provide on I-9 immigration-status forms, the bill requires the employer to notify the state labor commissioner, the workers themselves and their union representatives.
AB 450 authorizes the labor commissioner to certify workers who report claims against their employers, prohibiting employers from retaliating against them, and helping them to gain visa status as witnesses in legal proceedings.
Assembly Bill 450 was co-authored by Bay Area Assemblymembers Phil Ting and Rob Bonta, and State Senator Scott Weiner. "Trump's threats of massive deportations are spreading fear among California workers, families and employers," Chiu told a news conference, adding that the bill "goes beyond California's existing defense of immigrants to offer new legal protections for individuals in our workplaces."
 Alameda County Industries workers re-enact a moment during a strike protesting their dismissal. (Photo: David Bacon)
In a highly publicized April 11 event on the Arizona-Mexico border, U.S. Attorney General Jeff Sessions emphasized the Trump administration's hard line on enforcement. Chiu cited Sessions' previous statements and orders as a reason for the bill's new measures of protection. Sessions told the press in Arizona that enforcement would now prioritize identity theft among other factors. "And it is here that criminal aliens, and the coyotes, and the document-forgers seek to overthrow our system of lawful immigration," he announced.
By using phrases like "identity theft" and "document-forgers," Sessions is treating as a criminal offense the means used by every undocumented worker to get a job. Like all other workers, undocumented immigrants must supply Social Security numbers to employers to get hired. But since the 1986 Immigration Reform and Control Act, they have been prevented from applying for them. Workers therefore invent Social Security numbers or use numbers belonging to others.
In the past, the federal government has occasionally interpreted this as not only a reason for deportation, but as a federal crime. Sessions is threatening to make these occasional charges mandatory in every case. The irony is that undocumented workers, using those bad numbers, contribute about $13 billion annually to the Social Security Trust Fund, and are disqualified from receiving any benefits that those contributions are supposed to pay for.
Heavy immigration enforcement against workers is hardly new. Under President George W. Bush, large-scale raids led to the detention and deportation of thousands of workers, especially in meatpacking plants. At Smithfield Foods in North Carolina and Agriprocessors in Iowa, 389 immigrants were jailed, charged with felonies for using bad Social Security numbers. Under President Barack Obama, ICE agents audited the information provided by workers on I-9 forms, comparing it with the Social Security database. ICE then told employers to fire those immigrants whose information didn't pass muster. The government developed an enormous database, called E-Verify, for rooting out undocumented workers. Thousands were fired, and in 2010 alone ICE audited about 2,000 employers.
Anger over these enforcement actions has a long history in California. Los Angeles janitors, members of USWW, sat down in city intersections to protest firings by Able Building Maintenance in 2011. The union fought similar firings in Stanford University cafeterias, and among custodians in the buildings of Apple and Hewlett-Packard. Two thousand seamstresses protested their firings at Los Angeles' American Apparel. Members of UNITE HERE, the union for hotel workers, mounted a hunger strike outside the Hyatt in San Diego over the same issue. In the Bay Area, 214 workers at the Pacific Steel foundry fought firings for almost a year, while at the Alameda County Industries recycling plant in San Leandro, they even went on strike to try to stop them.
Over the years, unions have charged that employers use the firings when workers try to organize, or when they are negotiating contracts. Marielena Hincapié, executive director of the National Immigration Law Center, says "raids drive down wages because they intimidate workers — even citizens and legal residents. The employer brings in another batch of employees and continues business as usual, while people who protest get targeted and workers get deported. Raids really demonstrate the employer's power."
Dramatizing the relationship between Homeland Security and employers, Leon Rodriguez, who formerly headed the U.S. Citizenship and Immigration Services, recently left to take a job with the Seyfarth Shaw law firm in Washington, DC. In response to the Mississippi raid, Rodriguez stated that "the administration has been very clear about its intention to broaden the classes of individuals who could be subject to deportation." In other words, workers.
To help workers protect themselves in the workplace, the ILWU, Filipino Advocates for Justice and several other groups organized a training session about actions workers can take on the job, in the face of a raid or I-9 firings. Workers from Alameda County Industries acted out a teatro-based sketch about their own strike to stop the company from terminating them for not having papers. In another skit, they dramatized the way workers might demand that their boss bar ICE agents from the workplace if the latter have no court order. Other unions described their experiences over the past decade in organizing workers to fight off raids and firings.
"Our experience tells us that workers can resist raids at work, and the more they do that the better off they are," Agustin Ramirez says. "We are getting prepared, trying to give people as much information as possible. We're trying to spread this idea that in addition to AB 450, workers can take action on the job to protect themselves."
Conditions Worsen for ICE Detainees Following Hunger Strike
Conditions at Adelanto Detention Center, a privately operated prison currently used to detain undocumented immigrants, are said to be grim. Nine detainees, all of whom came to the U.S. seeking asylum, were so fed up that they staged a hunger strike. Guards responded with violence and pepper spray.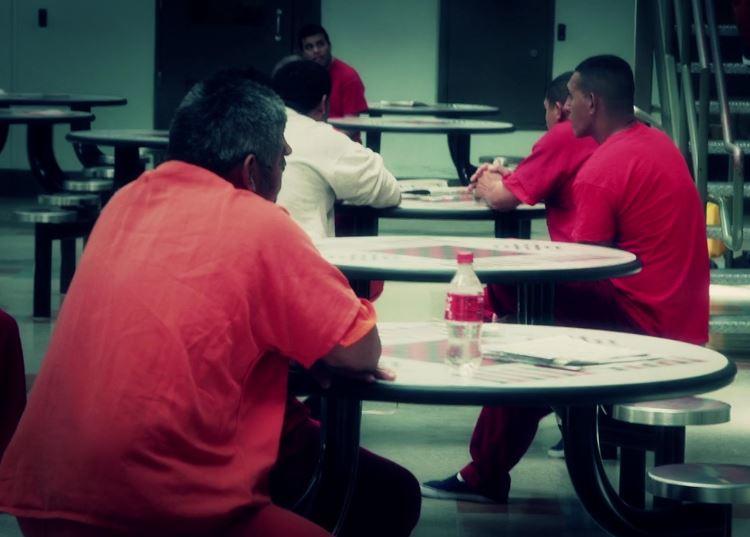 Adelanto, Calif. – Nine Central American immigrants sat at a table in their dormitory at the troubled Adelanto Detention Center and asked an officer to deliver a list of their demands to higher-ups. The officer at the for-profit facility in the high desert, north of San Bernardino, refused and ordered them to return to their bunks for an inmate count. Instead, the men linked arms and refused to budge.
"We wanted to be heard," said Josue Lemus Campos, 24, from El Salvador. He said he and his fellow protesters had been quiet and peaceful during their June protest. But when the men refused to move, the officer immediately called for reinforcements who rushed in armed with pepper spray. They began shouting orders in English, a language the men don't fully understand. Minutes later, the guards doused the nine with pepper spray, aiming at their faces.
"We were crying and the guards were laughing," said Omar Rivera Martinez, 37, also from El Salvador. "I felt like I was going to die. We were suffocating. They pulled us out, beating us, scratching us, throwing us against the wall." His nose was broken, he said, and a tooth and gold dental crowns were knocked out. "They threw me against the wall four times," he said. "The most terrible part was they put us in the shower." He said he was the only one of the nine who refused to bathe in the scalding hot water, which intensified the pain of the pepper spray. The other detainees "were jumping and shouting," he said. "They were afraid."
Rivera Martinez said he visited the detention center's clinic where a doctor refused to treat him. Lemus Campos said he saw a practitioner for a shoulder injury he said guards inflicted during the incident. Several weeks ago, he was told he needed X-rays, but as of mid-July, he hadn't had them yet.
Lemus Campos said the men now face retaliation and fear for their safety inside the facility operated for Immigration and Customs Enforcement by the Geo Group, one of the two largest for-profit prison companies in the United States. Eight of the nine immigrants who launched the protest remain in custody. One has been deported.
All are asylum seekers who had hoped to fight their cases on the outside. But they say their bonds, between $15,000 and $35,000, are too high for people with no money and few connections in the United States. The steep cost of bail led the list of issues the men had hoped to raise with ICE officials, along with political asylum, better food, and clean water.
Following the pepper spraying incident, the men were placed in two-person disciplinary segregation cells for 10 days. Hussain Turk, an attorney who visited Rivera Martinez and Lemus Campos a week after the incident, described what he saw in a sworn declaration.
He said he saw at least 30 scratches on Rivera Martinez, who was brought to the meeting in handcuffs. "His nose is visibly fractured and off-set to the left side of his face by several millimeters," Turk wrote in his statement. "He appeared frightened and in pain." Turk said when he asked an officer why his client was handcuffed, the guard made "an exaggerated air-quote gesture" and said. "For inciting a group protest." Turk wrote that he "perceived his tone and gesture to imply a skepticism regarding the underlying violation for which Rivera Martinez was being disciplined." Turk was also concerned that he wasn't permitted a private visit with Lemus Campos. The two men spoke by phone and were separated by a glass pane with a guard present on Lemus Campos' side.
GEO Group spokesman Pablo Paez declined to comment on the detainees' allegations, and in an email referred questions on the incident to ICE.
ICE spokeswoman Virginia Kice acknowledged that Rivera Martinez lost his dental crown in the incident, but wrote in an email that the nine men involved were examined by medical personnel and none were injured. "The claim a detainee suffered a fractured nose is simply untrue," she wrote. A required review of the use of force was conducted, she wrote, and "it was determined that proper policies and procedures were followed."
Still, Rivera Martinez insisted that he and his fellow detainees were mistreated during their protest and in its aftermath. He said guards have hurled profanity at him, and he and Lemus Campos say phone calls to their attorney are blocked, an action the men's attorney maintains is illegal. On July 19, Rivera Martinez reported the blocked calls to the ICE officer who escorted him to an interview with Capital & Main inside the facility.
Lemus Campos and Rivera Martinez say they need to confer with their lawyer about their pending asylum cases. Rivera Martinez said he fears for his safety inside the facility, and he and Lemus Campos have expressed fear of returning to their country.
Rivera Martinez, who worked paving roads in San Salvador, said he saw MS-13 gang members murder his brother and sister-in-law. Last fall, he and his wife were kidnapped and held for about 29 days before their captors released them, he said. His daughter had been raped by gang members, became pregnant and had a child by her attackers, he said. Lemus-Campos declined to have his interview videotaped because he fears for himself and family members who remain in El Salvador, a country he fled to avoid pressure to join criminal gangs.
"I don't want any of that," he said. "I don't want to get involved in bad things. I came here to find peace."
Lemus Campos said he made a nearly month-long trek from his country through Guatemala and Mexico before arriving in Tijuana in mid-May. He said he and Rivera Martinez joined a large caravan of migrants in Tapachula, Mexico – on the border with Guatemala –for safety on the journey.
The two men are among the fortunate detainees who are represented by counsel. Many asylum seekers, including some of the former Adelanto hunger strikers, are not. Several immigrant rights groups have championed their cause. However, calls to investigate the protest and the alleged retaliation, including detainees' inability to communicate with their lawyers, have largely fallen on deaf ears.
Attorney Nicole Ramos, who represents Rivera Martinez and Lemus Campos, complained in July to the Department of Homeland Security's Office of Civil Rights and Civil Liberties protesting that her clients' telephone access to her had been blocked. She wrote that GEO officials didn't respond to her calls, but she noted that TelMate, the company that provides pay phone service to Adelanto, confirmed that the detention facility blocked the calls. She argued that the detention center's actions violate a court order that specifically requires the Department of Homeland Security to protect the rights of Salvadorans, like her clients, who are eligible to apply for asylum, including their right to adequate telephone access.
She wrote that she was concerned that the calls were blocked "after counsel filed a civil rights complaint against ICE and the facility" in connection with the guards' attack on Rivera Martinez and Lemus in June.
ACLU of Southern California attorney Michael Kaufman wrote to the director of ICE's Los Angeles office citing case law and the agency's own detention standards to argue that GEO guards used excessive force in violation of ICE's policy and the constitutional rights of the detainees. Kaufman also wrote that the guards have engaged in a pattern of retaliation against the detainees, including blocking phone calls to their attorney, for exercising their First Amendment right to peacefully protest. He called for an end to the "ongoing retaliation" and for the staff to be disciplined for assaulting the detainees and continuing to retaliate against them. He also asked for a meeting with GEO, ICE, the detainees and their lawyers to discuss the mistreatment and the grievances that led to the hunger strike.
ICE has not answered his letter, Kaufman said.
"It's troubling now that ICE doesn't want to respond to serious allegations," Kaufman said. "We just hope the agency would take these concerns more seriously and be more transparent about what they're doing to address them."
Kice didn't directly address allegations that detainee calls to their attorneys were blocked, but said detainees have 24-hour access to call anyone they choose, including attorneys and reporters.
Immigrant rights advocates say working on behalf of detainees has always been tough, but it may be even harder under the Trump administration. Alejandra Gonza of the University of Washington law school has been helping detainee advocates take their cases to international bodies like the United Nations and the Inter-American Commission for Human Rights when they've received little response from ICE and other U.S. authorities. The international groups have no enforcement power, but they do bring public attention to alleged abuses, Gonza said.
In California, the state government may soon be the best hope for both challenging detention conditions and making them more transparent. The legislature is considering Senate Bill 29, which would give the attorney general and local district attorneys the right to enforce ICE detention standards. Additionally, in June the governor signed Assembly Bill 103, a budget bill that requires the attorney general to review ICE detention conditions and report to the governor and legislature. AB 103 places a moratorium on expanding immigration detention facilities and prohibits California counties and cities like Adelanto from entering into new detention contracts with ICE. SB 29 would prohibit cities from renewing or entering contracts with for-profit detention centers.
Inside Adelanto, Rivera Martinez vowed to continue pushing for an investigation into GEO Group's officers' use of force against him and other detainees, noting that the facility's cameras likely caught all of it on tape.
"We're not lying," he said. "We're not exaggerating. We want the video."