Film Review: 'What Happened, Miss Simone?'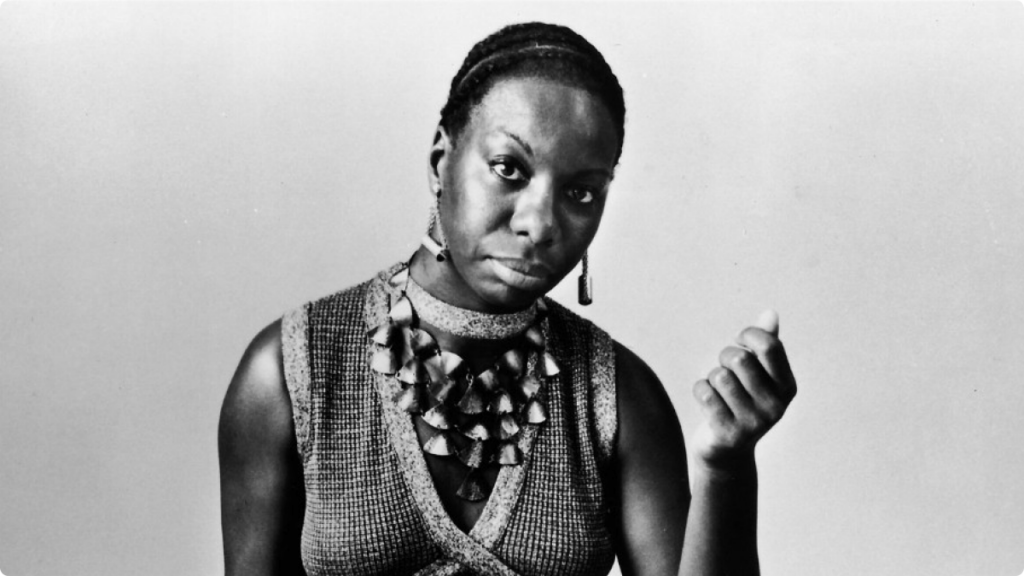 The first shot of What Happened, Miss Simone? shows a crowd applauding the appearance of a singer. After years of a self-imposed hiatus, Nina Simone walks onstage, and with one hand on a piano, bows. For a full 10 seconds. She then looks up and out at the rapturous audience. But she is not smiling. Her stare is intense. Some will see fear in her eyes. Others will see indifference. Others might even see loathing. Or all of it.
Once Simone sits at the piano and the applause ends, she does nothing for half a minute. The uncomfortable silence is finally broken by her softy saying "Hello" into the mic, only to be greeted by a fan shouting, "Hi. We are ready!" But is Simone? After seeing Liz Garbus' documentary, an even better question is, "Was she ever?"
Not everyone who is thrust into stardom is ready for it or even desirous of it. There is no doubt that part of Simone loved being famous, but the juxtaposed moods in this opening scene are palpable and unnerving for a reason. The moment is not only a metaphor for Simone's fascinating journey as the most compelling and provocative diva of her time, but also a harbinger of what is to come for the next 100 minutes, a document of a life full of contradiction that poses almost as many questions as it answers.
Simone's meteoric rise to superstardom in the 1950s was accelerated by her singularity: a compelling mix of different musical genres and a unique vocal style. Yet despite a career defined by individuality and rebellion, at her core Simone was a lonely soul, a Little Girl Blue, as the title of her debut album reads. Unlike our modern commodified stars, Simone's life was a messy journey of discovery spanning continents and in the end, a tale of a heroine who may never have found inner peace.
Using both video and radio interviews with the artist, punctuated by conversations with friends and family (primarily with Simone's second husband and her daughter), Garbus' documentary, which streams on Netflix, takes a largely conventional chronological approach to telling Simone's remarkable story. It is Simone herself who provides all the originality needed.
Born Eunice Waymon, Simone had promise as a child piano prodigy, but we learn her long hours of practice led to a lonely childhood. and her dream of becoming a famous classical pianist was dashed by her rejection by the prestigious Curtis Institute of Music — in her mind an act of blatant racism that she would never forget. Simone speaks of her first job, playing piano in an Atlantic City bar, where she was forced to sing by the owner. It was there for the first time that her smoky, emotive voice blended with soul, classical, pop and jazz elements. Her singular style emerged.
With a new husband managing her career, Simone became a star almost instantly, and we see the young phenomenon embraced by an adoring public. But darkness followed her as she struggled with finding meaning in her life. That meaning would soon come in the form of the burgeoning civil rights movement, which she embraced with vigor. She became close to Martin Luther King Jr. (who she famously approached and stated defiantly, "I am not nonviolent"), the Black Panthers' Stokely Carmichael, and her neighbor Malcom X. After the murder of Medgar Evers and the bombing deaths of four Alabama schoolgirls, her radicalism intensified and she recorded the incendiary track "Mississippi Goddam," which she also performed at the March on Selma. Soon all her recordings were protest songs and her radicalism culminated in her publicly calling for violence and a separate black state. To mainstream America, the chanteuse had become obtuse, and her popularity waned.
Claiming that she was blacklisted, Simone, fled to Barbados, Liberia and then Europe — where she was diagnosed as suffering from a bipolar condition. It is alleged in the film that her treatment eventually harmed her motor skills and slurred her speech, yet she continued to perform and record until 1993 (although never achieving the success she once "enjoyed"). She died in the south of France  in 2003.
Throughout Garbus' film we absorb the complex symphony that is Simone's life. We see her innocent and excited as she performs on Playboy's Penthouse, but then later angry, as after performing the civil rights anthem "To Be Young, Gifted and Black." At times she is playful and loving – and even seemingly submissive to her husband, yet she's oft times strident and intense, and her loved ones speak of how difficult she was to love.
What Happened, Miss Simone? leaves some important questions unanswered, Garbus allows Simone to claim that she was blacklisted for her activism but offers no follow-up or proof to bolster that contention. And, in the end, Garbus really doesn't definitively answer her film's eponymous question. How much was Simone's supernova snuffed out by her politics and how much was a result of her medical condition?
Whatever the answer, we can be grateful that the film provides a revealing portrait of a tortured artist so that future generations will know that, whatever the reasons or ramifications, Nina Simone most certainly happened.
---
Alex Demyanenko has produced numerous television series and specials. Among his credits is the HBO documentary
Bastards of the Party.
The Power of the Poster
Carol Wells, the founder of the Center for the Study of Political Graphics in Los Angeles, talks to Capital & Main about the enduring power of political art.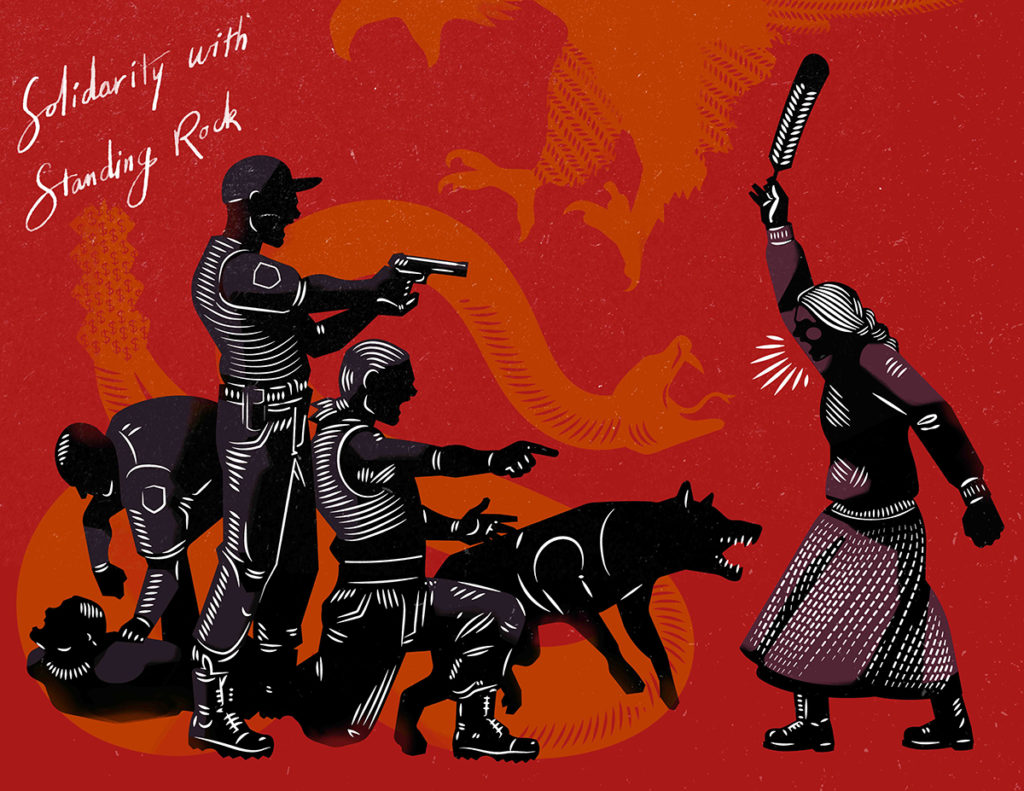 Carol Wells remembers the exact moment she discovered her calling. An art historian at the time, she was on a trip to Nicaragua with her friend David Kunzle, a UCLA art history professor, who was collecting political posters to add to his burgeoning collection. While staying with friends, Wells watched a neighbor's 8-year-old son approach a poster on the wall, stare at it intently, and then start to silently mouth the words. Wells was struck by how engaged the boy was. "In that moment I became obsessed with collecting posters."
Now over 40 years later, Wells is the founder and executive director of the Center for the Study of Political Graphics in Los Angeles. Wells has amassed approximately 90,000 posters, building one of the largest collections of its kind in the world. The Center shares its collection with the public in part through curated exhibits. This year the CSPG has produced Feminae: Typographic Voices of Women by Women and its latest is To Protect & Serve? Five Decades of Posters Protesting Police Violence, running through July 15 at the Mercado La Paloma in downtown Los Angeles.
Since that encounter in Nicaragua in 1981, Wells' obsession with collecting posters hasn't waned. In CSPG's nondescript West L.A. office space, Wells pulls out poster after poster, lecturing passionately on the backstory and cultural impact of each, including one that superimposes text from a New York Times interview with a shocking image of the My Lai massacre ("Q: And babies? A: And babies."). Recently, she managed to sit down with C&M to discuss her passion.
---
Capital & Main: So, you were an art history professor, you happen to see a kid on a trip, and suddenly your life was changed forever?
Carol Wells: Yeah, I'm in Nicaragua alone in the living room with this kid. He's looking around, and all of a sudden, he sees the poster. It was pretty big, bright green, a thick outlines of a woman holding a big basket of coffee beans. And the text in Spanish said, "In constructing the new country, we are becoming the new woman." I see him walk over to the poster and I'm watching him mouth the words. It was a pretty sophisticated concept, so I doubt he figured it out. But I literally had this epiphany: "Oh my God. That's how posters work." You're going about your daily life, and all of a sudden something breaks through the bubble, and it grabs your attention. It's the graphic, it's the color, it's the combination, and it pulls you out of your head and into that poster and it makes you ask a question. "Why is this here? What is this about? What does this mean?" And every time you ask a question, you're a different person than you were before you asked the question.
How many posters do you get a year?
We get between two to five thousand a year donated from all over the world. The bulk of our collection is [from] 1945 and later.
I assume technology has probably hurt the art form, but has it helped get the messages out?
Most people think that, and it's actually not true. Since the internet age started, there's actually a poster renaissance of works on paper. Because you can't walk with your computer monitor in a demonstration. You can't plant your monitor on your lawn.
And you can't put a laptop on the wall…
Exactly. You want to hear a really great story? Truthdig.org published a cartoon [made by] a political cartoonist named Mr. Fish. It was during the Arab spring, and he had superimposed Che Guevara with the stylized beard and King Tut's face, but it had Che's beret. And it [was titled], "Walk like an Egyptian." So, it was a reference to the music, but [it was also] a reference to what was going on the streets of Cairo. I sent it out as our poster of the week to 9,000 people. The very next day, somebody took a photograph on the street of Cairo, with somebody holding a piece of paper with that image on it. A poster can literally go around the world and people will print it out.
What struck me in viewing your exhibits is how many of these posters could still be used today, not only artistically but also, sadly, in the timeliness of their messages.
We had this fabulous poster by Yolanda Lopez, a Bay Area artist, which she first did in 1978. It depicts a young man in Aztec garb pointing a finger like Uncle Sam saying, "Who's the illegal alien, PILGRIM?" And it's a great poster, it's simple, not too many words, funny, provocative. So, we had an exhibit at UCLA in the mid '90s and there were 4 or 5 high school students standing around this poster saying, "Wow, you've got posters up to the minute." And I went over to them and I said, "Look at the date. This is before you were born."
Is that one of your goals with the exhibitions? To show the evergreen nature of this work?
Absolutely. I mean that's why we did the police abuse exhibition now. It basically goes back five decades. It's 50 years of posters protesting police abuse. Mainly in the United States, but also internationally.
What's the goal for CSPG?
Well the aim right now is really to digitize the collection and get it online. We have 10% of the collection digitized. But the mission is to collect and to document, because stories get lost. All the exhibitions, they're showing massacres, they're showing genocide, they're showing police abuse, they're showing all of these horrible things. And people often ask me, "How can you look at this stuff all day long?" I said, "Because the poster artists are optimists. They believe people can change if they have the information."
Yes, that's the reason why they're doing it, right?
That's why they're doing it, and that's why I'm doing this, because I believe that people can change if they knew the truth.
And what happens 20, 50 years from now?
Well, my goal is to stay independent, because the other option is to become part of the university. Universities, for all the fabulous things that they do, they also censor. We did an exhibition at USC in 1992 on the 500 years since Columbus, and how the legacy of racism and exploitation and genocide continues. And one of the board of trustees was Italian and took [the exhibit] as an affront to Columbus. It really wasn't about Columbus, it was about colonialism. And he ordered it down.
Do you have a favorite poster?
I'm always amazed at the creativity and vision of artists. Every week I'll say, "Oh my God, how do they think of that?" But it's always still going to be the poster I saw that kid trying to figure out. It has to be my favorite one because that one changed my life.
What makes a perfect poster?
The right balance between aesthetics and message. If you only rely on the corporate press, the New York Times and L.A. Times, for your information, you're not going to get the side from the street, from the movement, from the activists. The posters are primary historical documents that are recording the issues that were at the time, and the passions that were at the time, and the divisions that were at the time. You're not going to get it anyplace else.
---
Copyright Capital & Main