Film Review: 'What Happened, Miss Simone?'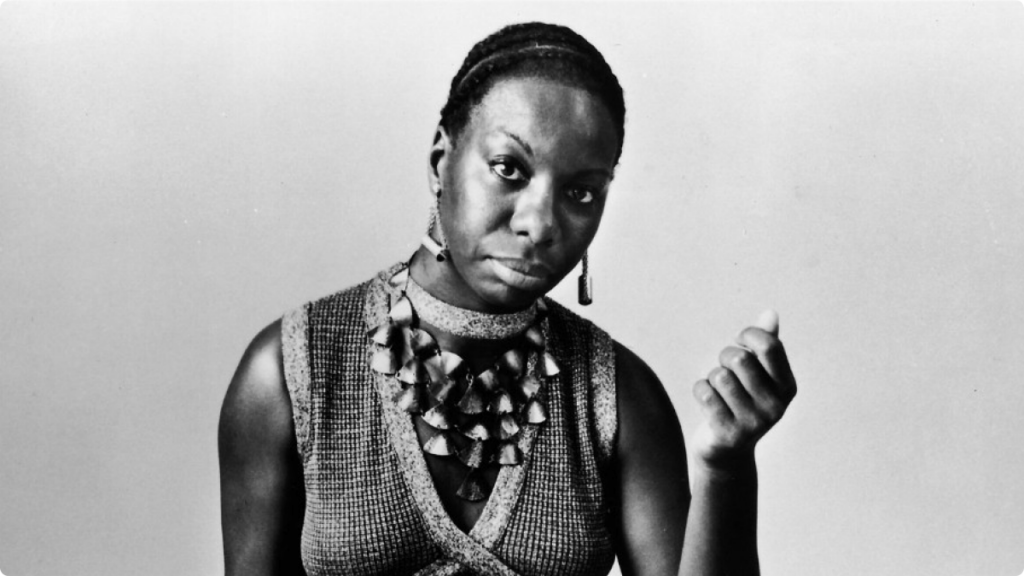 The first shot of What Happened, Miss Simone? shows a crowd applauding the appearance of a singer. After years of a self-imposed hiatus, Nina Simone walks onstage, and with one hand on a piano, bows. For a full 10 seconds. She then looks up and out at the rapturous audience. But she is not smiling. Her stare is intense. Some will see fear in her eyes. Others will see indifference. Others might even see loathing. Or all of it.
Once Simone sits at the piano and the applause ends, she does nothing for half a minute. The uncomfortable silence is finally broken by her softy saying "Hello" into the mic, only to be greeted by a fan shouting, "Hi. We are ready!" But is Simone? After seeing Liz Garbus' documentary, an even better question is, "Was she ever?"
Not everyone who is thrust into stardom is ready for it or even desirous of it. There is no doubt that part of Simone loved being famous, but the juxtaposed moods in this opening scene are palpable and unnerving for a reason. The moment is not only a metaphor for Simone's fascinating journey as the most compelling and provocative diva of her time, but also a harbinger of what is to come for the next 100 minutes, a document of a life full of contradiction that poses almost as many questions as it answers.
Simone's meteoric rise to superstardom in the 1950s was accelerated by her singularity: a compelling mix of different musical genres and a unique vocal style. Yet despite a career defined by individuality and rebellion, at her core Simone was a lonely soul, a Little Girl Blue, as the title of her debut album reads. Unlike our modern commodified stars, Simone's life was a messy journey of discovery spanning continents and in the end, a tale of a heroine who may never have found inner peace.
Using both video and radio interviews with the artist, punctuated by conversations with friends and family (primarily with Simone's second husband and her daughter), Garbus' documentary, which streams on Netflix, takes a largely conventional chronological approach to telling Simone's remarkable story. It is Simone herself who provides all the originality needed.
Born Eunice Waymon, Simone had promise as a child piano prodigy, but we learn her long hours of practice led to a lonely childhood. and her dream of becoming a famous classical pianist was dashed by her rejection by the prestigious Curtis Institute of Music — in her mind an act of blatant racism that she would never forget. Simone speaks of her first job, playing piano in an Atlantic City bar, where she was forced to sing by the owner. It was there for the first time that her smoky, emotive voice blended with soul, classical, pop and jazz elements. Her singular style emerged.
With a new husband managing her career, Simone became a star almost instantly, and we see the young phenomenon embraced by an adoring public. But darkness followed her as she struggled with finding meaning in her life. That meaning would soon come in the form of the burgeoning civil rights movement, which she embraced with vigor. She became close to Martin Luther King Jr. (who she famously approached and stated defiantly, "I am not nonviolent"), the Black Panthers' Stokely Carmichael, and her neighbor Malcom X. After the murder of Medgar Evers and the bombing deaths of four Alabama schoolgirls, her radicalism intensified and she recorded the incendiary track "Mississippi Goddam," which she also performed at the March on Selma. Soon all her recordings were protest songs and her radicalism culminated in her publicly calling for violence and a separate black state. To mainstream America, the chanteuse had become obtuse, and her popularity waned.
Claiming that she was blacklisted, Simone, fled to Barbados, Liberia and then Europe — where she was diagnosed as suffering from a bipolar condition. It is alleged in the film that her treatment eventually harmed her motor skills and slurred her speech, yet she continued to perform and record until 1993 (although never achieving the success she once "enjoyed"). She died in the south of France  in 2003.
Throughout Garbus' film we absorb the complex symphony that is Simone's life. We see her innocent and excited as she performs on Playboy's Penthouse, but then later angry, as after performing the civil rights anthem "To Be Young, Gifted and Black." At times she is playful and loving – and even seemingly submissive to her husband, yet she's oft times strident and intense, and her loved ones speak of how difficult she was to love.
What Happened, Miss Simone? leaves some important questions unanswered, Garbus allows Simone to claim that she was blacklisted for her activism but offers no follow-up or proof to bolster that contention. And, in the end, Garbus really doesn't definitively answer her film's eponymous question. How much was Simone's supernova snuffed out by her politics and how much was a result of her medical condition?
Whatever the answer, we can be grateful that the film provides a revealing portrait of a tortured artist so that future generations will know that, whatever the reasons or ramifications, Nina Simone most certainly happened.
---
Alex Demyanenko has produced numerous television series and specials. Among his credits is the HBO documentary
Bastards of the Party.
A Woman's Art Is Never Done: The Feminae Exhibition
A striking juxtaposition between the past and present courses throughout the small gallery. Celia Blomberg's "International Women's Day March 8" can't help but make one think of 2017's Women's March, which occurred 37 years after the print's first appearance.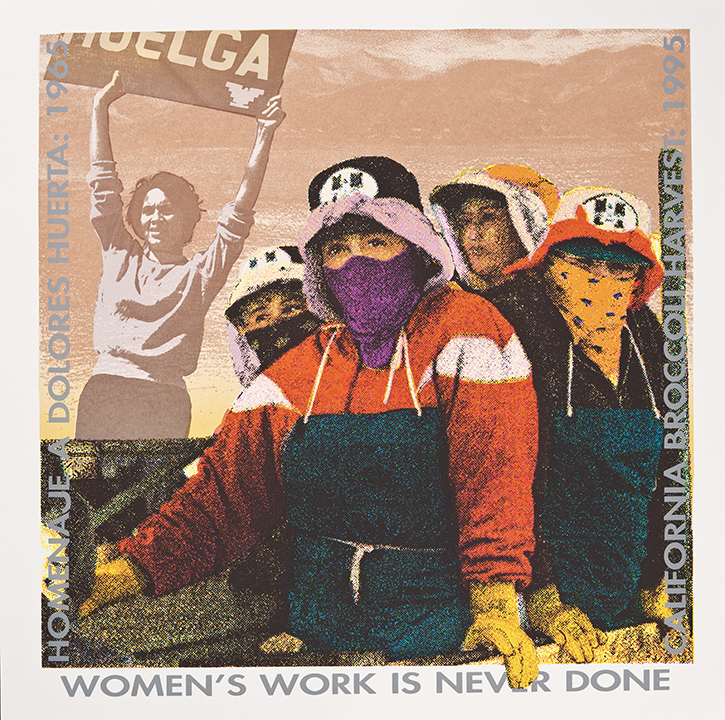 Among the 50-plus works in the Feminae: Typographic Voices of Women By Women exhibit is Yolanda Lopez's "Women's Work is Never Done." Lopez's title is particularly ironic, given the exhibit's gender-based subject matter. The show spans work from the past 50 years, making it easy to understand how much society is still grappling with its themes of gender inequality. Culled from the archives of the Center for the Study of Political Graphics, the graphic images of protest, persuasion and empowerment are truly works of art in their own right.
However, political posters aren't made to merely spruce up walls, but to help figuratively bring barriers down as well.
Two silkscreens from the 1970s, Liliana Porter and John Schneider's "This Woman is Vietnamese" and See Red Woman's Workshop's "So Long As Women Are Not Free People Are Not Free," are particularly powerful, underscoring, as they do, the fact that the subjugation and persecution of women crosses borders and cultures as an unfortunate shared global experience. These two pieces' stark simplicity exemplifies most of the work in the exhibit. In the former, a New York Times photo of a distraught Vietnamese woman with a gun held to her head is centered above these basic words typed out in a typewriter font: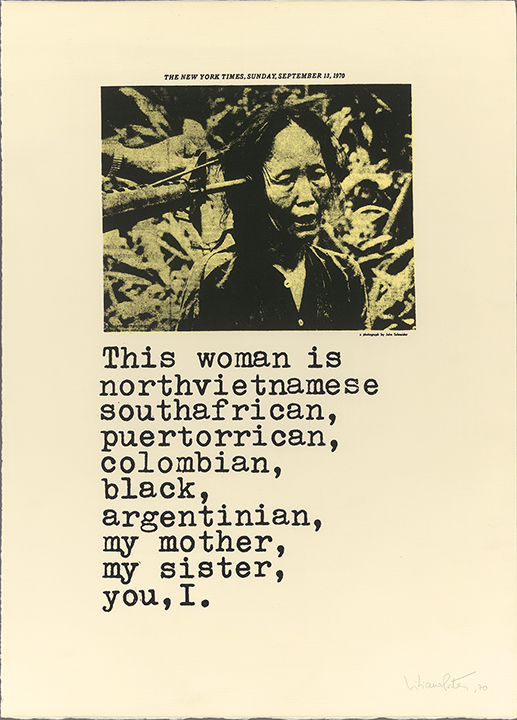 This woman is
northvietnamese
southafrican
puertorrican,
colombian,
black,
argentinian,
my mother,
my sister,
you, I.
By juxtaposing the photo with these words, the creators take the plight of this woman and immediately globalize her pain. In the latter, three female demonstrators are silkscreened in red onto a yellow background. They are marginalized by being stuck in the lower left third of the poster, but two of them are raising their fists skyward and their mouths are open, screaming in defiance. Its non-serif, eponymous type reads: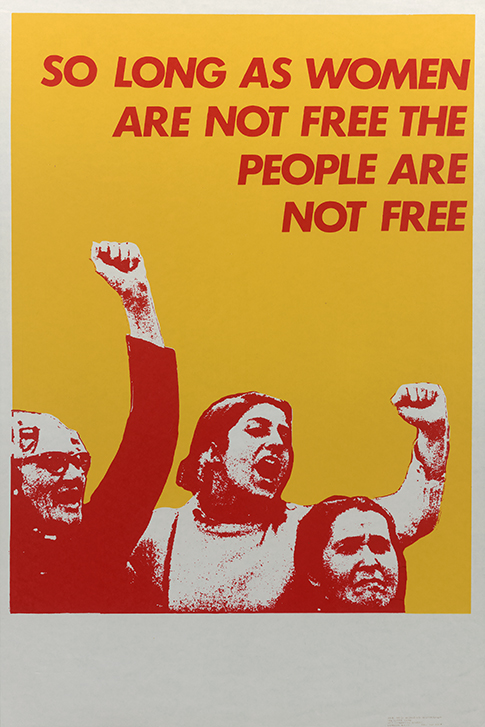 SO LONG AS WOMEN
ARE NOT FREE THE
PEOPLE ARE
NOT FREE
This piece's message takes the global message even farther, making the plight of women a human one — a common theme in the exhibition.
There is also a striking juxtaposition between the past and present that seethes throughout the small gallery. Celia Blomberg's "International Women's Day March 8" can't help but make one think of 2017's Women's March that would take place 37 years later. See Red Woman's Workshop's 1977 "Black Women Will Not Be Intimidated" could easily be repurposed to address the recent spate of blue-on-black brutality. Notable works by Barbara Kruger, Sister Corita Kent and the Guerilla Girls are also included.
Ironically , while it can be surmised that most of these works were made as populist posters to be distributed at the time as banners of protest, their beautiful simplicity and nostalgic elegance probably have resulted in the originals (mostly now found in art museums) sporting hefty vintage-resale prices.
But it is not just the art that has stood the test of time. The fact that the issues addressed in the show — feminism, choice, gender equality, war, immigration, police brutality or violence against women — are all issues at the forefront of debate in 2018 ultimately engenders conflicting feelings.
On one the hand, it is inspiring to see a vibrant exhibit that showcases such diversity in artistic styles, no doubt spawned by the diversity of the artists' own backgrounds. On the other hand, there is a realization that while there has been some progress over the past half century, there is so much work to be done.
Art Center's Hoffmitz Milken Center for Typography, 950 South Raymond Ave., Pasadena; through May 15.
---
Copyright Capital & Main