Film Review: 'What Happened, Miss Simone?'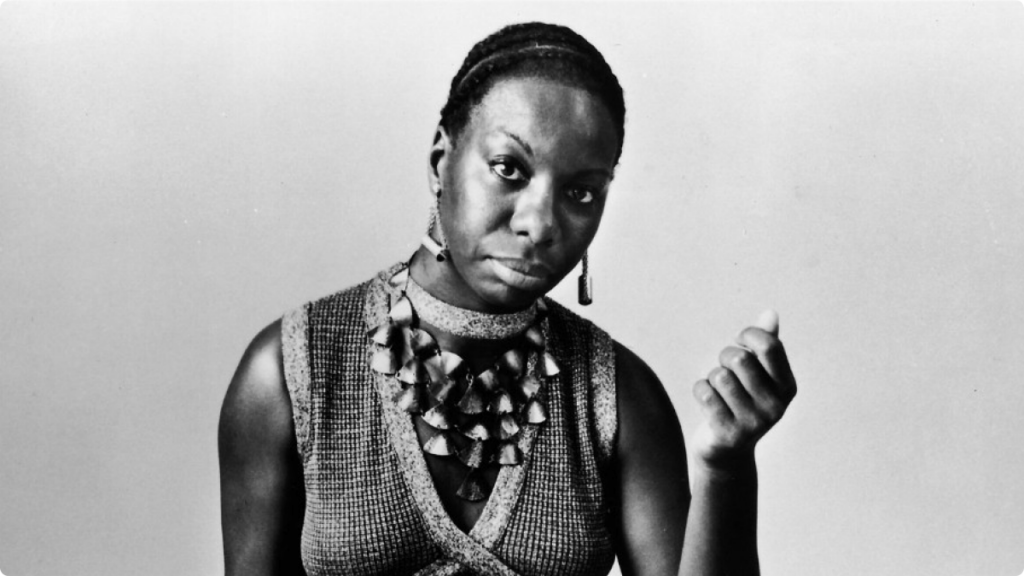 The first shot of What Happened, Miss Simone? shows a crowd applauding the appearance of a singer. After years of a self-imposed hiatus, Nina Simone walks onstage, and with one hand on a piano, bows. For a full 10 seconds. She then looks up and out at the rapturous audience. But she is not smiling. Her stare is intense. Some will see fear in her eyes. Others will see indifference. Others might even see loathing. Or all of it.
Once Simone sits at the piano and the applause ends, she does nothing for half a minute. The uncomfortable silence is finally broken by her softy saying "Hello" into the mic, only to be greeted by a fan shouting, "Hi. We are ready!" But is Simone? After seeing Liz Garbus' documentary, an even better question is, "Was she ever?"
Not everyone who is thrust into stardom is ready for it or even desirous of it. There is no doubt that part of Simone loved being famous, but the juxtaposed moods in this opening scene are palpable and unnerving for a reason. The moment is not only a metaphor for Simone's fascinating journey as the most compelling and provocative diva of her time, but also a harbinger of what is to come for the next 100 minutes, a document of a life full of contradiction that poses almost as many questions as it answers.
Simone's meteoric rise to superstardom in the 1950s was accelerated by her singularity: a compelling mix of different musical genres and a unique vocal style. Yet despite a career defined by individuality and rebellion, at her core Simone was a lonely soul, a Little Girl Blue, as the title of her debut album reads. Unlike our modern commodified stars, Simone's life was a messy journey of discovery spanning continents and in the end, a tale of a heroine who may never have found inner peace.
Using both video and radio interviews with the artist, punctuated by conversations with friends and family (primarily with Simone's second husband and her daughter), Garbus' documentary, which streams on Netflix, takes a largely conventional chronological approach to telling Simone's remarkable story. It is Simone herself who provides all the originality needed.
Born Eunice Waymon, Simone had promise as a child piano prodigy, but we learn her long hours of practice led to a lonely childhood. and her dream of becoming a famous classical pianist was dashed by her rejection by the prestigious Curtis Institute of Music — in her mind an act of blatant racism that she would never forget. Simone speaks of her first job, playing piano in an Atlantic City bar, where she was forced to sing by the owner. It was there for the first time that her smoky, emotive voice blended with soul, classical, pop and jazz elements. Her singular style emerged.
With a new husband managing her career, Simone became a star almost instantly, and we see the young phenomenon embraced by an adoring public. But darkness followed her as she struggled with finding meaning in her life. That meaning would soon come in the form of the burgeoning civil rights movement, which she embraced with vigor. She became close to Martin Luther King Jr. (who she famously approached and stated defiantly, "I am not nonviolent"), the Black Panthers' Stokely Carmichael, and her neighbor Malcom X. After the murder of Medgar Evers and the bombing deaths of four Alabama schoolgirls, her radicalism intensified and she recorded the incendiary track "Mississippi Goddam," which she also performed at the March on Selma. Soon all her recordings were protest songs and her radicalism culminated in her publicly calling for violence and a separate black state. To mainstream America, the chanteuse had become obtuse, and her popularity waned.
Claiming that she was blacklisted, Simone, fled to Barbados, Liberia and then Europe — where she was diagnosed as suffering from a bipolar condition. It is alleged in the film that her treatment eventually harmed her motor skills and slurred her speech, yet she continued to perform and record until 1993 (although never achieving the success she once "enjoyed"). She died in the south of France  in 2003.
Throughout Garbus' film we absorb the complex symphony that is Simone's life. We see her innocent and excited as she performs on Playboy's Penthouse, but then later angry, as after performing the civil rights anthem "To Be Young, Gifted and Black." At times she is playful and loving – and even seemingly submissive to her husband, yet she's oft times strident and intense, and her loved ones speak of how difficult she was to love.
What Happened, Miss Simone? leaves some important questions unanswered, Garbus allows Simone to claim that she was blacklisted for her activism but offers no follow-up or proof to bolster that contention. And, in the end, Garbus really doesn't definitively answer her film's eponymous question. How much was Simone's supernova snuffed out by her politics and how much was a result of her medical condition?
Whatever the answer, we can be grateful that the film provides a revealing portrait of a tortured artist so that future generations will know that, whatever the reasons or ramifications, Nina Simone most certainly happened.
---
Alex Demyanenko has produced numerous television series and specials. Among his credits is the HBO documentary
Bastards of the Party.
'Skeleton Crew' Is a Play With a Moral Spine
Set in a Detroit automobile outfitting plant, Dominique Morisseau's drama grabs you from the start with its focus on blue-collar men and women, and their struggle for dignity and self-respect.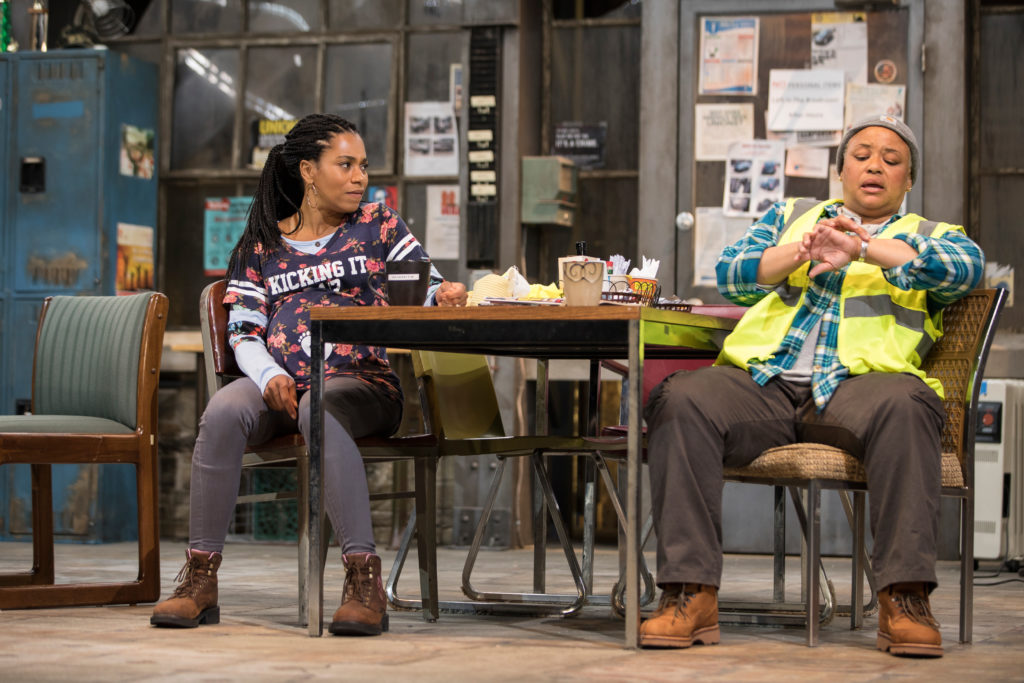 Working-class men and women of color are rarely front and center in today's media and, likewise, are presented all too occasionally on the American stage. So it's buoying to see that trend bucked in playwright Dominique Morisseau's percipient and well-crafted drama, Skeleton Crew. The play is the final installment in her Detroit  Project Trilogy; the first, Paradise Blue, is set in the 1940s amidst displacement caused by urban renewal and gentrification, while the second, Detroit '67, transpires on the eve of the 1967 Detroit riots sparked by a police action.
Directed by Patricia McGregor at Los Angeles' Geffen Playhouse, Skeleton Crew is a play with a moral spine. It takes place in 2008, when the shrinking U.S. auto industry is being further downsized. Morisseau's engaging quartet of characters — Faye (Caroline Stefanie Clay), Dez (Armari Cheatom), Shanita (Kelly McCreary) and Reggie (DB Woodside) – are employed at an automobile outfitting plant. Faye, Dez and Shanita are workers on the line while Reggie (who has a wife and kids, and has pulled himself together after a troubled youth) is their supervisor.
The first three customarily mingle in their break room (designer Rachel Myers' impressively cluttered, dingy and detailed set), trading the sort of familiar barbs and genuine concern for each other common among longtime co-workers. They also face off on philosophy: Upper-middle-aged Faye and the younger, pregnant Shanita take pride in their labor, while Dez, though a good worker, is a malcontent scornful of management and firm in the belief that everyone needs to watch out for himself. He's a thorn in Reggie's side, for while Reggie wants to be supportive of his workers, he must act at the behest of higher management. For his part, Dez resents Reggie's authority, and a palpable unease exists between them.
Besides this male matchup, we're made privy to Dez's attraction to Shanita, who mostly turns away his advances, but every now and then displays a hint of interest. Most poignant is Reggie's regard and affection for the lesbian Faye, which has roots in his boyhood when she loved, and lived, with his now-deceased mom.
These people's various predicaments intensify when rumors spread of the plant's shutdown — a disaster for all, but a particular calamity for the already near-broke Faye who, one year short of retirement, would lose her pension. The crisis forces each of these people to make a choice.
A sound piece of social realism, Skeleton Crew grabs you from the start in its focus on blue-collar men and women, and their struggle against odds for dignity and self-respect. Morisseau not only furnishes these characters a platform for their travails, she endows them with strong values, big hearts and the opportunity to choose between right and wrong.
Unfortunately, the performance I attended did not soar. Many exchanges lacked a fresh edge. The actors certainly had their characters down, but too often they appeared to be coasting on technique. (This seemed particularly true of Clay, who performed the role to great accolades in Washington, DC in 2017, also under McGregor's direction). Additionally, some of the stage movement was not entirely fluid; in confrontations, actors sometimes would just stand and face each other in an artificial way. And Cheatom's interpretation of Dez struck me as a bit overly churlish and depressive: I needed more glimpses of the intelligence and edge that would secretly attract the strong, self-directed Shanita.
The most compelling moments belong to Woodside, well-cast as a man trying his best in difficult circumstances to do the right thing.
---
Gil Cates Theater at the Geffen Playhouse, 10886 Le Conte Ave., Westwood Village; Tues.-Fri., 8 p.m.; Sat., 3 & 8 p.m. Sun., 2 & 7 p.m.; through July 8. (310) 208-5454 or www.geffenplayhouse.org