Robert Redford as Dan Rather
Truth might be seen as the third installment of an informal Robert Redford trilogy of films grappling with American electoral politics and its stormy romance with the news media. This triptych began with 1972's The Candidate, a satire about a telegenic senatorial contender who manipulates his image to win an election. Then came the 1976 historical drama, All the President's Men, which solemnly celebrated the Fourth Estate in its early efforts to gather news about the Watergate break-in. Truth represents the melancholy trail's end of this journey, when money and product-branding have trumped principles in both governance and journalism. It's based on former 60 Minutes II producer Mary Mapes' memoir that told how she and CBS news icon Dan Rather lost their jobs over a poorly sourced segment about George W. Bush's alleged attempt to dodge military service in Vietnam through the Texas Air National Guard. 
The story begins four years after the U.S. Supreme Court awarded the White House to a presidential candidate who had lost the popular vote. By the summer of 2004 that candidate, Bush, seems headed for defeat against John Kerry. At CBS News, Mapes (Cate Blanchett) gets word that during the Vietnam War, the Bush family's political clout landed W a coveted (and safe) spot in the Texas Guard; soon after, he seems to have become a permanent no-show during Guard flights and was released from service early, so he could attend Harvard Business School. 
Mapes and Rather (Redford), and their team of researchers, are up against a hard deadline: 60 Minutes can't run the story too close to the election or CBS will be attacked for springing an "October surprise." The program's only available slot is in early September – before enough of the explosive story's fact-checking can be completed to make it airtight. Besides the calendar, Mapes' obstacles include a lack of solid on-the-record sources and the fact that a sheaf of damning documents are only photocopies. 
Fans of All the President's Men will recall, here, Jason Robards' tough-love admonition, as Washington Post editor Ben Bradlee, to Bob Woodward and Carl Bernstein: "Get some harder information next time." If only Mapes had worked for Bradlee! For no sooner have she and Rather downed their celebratory scotches than the first debunking attacks come roaring in – first from outraged conservative bloggers, then from CBS's competitors. Just as the 2000 election hung on a paper chad, so would, in 2004, the 60 Minutes story hang on whether or not the disputed documents were originally created on a modern computer or a 1972 typewriter– specifically, one that could produce Times Roman superscript font.
Like The Candidate and All the President's Men, writer-director James Vanderbilt's film crackles with Front Page-like repartee and knowing cynicism. And yet its story doesn't belong to the age of front pages or newsrooms; instead, Truth's journalists live in a world dominated by pop sensibilities and bottom-line-minded executives, when deadlines have become hourly, if not instantaneous. It's hard not to sympathize with Mapes, Rather and their crew, especially since we know John Kerry's Swift Boat character assassins were given a free pass by the same media that helped topple 60 Minutes II and those who worked on the Bush story. It doesn't hurt that Vanderbilt's script skews the narrative so that we're led to believe no rational person would doubt the authenticity of the documents that ended Mapes' and Rather's careers at CBS. 
Still, there's also an unnecessary conspiratorial tone that occasionally blows into the film like a cold draft, and Bryan Tyler's soaring music, coupled at the end with adulatory slow-motion close-ups of Rather, sometimes makes us think we're watching Redford's baseball character Roy Hobbs in The Natural. In any case, Redford truly immerses himself in his role as Dan Rather – or, perhaps, in Rather's hair, which here appears to have been the offspring of Ted Koppel's luminous coiffure and Marv Albert's wig. To his credit, Redford is completely believable as the old news anchor and never tries to make him a Redford "creation."
From start to finish, though, Truth is Blanchett's film, as her troubled character plows through the story with both steely resolve and worrisome vulnerability. Again and again her leonine countenance is etched with righteous disdain, particularly when she faces a corporate inquisition, commissioned by her employers, that makes Hillary Clinton's recent ordeal seem like a moment in CBS's old quiz show, What's My Line? Despite its flaws, Truth is a film that should be seen, as its lessons about professional integrity and political intimidation can only become more important in the current election season.

'Skeleton Crew' Is a Play With a Moral Spine
Set in a Detroit automobile outfitting plant, Dominique Morisseau's drama grabs you from the start with its focus on blue-collar men and women, and their struggle for dignity and self-respect.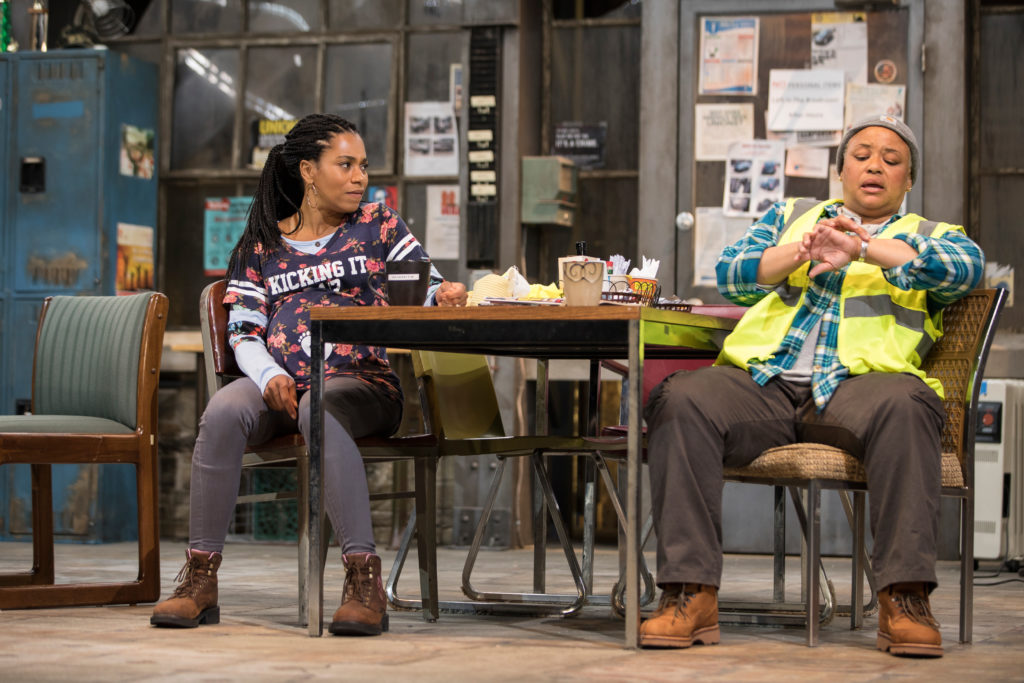 Working-class men and women of color are rarely front and center in today's media and, likewise, are presented all too occasionally on the American stage. So it's buoying to see that trend bucked in playwright Dominique Morisseau's percipient and well-crafted drama, Skeleton Crew. The play is the final installment in her Detroit  Project Trilogy; the first, Paradise Blue, is set in the 1940s amidst displacement caused by urban renewal and gentrification, while the second, Detroit '67, transpires on the eve of the 1967 Detroit riots sparked by a police action.
Directed by Patricia McGregor at Los Angeles' Geffen Playhouse, Skeleton Crew is a play with a moral spine. It takes place in 2008, when the shrinking U.S. auto industry is being further downsized. Morisseau's engaging quartet of characters — Faye (Caroline Stefanie Clay), Dez (Armari Cheatom), Shanita (Kelly McCreary) and Reggie (DB Woodside) – are employed at an automobile outfitting plant. Faye, Dez and Shanita are workers on the line while Reggie (who has a wife and kids, and has pulled himself together after a troubled youth) is their supervisor.
The first three customarily mingle in their break room (designer Rachel Myers' impressively cluttered, dingy and detailed set), trading the sort of familiar barbs and genuine concern for each other common among longtime co-workers. They also face off on philosophy: Upper-middle-aged Faye and the younger, pregnant Shanita take pride in their labor, while Dez, though a good worker, is a malcontent scornful of management and firm in the belief that everyone needs to watch out for himself. He's a thorn in Reggie's side, for while Reggie wants to be supportive of his workers, he must act at the behest of higher management. For his part, Dez resents Reggie's authority, and a palpable unease exists between them.
Besides this male matchup, we're made privy to Dez's attraction to Shanita, who mostly turns away his advances, but every now and then displays a hint of interest. Most poignant is Reggie's regard and affection for the lesbian Faye, which has roots in his boyhood when she loved, and lived, with his now-deceased mom.
These people's various predicaments intensify when rumors spread of the plant's shutdown — a disaster for all, but a particular calamity for the already near-broke Faye who, one year short of retirement, would lose her pension. The crisis forces each of these people to make a choice.
A sound piece of social realism, Skeleton Crew grabs you from the start in its focus on blue-collar men and women, and their struggle against odds for dignity and self-respect. Morisseau not only furnishes these characters a platform for their travails, she endows them with strong values, big hearts and the opportunity to choose between right and wrong.
Unfortunately, the performance I attended did not soar. Many exchanges lacked a fresh edge. The actors certainly had their characters down, but too often they appeared to be coasting on technique. (This seemed particularly true of Clay, who performed the role to great accolades in Washington, DC in 2017, also under McGregor's direction). Additionally, some of the stage movement was not entirely fluid; in confrontations, actors sometimes would just stand and face each other in an artificial way. And Cheatom's interpretation of Dez struck me as a bit overly churlish and depressive: I needed more glimpses of the intelligence and edge that would secretly attract the strong, self-directed Shanita.
The most compelling moments belong to Woodside, well-cast as a man trying his best in difficult circumstances to do the right thing.
---
Gil Cates Theater at the Geffen Playhouse, 10886 Le Conte Ave., Westwood Village; Tues.-Fri., 8 p.m.; Sat., 3 & 8 p.m. Sun., 2 & 7 p.m.; through July 8. (310) 208-5454 or www.geffenplayhouse.org