Film Review: 'Fruitvale Station'
Fruitvale Station will not make many people's lists as the feelgood film of the summer – it's a semi-fictional account of the last day in the life of Oscar Grant, the troubled young black man who was mortally wounded by a transit police officer on an Oakland BART platform in 2009. Director Ryan Coogler's debut movie opens with actual grainy cell phone footage, taken by bystanders, of the chaotic moments leading to Grant's shooting after a melee had erupted on a train full of New Year's Eve revelers.
Yet the story remains a powerfully optimistic work that shows Grant (Michael B. Jordan), in his last day alive, coming to terms with his criminal past as a small-time drug dealer. We watch as he tries to move his life in a new direction and become a better husband and father. And, despite Grant's recurring moments of explosive personal confrontations, Coogler's film knows when to pull back and take a restrained, almost objective look at race relations. (With a bit of grim timing, it was released two weeks after the trial of Trayvon Martin's shooter, George Zimmerman.)
Fruitvale Station also takes an unsparing look at the Sisyphean task that low-income people of color face when they try to obtain and keep the kind of decent-paying jobs that allow parents to raise families – early on in the film Grant loses his job at an Oakland market, setting in motion the fateful incidents that both redeem him and lead him to his death.
This is a low-budget movie filmed in Super 16 (as opposed to the standard 35mm format), yet it has a crisp look to it. Coogler, who befriended the Grant family during production, shot his locations where Grant's story took place, and the San Francisco Bay Area's bright skies and clean streets create a visual counterpoint to the grinding economic and emotional hardships confronting Oscar, his girlfriend Sophina (Melonie Diaz) and their young daughter, Tatiana (Ariana Neal).
Fruitvale Station is an impressive first feature for Coogler and an especially powerful vehicle for Jordan, who portrays his character as a complex figure who wants to make the right decisions in life but who seems to always be undone by himself. It's a star turn for an actor just beginning his career, and Jordan's onscreen charm and beguiling charisma make comparisons with the young Denzel Washington inevitable. But the film's biggest achievement is its refusal to let Grant become another sad statistic.
(Fruitvale Station is running at select Laemmle theaters.)

A Woman's Art Is Never Done: The Feminae Exhibition
A striking juxtaposition between the past and present courses throughout the small gallery. Celia Blomberg's "International Women's Day March 8" can't help but make one think of 2017's Women's March, which occurred 37 years after the print's first appearance.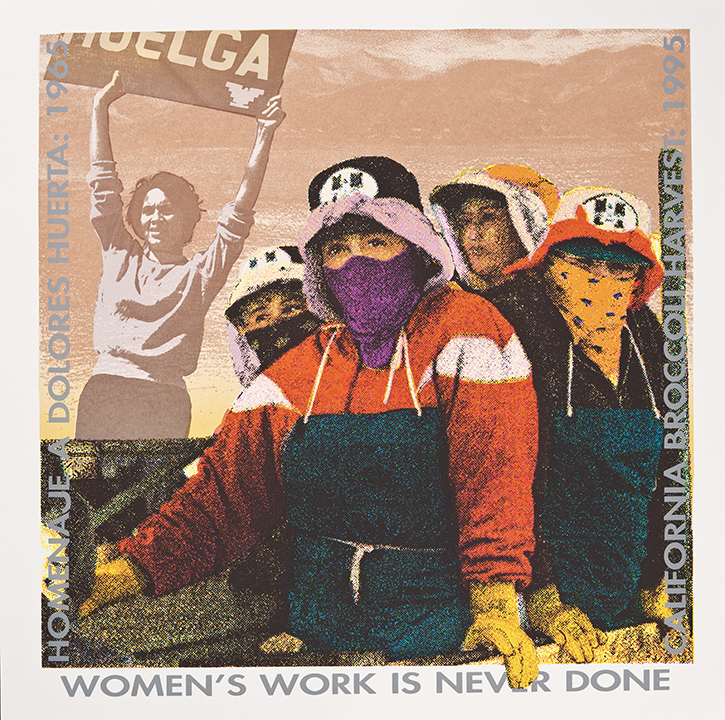 Among the 50-plus works in the Feminae: Typographic Voices of Women By Women exhibit is Yolanda Lopez's "Women's Work is Never Done." Lopez's title is particularly ironic, given the exhibit's gender-based subject matter. The show spans work from the past 50 years, making it easy to understand how much society is still grappling with its themes of gender inequality. Culled from the archives of the Center for the Study of Political Graphics, the graphic images of protest, persuasion and empowerment are truly works of art in their own right.
However, political posters aren't made to merely spruce up walls, but to help figuratively bring barriers down as well.
Two silkscreens from the 1970s, Liliana Porter and John Schneider's "This Woman is Vietnamese" and See Red Woman's Workshop's "So Long As Women Are Not Free People Are Not Free," are particularly powerful, underscoring, as they do, the fact that the subjugation and persecution of women crosses borders and cultures as an unfortunate shared global experience. These two pieces' stark simplicity exemplifies most of the work in the exhibit. In the former, a New York Times photo of a distraught Vietnamese woman with a gun held to her head is centered above these basic words typed out in a typewriter font: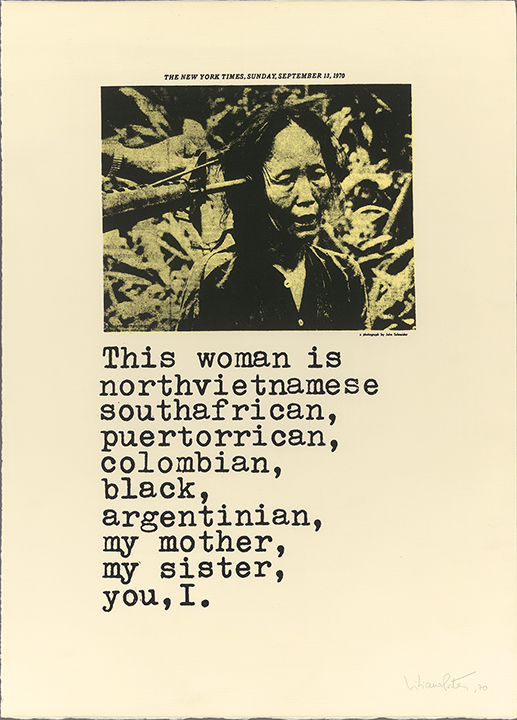 This woman is
northvietnamese
southafrican
puertorrican,
colombian,
black,
argentinian,
my mother,
my sister,
you, I.
By juxtaposing the photo with these words, the creators take the plight of this woman and immediately globalize her pain. In the latter, three female demonstrators are silkscreened in red onto a yellow background. They are marginalized by being stuck in the lower left third of the poster, but two of them are raising their fists skyward and their mouths are open, screaming in defiance. Its non-serif, eponymous type reads: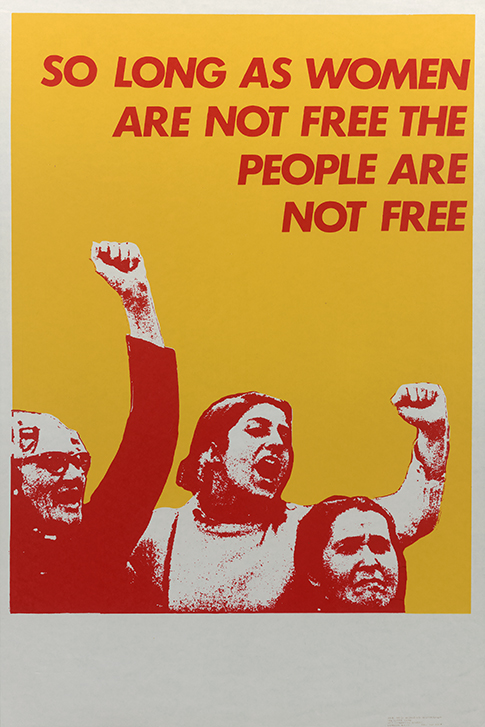 SO LONG AS WOMEN
ARE NOT FREE THE
PEOPLE ARE
NOT FREE
This piece's message takes the global message even farther, making the plight of women a human one — a common theme in the exhibition.
There is also a striking juxtaposition between the past and present that seethes throughout the small gallery. Celia Blomberg's "International Women's Day March 8" can't help but make one think of 2017's Women's March that would take place 37 years later. See Red Woman's Workshop's 1977 "Black Women Will Not Be Intimidated" could easily be repurposed to address the recent spate of blue-on-black brutality. Notable works by Barbara Kruger, Sister Corita Kent and the Guerilla Girls are also included.
Ironically , while it can be surmised that most of these works were made as populist posters to be distributed at the time as banners of protest, their beautiful simplicity and nostalgic elegance probably have resulted in the originals (mostly now found in art museums) sporting hefty vintage-resale prices.
But it is not just the art that has stood the test of time. The fact that the issues addressed in the show — feminism, choice, gender equality, war, immigration, police brutality or violence against women — are all issues at the forefront of debate in 2018 ultimately engenders conflicting feelings.
On one the hand, it is inspiring to see a vibrant exhibit that showcases such diversity in artistic styles, no doubt spawned by the diversity of the artists' own backgrounds. On the other hand, there is a realization that while there has been some progress over the past half century, there is so much work to be done.
Art Center's Hoffmitz Milken Center for Typography, 950 South Raymond Ave., Pasadena; through May 15.
---
Copyright Capital & Main