Epoch Story: A Stage Chronicle of Watts
A new historical play looks at a disputed tract of land that would eventually become Watts.

Cheryl Umaña and Jeff Torres as Toya and Enrique. (Photo: Grettel Cortes Photography)
Early on in Evangeline Ordáz's engaging and arrestingly mounted historical melodrama, an altercation ensues between Toya (Cheryl Umaña), a proud and angry Indian princess, and Enrique (Jeff Torres) the amiable son of a Mexican landowner. The year is 1843 and the issue is water; Enrique's father, who was "granted" the land that had belonged to Toya's Tongva people, has built a dam to detour water to his fields, leaving little for the Indians. Toya, whose chieftain dad (Richard Azurdia) is being held prisoner in the local mission, rages in her own language at the bewildered Enrique who, smitten, later marries her and tries, without much success, to make amends.
The story of Toya and Enrique is among five interwoven threads in this fictional tale that spans the 1840s to the present. Most of the events, which are contextualized by historical fact, take place in Watts, which Rancho Tajauta, the disputed tract, would later become. Over the years, the land was developed and came to be settled by white families, black families and then Hispanic ones. Directed with skill and sensitivity by Armando Molina, with the various characters depicted by seven performers, Ordáz's script follows several generations of kin as they struggle to overcome racial tensions and defend their homes against gentrification and the wiles of unscrupulous buyers.
One bridge-building relationship evolves between two women: Leola (LeShay Tomlinson), an African-American widow who, in 1949, relocates from the South in search of a life with more dignity, and Maeve (Johanna McKay), her white neighbor who, unlike the bigots in their community, welcomes Leola with coffee and cake. Their friendship lasts for decades. Leola has a daughter, Leslie (Niketa Calame), who is a political activist in the '60s but later becomes a drug addict. She in turn has two daughters: Sharon (Tomlinson), a tough-talking gal who works at the DMV, and her younger half-sister Mel (Calame), a sweeter soul who, defying her sister's prejudice against Mexicans, falls happily in love with their new neighbor, Fidel (Azurdia). Meanwhile, Maeve's son (Ian Alda) has moved to Pasadena, changing his name so as not to appear Jewish like his father; his own son (Alda) becomes a land developer who returns to the old neighborhood to buy up property.
Johanna McKay and LeShay Tomlinson as Maeve and Leola. (Photo: Grettel Cortes Photography)
Some of the characters are sparely drawn, a by-product of an extended time frame and multiple scenarios compressed into about two hours. But under Molina's direction, the ensemble steps to the plate, with textured portrayals that make up for any lack of depth on the page. Umaña is lovely as the spirited and then spiritually splintered Toya, while Tomlinson's forthright matriarch is warm and familiar; she's even better as the bossy and opinionated Sharon, whose scenes with Calame as her more spontaneous sister evoke the droll intimacy of people who know each other well. Both Calame as Mel and Torres (the latter in various roles, but especially as Toya's kind and loving suitor, then spouse) project the winning charm of guileless individuals. These are people you like.
Time changes take place against an artfully conceived bleached landscape (set designer Justin Huen), effectively elaborated on by shifting lighting (Huen) and Benjamin Durham's videography. Rebecca Kessn's sound design aptly punctuates the drama.
One caveat: I would have appreciated a chyron to indicate at the beginning of each sequence what decade I was in. In some places, it took me a couple of minutes to get it. In particular, Calame's transitions from the upbeat Mel to the depressed and angry Leslie could use sharper delineation in terms of costume or wig.
---
Company of Angels, 1350 San Pablo St., Los Angeles; Fri.-Sat., 8 p.m.; Sun., 7 p.m.; through Nov. 13. www.companyofangels.org

'Skeleton Crew' Is a Play With a Moral Spine
Set in a Detroit automobile outfitting plant, Dominique Morisseau's drama grabs you from the start with its focus on blue-collar men and women, and their struggle for dignity and self-respect.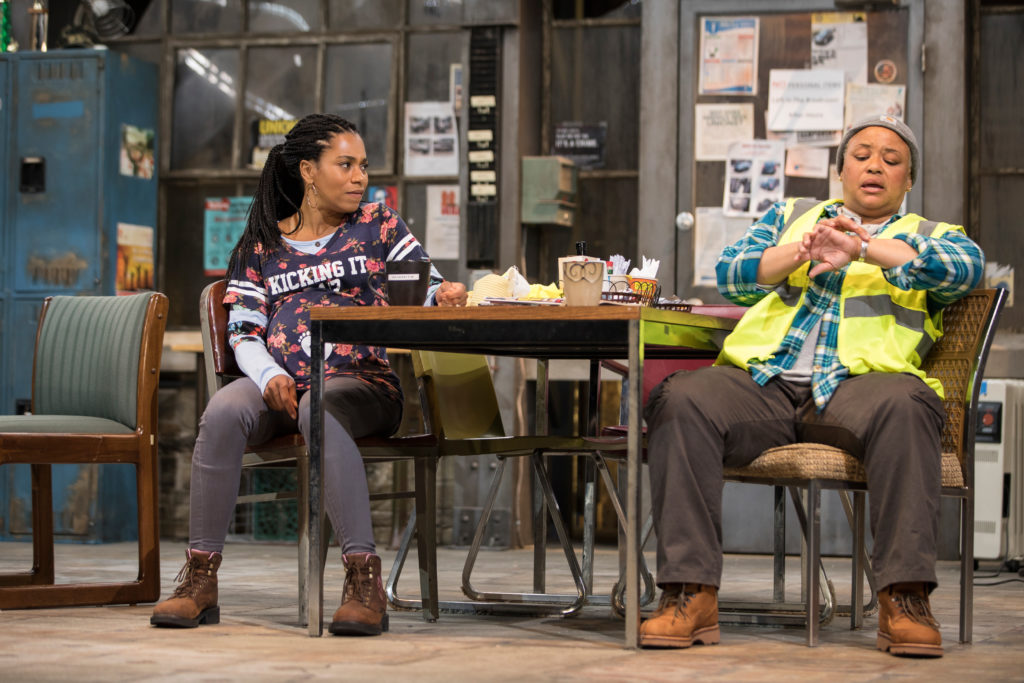 Working-class men and women of color are rarely front and center in today's media and, likewise, are presented all too occasionally on the American stage. So it's buoying to see that trend bucked in playwright Dominique Morisseau's percipient and well-crafted drama, Skeleton Crew. The play is the final installment in her Detroit  Project Trilogy; the first, Paradise Blue, is set in the 1940s amidst displacement caused by urban renewal and gentrification, while the second, Detroit '67, transpires on the eve of the 1967 Detroit riots sparked by a police action.
Directed by Patricia McGregor at Los Angeles' Geffen Playhouse, Skeleton Crew is a play with a moral spine. It takes place in 2008, when the shrinking U.S. auto industry is being further downsized. Morisseau's engaging quartet of characters — Faye (Caroline Stefanie Clay), Dez (Armari Cheatom), Shanita (Kelly McCreary) and Reggie (DB Woodside) – are employed at an automobile outfitting plant. Faye, Dez and Shanita are workers on the line while Reggie (who has a wife and kids, and has pulled himself together after a troubled youth) is their supervisor.
The first three customarily mingle in their break room (designer Rachel Myers' impressively cluttered, dingy and detailed set), trading the sort of familiar barbs and genuine concern for each other common among longtime co-workers. They also face off on philosophy: Upper-middle-aged Faye and the younger, pregnant Shanita take pride in their labor, while Dez, though a good worker, is a malcontent scornful of management and firm in the belief that everyone needs to watch out for himself. He's a thorn in Reggie's side, for while Reggie wants to be supportive of his workers, he must act at the behest of higher management. For his part, Dez resents Reggie's authority, and a palpable unease exists between them.
Besides this male matchup, we're made privy to Dez's attraction to Shanita, who mostly turns away his advances, but every now and then displays a hint of interest. Most poignant is Reggie's regard and affection for the lesbian Faye, which has roots in his boyhood when she loved, and lived, with his now-deceased mom.
These people's various predicaments intensify when rumors spread of the plant's shutdown — a disaster for all, but a particular calamity for the already near-broke Faye who, one year short of retirement, would lose her pension. The crisis forces each of these people to make a choice.
A sound piece of social realism, Skeleton Crew grabs you from the start in its focus on blue-collar men and women, and their struggle against odds for dignity and self-respect. Morisseau not only furnishes these characters a platform for their travails, she endows them with strong values, big hearts and the opportunity to choose between right and wrong.
Unfortunately, the performance I attended did not soar. Many exchanges lacked a fresh edge. The actors certainly had their characters down, but too often they appeared to be coasting on technique. (This seemed particularly true of Clay, who performed the role to great accolades in Washington, DC in 2017, also under McGregor's direction). Additionally, some of the stage movement was not entirely fluid; in confrontations, actors sometimes would just stand and face each other in an artificial way. And Cheatom's interpretation of Dez struck me as a bit overly churlish and depressive: I needed more glimpses of the intelligence and edge that would secretly attract the strong, self-directed Shanita.
The most compelling moments belong to Woodside, well-cast as a man trying his best in difficult circumstances to do the right thing.
---
Gil Cates Theater at the Geffen Playhouse, 10886 Le Conte Ave., Westwood Village; Tues.-Fri., 8 p.m.; Sat., 3 & 8 p.m. Sun., 2 & 7 p.m.; through July 8. (310) 208-5454 or www.geffenplayhouse.org