Emeryville Joins Movement to Raise Minimum Wage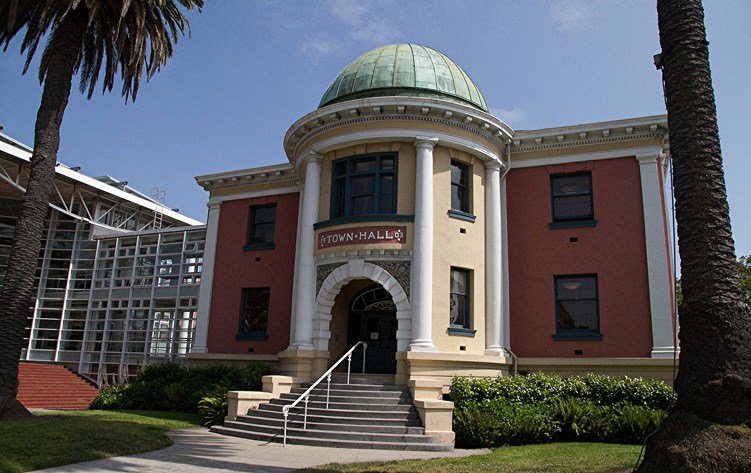 Emeryville Town Hall, scene of city council's May 5 vote.
Emeryville, California is more than a brief Amtrak stop across the bay from San Francisco. On Tuesday evening all five Emeryville City Councilmembers approved an ordinance that increases the minimum wage for workers employed at small firms to $12.25 an hour, effective July 1. Employees at Emeryville companies with more than 55 employees, such as Home Depot and Ikea, will earn a minimum wage of $14.44 an hour, also to begin July 1.
"This is a momentous occasion for the city of Emeryville," Jennifer Lin, deputy director of the East Bay Alliance for a Sustainable Economy, told Capital & Main by phone. "Many of the city councilmembers in their deliberations spoke about the need to address income inequality, to give workers a leg out of poverty."
California's current hourly minimum wage is $9, an increase of $1 over 2014. Meanwhile, the Golden State's rate of poverty in 2013 was 23.4 percent, tops in the nation, according to the Census Bureau.
Emeryville's minimum wage ordinance will benefit close to 5,000 workers out of an estimated workforce of 20,000, according to Lin.
The Emeryville ordinance provides a path for minimum wage workers to earn near $16 an hour by 2019 – making it then the highest in the nation — with yearly cost-of-living hikes. In addition, each minimum-wage employee will garner between six and nine paid sick days annually.
This Alameda County city of about 11,000 has seen a shift in the character of its employment. Once an industrial town, Emeryville's service employment — e.g, fast food, hotels, janitorial services and retail outlets — now dominates its economy.
Although Forbes can report that "Half of California's billionaires live in the Bay Area and Silicon Valley," workers' reliance upon their hourly earnings to make ends meet remains the same. A broad-based consensus is building in the S.F. Bay Area and across the U.S. that minimum hourly pay has simply not kept up with the cost of living, thanks in no small part to the decline of labor unions. The result in the Bay Area has been higher rents and worsening gentrification, especially now that global tech companies such as Google and Twitter have become entrenched there.
As a result of such wealth gaps voters approved, overwhelmingly, minimum-wage hikes in Oakland and San Francisco in late 2014. The Emeryville minimum wage ordinance reflects those victories for low-wage workers at the ballot box.
Old-fashioned activism, community consensus and coalitions were key to the passage of the Emeryville minimum-wage ordinance, as faith-based groups, labor unions and advocacy organizations coalesced around raising the wage.
Small shop owners also played a part in the passage of Emeryville's minimum wage ordinance.
"Many small businesses came out to a hearing a month ago," Lin said, "and were very concerned about a fast ramp-up in the minimum wage hike for their bottom lines. As a result, the city council and minimum-wage advocates supported a slower rate of increase for smaller firms.
"What's happening in Emeryville is part of a national movement, city by city," she added. "What was a few years ago unthinkable is now unstoppable. We can ensure that workers do not have to live in poverty."