Education Critics Attack California's New Online College
Flex Learning Options for Workers (FLOW), a new online addition to the 115-school community college system, is set to launch in fall, 2019.
---
"Learning Curves" is a weekly roundup of news items, profiles and dish about the intersection of education and inequality. Send tips, feedback and announcements of upcoming events to  braden@capitalandmain.com, @BillRaden.
---
One study has found that far from expanding access for the state's hard-to-reach students of color, online classes have been an "engine of racial inequality."
---
"What I like about Chipotle is the limited menu," said Governor Jerry Brown in May, praising the fast-food chain's build-your-own-burrito approach as a model for California higher education. "You put a little cheese, a little this, a little that, and you're out of there. I think that's a model some of our universities need to follow. … It takes kids six years instead of four years. If [universities] would go to a limited menu concept, everyone would graduate on time."
A week later, Brown got his burrito when the legislature passed a nearly $200 billion state spending bill that offered little monetary relief for tightly squeezed University of California and California State University budgets — but included $100 million to launch California's first wholly online, statewide virtual community college. Called Flex Learning Options for Workers (FLOW), the new two-year addition to the 115-school community college system is set to launch in fall, 2019.
Yet despite enthusiastic backing by California Community Colleges (CCC) chancellor Eloy Ortiz Oakley, FLOW had to run a gauntlet of opposition comprised of community college stakeholders and Sacramento lawmakers, whose consensus is that the measure is being overly rushed and under-thought. One study, in fact, has found that far from expanding access for the state's hard-to-reach students of color, online classes have been an "engine of racial inequality."
---
FLOW has remained a tough sell for a governor who has demonstrated a decided tendency to adopt the latest, untested fad in cost-cutting education reform.
---
Although no teachers have been hired or courses announced yet, the cyber-college comes loaded with rosy assumptions that it will successfully serve what an April study by a Bill Gates-supported education policy nonprofit says are 2.5 million of the state's most difficult-to-reach pupils — older, "stranded workers" who are typically unable to drive to a campus but who still need access to the career and technical training that will allow them to get ahead economically.
Nevertheless, FLOW has remained a tough sell for a governor who has demonstrated a decided tendency to adopt the latest, untested fad in education reform, so long as it holds out a promise of doing more with far fewer resources. Brown was quick to jump aboard the school-choice bandwagon and, as mayor of Oakland, founded two charters — the Oakland School for the Arts and the Oakland Military Institute — that have consistently failed to distinguish themselves from their public school neighbors, in spite of lavish private funding.
Two of FLOW's severest critics are University of California, Santa Barbara professor and education author Christopher Newfield, and researcher Cameron Sublett, an associate professor of education at Pepperdine University's Graduate School of Education and Psychology. Earlier this year, in a paper published by Inside Higher Ed, the pair disaggregated the numbers provided by the CCC's chancellor's office to starkly illuminate the deficiencies of moving face-to-face classroom learning online for students of color.
"When we did that, you find that the stories that the chancellor's office is telling us are not accurate," Sublett explained to Capital & Main. "In developmental ed courses — so-called remedial courses — the face-to-face/online disparity is actually greater. Furthermore, if you look at it by racial category, the disparity is actually not closing but remaining stable over time. So the whole idea they're at parity between face-to-face and online courses is only a partial representation of the truth. In fact, for certain subpopulations of student groups within the community college system in the state, success rates remain flat in online courses, and those success rates remain persistently lower than they are in face-to-face courses."
The misrepresentation doesn't stop there. Some of the FLOW proposal's most impressive claims for parity between — and even the superiority of — online over face-to-face learning rely on data from the Action Lab, the research arm of public online learning behemoth Arizona State University.
But in a June Forbes exposé, investigative reporter Derek Newton discredited wide swaths of Action Lab findings in "Making Digital Learning Work," a Gates Foundation-funded research partnership between ASU and the Boston Consulting Group. Newton accused the study's authors of outlandish, if self-dealing misreadings of elementary data: "To describe the ASU report as sloppy is generous. Dishonest is more accurate," the reporter charged.
Some of the most persuasive rebuttals of the FLOW numbers come from data harvested far closer to home. Public Policy Institute of California's higher education research team of Hans Johnson, Marisol Cuellar Mejia and Kevin Cook has regularly sifted through the student outcomes of learners from the Online Education Initiative (OEI), the statewide project that is ironically led by the California Community Colleges Chancellor's Office and has long made CCC the largest provider of online classes in the nation, surpassing the one million enrollment mark in 2013.
"African American and Hispanic students have respectively 17.5 and 9.8 percentage points lower online course success rates than white students," reports 2015's "Successful Online Courses in California's Community Colleges." Also, "we find that online course success rates are between 11 and 14 percentage points lower than traditional course success rates. In addition, we find that online learning does nothing to overcome achievement gaps across racial/ethnic groups — in fact, these gaps are even larger in online classes," adds PPIC's 2014 report, "Online Learning and Student Outcomes in California's Community Colleges."
"We already have the infrastructure in place to offer this program they're seeking," notes Jim Mahler, a veteran San Diego Community College math and engineering professor, and president of the Community College Council of the California Federation of Teachers. (Disclosure: CFT is a financial supporter of this website.) "I don't see a need to create a new college from a policy standpoint. The amount of money they're throwing into it is larger than the budget of most community colleges. It's the kind of money that could be used for better purposes that would serve students in a better way."
This is not the first time, Sublett noted, that Brown has aggressively pursued the cyber-education dream of reaping cost benefits on the backs of students by moving high quality, face-to-face instruction online. In 2013, the governor famously brokered a private-public partnership between the for-profit Massive Open Online Course (MOOC) provider Udacity and San Jose State University. Six months later, the deal imploded following revelations that more than half the students in the rollout failed their final exams and that Udacity's online courses actually reduced remedial education outcomes.
"I think that is Governor Brown's paradigm," Sublett reflected. "I think he does embrace online learning to the degree that he does because he sees potential cost savings. "There's this idea among many people that online is cheaper and faster, but I don't think you'll find lots of support among people that know how online learning actually operates."
---
Copyright Capital & Main
West Virginia Teachers Flex Muscle Again
Meanwhile, Oakland teachers break out the picket signs and LAUSD discovers the joys of transparency.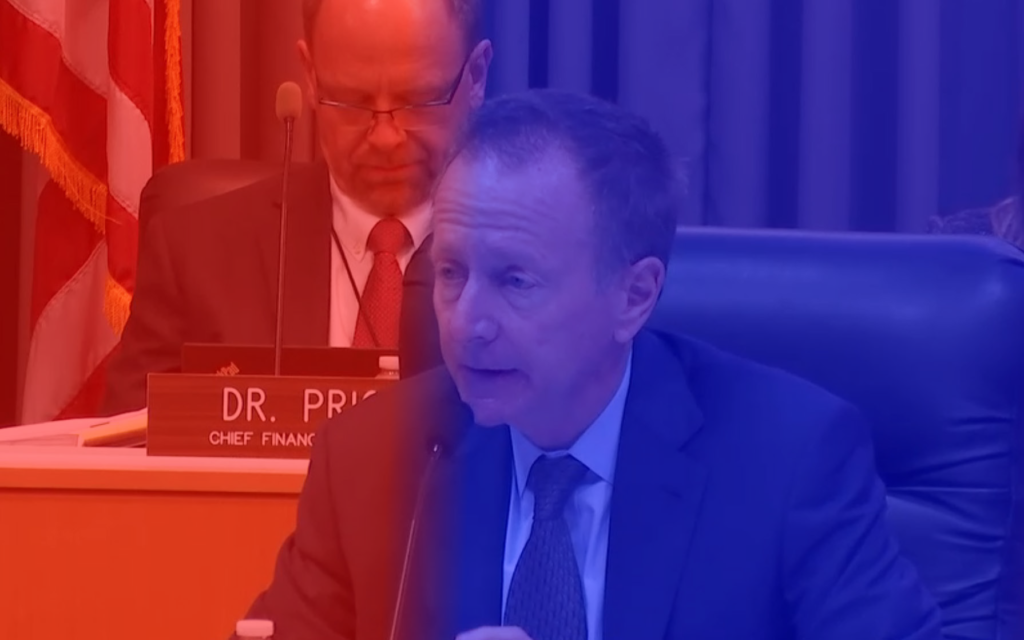 ---
"Learning Curves" is a weekly roundup of news items, profiles and dish about the intersection of education and inequality. Send tips, feedback and announcements of upcoming events to  braden@capitalandmain.com, @BillRaden.
---
"Yes, West Virginia, there is a teachers union, and it's still fighting mad." That was the message for Mountain State lawmakers this week when thousands of West Virginia teachers and school workers walked off the job to kill a privatization bill reputedly written in retaliation for last year's historic nine-day teachers strike. Only hours into the Tuesday-Wednesday walkout, the state's House of Delegates voted 53 to 45 to indefinitely table Senate Bill 451, which had linked a teacher pay raise to the gutting of job security and a first-time legalization for West Virginia of charters and private school vouchers. "Instead of trying to treat a symptom with garbage legislation that isn't even vetted or proven to work," Logan County teacher Kristina Gore told New York magazine, "let's brainstorm some legislation to fix the real problem — the social conditions in which our children live."
All eyes now turn to the East Bay, where over 3,000 Oakland Unified educators walked off the job today, following the recommendations issued last Friday by a neutral fact-finding panel, which agreed with key union bargaining positions but was unable to break the deadlock. "Years of underfunding, the unregulated growth of the charter school industry and district neglect [have] starved our schools of the necessary resources," OEA president Keith Brown charged at a Saturday press conference. In addition to a 12 percent raise over three years, the union is asking for class size reductions, more support staff and is opposing extreme austerity measures that could shutter up to 24 OUSD neighborhood schools.
That OUSD chopping block was the subject of Tuesday's almost Dickensian Oakland school board meeting in which a procession of tearful parents, students, teachers, activists and education leaders pleaded with trustees to spare programs targeted for cuts. School libraries, the district's restorative justice and foster youth programs, and its Asian Pacific Islander Student Achievement services have all been slated for deep reductions in the current, $21.75 million round of budget cuts. The final vote comes February 25.
A murky scheme to transform Los Angeles Unified into a"portfolio" or "network" school district became a little more transparent last week when LAUSD suddenly released a torrent of documents related to superintendent Austin Beutner's "Re-Imagine LAUSD" reorganization plan. After months of stonewalling on California Public Records Act requests from news media and BD 3 school board member Scott Schmerelson, the office of LAUSD General Counsel David Holmquist released hundreds of pages of Re-Imagine contracts and memoranda after Schmerelson upped the ante by introducing a resolution reprimanding the superintendent for his "lack of transparency and responsiveness." That measure passed in a 5-1 vote Tuesday after board members soundly rejected BD 4 member Nick Melvoin's attempt to resurrect an old ALEC model law attack on teacher job security called "mutual consent."
The most eye-popping of the PRAs is LAUSD's 24-page, $765,000 contract with national portfolio district retrofitters Kitamba. The company, which also designed the portfolio transformation of Camden, New Jersey schools that has turned that district into a parent-versus-parent war zone, was engaged to implement a performance-based rating system that, under the portfolio system of governance, is used by district "network leaders" to justify closing and replacing low-testing public schools — usually with charters. Kitamba CEO Rajeev Bajaj, who may be best remembered in New Jersey for his connection to a conflict-of-interest scandal involving former Newark schools chief Christopher Cerf, is leading the LAUSD effort.
California college sexual assault cases are on hold following last month's state appellate court decision that ruled a USC football player accused of sexual assault must be allowed to cross-examine his accuser. According to the L.A. Times, the January 4 reversal has left Golden State colleges and universities scrambling to revise their sexual misconduct policies. The decision followed controversial new federal Title IX sexual misconduct rules proposed by U.S. Education Secretary Betsy DeVos, who is seeking to rescind trauma-informed Obama guidelines and replace them with narrower, more trial-like proceedings, including the cross-examination of accusers in real time. Universities, including the UC and Cal State systems, have opposed direct questioning as an intimidation of assault victims. Since the ruling, Cal State has temporarily halted proceedings in 75 cases that are probably eligible for disciplinary hearings. CSU Title IX coordinator Linda Hoos told the Times that the university is crafting a policy where accusers will be cross-examined via videoconferencing and through a neutral intermediary. UC is expected to follow suit.
---
Copyright Capital & Main