Economy and Technology Pound Bay Area Newspapers
Last week's purchase of the SF Weekly by the owners of the SF Examiner and Bay Guardian was a shocking and telling development. It was shocking because few seemed to care, and telling because it showed the increasingly irrelevance of daily print English language media in San Francisco. I described in 2009 why the San Francisco Chronicle's huge financial losses and circulation decline put its future as a daily print newspaper in doubt, and these losses have continued while the paper has fallen out of the top 25 in circulation for the first time (its print version had only 165,000 readers in March 2012, a nearly 50 percent drop since 2009). The Chronicle's owner is looking to profit from real estate development, not journalism. Layoffs at the SF Weekly have begun and the staffs of the once combative weeklies will eventually merge. The end of the line for English language print newspapers in San Francisco is near.
The media world has dramatically changed since the Bay Guardian's antitrust lawsuit against the SF Weekly went to trial in January 2008. At the time, a Beyond Chron article proclaimed that nothing less than the "future of independent media" was at stake.
But even the Guardian's $15 million damage award could not save it. When Bruce Brugmann made over $2 million in profits from the paper's sale in April 2012, he acknowledged, "Publishing is hard now, advertising is not easy. Not everyone is interested in buying newspapers in this country."
Brugmann's profits came from selling the paper's real estate, not its reporting. And last week Village Voice media sold the SF Weekly for a likely smaller sum than its litigation costs in the Guardian lawsuit (it also sold the Seattle Weekly, and is rumored to have the Village Voice on the block).
Today's young people do not need to pick up a newspaper to learn what's happening in the city, as they have smartphones, computers and/or apps. Both papers once made gobs of money from escort and dating ads. But these ads have shifted to online sites, and Village Voice Media's current financial crisis stems from its being charged with operating "the biggest forum for sex trafficking of under-age girls in the United States."
In the pre-Internet days, cafes were filled with people reading newspapers while drinking coffee. Today, laptops dominate the café scene, and even novels are read on phones.
The print editions of the Bay Guardian and SF Weekly are not sustainable, and will either merge or keep separate online identities.
The Old Media World
The SF Chronicle continues its print edition despite losing millions annually because of the Hearst Corporation's real estate venture with Forest City to develop its large Fifth and Mission holdings. It's a lot easier to sell this massive development project if a) the Chronicle can promote it in its print edition and b) the project's office towers can be justified as subsidizing the survival of a print newspaper.
But I have come across nobody in the journalism field who believes that the Chronicle's print edition has much of a future. Young people coming to the Bay Area are not becoming subscribers, and what's left of the paper's declining circulation base is akin to the national Republican Party—it is disproportionately white, over 60 years of age, and not a leading target of advertisers.
The Chronicle's print edition will either lose its independent status and become part of the newspaper groups led by the San Jose Mercury News and the SF Examiner, or be entirely replaced by SFgate.com.
The New Media World
Many argue that the online world is dependent on traditional newspaper content. They look at the many newspaper articles linked or reprinted on the Huffington Post and see "old media" reporting as driving traffic on online sites.
Yet the Huffington Post could survive quite well in the absence of most traditional newspapers. So could Salon, Politico, Daily Kos and other popular news sites. While the New York Times and other newspapers do provide information and stories vital to public policy debates, this is not a trait usually ascribed to the San Francisco Chronicle or most of the nation's daily print publications (which itself is a factor in their declining circulation and revenue).
And while print newspapers disappear, online news sources face their own serious competition from smartphones and social media like Facebook and Twitter. Websites that took readers from traditional newspapers by "shortening" the news now are challenged by rapidly updated tweets and Facebook postings. This will likely mean even shorter online stories, as people sending texts and working on their own social media accounts are too busy to read longer stories.
I love print newspapers and wish their owners had been more visionary in addressing the challenges of online and social media competition. But the cost conscious owners of the Chronicle, Bay Guardian and SF Weekly are unlikely to invest in the type of real journalism that compels the attention of Bay Area readers—-leaving their print futures even more precarious.
(Randy Shaw is Editor of Beyond Chron, where this post first appeared. His post is republished with permission.)

'Skeleton Crew' Is a Play With a Moral Spine
Set in a Detroit automobile outfitting plant, Dominique Morisseau's drama grabs you from the start with its focus on blue-collar men and women, and their struggle for dignity and self-respect.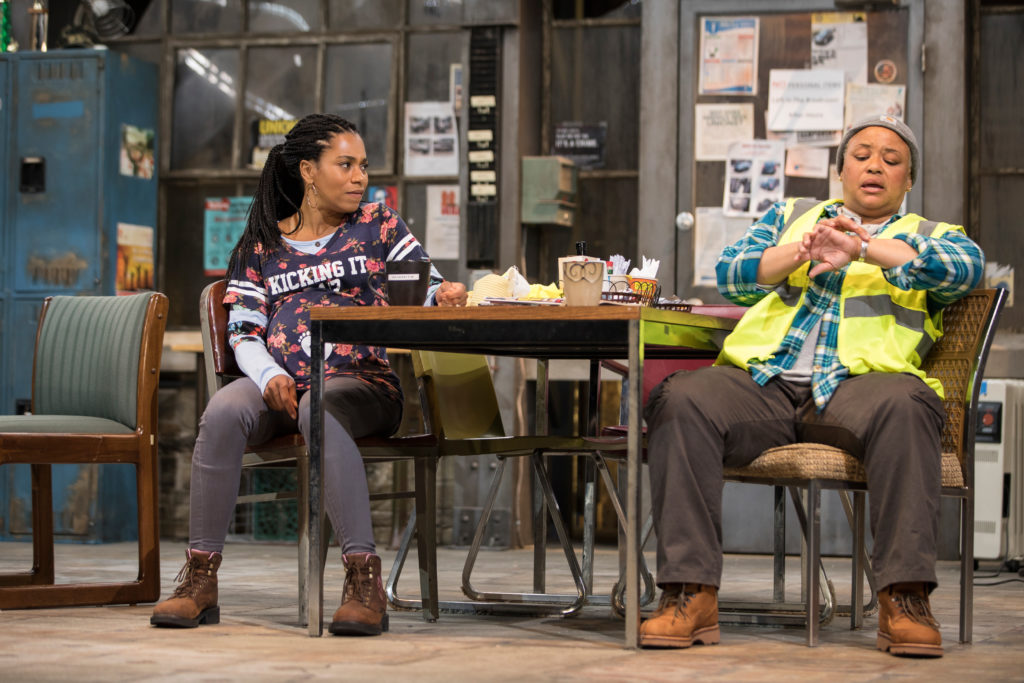 Working-class men and women of color are rarely front and center in today's media and, likewise, are presented all too occasionally on the American stage. So it's buoying to see that trend bucked in playwright Dominique Morisseau's percipient and well-crafted drama, Skeleton Crew. The play is the final installment in her Detroit  Project Trilogy; the first, Paradise Blue, is set in the 1940s amidst displacement caused by urban renewal and gentrification, while the second, Detroit '67, transpires on the eve of the 1967 Detroit riots sparked by a police action.
Directed by Patricia McGregor at Los Angeles' Geffen Playhouse, Skeleton Crew is a play with a moral spine. It takes place in 2008, when the shrinking U.S. auto industry is being further downsized. Morisseau's engaging quartet of characters — Faye (Caroline Stefanie Clay), Dez (Armari Cheatom), Shanita (Kelly McCreary) and Reggie (DB Woodside) – are employed at an automobile outfitting plant. Faye, Dez and Shanita are workers on the line while Reggie (who has a wife and kids, and has pulled himself together after a troubled youth) is their supervisor.
The first three customarily mingle in their break room (designer Rachel Myers' impressively cluttered, dingy and detailed set), trading the sort of familiar barbs and genuine concern for each other common among longtime co-workers. They also face off on philosophy: Upper-middle-aged Faye and the younger, pregnant Shanita take pride in their labor, while Dez, though a good worker, is a malcontent scornful of management and firm in the belief that everyone needs to watch out for himself. He's a thorn in Reggie's side, for while Reggie wants to be supportive of his workers, he must act at the behest of higher management. For his part, Dez resents Reggie's authority, and a palpable unease exists between them.
Besides this male matchup, we're made privy to Dez's attraction to Shanita, who mostly turns away his advances, but every now and then displays a hint of interest. Most poignant is Reggie's regard and affection for the lesbian Faye, which has roots in his boyhood when she loved, and lived, with his now-deceased mom.
These people's various predicaments intensify when rumors spread of the plant's shutdown — a disaster for all, but a particular calamity for the already near-broke Faye who, one year short of retirement, would lose her pension. The crisis forces each of these people to make a choice.
A sound piece of social realism, Skeleton Crew grabs you from the start in its focus on blue-collar men and women, and their struggle against odds for dignity and self-respect. Morisseau not only furnishes these characters a platform for their travails, she endows them with strong values, big hearts and the opportunity to choose between right and wrong.
Unfortunately, the performance I attended did not soar. Many exchanges lacked a fresh edge. The actors certainly had their characters down, but too often they appeared to be coasting on technique. (This seemed particularly true of Clay, who performed the role to great accolades in Washington, DC in 2017, also under McGregor's direction). Additionally, some of the stage movement was not entirely fluid; in confrontations, actors sometimes would just stand and face each other in an artificial way. And Cheatom's interpretation of Dez struck me as a bit overly churlish and depressive: I needed more glimpses of the intelligence and edge that would secretly attract the strong, self-directed Shanita.
The most compelling moments belong to Woodside, well-cast as a man trying his best in difficult circumstances to do the right thing.
---
Gil Cates Theater at the Geffen Playhouse, 10886 Le Conte Ave., Westwood Village; Tues.-Fri., 8 p.m.; Sat., 3 & 8 p.m. Sun., 2 & 7 p.m.; through July 8. (310) 208-5454 or www.geffenplayhouse.org