Economic Inequality: The Sky's Not the Limit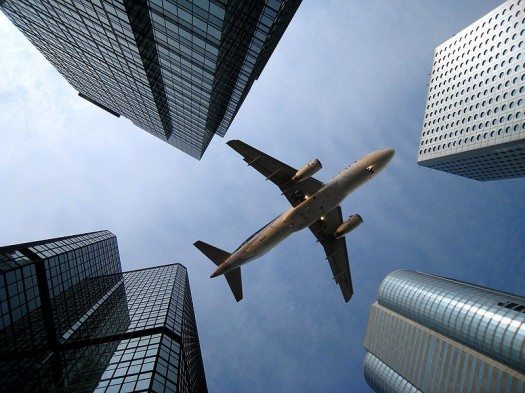 It's August, and Americans by the millions are cramming themselves into coach-class seats as they embark on their summer vacations. Those able to learn from adversity might ponder this: Airline seating may be the best concrete expression of what's happened to the economy in recent decades.
Airlines are sparing no expense these days to enlarge, upgrade and increase the price of their first-class and business-class seating. As the space and dollars devoted to the front of the planes increase, something else has to be diminished, and, as multitudes of travelers can attest, it's the experience of flying coach. The joys of air travel — once common to all who flew — have been redistributed upward and are now reserved for the well-heeled few.
The new business-class seats that Lufthansa is installing convert to quasi-beds that are six-feet six-inches long and two feet wide, the New York Times' Jad Mouawad reports. The price for working, eating, drinking and sleeping on this commodious couch, round-trip from Kennedy airport to Frankfurt and back, is a cool $5,000.
Lufthansa is hardly alone. Delta, United and American have all announced plans to upgrade their business-class seats for cross-country and transcontinental flights. Then there's Emirates, which now sells first-class suites — complete with a shower — that go for a tidy $19,000 on the New York-Dubai route.
At the other end of the economic spectrum, low-cost airlines that re-create the thrill of traveling in steerage are thriving, too. The new business model, apparently, is to shrink the seats, charge extra for everything and offer nothing for free that might be construed as an amenity. That's certainly the credo of Spirit Airlines, which charges its benumbed passengers a fee for their carry-on bags, $3 for water and $10 for printing out boarding passes and whose seats don't recline. Spirit boasts one of the highest profit margins in the industry and plans to expand by 15 percent to 20 percent every year for the next eight years, according to the Los Angeles Times. It also ranks dead last in customer satisfaction — indeed, in last year's Consumer Reports survey, it had one of the lowest overall customer satisfaction scores of any company in any industry that the magazine had ever surveyed.
But people fly Spirit Airlines because the fares are what they can afford.
The upgrading of business and the downgrading of coach present a fairly faithful mirror of what's happening in the larger economy: the disappearance of the middle class. As University of California-Berkeley economist Emmanuel Saez has documented, between 2009 and 2011, the incomes of the wealthiest one percent of American families grew by 11.2 percent while those of the remaining 99 percent shrunk by 0.4 percent. Median household income has declined every year since 2008. Profits, meanwhile, have risen to their highest share of the nation's economy since World War II, while wages have sunk to their lowest share. In an economy such as this, the growing markets are the rich and corporations, which have more money to spend on luxury travel, and the downwardly mobile everyone else, whose travel options are increasingly confined to discount outfits like Spirit and the increasingly hellacious coach sections of other airlines.
This week, one of the last airlines devoted to what we might call a middle-class travel experience succumbed to the increasing economic bipolarization of U.S. consumers. JetBlue, which has never had a first-class or business section but which afforded its coach customers more legroom than other airlines, announced that it would create a new first-class section on its cross-country flights with suites containing seats that fold down to full lie-flat beds.
In an unusually concrete way, JetBlue's change of cabin configuration highlights what the changes to our broader economy have meant. Its ability to provide its customers with more spacious seats was the direct result of not having a first-class section. Airplanes, like stagnating economies, are finite, and if one class takes up more space or commands more resources, the other class gets less.
The U.S. economy has not stagnated over the past four decades, but so much of its wealth has been claimed by the very top that most Americans have experienced it as a zero-sum game in which they've lost ground. As tax rules favored the wealthy, as employees lost the power to bargain for their wages, as globalization reduced the incomes of millions of workers, the rich grew richer at everyone else's expense. That's the reality that today's air travel illustrates, as the comfortable standard seat that once was the norm goes the way of the dwindling middle class.
(This post first appeared on the Washington Post and is republished with permission.)
The Power of the Poster
Carol Wells, the founder of the Center for the Study of Political Graphics in Los Angeles, talks to Capital & Main about the enduring power of political art.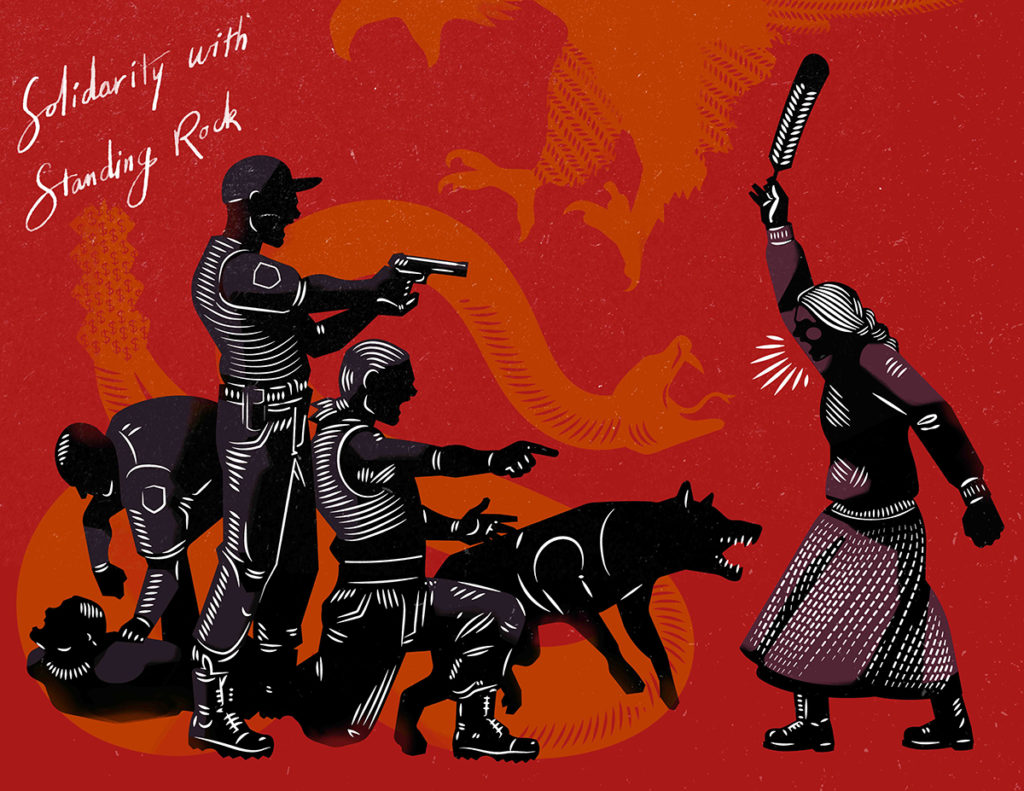 Carol Wells remembers the exact moment she discovered her calling. An art historian at the time, she was on a trip to Nicaragua with her friend David Kunzle, a UCLA art history professor, who was collecting political posters to add to his burgeoning collection. While staying with friends, Wells watched a neighbor's 8-year-old son approach a poster on the wall, stare at it intently, and then start to silently mouth the words. Wells was struck by how engaged the boy was. "In that moment I became obsessed with collecting posters."
Now over 40 years later, Wells is the founder and executive director of the Center for the Study of Political Graphics in Los Angeles. Wells has amassed approximately 90,000 posters, building one of the largest collections of its kind in the world. The Center shares its collection with the public in part through curated exhibits. This year the CSPG has produced Feminae: Typographic Voices of Women by Women and its latest is To Protect & Serve? Five Decades of Posters Protesting Police Violence, running through July 15 at the Mercado La Paloma in downtown Los Angeles.
Since that encounter in Nicaragua in 1981, Wells' obsession with collecting posters hasn't waned. In CSPG's nondescript West L.A. office space, Wells pulls out poster after poster, lecturing passionately on the backstory and cultural impact of each, including one that superimposes text from a New York Times interview with a shocking image of the My Lai massacre ("Q: And babies? A: And babies."). Recently, she managed to sit down with C&M to discuss her passion.
---
Capital & Main: So, you were an art history professor, you happen to see a kid on a trip, and suddenly your life was changed forever?
Carol Wells: Yeah, I'm in Nicaragua alone in the living room with this kid. He's looking around, and all of a sudden, he sees the poster. It was pretty big, bright green, a thick outlines of a woman holding a big basket of coffee beans. And the text in Spanish said, "In constructing the new country, we are becoming the new woman." I see him walk over to the poster and I'm watching him mouth the words. It was a pretty sophisticated concept, so I doubt he figured it out. But I literally had this epiphany: "Oh my God. That's how posters work." You're going about your daily life, and all of a sudden something breaks through the bubble, and it grabs your attention. It's the graphic, it's the color, it's the combination, and it pulls you out of your head and into that poster and it makes you ask a question. "Why is this here? What is this about? What does this mean?" And every time you ask a question, you're a different person than you were before you asked the question.
How many posters do you get a year?
We get between two to five thousand a year donated from all over the world. The bulk of our collection is [from] 1945 and later.
I assume technology has probably hurt the art form, but has it helped get the messages out?
Most people think that, and it's actually not true. Since the internet age started, there's actually a poster renaissance of works on paper. Because you can't walk with your computer monitor in a demonstration. You can't plant your monitor on your lawn.
And you can't put a laptop on the wall…
Exactly. You want to hear a really great story? Truthdig.org published a cartoon [made by] a political cartoonist named Mr. Fish. It was during the Arab spring, and he had superimposed Che Guevara with the stylized beard and King Tut's face, but it had Che's beret. And it [was titled], "Walk like an Egyptian." So, it was a reference to the music, but [it was also] a reference to what was going on the streets of Cairo. I sent it out as our poster of the week to 9,000 people. The very next day, somebody took a photograph on the street of Cairo, with somebody holding a piece of paper with that image on it. A poster can literally go around the world and people will print it out.
What struck me in viewing your exhibits is how many of these posters could still be used today, not only artistically but also, sadly, in the timeliness of their messages.
We had this fabulous poster by Yolanda Lopez, a Bay Area artist, which she first did in 1978. It depicts a young man in Aztec garb pointing a finger like Uncle Sam saying, "Who's the illegal alien, PILGRIM?" And it's a great poster, it's simple, not too many words, funny, provocative. So, we had an exhibit at UCLA in the mid '90s and there were 4 or 5 high school students standing around this poster saying, "Wow, you've got posters up to the minute." And I went over to them and I said, "Look at the date. This is before you were born."
Is that one of your goals with the exhibitions? To show the evergreen nature of this work?
Absolutely. I mean that's why we did the police abuse exhibition now. It basically goes back five decades. It's 50 years of posters protesting police abuse. Mainly in the United States, but also internationally.
What's the goal for CSPG?
Well the aim right now is really to digitize the collection and get it online. We have 10% of the collection digitized. But the mission is to collect and to document, because stories get lost. All the exhibitions, they're showing massacres, they're showing genocide, they're showing police abuse, they're showing all of these horrible things. And people often ask me, "How can you look at this stuff all day long?" I said, "Because the poster artists are optimists. They believe people can change if they have the information."
Yes, that's the reason why they're doing it, right?
That's why they're doing it, and that's why I'm doing this, because I believe that people can change if they knew the truth.
And what happens 20, 50 years from now?
Well, my goal is to stay independent, because the other option is to become part of the university. Universities, for all the fabulous things that they do, they also censor. We did an exhibition at USC in 1992 on the 500 years since Columbus, and how the legacy of racism and exploitation and genocide continues. And one of the board of trustees was Italian and took [the exhibit] as an affront to Columbus. It really wasn't about Columbus, it was about colonialism. And he ordered it down.
Do you have a favorite poster?
I'm always amazed at the creativity and vision of artists. Every week I'll say, "Oh my God, how do they think of that?" But it's always still going to be the poster I saw that kid trying to figure out. It has to be my favorite one because that one changed my life.
What makes a perfect poster?
The right balance between aesthetics and message. If you only rely on the corporate press, the New York Times and L.A. Times, for your information, you're not going to get the side from the street, from the movement, from the activists. The posters are primary historical documents that are recording the issues that were at the time, and the passions that were at the time, and the divisions that were at the time. You're not going to get it anyplace else.
---
Copyright Capital & Main