Economic Inequality: The Sky's Not the Limit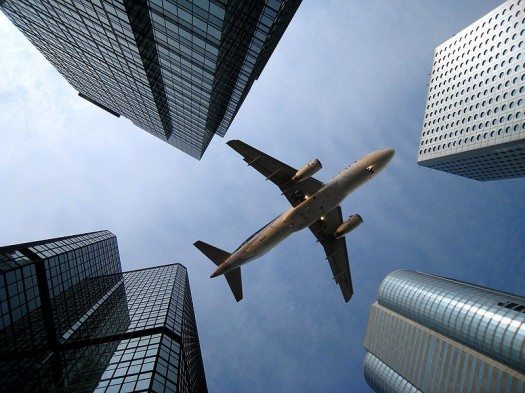 It's August, and Americans by the millions are cramming themselves into coach-class seats as they embark on their summer vacations. Those able to learn from adversity might ponder this: Airline seating may be the best concrete expression of what's happened to the economy in recent decades.
Airlines are sparing no expense these days to enlarge, upgrade and increase the price of their first-class and business-class seating. As the space and dollars devoted to the front of the planes increase, something else has to be diminished, and, as multitudes of travelers can attest, it's the experience of flying coach. The joys of air travel — once common to all who flew — have been redistributed upward and are now reserved for the well-heeled few.
The new business-class seats that Lufthansa is installing convert to quasi-beds that are six-feet six-inches long and two feet wide, the New York Times' Jad Mouawad reports. The price for working, eating, drinking and sleeping on this commodious couch, round-trip from Kennedy airport to Frankfurt and back, is a cool $5,000.
Lufthansa is hardly alone. Delta, United and American have all announced plans to upgrade their business-class seats for cross-country and transcontinental flights. Then there's Emirates, which now sells first-class suites — complete with a shower — that go for a tidy $19,000 on the New York-Dubai route.
At the other end of the economic spectrum, low-cost airlines that re-create the thrill of traveling in steerage are thriving, too. The new business model, apparently, is to shrink the seats, charge extra for everything and offer nothing for free that might be construed as an amenity. That's certainly the credo of Spirit Airlines, which charges its benumbed passengers a fee for their carry-on bags, $3 for water and $10 for printing out boarding passes and whose seats don't recline. Spirit boasts one of the highest profit margins in the industry and plans to expand by 15 percent to 20 percent every year for the next eight years, according to the Los Angeles Times. It also ranks dead last in customer satisfaction — indeed, in last year's Consumer Reports survey, it had one of the lowest overall customer satisfaction scores of any company in any industry that the magazine had ever surveyed.
But people fly Spirit Airlines because the fares are what they can afford.
The upgrading of business and the downgrading of coach present a fairly faithful mirror of what's happening in the larger economy: the disappearance of the middle class. As University of California-Berkeley economist Emmanuel Saez has documented, between 2009 and 2011, the incomes of the wealthiest one percent of American families grew by 11.2 percent while those of the remaining 99 percent shrunk by 0.4 percent. Median household income has declined every year since 2008. Profits, meanwhile, have risen to their highest share of the nation's economy since World War II, while wages have sunk to their lowest share. In an economy such as this, the growing markets are the rich and corporations, which have more money to spend on luxury travel, and the downwardly mobile everyone else, whose travel options are increasingly confined to discount outfits like Spirit and the increasingly hellacious coach sections of other airlines.
This week, one of the last airlines devoted to what we might call a middle-class travel experience succumbed to the increasing economic bipolarization of U.S. consumers. JetBlue, which has never had a first-class or business section but which afforded its coach customers more legroom than other airlines, announced that it would create a new first-class section on its cross-country flights with suites containing seats that fold down to full lie-flat beds.
In an unusually concrete way, JetBlue's change of cabin configuration highlights what the changes to our broader economy have meant. Its ability to provide its customers with more spacious seats was the direct result of not having a first-class section. Airplanes, like stagnating economies, are finite, and if one class takes up more space or commands more resources, the other class gets less.
The U.S. economy has not stagnated over the past four decades, but so much of its wealth has been claimed by the very top that most Americans have experienced it as a zero-sum game in which they've lost ground. As tax rules favored the wealthy, as employees lost the power to bargain for their wages, as globalization reduced the incomes of millions of workers, the rich grew richer at everyone else's expense. That's the reality that today's air travel illustrates, as the comfortable standard seat that once was the norm goes the way of the dwindling middle class.
(This post first appeared on the Washington Post and is republished with permission.)

A Woman's Art Is Never Done: The Feminae Exhibition
A striking juxtaposition between the past and present courses throughout the small gallery. Celia Blomberg's "International Women's Day March 8" can't help but make one think of 2017's Women's March, which occurred 37 years after the print's first appearance.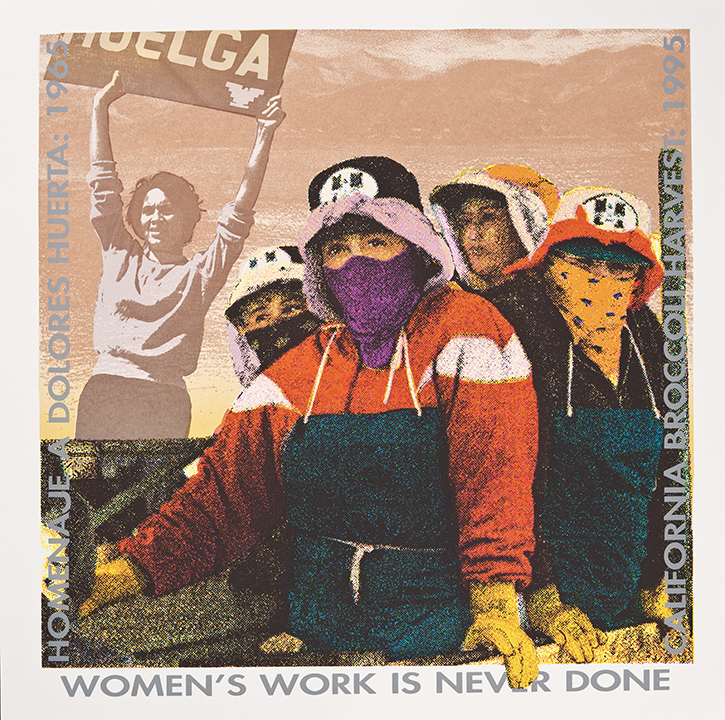 Among the 50-plus works in the Feminae: Typographic Voices of Women By Women exhibit is Yolanda Lopez's "Women's Work is Never Done." Lopez's title is particularly ironic, given the exhibit's gender-based subject matter. The show spans work from the past 50 years, making it easy to understand how much society is still grappling with its themes of gender inequality. Culled from the archives of the Center for the Study of Political Graphics, the graphic images of protest, persuasion and empowerment are truly works of art in their own right.
However, political posters aren't made to merely spruce up walls, but to help figuratively bring barriers down as well.
Two silkscreens from the 1970s, Liliana Porter and John Schneider's "This Woman is Vietnamese" and See Red Woman's Workshop's "So Long As Women Are Not Free People Are Not Free," are particularly powerful, underscoring, as they do, the fact that the subjugation and persecution of women crosses borders and cultures as an unfortunate shared global experience. These two pieces' stark simplicity exemplifies most of the work in the exhibit. In the former, a New York Times photo of a distraught Vietnamese woman with a gun held to her head is centered above these basic words typed out in a typewriter font: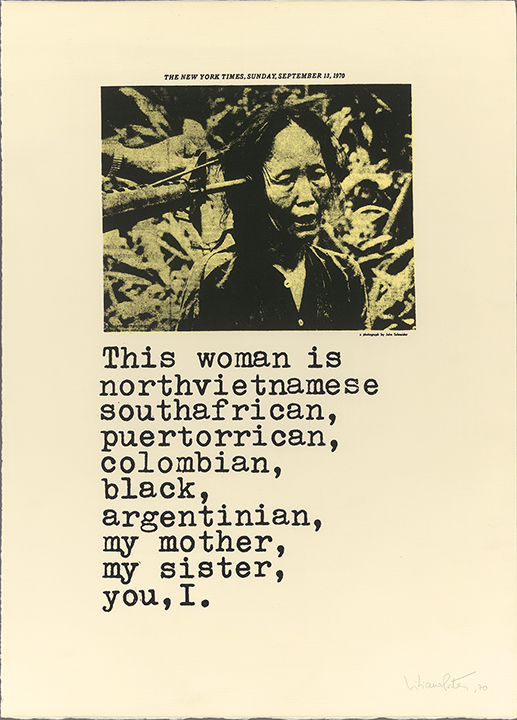 This woman is
northvietnamese
southafrican
puertorrican,
colombian,
black,
argentinian,
my mother,
my sister,
you, I.
By juxtaposing the photo with these words, the creators take the plight of this woman and immediately globalize her pain. In the latter, three female demonstrators are silkscreened in red onto a yellow background. They are marginalized by being stuck in the lower left third of the poster, but two of them are raising their fists skyward and their mouths are open, screaming in defiance. Its non-serif, eponymous type reads: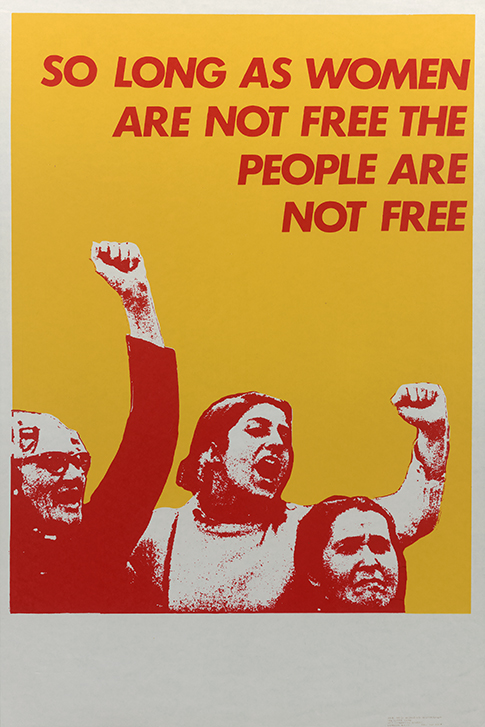 SO LONG AS WOMEN
ARE NOT FREE THE
PEOPLE ARE
NOT FREE
This piece's message takes the global message even farther, making the plight of women a human one — a common theme in the exhibition.
There is also a striking juxtaposition between the past and present that seethes throughout the small gallery. Celia Blomberg's "International Women's Day March 8" can't help but make one think of 2017's Women's March that would take place 37 years later. See Red Woman's Workshop's 1977 "Black Women Will Not Be Intimidated" could easily be repurposed to address the recent spate of blue-on-black brutality. Notable works by Barbara Kruger, Sister Corita Kent and the Guerilla Girls are also included.
Ironically , while it can be surmised that most of these works were made as populist posters to be distributed at the time as banners of protest, their beautiful simplicity and nostalgic elegance probably have resulted in the originals (mostly now found in art museums) sporting hefty vintage-resale prices.
But it is not just the art that has stood the test of time. The fact that the issues addressed in the show — feminism, choice, gender equality, war, immigration, police brutality or violence against women — are all issues at the forefront of debate in 2018 ultimately engenders conflicting feelings.
On one the hand, it is inspiring to see a vibrant exhibit that showcases such diversity in artistic styles, no doubt spawned by the diversity of the artists' own backgrounds. On the other hand, there is a realization that while there has been some progress over the past half century, there is so much work to be done.
Art Center's Hoffmitz Milken Center for Typography, 950 South Raymond Ave., Pasadena; through May 15.
---
Copyright Capital & Main