Domino Effect: Pension Cutters Gamble on a California Ballot Measure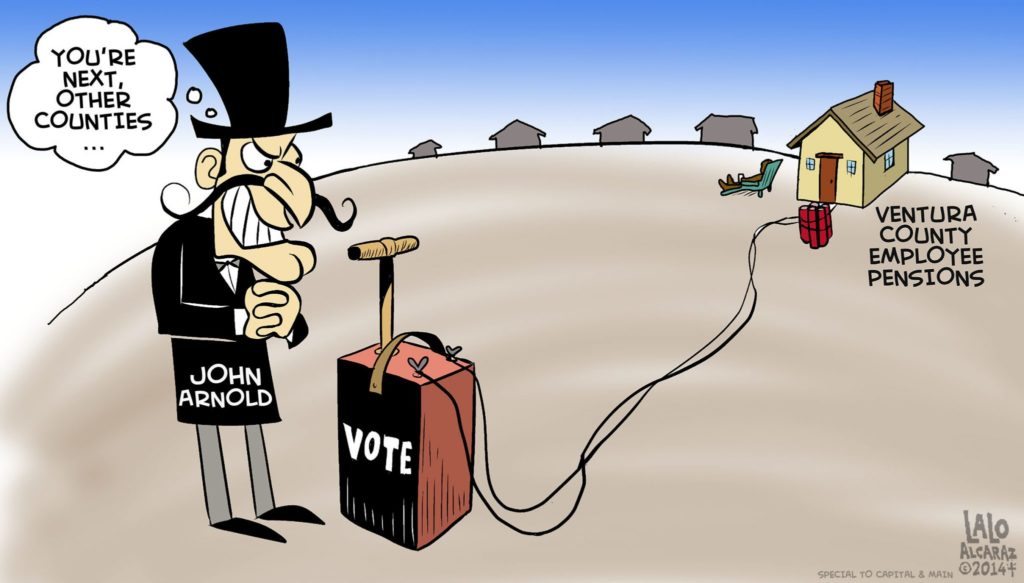 Illustration by Lalo Alcaraz
Jon Coupal is nothing if not blunt when he describes one motive behind a Ventura County ballot measure that would replace the "defined benefit" pensions currently enjoyed by county employees and replace them with 401(k)-type plans for all future hires.
"This is meant to be a template for other counties," Coupal tells Capital & Main. By that, the Howard Jarvis Taxpayers Association's president means the measure's conservative and libertarian backers see the "Sustainable Retirement System Initiative" as the newest and most promising weapon in their assault on California's public employee retirement plans. Having failed to place similar measures on state ballots in  2012 and 2014, a coalition of wealthy individuals, anti-tax activists and government privatizers has seized on an aspect of California law that allows 20 counties to fashion their own public employee retirement policies apart from the CalPERS system that administers such policies for nearly all of the state's remaining 38 counties.
Ventura, with its postcard shoreline, rugged mountains and groves of avocado and lemon trees, is one of the 20 so-called '37 Act counties whose retirement systems operate under the County Employees Retirement Law of 1937. These range from Los Angeles County, the most populous in the nation with nearly 10 million people, to sparsely populated Mendocino County along California's northern coast. Few people doubt that Ventura, which borders Los Angeles County, potentially represents the first domino in a series of future measures targeting public employee pensions.
"I guarantee you that when this passes," Ventura County Supervisor Peter Foy has said, "in 2016 every '37 Act county will have this on their ballot." Foy, who was addressing a supervisor's meeting, is a strong advocate for the county ballot initiative. He also happens to have served as chairman of the state chapter of Americans for Prosperity, the radical corporatist group funded by billionaire David Koch. (Foy, who has in the past denied such a connection with Koch, did not return multiple requests for an interview.)
County employees are generally paid less than their private sector counterparts and have long counted on traditional defined benefit plans as a kind of economic equalizer. The Ventura measure would phase out these retirement plans for anyone hired after July 1, 2015 and throw future retirees' pensions into the riptides of Wall Street trading. (During the last stock market crash and resulting recession, an estimated $16 trillion in household wealth was lost in America.) Furthermore, new employees would be ineligible for the county's existing death and disability plan. Although the initiative states a new death and disability plan "shall be established by the Board of Supervisors," it provides no details about its terms.
"Ending the defined benefit plan is a time-bomb disaster for lower income people," cautions Steve Bennett, chairman of the Ventura County Board of Supervisors. "It's very difficult for them to save and they won't be able to maneuver the 401(k) [system] to appropriately invest their savings," Bennett told Capital & Main.
Proponents argue that the current system is not financially sustainable and is forcing Ventura County further into debt. Critics, however, say the claims of financial doom are greatly exaggerated and they counter that if the measure is adopted it will be harder to attract and retain good employees, particularly in the area of public safety.
At 43, Virginia Tinoco has worked as a public employee in Ventura County for more than two decades — as a canine handler, jailer and, for the last 18 years, as a deputy sheriff who's been forced to pull her gun far more often than she's been comfortable with. She will not be affected by the measure's passage, but worries about future generations of law enforcement officers, firefighters and other county employees whose retirements will be at the mercy of the New York Stock Exchange.
"Why would I risk my life day in and day out, without knowing I had a secure retirement?" asks Tinoco. "If we don't have a promising future and retirement, why would  anyone want to come here?"
Peter Botz agrees. The 34-year-old firefighter has worked in Ventura County's Simi Valley for the past six years after previously working as a project manager for Amgen, a biotech company.
"Our job is hazardous," he says. "If we get hurt on the job, we have a benefit. If we make the ultimate sacrifice and die on the job, the pension system takes care of our families. But the ballot measure doesn't provide a defined death and disability benefit."
Unless it is blocked by a pending legal challenge filed by public employee unions, the pension measure will appear on the November ballot. A Superior Court hearing on the matter is scheduled for August 4. The measure's importance goes well beyond the borders of a single county.
"Everybody is carefully watching what happens in Ventura," says Robert Palmer, executive director of the Sacramento-based State Association of County Retirement Systems, which represents the retirement systems in 20 California counties, including Ventura. "If Ventura passes the initiative, it likely will spread to other counties."
"I do see something like this having a domino effect," agrees Peter Botz. "One of the big points about working here is that people know they have a secure retirement and benefits. If you take that away, a lot of very qualified people are going to leave our department."
In addition to Foy and Coupal, the measure has been endorsed across the conservative bandwidth, from the local Lincoln Club to some of the same people and groups that are working to cut public employee pensions statewide and nationally. For example, sponsors of the initiative have declared they have received $150,000 from the Action Now Initiative, a Houston-based organization founded by hedge-fund billionaire John Arnold, a leader of nationwide efforts to limit pensions for state and municipal workers. He and his wife Laura disclosed the contribution to the Committee for Pension Fairness, which filed the Ventura initiative, on the couple's website page dealing with personal advocacy and political contributions. The $150,000 is a significant contribution for a ballot measure in a single county and approaches Action Now Initiative's $200,000 contribution supporting San Jose Mayor Chuck Reed's failed 2014 statewide initiative effort.
For its part, the Committee for Pension Fairness commissioned a report from the Reason Foundation, a Los Angeles-based conservative and libertarian public policy group that advocates privatizing government functions and cutting public employee pensions. That report claimed the initiative would save Ventura County taxpayers $460 million over 15 years and eliminate the county's pension debt. (Coincidentally, the Arnolds' foundation has given $1,013,000 in grants to the Reason Foundation, according to the former's website.)
Steve Bennett, the Board of Supervisors chairman, is highly skeptical of the Reason Foundation and its white paper.
"It's not an objective evaluation of our pension system," Bennett says in an interview. "I didn't expect much else. I'm familiar with their biases. The Reason Foundation supports policies that lead to greater income inequality in the United States."
Last year Capital & Main revealed that the Reason Foundation hosted a secret "pension summit" in Sacramento in May, 2013. The foundation's most prominent trustee is David Koch, a longtime advocate of reducing pensions for public employees. The foundation is also allied with the Koch-funded American Legislative Exchange Council (ALEC).
None of these connections surprises Jordan Marks, executive director of the Washington, D.C.-based National Public Pension Coalition.
"What we're seeing in Ventura County is what we're seeing all over the country," says Marks. "Out-of-state, dark money forces — often with the assistance of John Arnold — are dropping in and creating poorly written, ideological ballot initiatives that will rob workers of their modest retirements . . . In the last year alone we've witnessed similar efforts in Cincinnati, Tucson and Phoenix, and only expect that number to grow.
"Arnold's work on gutting pensions doesn't stop at ballot initiatives," Marks continues.  "His billions finance tainted research, anti-pension journalism and the careers of politicians who make pension-gutting the centerpiece of their issue platform."
Both its proponents and opponents believe the Ventura County measure has a good chance of being approved by the voters if it remains on the ballot. Supporters collected more than 40,000 signatures, considerably more than the 26,000 required to get the initiative on the ballot. To a large extent, the drive has been fueled by publicity about instances of excessive pensions paid to a handful of Ventura County officials.
In one well-publicized instance, former Ventura County Sheriff Bob Brooks' annual pension totaled $283,000 after a longevity bonus and other items were factored in. When Brooks filed a claim in 2013 seeking to increase his pension by $75,000 a year, the resulting furor powered calls for pension reforms and helped set the stage for the current ballot initiative.
"This stoked a lot of public anger and rightly so," says Rick Shimmel, executive director of the Ventura County Deputy Sheriff's Association and a leading voice in the fight against the pension ballot initiative. "Unfortunately, the proponents capitalized on what appears to be overly generous pension benefits to vilify the system."
Shimmel says that the average annual pension for public employees in Ventura County is $34,344. Generally deputy sheriffs and firefighters make higher pensions because on average they have longer service records and higher pay than most other county workers. Safety members make up 18.6 percent of all employees who work for Ventura County.
Besides focusing on selective abuses, advocates of reducing public employee pensions argue that public sector pensions are out of line with those in the private sector. But Jean-Pierre Aubry, assistant director of state and local research for the Center for Retirement Research at Boston College, says it is important to examine the total compensation picture, not just pensions.
"On the whole, there is basic parity between public employees and those in the private sector," says Aubry, co-author of a 2011 study that compared the compensation of state and local public employees with that of private sector workers. "In the private sector, there are better wages and lesser pensions. In the public sector, there are less wages and better pensions. The total compensation is about the same."
"Any honest effort for reform should begin with that question," he says, referring to the total compensation picture. "If you just cut pensions, you are saying to public sector workers, 'I'm offering you less.' Public sector employers should be cautious in just cutting benefits because you'll get a lower quality workforce going forward. We think that's conspicuously absent from the conversation."
Also Read: