Dolores Huerta Film Reveals an Eclipsed Labor Hero
Dolores, a documentary mix of archival footage and interviews with Dolores Huerta, her family and such prominent figures as Gloria Steinem, Angela Davis and Luis Valdez, portrays the United Farm Workers co-founder as a pivotal yet relatively uncredited luminary in labor history.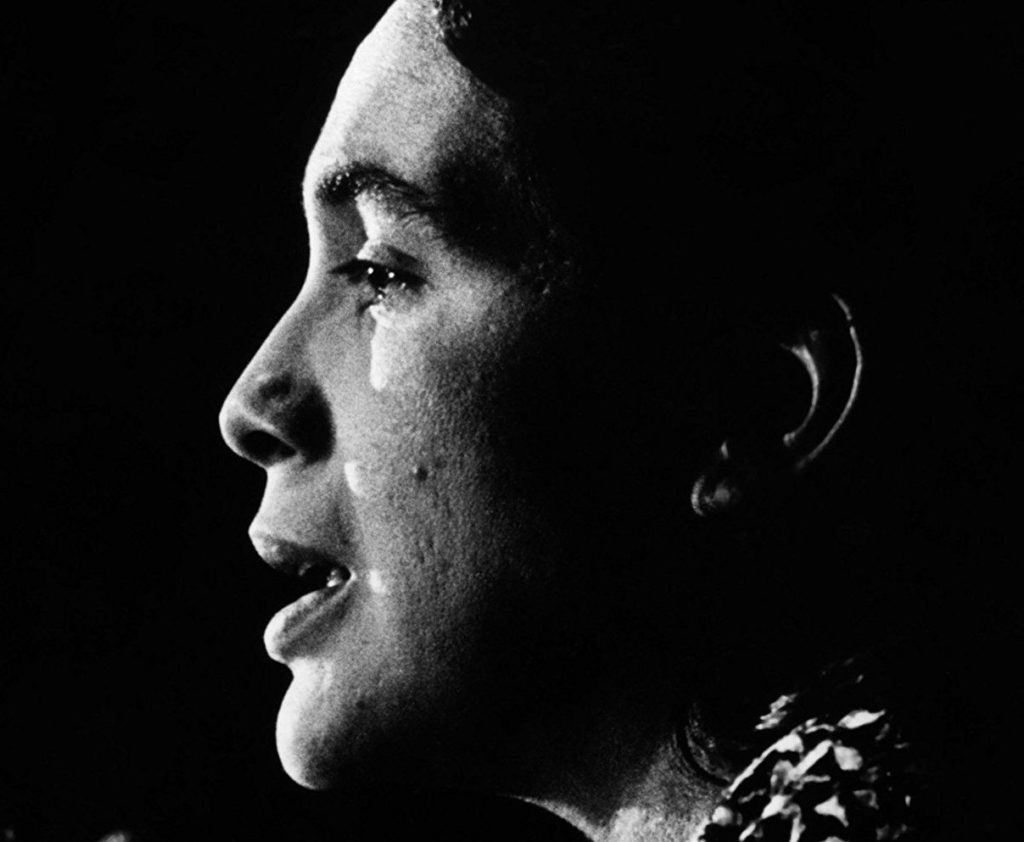 While Martin Luther King Jr. and Cesar Chavez are ubiquitous in history textbooks, Huerta is most often sidelined. Many people, then and now, took her to be Chavez's subordinate or assistant.
---
Labor activist and social justice crusader Dolores Huerta was participating in a 1988 protest in San Francisco when police descended on the demonstrators with tear gas and batons. Huerta, then 58, was among those brutally assaulted when an officer drove a baton with full force into her torso. Her internal injuries were extensive. She suffered three broken ribs, her spleen was shattered and had to be removed, and she spent months in recovery. But the indomitable Huerta recovered to again assume center stage in the ongoing battle for workers' rights.
Footage of the assault on Huerta and other protesters is replayed in director Peter Bratt's dynamic and informative film Dolores, a U.S. entry in the documentary category at Sundance, which will have special screenings September 8-14 at Los Angeles' Nuart Theater. A mix of archival imagery and interviews with Huerta, her family and such prominent figures as Gloria Steinem, Angela Davis and Luis Valdez, the documentary portrays her as a pivotal yet relatively uncredited luminary in labor history.
While Martin Luther King Jr. and Cesar Chavez are ubiquitous in history textbooks, Huerta is most often sidelined, her name even expunged from some high school curricula after she opined that "Republicans hate Latinos." Many people, then and now, took her to be Chavez's subordinate or assistant. Arizona's state superintendent of public instruction, Tom Horne, once called her Chavez's "girlfriend." In fact, she co-founded the United Farm Workers and was equally instrumental in positioning its cause, via legislation, on the political map. It was she, not Chavez, who coined the slogan "Sí se puede" — the rallying cry for striking farm workers, later adopted by Barack Obama' s supporters in his 2008 campaign for the presidency.
Dolores Huerta, 1976. (Photo: George Ballis)
Co-written by Bratt and Jessica Congdon, the nimbly-paced Dolores begins by establishing a historical context for the farm workers' movement as rooted in the same endemic racism that fostered slavery and Jim Crow. That narrative is then interwoven with the story of Huerta's growing involvement.
In a midlife interview, Huerta explains how, as a teenager, she was already aware of the violent acts perpetrated on people of color. Married in college, she grew restless in the conventional role of wife and mother. After she met activist Fred Ross, a labor strategist who introduced her to Chavez, there was no going back. The film also highlights her bond with Robert F. Kennedy, who shared her populist views, and replays that moment when he stood onstage at Los Angeles' Ambassador Hotel in 1968—with Huerta only a few feet behind him–to celebrate his victory in the California Democratic presidential primary. Minutes later, he was mowed down by an assassin as he made his way down a corridor. His death was a blow to the movement, and to her personally.
Throughout her career, photos of Huerta show her posing with a group of otherwise male colleagues. Her gender was a thorny issue from the beginning, not only among her opponents, who attacked her for abandoning her family, but among her colleagues, who bypassed her for the UFW presidency after Chavez's death. In numerous interviews, several of her now-adult 11 children speak of the anger and hurt they felt when they were growing up because their mother was always away.
But Huerta's personal sacrifices and those her family suffered through won rewards for others by focusing public attention on the plight of a hitherto voiceless and disenfranchised group of people. And while Huerta's anti-abortion views initially created a barrier between her and feminists like Gloria Steinem, that relationship changed because, as Steinem noted, they had too much in common for any barrier not to fall. Reflecting on Huerta's contributions, Steinem said, "I know that she set me on fire in terms of racial injustice. I would not have been able to see what is hidden in the fields of our country without her."
While Dolores illuminates important history, what's most striking about the film is how the gentleness, immediacy and down-to-earth qualities of its subject shine through — even when, on the podium, she exhorts her listeners to action, urging "Abajo!" to violence, racism, sexism and fascism. Huerta was disdained by the likes of right wingers Rush Limbaugh and the smug Bill O'Reilly ("I've never heard of this woman"), but the film makes clear that she is that sort of exceptional American who may never score a monument but is every bit a hero.
---
Copyright Capital & Main

'Skeleton Crew' Is a Play With a Moral Spine
Set in a Detroit automobile outfitting plant, Dominique Morisseau's drama grabs you from the start with its focus on blue-collar men and women, and their struggle for dignity and self-respect.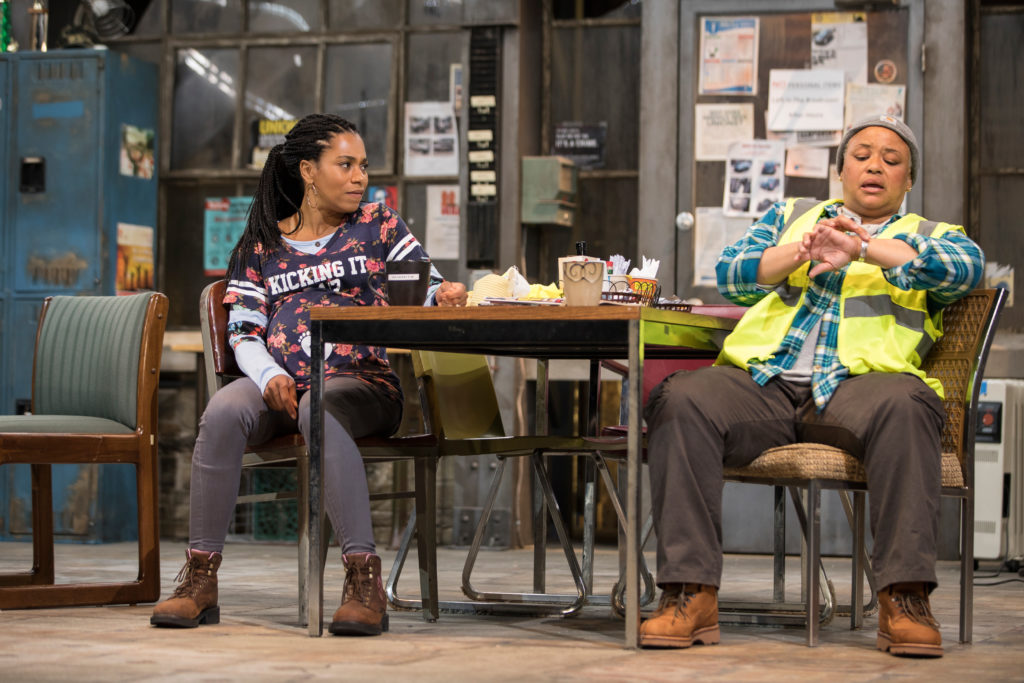 Working-class men and women of color are rarely front and center in today's media and, likewise, are presented all too occasionally on the American stage. So it's buoying to see that trend bucked in playwright Dominique Morisseau's percipient and well-crafted drama, Skeleton Crew. The play is the final installment in her Detroit  Project Trilogy; the first, Paradise Blue, is set in the 1940s amidst displacement caused by urban renewal and gentrification, while the second, Detroit '67, transpires on the eve of the 1967 Detroit riots sparked by a police action.
Directed by Patricia McGregor at Los Angeles' Geffen Playhouse, Skeleton Crew is a play with a moral spine. It takes place in 2008, when the shrinking U.S. auto industry is being further downsized. Morisseau's engaging quartet of characters — Faye (Caroline Stefanie Clay), Dez (Armari Cheatom), Shanita (Kelly McCreary) and Reggie (DB Woodside) – are employed at an automobile outfitting plant. Faye, Dez and Shanita are workers on the line while Reggie (who has a wife and kids, and has pulled himself together after a troubled youth) is their supervisor.
The first three customarily mingle in their break room (designer Rachel Myers' impressively cluttered, dingy and detailed set), trading the sort of familiar barbs and genuine concern for each other common among longtime co-workers. They also face off on philosophy: Upper-middle-aged Faye and the younger, pregnant Shanita take pride in their labor, while Dez, though a good worker, is a malcontent scornful of management and firm in the belief that everyone needs to watch out for himself. He's a thorn in Reggie's side, for while Reggie wants to be supportive of his workers, he must act at the behest of higher management. For his part, Dez resents Reggie's authority, and a palpable unease exists between them.
Besides this male matchup, we're made privy to Dez's attraction to Shanita, who mostly turns away his advances, but every now and then displays a hint of interest. Most poignant is Reggie's regard and affection for the lesbian Faye, which has roots in his boyhood when she loved, and lived, with his now-deceased mom.
These people's various predicaments intensify when rumors spread of the plant's shutdown — a disaster for all, but a particular calamity for the already near-broke Faye who, one year short of retirement, would lose her pension. The crisis forces each of these people to make a choice.
A sound piece of social realism, Skeleton Crew grabs you from the start in its focus on blue-collar men and women, and their struggle against odds for dignity and self-respect. Morisseau not only furnishes these characters a platform for their travails, she endows them with strong values, big hearts and the opportunity to choose between right and wrong.
Unfortunately, the performance I attended did not soar. Many exchanges lacked a fresh edge. The actors certainly had their characters down, but too often they appeared to be coasting on technique. (This seemed particularly true of Clay, who performed the role to great accolades in Washington, DC in 2017, also under McGregor's direction). Additionally, some of the stage movement was not entirely fluid; in confrontations, actors sometimes would just stand and face each other in an artificial way. And Cheatom's interpretation of Dez struck me as a bit overly churlish and depressive: I needed more glimpses of the intelligence and edge that would secretly attract the strong, self-directed Shanita.
The most compelling moments belong to Woodside, well-cast as a man trying his best in difficult circumstances to do the right thing.
---
Gil Cates Theater at the Geffen Playhouse, 10886 Le Conte Ave., Westwood Village; Tues.-Fri., 8 p.m.; Sat., 3 & 8 p.m. Sun., 2 & 7 p.m.; through July 8. (310) 208-5454 or www.geffenplayhouse.org