Dim Bulbs: Tea Party Rages Against the Light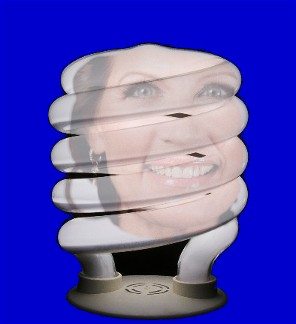 Wikimedia
Two hundred and thirty six years ago, in January 1776, Thomas Paine published Common Sense, the wildly popular pamphlet that made the case for American freedom and helped to spark a revolution.
This year, the Tea Party hopes to turn the 2012 elections into a fight for American freedom. Their first salvo — the electric light bulb. Last month, they threatened to shut down the government unless new energy efficiency standards for light bulbs were delayed. They didn't delay the standards but they succeeded in delaying their implementation.  The final budget deal prohibits the Department of Energy from spending any funds on the new rules.
In 2007, Congress passed The Energy Independence and Security Act that included a provision authored by Republican Congressman Fred Upton giving light bulb manufacturers until 2012 to produce light bulbs that used 25 percent less energy than old-fashioned, energy wasting incandescent bulbs.
Upton's press release stated that "Current incandescent bulbs on store shelves are obsolete and highly inefficient — only 10 percent of the energy consumed by each bulb is for light with 90 percent wasted on unnecessary heat. Today's incandescent bulbs employ the same technology as the bulbs Thomas Edison first created over 120 years ago." The bill passed in a lopsided 319-100 vote and the support of 49 percent of the Republicans who voted.
(Today, Edison, one of history's most prolific inventors with nearly 1,100 patents, would be rolling over in his grave at GOP opposition to progress.)
President Bush called the bill "a major step toward reducing our dependence on oil, confronting global climate change, expanding the production of renewable fuels and giving future generations of our country a nation that is stronger, cleaner and more secure." He also noted that the light bulb standards were similar to his executive order that had required federal agencies to "lead by example in efficiency and renewable energy use."
Since lighting accounts for 30 percent of all electricity use, the new standard would reduce carbon dioxide emissions by millions of tons. And we'd all breathe a little easier. Electricity generated to power our lighting threatens us all. Producing more electricity creates more pollution. More pollution creates more illness — asthma, cancer, heart disease — and adds greenhouse gases (many conservatives don't believe humans are responsible for global warming, but they must believe toxic chemicals cause cancer). So, almost every time each one of us turns on light in our homes, something is burning to keep it lit. More than 70 percent of the time our electricity comes from burning coal, oil or natural gas and another 20 percent comes from nuclear fission reactions.
The incandescent light bulb is partly responsible, then, for the pollution that comes from power plants. And that pollution contains mercury, fine particulate matter that causes asthma and other toxic gases such as arsenic, lead and cadmium, spewed through smokestacks. Studies show that eight percent of women of child-bearing age in this country have mercury levels in their blood that could cause lower IQ in their children. Using more efficient light bulbs is one thing we can all do to reduce energy use, and thus pollution that harms us all.
But after the GOP took control of the House of Representatives in the November 2010 elections, Glenn Beck and Rush Limbaugh attacked Rep. Upton as a "nanny state socialist" for authoring the efficiency measure. Upton did an about-face and promised, "If I become chairman [of the House Energy and Commerce Committee], we'll be reexamining the light bulb issue, no problem."
Major bulb manufacturers like General Electric, Philips and Osram Sylvania, lobbied unsuccessfully to keep the standards. Knowing that the new standards were nearing, the bulb makers created more efficient, brighter, compact fluorescent light bulbs that brighten immediately. (Older versions annoyingly brightened gradually.) The National Electrical Manufacturers Association (NEMA) — no friend of environmental regulations (here, here and here) — argued for a consistent set of rules and accused the GOP of creating more uncertainty for the industry.
The light bulb battle isn't about dollars and cents, it's the latest talking point designed to stir up the GOP right wing base about "big government" limiting Americans' freedom by allegedly limiting their consumer choices. But the GOP and Tea Party won't acknowledge that freedoms have limits — especially when our actions harm others. Speed limits prevent reckless driving that endangers other motorists or pedestrians; smoking bans protect non-smokers (and children) from cancer-causing second-hand smoke; we aren't allowed to throw our trash on the street; businesses can't create dangerous workplaces that injure or kill workers.
Tea Party conservatives branded the light bulb rules as just another big government intrusion in our lives. It's "them" telling "us" what to do; how to live; what we can buy; what we can't buy.
Michele Bachman introduced the Light Bulb Freedom of Choice Act last year to repeal the new standards. "President Bachmann will allow you to buy any light bulb you want in the United States of America," she said after announcing her presidential bid. Bachmann is today's freedom fighter — but for whom? Or what? She said in a speech in November, "I believe in liberty for light bulbs."
In 1776, the nation's founders believed their fight for freedom was a struggle for genuine civil and political rights. In 1941, FDR expanded on those aspirations to include "freedom from want" that would translate into economic security and health for all. In 2011, the GOP's cartoon-like fight for freedom to use polluting light bulbs is hard to take seriously.
The tea party controlled GOP complain that faceless government bureaucrats are limiting consumers' freedom. Yet it was government action that prevented Americans from using Thalidomide in the early 1960s, that required auto companies to install seat belts, air bags and collapsible steering columns, or that removed cancer causing chemicals such as asbestos and benzene from our workplaces. That's what government SHOULD do — to weigh dangers created in the market against the common good.
Newer, more efficient light bulbs will actually save consumers $12 billion per year. And the energy standards will make new energy saving technologies like the LED bulbs that lit the new Times Square Ball that dropped on New Year's Eve become cheaper as more consumers buy them.
But even if the new standards did cost more, it would be worth the price. If they require more care to dispose of used bulbs, it'd be worth the effort. We don't have the right to pollute, poison or harm others — whether it saves money or costs. That's not freedom and certainly not democracy.

Lead Poisoning Widespread Among California Workers
The problem in California doesn't appear to lie with finding out about lead-poisoned workers, but with what happens — or doesn't happen — when some state officials get that information.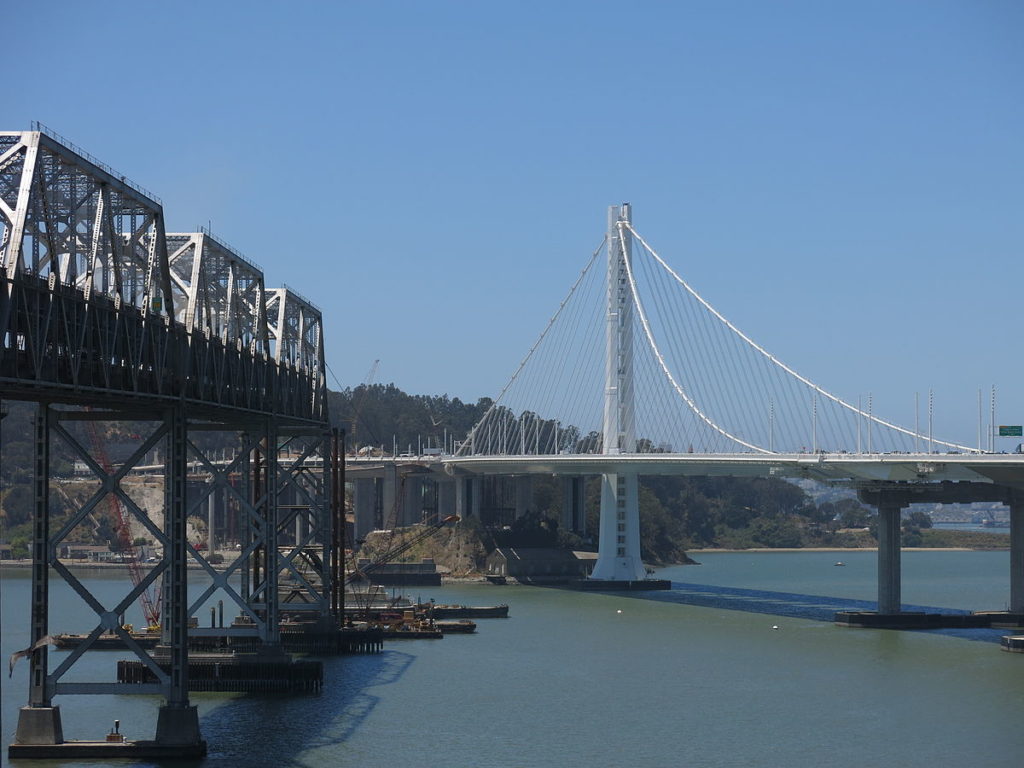 ---
Despite their company's safety promises, 12 employees working on the demolition of part of the Bay Bridge were lead-poisoned between 2013 and 2016.
---
Last March, Capital & Main launched an investigative series, "Battery Blood," which revealed that hundreds of workers at the former Exide battery recycling plant in Vernon, California, had for decades been exposed to lead poisoning. Even worse, the state's public health department knew about it but failed to act. Now, utilizing data obtained from the California Department of Public Health (CDPH), our joint investigation with the University of Southern California's Center for Health Journalism has found at least 80 companies — including one that recently dismantled parts of the iconic  San Francisco–Oakland Bay Bridge — continue to have  workers in California who are lead-poisoned at levels high enough to cause birth defects, tremors and a variety of brain disorders.
Once again we found that CDPH routinely failed to refer even the most egregious employers to state enforcement officers who can levy fines and require mandatory changes.
Some of the most extensive problems were found at other car battery recycling plants in working-class areas of Los Angeles. At one plant, Trojan Battery Recycling Company had 174 employees with elevated levels of lead in their blood between 2015 and 2016.
---
A state safety agency accepted the dismantling company's explanation that one bridge worker was lead-poisoned because he chewed tobacco.
---
"It's beyond upsetting," Bell city councilman Nestor Valencia said. He lives in one of the roughly 10,000 residential properties contaminated at levels above what is safe for kids by lead emissions from the Exide plant. "You know we need these jobs, but not at the expense of worker health or keeping kids who live nearby safe. This is what state government is supposed to be for, and they are failing us." Valencia said he was shocked to learn that other nearby plants continue to have lead-poisoned workers.
The Bay Area also has serious ongoing problems. There were lead-poisoning victims among those working on the demolition of the eastern span of the San Francisco–Oakland Bay Bridge. Despite promises to keep workers safe from lead, California Engineering Contractors, which received a $200 million dollar state contract to dismantle the earthquake-damaged span, had 12 cases of lead-poisoned employees between 2013 and 2016.
And at Target Masters West, an indoor gun range in the city of Milpitas, there have been more than 25 lead-poisoning cases in the last decade amongst workers who clean and manage the range. Seven cases were reported during 2015 and 2016, the most recent years for which data is available.
---
The California Department of Public Health has shown a stunning level of reluctance to turn lead-poisoning cases over to Cal/OSHA for enforcement.
---
Target Master West owner Bill Heskett bristled at the suggestion his workers had been poisoned, asserting that a spate of recent findings by public health experts that lead at lower levels is harmful to human health "isn't based in real science and has been set by a bunch of clerks with no accountability." Heskett said that the recent spikes in lead levels at his range were attributable to an employee "who wasn't following protocols." The employee was terminated, Heskett said.
In response to the Exide revelations in our March investigation, a bill was introduced in the California legislature by Assemblymember Ash Kalra (D-San Jose). Assembly Bill 2963 would require mandatory inspections at any workplace where a worker's blood lead level is at or above 25 micrograms per deciliter. Even at levels as low as 10 micrograms per deciliter, according to the U.S. Centers for Disease Controls (CDC), people with prolonged exposure to the neurotoxin are at higher risk for high blood pressure, heart disease, kidney disease and reduced fertility.
While the legislation has faced stiff opposition from industry groups and only passed out of the Assembly by a single vote, it has stronger support in the Senate and appears likely to make it to Governor Jerry Brown's desk.
Among AB 2963's supporters is Senator Bob Wieckowski (D-Fremont), who expressed dismay that problems at the Milpitas gun range (which is in his district), the Bay Bridge project and elsewhere have been allowed to linger. "If you had a family member or a friend exposed to high blood lead levels, you would want to see immediate action taken to reduce that exposure," Wieckowski said. "The health and safety of all workers should be the top priority."
Two Agencies Working in Silos
The problem in California doesn't appear to lie with finding out about lead-poisoned workers, but with what happens when some state officials get that information.
At battery plants, gun ranges and other workplaces where exposure to lead is common, the state of California requires companies to test their workers for elevated levels of lead. The custodian of that testing information is a division of CDPH called the Occupational Lead Poisoning Prevention Program (OLPPP). The division is funded through a small fee on employers in industries that work with lead. In theory, OLPPP provides education to companies and at the agency's discretion can refer serious cases to the California Division of Occupational Safety and Health, better known as Cal/OSHA. The enforcement agency can then determine the cause of problems and issue fines when unsafe practices are found.
---
"They've lost sight of the fundamental mission, to make sure that at the end of the day workers come home to their families safe and sound."
---
Our year-long investigation found a stunning level of reluctance on the part of CDPH to turn lead-poisoning cases over to Cal/OSHA for enforcement. Of the eight companies with some of the most persistent problems with lead exposure in California between 2013 and 2016, Cal/OSHA confirmed that it received no referrals from OLPPP for any of them during the last 10 years, and conducted no lead-related inspections at any of the companies. Many of the workplaces have had lead-poisoned workers for decades.
CDPH has declined repeated interview requests and did not respond in time for publication to written questions about its management of lead poisoning cases.
Through the state Public Records Act, Capital & Main obtained communications between OLPPP and California Engineering Contractors (CEC), one of the companies awarded a contract by California's Department of Transportation to dismantle the Bay Bridge.
In October 2013, OLPPP informed the company that workers on the project would be exposed to lead coating as the steel bridge was dismantled. "Our role is to assist employers in identifying and correcting work practices that can result in employees being over exposed to lead," the OLPPP wrote in a letter.
Within a year, workers on the project showed signs of elevated blood lead levels. The company asserted in an August, 2014 email to OLPPP that it could bring the situation under control. "We are confident we can get even the highest exposed workers under 10 µg/dl (BLL) with aggressive oversight and support," wrote CEC safety director Robert Ikenberry.
Despite assurances, the problem of lead-poisoned employees grew worse. By 2015 one worker's blood lead levels had exceeded 40 micrograms per deciliter, a level deemed "very high" by the CDC.  Michael McKinney, a safety manager for CEC had an explanation, which he provided in an email to OLPPP.  "The employee admitted to us that he was chewing tobacco during work. We feel that this practice is what caused the high lead level," McKinney wrote.  OLPPP appeared to accept that explanation, and never referred the Bay Bridge project for Cal/OSHA inspection, even when elevated blood levels amongst workers jumped 25 percent the following year.
Mariano Kramer, a former district manager for Cal/OSHA, said that simply accepting emailed assurances from a company with lead-poisoned workers is not acceptable. "There are a myriad of issues which can cause elevated blood lead levels. A trained inspector knows how to identify them."
In 27 states, workplace occupational lead safety standards are administered by the Occupational Safety and Health Administration (OSHA), a federal agency. In those states, any blood lead level above 25 micrograms triggers an automatic OSHA inspection, through which fines for unsafe conditions can be levied and changes can be mandated. A similar standard would go into effect in California if AB 2963 becomes law.
Kramer said he supports the proposed legislation because it would empower his former agency to more aggressively target workplaces that lead-poison workers.
"But," he added, "there are cultural issues within both agencies that no law will fix. They've lost sight of the fundamental mission, to make sure that at the end of the day workers come home to their families safe and sound."
This article was produced as a project for the 2017 California Data Fellowship, a program of the USC Annenberg Center for Health Journalism.
---
Copyright Capital & Main