Digital Fabrication: More Than the Stuff of Dreams
Photo by Moehre1992
America's economy will suddenly grow by $400 billion — roughly three percent –on July 31, when the Bureau of Economic Analysis begins to include in its GDP calculations the value of investments in such intellectual property products as songs, books and movies. The new numbers will reveal that Stephen Sondheim, Stephen King, Steven Spielberg and Ray "Even Stevens" Stevens have been far more important to the nation's financial well-being than government stats have previously indicated.
This news feels as uplifting as a double dose of premium-grade placebo. But there's more than feel-good bookkeeping at stake here. Plays, stories, films and music generate wealth – wealth government stats are supposed to measure.
The nation has always struggled with who owns that wealth. In the Wild West frontier of the internet, music, films and news were easily pirated. Now, there's a newer, quite possibly wilder West, this one represented by the arrival of the 3D copier and the promise of a revolution in digital fabrication.
You may be skeptical about the process by which a copier can spit out ears, earrings, guns and chocolate. What's even harder to wrap one's head around is the possibility that within a few decades, you personally may be able to make most of the stuff you want anywhere, at any time and for a fraction of the going rate.
The aptly named website Pirate Bay calls digitally fabricated items "physibles" and claims, both literally and metaphorically, "We'll be able to share not only a recipe, but the full meal."
Neil Gershenfeld, director of MIT's Center for Bits and Atoms and the creative force behind a pioneering "FabLab," takes things a step farther, predicting that we'll be able to "turn data into things and things into data." If he's even half right, our very notion of "stuff" — its manufacture, its ownership, its effects on the environment — may become as anachronistic as gladiators and town criers.
If all this sounds too Rod Serling meets Harlan Ellison, consider that President Obama, in his most recent State of the Union Address, said, "A once-shuttered warehouse is now a state-of-the-art lab where new workers are mastering the 3-D printing that has the potential to revolutionize the way we make almost everything."
The future is unknowable and perhaps unimaginable, but that shouldn't stop us from pondering the thrilling and terrifying consequences of advanced digital fabrication. Shipping costs, child labor and pollution could be vastly reduced. But where will the jobs be? "We're on the verge of the next industrial revolution, no doubt about it," Dartmouth College business professor Richard D'Aveni told Yahoo News. "In 25 years, entire industries are going to disappear. Countries relying on mass manufacturing are going to find themselves with no revenues and no jobs."
For a musical glimpse into this future, check out the "vinyl" records Amanda Ghassaei has created via 3D printing. Daryl Friedman, chief advocacy & industry relations officer for The Recording Academy (The Grammy folks), thinks we don't need to worry about widespread digital/fab piracy, at least not yet: "With numerous free and legal digital music services, it's unlikely that the average consumer would opt to print his own vinyl records. The real challenge will be to the hard goods industries. This is more about cars than The Cars."
The Journal of New Music Research reports on the production of a 3D-printed flute, and though a Steinway may never pop out of your computer, most of the parts probably can. (Since each key on the keyboard has nearly 60 levers, springs and screws, imagine the cost savings.)
All this creates thorny issues of ownership and compensation for creators of both the intellectual stuff the BEA just got around to recognizing and physical stuff, which won't be so, well, physical.
With Napster, people could rationalize that they were borrowing invisible, impossible to own "data." But producing your own objects is more analogous to making copies of a Picasso or a great piece of album art for resale. Morality aside, if everyone's printing copies of your albums, sculptures and manuscripts in their basements and dorm rooms, who you gonna sue?
In which case, what's the incentive to innovate? Or does innovation accelerate as everyone works to stay one step ahead of the knock-offs?
So thanks, Bureau of Economic Analysis, for the GDPat on the back. That was the easy part. The radical challenge of digital fabrication is dead ahead.
Michael Sigman is a writer/ editor, media consultant and the president of Major Songs, a music publishing company. Sigman was the president and publisher of LA Weekly, the nation's largest alternative newsweekly, from 1990-2002. 
The Power of the Poster
Carol Wells, the founder of the Center for the Study of Political Graphics in Los Angeles, talks to Capital & Main about the enduring power of political art.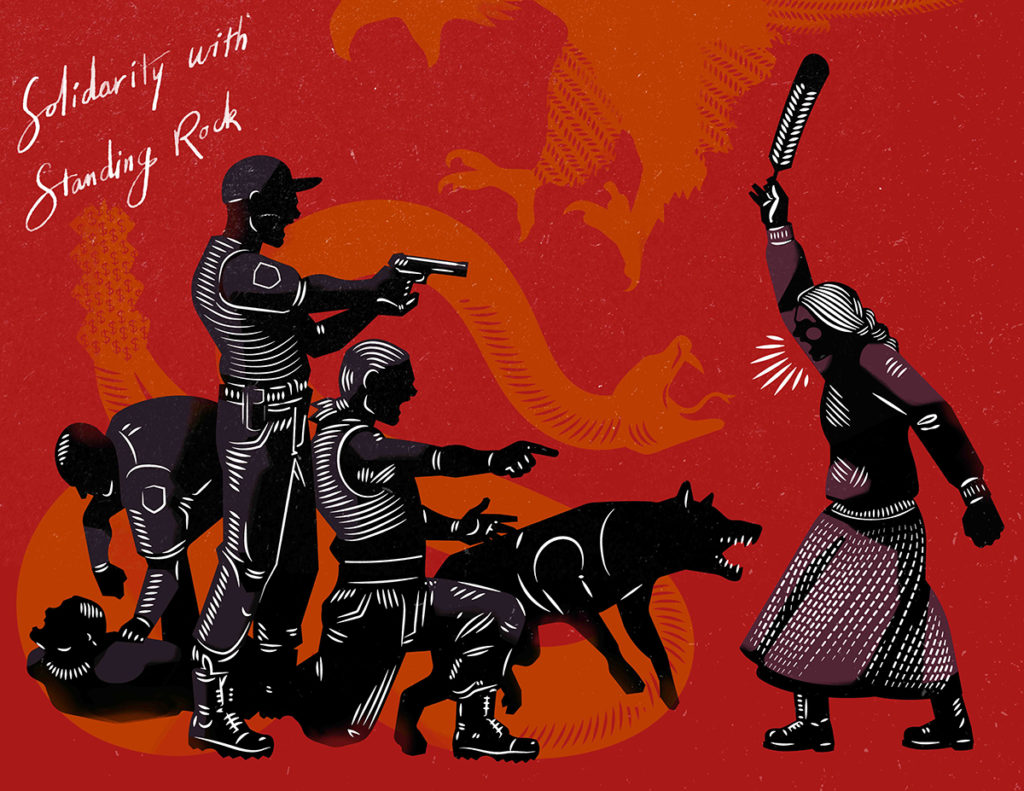 Carol Wells remembers the exact moment she discovered her calling. An art historian at the time, she was on a trip to Nicaragua with her friend David Kunzle, a UCLA art history professor, who was collecting political posters to add to his burgeoning collection. While staying with friends, Wells watched a neighbor's 8-year-old son approach a poster on the wall, stare at it intently, and then start to silently mouth the words. Wells was struck by how engaged the boy was. "In that moment I became obsessed with collecting posters."
Now over 40 years later, Wells is the founder and executive director of the Center for the Study of Political Graphics in Los Angeles. Wells has amassed approximately 90,000 posters, building one of the largest collections of its kind in the world. The Center shares its collection with the public in part through curated exhibits. This year the CSPG has produced Feminae: Typographic Voices of Women by Women and its latest is To Protect & Serve? Five Decades of Posters Protesting Police Violence, running through July 15 at the Mercado La Paloma in downtown Los Angeles.
Since that encounter in Nicaragua in 1981, Wells' obsession with collecting posters hasn't waned. In CSPG's nondescript West L.A. office space, Wells pulls out poster after poster, lecturing passionately on the backstory and cultural impact of each, including one that superimposes text from a New York Times interview with a shocking image of the My Lai massacre ("Q: And babies? A: And babies."). Recently, she managed to sit down with C&M to discuss her passion.
---
Capital & Main: So, you were an art history professor, you happen to see a kid on a trip, and suddenly your life was changed forever?
Carol Wells: Yeah, I'm in Nicaragua alone in the living room with this kid. He's looking around, and all of a sudden, he sees the poster. It was pretty big, bright green, a thick outlines of a woman holding a big basket of coffee beans. And the text in Spanish said, "In constructing the new country, we are becoming the new woman." I see him walk over to the poster and I'm watching him mouth the words. It was a pretty sophisticated concept, so I doubt he figured it out. But I literally had this epiphany: "Oh my God. That's how posters work." You're going about your daily life, and all of a sudden something breaks through the bubble, and it grabs your attention. It's the graphic, it's the color, it's the combination, and it pulls you out of your head and into that poster and it makes you ask a question. "Why is this here? What is this about? What does this mean?" And every time you ask a question, you're a different person than you were before you asked the question.
How many posters do you get a year?
We get between two to five thousand a year donated from all over the world. The bulk of our collection is [from] 1945 and later.
I assume technology has probably hurt the art form, but has it helped get the messages out?
Most people think that, and it's actually not true. Since the internet age started, there's actually a poster renaissance of works on paper. Because you can't walk with your computer monitor in a demonstration. You can't plant your monitor on your lawn.
And you can't put a laptop on the wall…
Exactly. You want to hear a really great story? Truthdig.org published a cartoon [made by] a political cartoonist named Mr. Fish. It was during the Arab spring, and he had superimposed Che Guevara with the stylized beard and King Tut's face, but it had Che's beret. And it [was titled], "Walk like an Egyptian." So, it was a reference to the music, but [it was also] a reference to what was going on the streets of Cairo. I sent it out as our poster of the week to 9,000 people. The very next day, somebody took a photograph on the street of Cairo, with somebody holding a piece of paper with that image on it. A poster can literally go around the world and people will print it out.
What struck me in viewing your exhibits is how many of these posters could still be used today, not only artistically but also, sadly, in the timeliness of their messages.
We had this fabulous poster by Yolanda Lopez, a Bay Area artist, which she first did in 1978. It depicts a young man in Aztec garb pointing a finger like Uncle Sam saying, "Who's the illegal alien, PILGRIM?" And it's a great poster, it's simple, not too many words, funny, provocative. So, we had an exhibit at UCLA in the mid '90s and there were 4 or 5 high school students standing around this poster saying, "Wow, you've got posters up to the minute." And I went over to them and I said, "Look at the date. This is before you were born."
Is that one of your goals with the exhibitions? To show the evergreen nature of this work?
Absolutely. I mean that's why we did the police abuse exhibition now. It basically goes back five decades. It's 50 years of posters protesting police abuse. Mainly in the United States, but also internationally.
What's the goal for CSPG?
Well the aim right now is really to digitize the collection and get it online. We have 10% of the collection digitized. But the mission is to collect and to document, because stories get lost. All the exhibitions, they're showing massacres, they're showing genocide, they're showing police abuse, they're showing all of these horrible things. And people often ask me, "How can you look at this stuff all day long?" I said, "Because the poster artists are optimists. They believe people can change if they have the information."
Yes, that's the reason why they're doing it, right?
That's why they're doing it, and that's why I'm doing this, because I believe that people can change if they knew the truth.
And what happens 20, 50 years from now?
Well, my goal is to stay independent, because the other option is to become part of the university. Universities, for all the fabulous things that they do, they also censor. We did an exhibition at USC in 1992 on the 500 years since Columbus, and how the legacy of racism and exploitation and genocide continues. And one of the board of trustees was Italian and took [the exhibit] as an affront to Columbus. It really wasn't about Columbus, it was about colonialism. And he ordered it down.
Do you have a favorite poster?
I'm always amazed at the creativity and vision of artists. Every week I'll say, "Oh my God, how do they think of that?" But it's always still going to be the poster I saw that kid trying to figure out. It has to be my favorite one because that one changed my life.
What makes a perfect poster?
The right balance between aesthetics and message. If you only rely on the corporate press, the New York Times and L.A. Times, for your information, you're not going to get the side from the street, from the movement, from the activists. The posters are primary historical documents that are recording the issues that were at the time, and the passions that were at the time, and the divisions that were at the time. You're not going to get it anyplace else.
---
Copyright Capital & Main