Digital Fabrication: More Than the Stuff of Dreams
Photo by Moehre1992
America's economy will suddenly grow by $400 billion — roughly three percent –on July 31, when the Bureau of Economic Analysis begins to include in its GDP calculations the value of investments in such intellectual property products as songs, books and movies. The new numbers will reveal that Stephen Sondheim, Stephen King, Steven Spielberg and Ray "Even Stevens" Stevens have been far more important to the nation's financial well-being than government stats have previously indicated.
This news feels as uplifting as a double dose of premium-grade placebo. But there's more than feel-good bookkeeping at stake here. Plays, stories, films and music generate wealth – wealth government stats are supposed to measure.
The nation has always struggled with who owns that wealth. In the Wild West frontier of the internet, music, films and news were easily pirated. Now, there's a newer, quite possibly wilder West, this one represented by the arrival of the 3D copier and the promise of a revolution in digital fabrication.
You may be skeptical about the process by which a copier can spit out ears, earrings, guns and chocolate. What's even harder to wrap one's head around is the possibility that within a few decades, you personally may be able to make most of the stuff you want anywhere, at any time and for a fraction of the going rate.
The aptly named website Pirate Bay calls digitally fabricated items "physibles" and claims, both literally and metaphorically, "We'll be able to share not only a recipe, but the full meal."
Neil Gershenfeld, director of MIT's Center for Bits and Atoms and the creative force behind a pioneering "FabLab," takes things a step farther, predicting that we'll be able to "turn data into things and things into data." If he's even half right, our very notion of "stuff" — its manufacture, its ownership, its effects on the environment — may become as anachronistic as gladiators and town criers.
If all this sounds too Rod Serling meets Harlan Ellison, consider that President Obama, in his most recent State of the Union Address, said, "A once-shuttered warehouse is now a state-of-the-art lab where new workers are mastering the 3-D printing that has the potential to revolutionize the way we make almost everything."
The future is unknowable and perhaps unimaginable, but that shouldn't stop us from pondering the thrilling and terrifying consequences of advanced digital fabrication. Shipping costs, child labor and pollution could be vastly reduced. But where will the jobs be? "We're on the verge of the next industrial revolution, no doubt about it," Dartmouth College business professor Richard D'Aveni told Yahoo News. "In 25 years, entire industries are going to disappear. Countries relying on mass manufacturing are going to find themselves with no revenues and no jobs."
For a musical glimpse into this future, check out the "vinyl" records Amanda Ghassaei has created via 3D printing. Daryl Friedman, chief advocacy & industry relations officer for The Recording Academy (The Grammy folks), thinks we don't need to worry about widespread digital/fab piracy, at least not yet: "With numerous free and legal digital music services, it's unlikely that the average consumer would opt to print his own vinyl records. The real challenge will be to the hard goods industries. This is more about cars than The Cars."
The Journal of New Music Research reports on the production of a 3D-printed flute, and though a Steinway may never pop out of your computer, most of the parts probably can. (Since each key on the keyboard has nearly 60 levers, springs and screws, imagine the cost savings.)
All this creates thorny issues of ownership and compensation for creators of both the intellectual stuff the BEA just got around to recognizing and physical stuff, which won't be so, well, physical.
With Napster, people could rationalize that they were borrowing invisible, impossible to own "data." But producing your own objects is more analogous to making copies of a Picasso or a great piece of album art for resale. Morality aside, if everyone's printing copies of your albums, sculptures and manuscripts in their basements and dorm rooms, who you gonna sue?
In which case, what's the incentive to innovate? Or does innovation accelerate as everyone works to stay one step ahead of the knock-offs?
So thanks, Bureau of Economic Analysis, for the GDPat on the back. That was the easy part. The radical challenge of digital fabrication is dead ahead.
Michael Sigman is a writer/ editor, media consultant and the president of Major Songs, a music publishing company. Sigman was the president and publisher of LA Weekly, the nation's largest alternative newsweekly, from 1990-2002. 

'Skeleton Crew' Is a Play With a Moral Spine
Set in a Detroit automobile outfitting plant, Dominique Morisseau's drama grabs you from the start with its focus on blue-collar men and women, and their struggle for dignity and self-respect.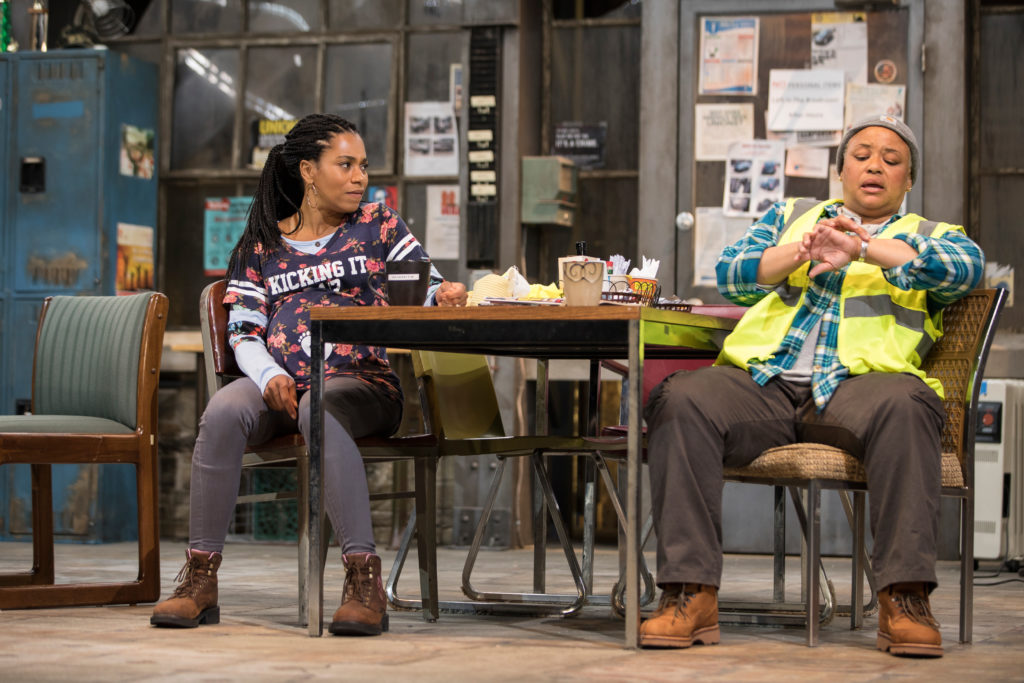 Working-class men and women of color are rarely front and center in today's media and, likewise, are presented all too occasionally on the American stage. So it's buoying to see that trend bucked in playwright Dominique Morisseau's percipient and well-crafted drama, Skeleton Crew. The play is the final installment in her Detroit  Project Trilogy; the first, Paradise Blue, is set in the 1940s amidst displacement caused by urban renewal and gentrification, while the second, Detroit '67, transpires on the eve of the 1967 Detroit riots sparked by a police action.
Directed by Patricia McGregor at Los Angeles' Geffen Playhouse, Skeleton Crew is a play with a moral spine. It takes place in 2008, when the shrinking U.S. auto industry is being further downsized. Morisseau's engaging quartet of characters — Faye (Caroline Stefanie Clay), Dez (Armari Cheatom), Shanita (Kelly McCreary) and Reggie (DB Woodside) – are employed at an automobile outfitting plant. Faye, Dez and Shanita are workers on the line while Reggie (who has a wife and kids, and has pulled himself together after a troubled youth) is their supervisor.
The first three customarily mingle in their break room (designer Rachel Myers' impressively cluttered, dingy and detailed set), trading the sort of familiar barbs and genuine concern for each other common among longtime co-workers. They also face off on philosophy: Upper-middle-aged Faye and the younger, pregnant Shanita take pride in their labor, while Dez, though a good worker, is a malcontent scornful of management and firm in the belief that everyone needs to watch out for himself. He's a thorn in Reggie's side, for while Reggie wants to be supportive of his workers, he must act at the behest of higher management. For his part, Dez resents Reggie's authority, and a palpable unease exists between them.
Besides this male matchup, we're made privy to Dez's attraction to Shanita, who mostly turns away his advances, but every now and then displays a hint of interest. Most poignant is Reggie's regard and affection for the lesbian Faye, which has roots in his boyhood when she loved, and lived, with his now-deceased mom.
These people's various predicaments intensify when rumors spread of the plant's shutdown — a disaster for all, but a particular calamity for the already near-broke Faye who, one year short of retirement, would lose her pension. The crisis forces each of these people to make a choice.
A sound piece of social realism, Skeleton Crew grabs you from the start in its focus on blue-collar men and women, and their struggle against odds for dignity and self-respect. Morisseau not only furnishes these characters a platform for their travails, she endows them with strong values, big hearts and the opportunity to choose between right and wrong.
Unfortunately, the performance I attended did not soar. Many exchanges lacked a fresh edge. The actors certainly had their characters down, but too often they appeared to be coasting on technique. (This seemed particularly true of Clay, who performed the role to great accolades in Washington, DC in 2017, also under McGregor's direction). Additionally, some of the stage movement was not entirely fluid; in confrontations, actors sometimes would just stand and face each other in an artificial way. And Cheatom's interpretation of Dez struck me as a bit overly churlish and depressive: I needed more glimpses of the intelligence and edge that would secretly attract the strong, self-directed Shanita.
The most compelling moments belong to Woodside, well-cast as a man trying his best in difficult circumstances to do the right thing.
---
Gil Cates Theater at the Geffen Playhouse, 10886 Le Conte Ave., Westwood Village; Tues.-Fri., 8 p.m.; Sat., 3 & 8 p.m. Sun., 2 & 7 p.m.; through July 8. (310) 208-5454 or www.geffenplayhouse.org