Dependence Day: America's Opioid Crisis Deepens
Small, exurban towns are experiencing a plague of addictions – so many that overdoses fill the morgues with bodies.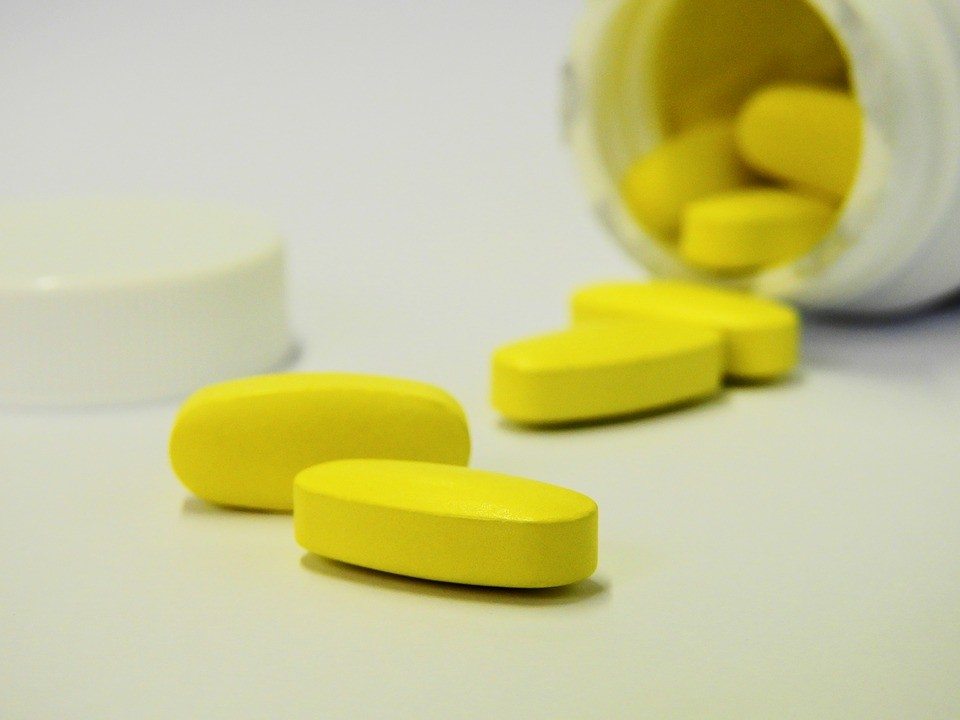 The June New Yorker piece read like fiction, but it wasn't, despite appearing in the "fiction issue." The article focused on one small West Virginia town to describe the extent of America's opioid crisis, but I could take you to places closer by, like Mojave in Southern California's high desert, and show you where the needles pile up.
Small, exurban towns are experiencing a plague of addictions – so many that overdoses fill the morgues with bodies. Before 1980, heroin use was commonly an urban thing, and new users were about evenly split between whites and blacks. Most were young. But white addicts were practically invisible. Popular perception, shaped by magazine photo essays, television news reports and longer documentaries, saw addicts as overwhelmingly African American and their addiction as incontrovertible evidence that black people were inherently depraved. That depravity could only be curbed by draconian drug laws and a full scale "war on drugs."
Today nearly 90 percent of new users are white, and the public reaction offers a dramatic contrast to perceptions two generations ago. Drug addiction is now treated as a medical problem rather than as a law enforcement issue. That more enlightened approach is good news despite being grounded in seeing addiction as white illness rather than black criminality. Today's opiate addicts are both young and older. About two million Americans are addicted to opioids, and another million shoot up their cheaper versions, like heroin and fentanyl, often cut with substances that kill.
Experts blame the shift in demographics on the proliferation of prescription drugs. People feel pain – from migraines or back injuries or post-surgery. The new crop of opioid pharmaceuticals echo an approach to pain relief common a century and more ago when opium derivatives were used to treat everything from so-called "female troubles" to sleeplessness to fussy babies. Today's pain killers were approved by regulators and widely advertised by the drug companies. So patients ask their doctors to prescribe these medications. What the companies didn't tell the government and don't tell the public is how addictive they are. After people are hooked, they can't afford to pay the price of prescriptions, and turn to cheaper street versions.
Ohio, a dozen cities and states and two California counties have sued some of the biggest names in the business, among them Purdue Pharma, Johnson & Johnson, Allergan, accusing the companies of deliberately downplaying the addictiveness of their products. The Centers for Disease Control and Prevention say that three of four new heroin users started on opioids.
Why this epidemic? Why now? Opiates have had a long run of popularity in this country. With the invention of the hypodermic syringe in the 19th century, morphine became a godsend for wounded soldiers during the Civil War, leading to widespread addiction. Heroin came to market in the 1890s, and opiates were routinely included in readily available patent medicines. Hypodermic syringes could be bought from mail order catalogs. Doctors regularly recommended opiates to affluent women to treat a range of afflictions, and heroin remained legal in this country until 1924.
Part of the explanation for the current opioid epidemic is economics. More people work minimum wage jobs that cannot support a family. They feel the constant stress of making ends meet, only to be undone by some odd fluke – illness, injury, a car breakdown, an unexpected bill. Factory jobs – often unionized – that a worker could raise a family on disappeared. Mines closed. The economy shifted. Jobs that paid enough to live on were replaced by "distribution centers" or fast-food outlets that pay minimum wage. That reality has become a familiar story.
But workers, especially at the bottom, can't count on a regular monthly pay check. According to the New York Times, some 41 percent of hourly workers have no idea what their next week's work schedule might be, so they don't know what a month's income will be. Intermittent and uncertain work schedules mean that a family's income at the low end of the scale can vary as much as 70 percent from month to month. Unpredictable incomes make for emotionally turbulent families — pain people often seek to mask.
Another part of the explanation may be historic: In the last half century, addiction has spiked when this country went to war in a drug-supply region of the world. In the 1960s and '70s, it was Vietnam, and the drugs that flowed from the Golden Triangle of northern Laos, Cambodia and Thailand. Cocaine and crack spiked in the 1980s as this country backed the Contras, in a war financed in part by drug proceeds against Nicaragua's Sandinista government. At the same time, the U.S. also poured billions into Colombia, by far the leading cocaine producer, with massive amounts going to assistance in fighting a guerrilla army. Now, as we fight a war in Afghanistan – always a source of heroin that has survived our best eradication efforts – the streets are flooded with cheap stuff again. But most heroin in the U.S. now comes from Mexico, an exception to the connection between wars and drugs. Wars apparently have opened back-channels to illicit drugs. Perhaps that connection is only coincidence. But I doubt that, and so do some experts.
So the economy has people hurting, the drugs are plentiful, and maybe there's something else. The publisher of the local newspaper in that West Virginia town said it this way: "In my opinion, the desperation in the Panhandle [of West Virginia], and places like it, is a social [his emphasis] vacancy . . . People don't feel they have a purpose."
In those places, buildings stand empty as they have for decades in some of the most economically depressed urban areas. Available jobs pay too little to raise a family. But images of the bangles and beauty of the rich and famous dangle before everyone on television, billboards, magazine covers. You can't evade them unless you live in a monastery. Between the fantasy and the stress, a sense of closeness between people, of community, of mutual support, of common purpose, disintegrates. Those who can, commute from the exurbs to the cities, taking their expertise and commitment and energy with them and leaving them there. Those who can't, do what they can, hoping for a lottery card to come up.
The New Yorker piece ended with the story of a waitress who got hooked on pills because they were always available. Waitressing is hard, exhausting work without much reward. No one cuts it without determination and purpose. She didn't. Heroin – cheaper than the pills – became a way of life. Addiction substituted for purpose – how to get the next high, how to pay for it. A dead-end story. Instead, she has been clean a year now. There's medication (something the Trump people want to cut) and there are people who have surrounded her with support. But that's rare. More familiar is a body by the side of the road.

Home, Shared Home: Renters Watch as Their Buildings Become Apartels
The displacement of renters by large-scale operators who turn apartment buildings into de facto hotels has hit urban areas like Greater Los Angeles hard.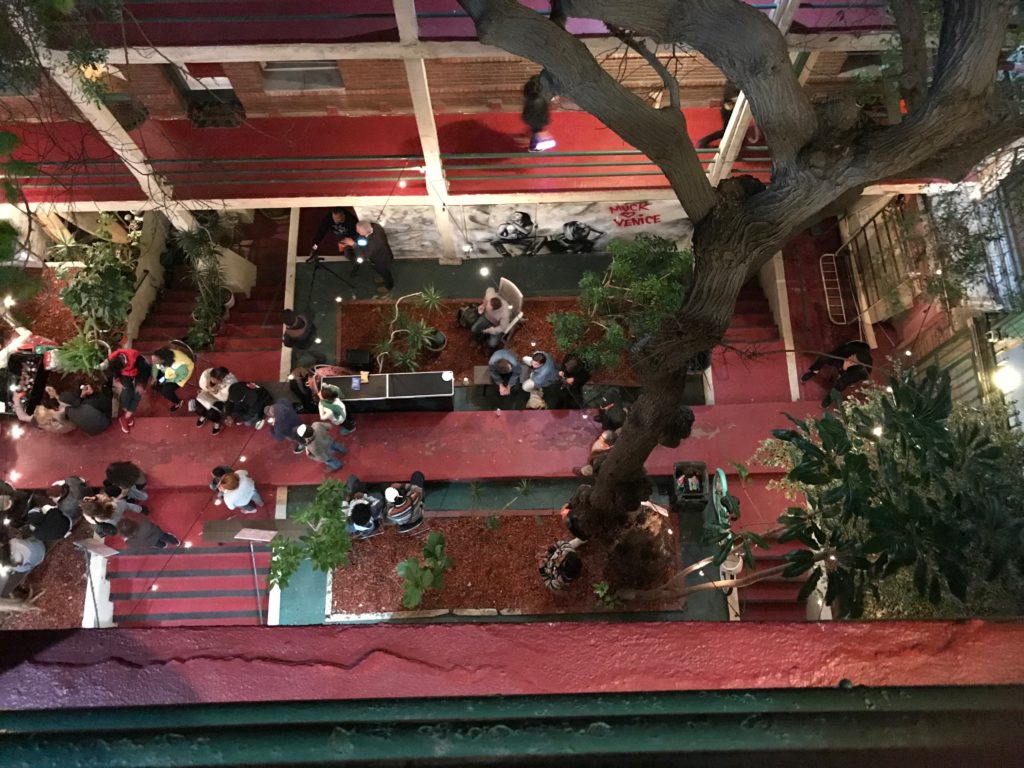 ---
Apartment Renter: Short-term guests begin lining up around 11 a.m., spilling out onto the street as other guests check out.
---
Home-sharing

. This cozy phrase once conjured images of a homeowner generously opening up a room to out-of-towners—while the fee charged by the owner helped him with mortgage payments. Or perhaps we pictured an apartment dweller who left for the weekend and made a little extra cash letting someone else use the premises.
But the present reality of home-sharing is not so cozy for single-family residential neighborhoods, where out-of-town guests may feel no social pressure to allow the neighbors a peaceful night's sleep or to not trash the rental home.
To see today's home-sharing up close, visit the Ellison Suites in coastal Venice, just a block from the famed Venice Boardwalk. Built in 1913 and covered with gigantic murals of Jim Morrison, Marilyn Monroe, John Hurt and Lana Del Rey, it boasts 58 units—but only 12 apartments are occupied by permanent tenants, according to one resident.
---
"We used to have neighbors for 20 years—now we have them for 20 hours."
---
Beyond the Ellison's courtyard, people bump wheeled suitcases up the building's front steps and, on Fridays, signs advertise the night's upcoming party. It might offer a fire dancer, but most parties will at least include free beer and wine — and music that reverberates up through the courtyard.
"We used to have neighbors for 20 years—now we have them for 20 hours," said Bruce Kijewski, one of the remaining tenants, who has lived here since 1977. In the summer, he said, guests begin lining up around 11 a.m., spilling out onto Paloma Avenue as other guests check out.
An online search for The Ellison Suites yields a number of home-sharing and lodging platforms—Booking.com and Expedia among them–advertising its amenities as a short-term beachside rental. The building's own website promotes it as a vacation destination, extolling Jonas Never's murals as "Venice Masterpieces."
The displacement of tenants by large-scale operators who turn their buildings into de facto hotels hit hard in urban areas like Greater Los Angeles, which is plagued by a nearly three percent rental vacancy rate.
While mom and pop are in on some of the home-sharing, today its booming business model most benefits commercial operators who can make more on short-term rentals (STRs) than on permanent residents.
STRs are promoted by a slew of home-sharing platforms, including Airbnb, now valued at $31 billion as it moves toward being publicly traded; and HomeAway and subsidiary VRBO, valued around $3 billion in 2015. The platforms profit by collecting a percentage on every rental offered on their sites by home-sharers.
Local municipalities are scrambling to figure out and ameliorate STR impacts on their neighborhoods and housing stock. In May, a Los Angeles City Council measure was sent to the city attorney's office for language changes and is expected to go before the city planning commission in September. The proposed ordinance would set up a permitting system for short-term rentals and establish a 120-day yearly limit for home-sharing. Two nuisance violations—enforced by a city agency—could get an operator's permit revoked.
The Ellison Suites, zoned as a rent-stabilized apartment building, in effect operates as a hotel.
The lowest nightly rate listed on the website is $149. That apartment, when rented to vacationers, could yield $4,470 monthly.
With the Ellison's current rent-stabilized protections, it's hard to straight-up evict someone, but there are ways of persuading them to flee their apartments to make them available for tourists and other visitors.
Michael and Susanne Detto, Ellison residents for 14 years, rented their apartment for $2,000 a month before they moved out in May. All-night parties in the courtyard below their apartment made it impossible to sleep—both work 12-hour shifts as nurses. "It was so loud we couldn't even talk to each other," Susanne Detto said.
Breakdowns in maintenance–power outages, faulty plumbing, leaking ceilings—plus an altercation with management during one of the raucous parties were all part of what the Dettos claim drove them out.
"Especially in summer, he makes three times the money if he rents out every day," Michael Detto said of the Ellison's landlord.
Kijewski and other Ellison tenants say landlord investment goes into creating a hotel entertainment experience rather than supporting habitable apartments. Residents have filed dozens of complaints with the city against building owner Lance Jay Robbins' Paloma Partnership LLC, citing bad plumbing, inadequate water supply, construction without permits and change of use/occupancy without a building permit. (Multiple attempts to get a response from Robbins for this story were unsuccessful.)
---
Michael spoke wistfully of a community where neighbors once shared poetry readings, art discussions and fundraisers in the courtyard now occupied by high-octane weekend parties.
---
The company appealed the building's status to Los Angeles' Building and Safety Commission, arguing that short-term rentals should be allowed because the city's initial certificate of occupancy designating the Ellison a residential apartment was in error and that the building is a hotel.
The company lost. Another appeal is headed for the city planning department.
Meanwhile the Ellison continues to advertise online as a hotel.
With today's lucrative rates of return, it's easy to see why, for large-scale operators, short-term stays make for a more attractive business model than permanent housing. Customers staying for a few nights might do some hating online, but won't be there to press on long-playing maintenance issues.
Tenants at the Metropolitan in Hollywood experience the same push-out climate as Ellison residents, according to Susan Hunter, a case worker with the LA Tenants Union, which is part of a coalition that includes representatives from Los Angeles' hotel industry, labor unions and community groups.
Hunter counts a dozen permanent residents remaining in the sleek, 12-story high-rise that boasts sweeping views of Hollywood and sits within walking distance of Hollywood Boulevard sites.
The website for Apartments.com says there are no apartments presently available.
Zoned as a residential building, the 52-unit Sunset Boulevard property owned by the Harridge Development Group is advertised online as an "apartel." Tenants approached for this story didn't want to speak, they said, for fear of retaliation, but they have complained to Hunter of loud parties, with fighting in the halls and kicked-in doors.
Apart from creating chaotic conditions for tenants sharing space with STRs, the home-sharing model leaves an even larger social footprint. The incentive for large-scale operators everywhere to acquire units—including entire homes — and move them off the permanent housing market places upward price pressure on housing.
From Seattle to New Orleans to Barcelona and beyond, housing advocates are assessing the effects of short-term rentals on housing markets and figuring out how to respond.
In New York City, short-term rentals have resulted in a loss of as many as 13,500 rental housing units, according to a January 2018 report from the School of Urban Planning at McGill University. (The study was commissioned by a labor group opposed to home-sharing.) New York has passed legislation requiring registration and other monitoring measures.
A 2015 San Francisco Board of Supervisors Budget and Legislative Analyst report estimated that Airbnb short-term rentals alone had removed between 925 and 1,960 units from the city's housing market. These, along with 8,000 units already being used for short-term rentals, add up to an 11 percent reduction in rental housing.
Like other cities, San Francisco has aimed to define and enforce the number of nights STRs are permitted. Studies based on data from insideairbnb.com show that, in Los Angeles, renting out a property as a short-term rental for 83 nights or more annually produces more profit than the property could earn as a long-term rental.
In San Francisco, the cradle of Airbnb and adjacent to tech hubs, municipal leaders face an affordable housing shortage and a vacancy rate below three percent, and have established a registration process for short-term rental hosts. Regulations set a cap of 90 days per year for hosts that don't live on the property. Violators are subject to stiff fines.
Seattle, headquarters of several tech giants, took an approach that attacks the short-term rental issue as part of the affordable housing problem. The city defines a short-term rental as a maximum stay of 29 nights and sets up a licensing system.
Using a wider lens on the affordable housing crunch, the city council in May approved an "Amazon tax" that charges the larger employers such as Groupon and Amazon $275 per worker annually to support housing and homeless services. (The city council repealed the tax in August.) Seattle comes in third, behind only New York and Los Angeles, in the numbers of homeless, while boasting only a fraction of those cities' total populations.
Joan Ling, an urban policy analyst who has worked in affordable housing and mixed-use development for over 30 years, supports short-term rental regulation but sees it as only a piece of the larger question of creating affordable housing to support working families. Los Angeles, she said, "has a ways to go . . . Anything is better than nothing. What [regulation] can do is reduce the harm that can be done [by] removing units. The affordability crisis is so pervasive, so deep—we need a huge number of policies to address the crisis."
Michael and Susanne Detto are happy living in their new apartment in Santa Monica—no all-night parties, the plumbing works and it's a 10-minute walk to work. But before the Ellison got pieced out for short term-rentals, the couple also liked their Venice home.
Michael spoke wistfully of the community where neighbors once shared poetry readings, art discussions and fundraisers in the courtyard now occupied by high-octane weekend parties.
Susanne likes where the couple landed, but reflected on the overall cost as tenants got pushed out by the STR model.
"We lost a lot. We lost a lot of our neighbors. We're still kind of recovering."
---
Copyright Capital & Main