Delta Variant — and County Inaction — Pushing Los Angeles Toward a COVID Emergency
The stakes are high for a region that is home to roughly four million unvaccinated residents.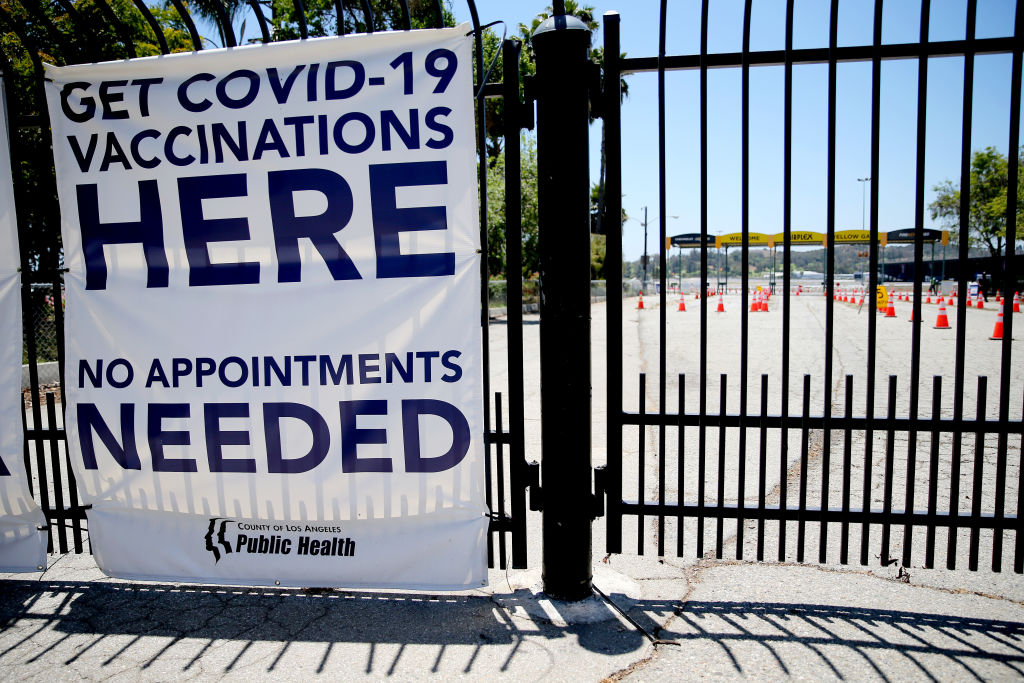 The news out of Los Angeles County is both chilling and instructive. For the first time since early March, the county has recorded more than 1,000 new cases of COVID-19 for four days in a row. Virus-related hospitalizations have shot up to their highest levels since May. As it is doing elsewhere, the highly contagious Delta variant of this disease is producing a sudden and dramatic spike in the numbers.
What could possibly make that situation worse? For starters, a county health department that doesn't follow through on its own protective instincts. That inaction, coupled with the continued failure to reach deep into communities of color and low income neighborhoods, is again threatening to push L.A. toward a COVID emergency.
---
---
 
The Delta variant is a new level of trouble. Early research indicates it may result in more severe disease than previous strains, and it has nearly twice the rates of transmissibility. Experts say that among unvaccinated people, the pace of the spread may become dizzying, and Los Angeles County officials note that more than 99% of recent cases, hospitalizations and deaths involve people who haven't received a vaccine.
That is a frightening notion in a place like L.A. County, the state's most populous, where 40% of residents — roughly four million people — remain unvaccinated. Last week, health officials noted that Delta had become the dominant strain of the virus in the county, which is in line with what's happening nationally.
*   *   *
In truth, though, L.A.'s COVID numbers have been rising almost from the day Gov. Gavin Newsom declared the state broadly reopened on June 15, lifting mask mandates, indoor dining bans, social distancing requirements and capacity limits. That reopening also eliminated the state's tiered system that had tied the county infection rates to residents' ability to go maskless or, say, sit inside at a bar.
It's worth noting that Newsom's declaration wasn't law. Any individual county had, and still has, the authority to impose local restrictions depending upon the conditions present in that county. And Los Angeles County Department of Public Health (LACDPH) Director Barbara Ferrer very clearly understands that worrisome conditions are again present.
 
---
Just two weeks after California's reopening, the Los Angeles County Department of Public Health began recommending that people again wear masks indoors.
---
 
On June 28, after just two weeks of testing in the wake of Newsom's move, Ferrer's department began recommending that people again wear masks indoors. Its release noted the particular danger in places like grocery stores and retail outlets, as well as workplaces "when you don't know everyone's vaccination status." Ferrer went further on July 8, saying, "COVID-19 remains a highly infectious virus that is easily transmitted, especially indoors."
But despite the spike in L.A. cases and the unquestioned evidence that the Delta strain is a "nasty variant," in the words of White House chief medical adviser Dr. Anthony Fauci, Ferrer has made no forceful move to enact rules that would make the county more restrictive than anywhere else in California.
While that approach may strike some as measured, the stakes are higher in Los Angeles. The county accounts for a quarter of the state's population, but 33% of California's COVID cases and 39% of its deaths. Its and its dense urban areas are populated by some of the racial and ethnic groups that remain at the greatest risk of COVID infection and hospitalization.
As the Los Angeles Times noted, the COVID case rate for Black residents of the county rose 18% from mid-May to mid-June, even as it declined 4% for Latinos, 6% for whites and 25% for Asian American residents. The hospitalization rate for Black residents also increased 11%, while the other three groups all saw declines.
Vaccination numbers lie at the heart of some of those disparities. Currently, the lowest rates of vaccination in the county among any racial, ethnic or age group are for Black and Latino young adults. With the Delta variant coming on strong, and absent a major push into those communities the likes of which has not happened for 15 months, those numbers are almost certain to worsen.
 
---
Currently, the lowest rates of vaccination in L.A. County among any racial, ethnic or age group are for Black and Latino young adults.
---
 
Ferrer's response has been to stay the course. She has not moved toward limiting indoor seating at restaurants, bars and shops, even though by their nature such businesses involve customers removing their masks and (usually) keeping them off for extended periods. She has not pushed for the county to establish distancing requirements indoors.
Her office's only action, in fact, has been to "strongly" recommend that people wear masks indoors. As L.A. County's rising COVID numbers show, that recommendation isn't being taken seriously, perhaps because there's no teeth behind it.
*   *   *
Ferrer bears a special responsibility, and a heavy one. As the media-savvy director of the largest public health agency other than the state's, she has the ability to make policy and enact health rules on a massive scale, and the platform to sell them. As a health officer, she presides over the most populous county in the nation. But increasingly, Ferrer appears caught between decisions based on science and medicine and decisions that are fundamentally political in nature.
It isn't the first time. In May of 2020, Ferrer sounded a cautionary note about COVID's progress in L.A. County, saying, "Nothing has really changed about the virus since March. The virus didn't get less deadly. The virus is still out there." But even as she spoke the words, LACDPH, the city of Los Angeles and other public agencies were preparing to throw open the doors of business all over the county — a decision that proved to have fatal consequences.
In the fall, that pattern repeated itself, with county health officials again opting to loosen restrictions on businesses and in-person gatherings despite evidence of a gathering viral storm. Los Angeles County's infection rates quickly shot up 1,000%, making it the first county in the nation to surpass 1 million cases, and peaked in December, when the county was ravaged by over 400,000 new confirmed cases. January of 2021 subsequently produced 6,411 COVID-related deaths, more than any month before.
More than a year later, it is fair to hope that lessons have been learned and that the mistakes of the past won't be repeated. But with the Delta variant bearing down and cases in Los Angeles once again on the rise, there appears to be no force of will emanating from Ferrer's office — and only a willful move toward restrictions designed to save lives has a real chance of preventing another severe spike in cases, hospitalizations and deaths.
---
 
Copyright 2021 Capital & Main