A Los Angeles COVID Report Card
Is it too late for L.A. County to learn from its pandemic mistakes?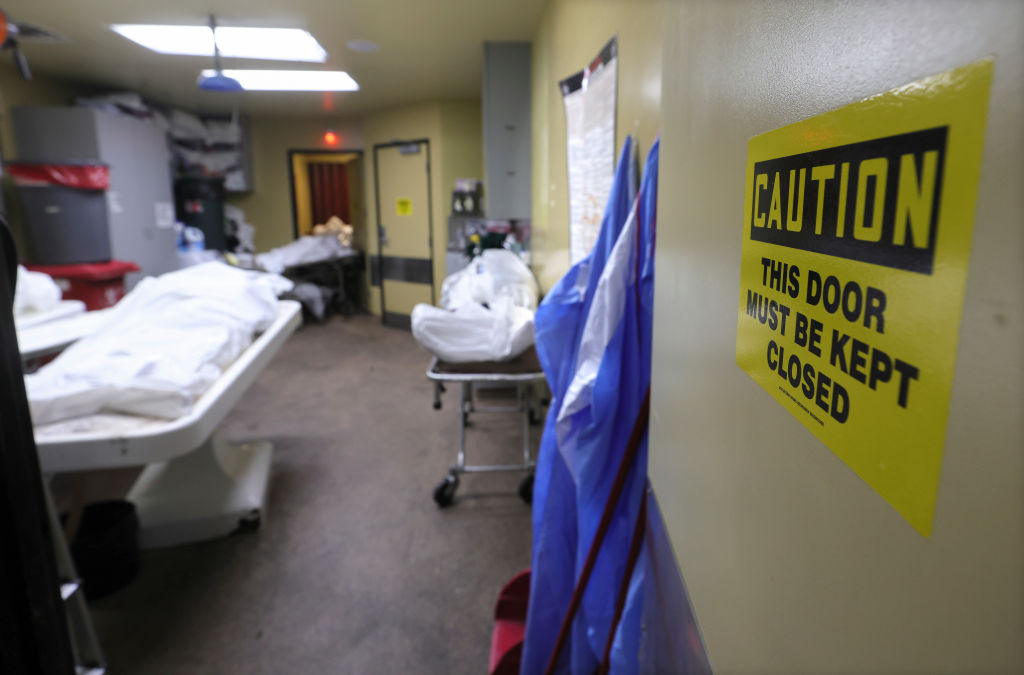 In May of 2020, Barbara Ferrer sounded a cautionary note about the novel coronavirus known  as COVID-19. "Nothing has really changed about the virus since March," said Ferrer, director of the Los Angeles County Department of Public Health. "The virus didn't get less deadly. The virus didn't get less infectious. The virus is still out there."
The words appeared to be the sober judgment of a longtime health professional. In fact, though, Ferrer spoke them even as LAC DPH, the city of Los Angeles and other public agencies planned to open doors all over the county: businesses, restaurants, places of worship, malls, salons, retail shops.
---
---
 
It was a decision with fatal consequences. Los Angeles, the recipient of praise for its early handling of the pandemic, saw caseloads spike to the point that by early summer it had become a massive vector of infection. Hospitals were eventually strained beyond capacity as severely ill COVID patients required immediate, often protracted, care. Meanwhile, protests erupted in city streets and across smaller neighborhoods, fueled by anger over confusing and contradictory health guidance and by city and county orders that seemed to change on a whim.
The misjudgment was one of several critical mistakes documented by Capital & Main in a review of how Los Angeles County essentially failed at a moment of crisis. And with both the county and the state now entering a broad reopening, it's far from clear that corrective measures have been put in place — or that these mistakes have even been given a full airing. Among them:
The county's inexplicably slow reaction to the virus's lethal path through L.A.'s nursing homes and skilled care facilities.
The fateful decision to reopen so quickly last year — and then to allow malls and other nonessential retail businesses to remain open through a vicious fall and winter surge of the virus.
The inability to execute a plan to reach the county's most vulnerable neighborhoods and communities of color, disregarding the influence of community advocates, activists, organizers and clinicians, who were largely ignored despite their deep local knowledge and contacts.
County hospitals' seeming unpreparedness for the scale of the fall/winter surge, leading to bedspace and staffing shortages despite experts having predicted the viral spike long before it arrived.
The cumulative damage is still being measured, since, as Gov. Gavin Newsom said last week, "We're still in a state of emergency. This disease has not been extinguished." But the events of the past year-plus in Los Angeles have led many public health experts, sociologists, community advocates, epidemiologists and clinicians to wonder loudly whether the county was up to the task of responding to a genuine health emergency.
Among those asking are L.A. City Councilman Kevin de León, who has proposed that the city consider breaking from the county and form its own health department; community clinic workers, who complain that the county ignored their help for far too long when it came to getting out critical information about COVID's spread and vaccinations; and longtime health administration officials, who have taken aim at county leadership in general and Ferrer in particular
"We had a throttle placed on the true capacity of our health department," said a former top county official, who asked not to be identified in order to avoid professional backlash. "In an emergency like this one, you need to tap every bit of the talent that you have at your disposal — but unless they're allowed to do their jobs, it doesn't matter who's around you."
*   *   *
The story of Los Angeles County and COVID-19 can hardly be reduced to mere numbers, but the numbers do stand out. According to state data, L.A. County as of June 11 had recorded 24,440 COVID-related deaths, or 39% of California's death total — yet the county makes up only about 25.4% of the state's population. In all, the state's numbers put the county at 1.204 million confirmed cases of the virus, or 32.6% of California's total. (The county's own data places the infections higher, at 1.246 million cases.)
 
---
"When some of the numbers started coming out, a lot of us said, 'Your ZIP code determines your chances of dying.'"
~ Michelle Burton, director of Social Change Institute at Community Health Councils
---
 
By any standard, that is an outsized failure to control the scope and damage of the coronavirus. More telling, though, is the breakdown of who has suffered the most. According to the Los Angeles County COVID dashboard, Latinos comprise 53.6% of the county's COVID cases and 53.7% of its deaths, but only 49.3% of the population. White residents, who generally live in the county's richer and healthier neighborhoods, make up 27.6% of the county's population, but account for only 11.1% of its COVID cases. They're also vaccinated at much higher rates than either Black or Latino residents.
"When some of the numbers started coming out, a lot of us said, 'Your ZIP code determines your chances of dying,'" said Michelle Burton, director of the Social Change Institute at Community Health Councils, which supports underresourced communities in the L.A. area. "Rates of infection, vaccine penetration, access to health care — these go along with those ZIP codes."
Reaching any region's most vulnerable residents in an emergency is a challenge, and Los Angeles County, with a population of roughly 10 million, represents an extreme. But the inability to do so in a timely manner helped spur the full scale acceleration of a disease that ripped through communities of color and lower income neighborhoods.
When she was appointed to her current job in 2017, Ferrer came with a résumé that suggested a strong commitment to health equity, and she has spoken often and adamantly about the need for Los Angeles County to place that consideration at the center of its health goals. But COVID's worst effects have been felt in the county's lower income Black and Latino neighborhoods.
Community organizers, activists and clinicians say that county officials eventually reached out to them for assistance, and set up a formal program, the County COVID-19 Community Equity Fund, as part of an effort to improve results in those vulnerable areas. But the program wasn't formally launched until December of 2020, long after it was known that L.A.'s communities of color were dying from COVID at rates wildly disproportionate to their populations.
"The county needs to listen to the communities and what's happening on the ground," Maria Brenes, who directs InnerCity Struggle on Los Angeles' Eastside, told us earlier this year. "We can't have business as usual when people are disproportionately dying." 
Questions submitted to Ferrer by Capital & Main were answered by the LAC DPH communications department. Asked about the vast racial and ethnic disparities in COVID infection and death rates, a department spokeswoman noted the regular risk to "frontline essential workers," those in factories, production plants, food services, etc., who often work indoors in close proximity to others, as well as "those that live in multigenerational households [who] seemed to have higher incidence of infection and death."
Those factors were broadly known not long after the pandemic's outset. Ferrer's spokeswoman said LAC DPH "communicated risk reduction strategies and requirements to all communities within Los Angeles County through multiple mechanisms. It translated materials into 13 languages and widely distributed them through all sectors and on social media."
 
---
While mass vaccination sites at places like Dodger Stadium were able to inoculate large numbers of people, they were by definition limited to those who could travel by car.
---
 
That effort was belated, and it often failed, in part because those who actually live and work in the affected communities were not looped in on the process until much later in the year. It was that lack of outreach that prompted Felipe Orsono, who spearheaded the vaccine rollout at USC's Keck School of Medicine, to plead publicly for DPH to utilize its available community contacts when it came time to distribute vaccines.
Instead, the county went for a different set of optics, constructing mass vaccination sites at places like Dodger Stadium. While the sites were able to inoculate large numbers of people in a relatively short time, they were by definition limited to those who could travel by car, often in the middle of a workday, to receive their shots. Thus, even as lower income areas were disproportionately being infected by COVID, they were not often where the vaccine was heavily distributed. Infection rates in the county remained elevated partly as a result of that strategy.
Similar slow-footed action exacerbated terrible conditions among the county's many skilled nursing homes and assisted living facilities, which accounted for nearly half of all deaths in the county during the grim early advance of COVID in 2020.
That staggering toll — more than 1,300 dead in nursing homes in the county during the first few months of the pandemic — led the county's governing Board of Supervisors to vote unanimously in May 2020 to appoint an inspector general to oversee the more than 300 skilled nursing facilities, a public rebuke of LAC DPH's response. (The department is the only public health agency in California with direct authority over conditions at its nursing homes; every other county's facilities are overseen by the California Department of Public Health.) Supervisor Kathryn Barger, who co-authored the inspector general motion, openly questioned whether LAC DPH was conducting adequate COVID testing in nursing homes. The motion also stipulated that the inspector general report directly to the board rather than to public health authorities.
Though the scale of the problem was enormous, its root issues were not new. The LAC DPH, which has an annual budget of approximately $1.2 billion and employs nearly 4,500 people, has long been dogged by findings of lax oversight of nursing homes. In 2014, reports emerged that LAC DPH had been closing cases involving health and safety complaints without fully investigating them, under a program known as the Complaint Clean Up Project.
"Congregate living settings are at increased risk for outbreaks from COVID-19 and other influenza-like illnesses due to the inherent challenges with physical distancing," the department said via its communications arm. "The fact that the virus could be spread by an infected person before and without symptoms was not known early in the pandemic, and contributed to the spread of COVID-19." (In fact, physicians and epidemiologists established early evidence that the virus could be spread by asymptomatic people.)
Prior to the development of vaccines, one of the most vexing issues was the virus's ability to spread quickly among people in close physical proximity — in crowded workplaces, for example. Contact tracing, the process of rapidly identifying those who've been in contact with an infected person, was a potentially useful tool to prevent some of that spread. But as has been documented many times over, L.A. County experienced profound failures with its contact tracing program, which lagged badly even after being notified of workplace outbreaks.
Although LAC DPH appeared to have the resources to perform this critical duty, its processes broke down repeatedly. Slow turnaround times in obtaining test results from labs further delayed tracing efforts. The failures meant that outbreaks in places like meatpacking and food processing plants spread well beyond their initial circles, endangering widening groups of employees and their families. More broadly, it appeared that the county was unaware of how challenging contact tracing can be.
 
---
Early in the pandemic, county workers repeatedly failed to perform contact tracing in places like food processing plants, in part because workers were reluctant to criticize employers' unsafe conditions.
---
 
"We learned quickly that contact tracing efforts cannot be solely done online," said Supervisor Hilda Solis, the chair of the County Board of Supervisors. (Though questions were posed to all five members of the board,  Capital & Main was informed that Solis would respond for the group.) "In many of the communities within the First District that I represent, there is still a significant digital divide that needs to be bridged." 
Ferrer's department discovered the same, and worked with supervisors on using more traditional models of communication, like phone banks, to reach people in neighborhoods where technology was lacking. But according to Ferrer's office, that wasn't the only hurdle.
"Distrust by the community was the main barrier in the beginning," a communications officer said. "People did not answer the phone because they didn't know who was calling and didn't know if it would be a scam." The spokeswoman said LAC DPH implemented several strategies to overcome that issue, including using the same number for every inbound call and trying to get Los Angeles media to help spread the word.
The effect of those strategies was, at best, delayed. In the early months of the pandemic, county workers repeatedly failed to perform contact tracing in places like food processing plants, in part, they said, because workers were afraid to share information and reluctant to criticize their employers' unsafe conditions. "We believe this is because people are fearful of losing their housing, their jobs and their relationships," Ferrer said last July.
Perhaps nowhere was the county's uncertainty about how to handle the crisis more evident than in its two most fateful decisions: the rushed reopening of businesses in May of 2020, and the continued operation of retail stores and malls despite a fall/winter surge. In both cases, it can be argued that the city and county were following the lead of Newsom's office, guidance which shifted constantly. But no governing body holds more sway over health decisions in Los Angeles than Ferrer's department.
In early May of 2020, Ferrer told county supervisors that L.A.'s stay-at-home orders would "with all certainty" be extended for the next three months. But she walked back that statement the next day, and by the end of the month the county was reopening businesses and shops despite open concern by experts that it was happening too soon and was being driven by political and economic considerations, not best health practices.
 
---
In the face of the viral outbreak, some critics say, Barbara Ferrer's tendency to want decisions funneled through her may have cost the department precious time in moments that demanded action.
---
 
The subsequent COVID outbreaks erased all early progress the county had made, and not long thereafter Los Angeles was considered one of the nation's hotspots for the virus. Yet when faced with a similar decision in late fall, county officials again opted to loosen restrictions on businesses and in-person gatherings. Los Angeles County's infection rates rapidly shot up 1,000%, making it the first county in the nation to surpass 1 million cases. The infection rates peaked in December, when the county was ravaged by more than 400,000 new confirmed cases, and January of 2021 subsequently produced 6,411 COVID-related deaths, more than any month before.
That fall/winter surge, with its sudden spike in caseloads, appeared to take county officials by surprise. Interviews with hospital administrators, doctors, nurses and others on the front lines of dealing with the crisis suggest that the county was again caught flat-footed, moving too slowly to avoid overcrowding and often desperate conditions at L.A.'s county-run hospitals and other health centers.
*   *   *
The failure to grasp the scale of the COVID-19 emergency, while perhaps understandable given the virus's unusual profile in the history of U.S. health, nevertheless baffled some of those who've spent their careers in public service. In conversations and off-the-record interviews with many of those workers, the question of Ferrer's management style was often raised.
As Capital & Main noted last year, Ferrer's approach to running LAC DPH has inspired deep divisions among those who've worked under her or in cooperation with the department. She appears to enjoy broad support, in part, perhaps, because of her nearly constant media presence. But in the face of the viral outbreak, some critics say, Ferrer's tendency to want all decisions funneled through her may have cost the department precious time in moments that demanded action.
A high-ranking former health officer explained that in times of large-scale public emergencies, major entities like health departments normally establish an "incident command center," or ICS. Under that structure, several top experts in specific fields are tasked with essentially deciding what needs to be done within their specialties — mobilizing hospital resources, say, or establishing a food system or public information outreach.
"But what happened in DPH with COVID was what I would call 'ICS lite,' because Barbara wanted everything to go through her," the official said. "The system I described didn't fall into place. If we had had it, we'd have very quickly identified nursing homes and skilled care facilities as places of tremendous vulnerability — and we'd have done the same with areas where people were already at risk, in poorer areas, and where people have inferior access to healthcare."
The process was often too slow to be of real value, the former official said. But Ferrer's job status certainly is not in question. "This has been a once-in-a-century pandemic, one that was nearly impossible to anticipate," Solis said. "We are in a much better position than we were 15 months ago with respect to understanding how a pandemic unfolds and what some of the best practices are to reach communities with vital information and resources."
A source told Capital & Main that the supervisors may produce an "after action report" that looks more deeply into the issues raised by the shortcomings in the county's response to the COVID-19 crisis. "But substantive answers to the questions you're raising won't be known for months," the source added. Given that, it's fair to wonder whether Ferrer's department and the Board of Supervisors, which oversees the public health agency, will be adequately scrutinized.
Some in Los Angeles don't want to wait. In February, four members of the Los Angeles City Council introduced a motion to explore creating the city's own health department, noting that "because the city's public health response is run by the county, the city has very little control over how resources are allocated."
Councilman Kevin de León was more blunt in recent comments to the Los Angeles Times, saying, "Public health directors in general are very good data collectors. Tragically, they've proven to have major equity blind spots during this pandemic." The LAC DPH, de León said, was too large to meet the "unique needs of L.A.'s diverse residents."
Only a fuller accounting of the county's actions during the pandemic can bring about suggestions for change either to the system itself or Ferrer's management style. Failing that, Los Angeles residents might question whether their health department will be any more prepared for the next crisis than it was for the last one.
"The people who were devastated by this, the people who lost family, those people must be asking some of these questions," said a public health expert. "Why did months go by before the people in charge began to see how the cases were building up to massive totals? We need to know, so that it doesn't ever happen again." 
---
Copyright 2021 Capital & Main