Debacle: How a Promising Charter School Failed
In 2014, when teachers at Los Angeles' Jefferson High School opened their own charter school, the Student Empowerment Academy, they hoped to bring the larger world into their classrooms. They got more than they bargained for. BY ROBIN UREVICH

Student Empowerment Academy's first and last home. (Photo by Svgperson)
In 2014, when teachers at Los Angeles' Jefferson High School opened their own charter school, the Student Empowerment Academy, they hoped to bring the larger world into their classrooms. They wanted to show kids opportunities outside of their neighborhood, where academics often took a back seat to economic survival. Kids would learn science, math and social studies by solving real-world problems in teams, just as they would in the work-force, while teachers would have autonomy and genuine decision-making authority.
But faculty members soon found themselves facing one real-world problem they hadn't bargained on — a tug of war for power with administrators and board members. Conflicts reached a boiling point in 2015, with staff leaving en masse – either fired, pushed out or stressed beyond their limits. The school also ran afoul of the Los Angeles Unified School District, which oversees the city's charter schools, for financial mismanagement and other shortcomings. With enrollment dwindling, Jefferson announced that SEA would have to move to another facility for the 2017-18 academic year. If these obstacles weren't enough, in its last year the fledgling charter school was led by a former professional football player with no teaching background and little administrative experience, and who, along with the academy's board of directors, would throw the academy and students under the school bus once the going got tough.
SEA's story highlights the precarious nature of small independent charter schools, and brings to light the fact that charter boards of directors are largely independent and don't always have to account to parents, teachers and communities for decisions that affect students. In the end, the academy's board of directors concluded that SEA faced problems that were so intractable that the only solution was to shut it down, and last June, two weeks after classes ended for summer break, the directors voted for permanent closure.
Teachers and parents were left reeling. Parents demanded to know what happened to the public funds that created the school, and where their kids would attend classes the next year. Teachers argued that more could have been done to save the school.
Jefferson High sits in a South L.A. neighborhood where corner stores, modest homes and ramshackle apartments huddle cheek by jowl with small factories, all in the shadow of downtown's skyline. Alumni include diplomat Ralph Bunche, the first African American Nobel laureate, choreographer Alvin Ailey, jazz saxophonist Dexter Gordon and singer Etta James. About a decade ago Jefferson became notorious for massive brawls that erupted on campus. Television news reports blamed racial tensions, but more-in-depth accounts noted that nearly 4,000 kids were crammed into a school built for a third that many.
Six years ago in response, the school created small learning communities to break down the anonymity of the giant high school. One of those initiatives was the New Tech High School for Student Empowerment Academy, a sort of school within a school. When, in 2013, administrators announced staff cuts and larger class sizes, faculty member Linda Rahardjo was one of several teachers who designed the 300-student independent charter version of SEA to carry on the work they had begun.
Rahardjo told Capital & Main the decision to go charter was an ultimately futile attempt to preserve what the faculty had originally built. The teachers who formed SEA were a closely-knit group who came to school early and stayed late to create a safe place where students could learn to study and think. "Being able to pass their classes became the in-thing," she noted, adding that the students had begun to put brains above brawn, especially where disputes were involved. "They'd step back [from a fight] and say, 'That's not what we do here.'" It was a cultural shift at Jefferson.
SEA's troubles began in earnest with a perfect storm of problems that included its coming expulsion from the Jefferson High campus, declining enrollment and financial instability — all of which exacerbated tensions between the academy's faculty and its board members. Matters weren't helped by a financial scandal.
Earlier this year LAUSD demanded an explanation after SEA paid an outside contractor more than $130,000 for services that should have been provided for free by the school district, and for supplies that district staff said would have been much cheaper if purchased from LAUSD.
For instance, the contractor charged nearly $5,000 for toilet paper that district officials said LAUSD would have sold for less than $1,000. He allegedly inflated shipping and handling fees and billed $2,000 for taking notes at four board meetings.
One of the SEA board's most consequential choices, however, was to hire of one of its own to run the school as it was floundering at the end of the 2015 school year. The last principal had been let go amid student walk-outs and teacher dissatisfaction. Had there been other eyes on the process, and greater scrutiny of the next principal's track record, the new man might not have landed the job.
Marvin Smith is a former National Football League linebacker who played for the L.A. Rams in 1983 until, he said, he was sidelined by an injury. He has since resurfaced as an ordained minister, a radio talk-show host and an advocate for low-cholesterol diets. Smith doesn't appear to have a teaching or administrative credential. In his resume, he claims a master's degree in business from Azusa Pacific University; however, a university spokeswoman said Smith enrolled in a program in organizational management and attended classes, but she could find no record of his graduation.
More notably, Smith is a charter school devotee who said he intends to remain in the field his entire life. But so far, his educational ventures have been short-lived.
He founded and directed the Doris Topsy-Elvord Academy, a small charter middle school in North Long Beach. But he closed the school three years ago because of some of the same financial and enrollment problems that would plague SEA.
The SEA board has been remarkably charitable about Smith's CV.
"Sometimes you learn more by failing than succeeding," said SEA board chair Tommy Newman, when asked about the closure of Smith's Long Beach charter venture. He told Capital & Main that the board stood by the decision to hire Smith.
Ref Rodriguez, an LAUSD school board member whose district includes Jefferson High School, called Smith a "wonderful person," while admitting that he lacked understanding of teaching and learning.
Others have not been so sanguine.
"Not only did this guy not know instruction but he didn't know how to manage a school," Betty Forrester, a United Teachers Los Angeles vice-president told Capital & Main. "Top it off with a lack of transparency, communication and democracy. Those things make people wonder."
Smith explained to Capital & Main that he took the SEA post to bring unity and calm to the school, insinuating that, operating behind the scenes, disgruntled teachers had sparked the student protests that led to the ouster of his predecessor. It's an opinion both Rahardjo and student leader Karen Espinoza reject.
"The reason I stepped in is, I don't like kids being manipulated by adults for adult agendas," Smith said, without identifying those agendas. "We have to push for the kids." After assuming control of SEA, Smith said he embarked on what he called a "team effort" to overhaul the school.
On the contrary, Forrester said, Smith did not truly welcome teacher collaboration, which she argued would have given the school a better chance to succeed.
"People didn't know what was going on," she said. "There were no clear answers. It was like, 'Shut up, go into your classroom and do what we tell you.'"
While the school struggled during its last months, Smith was already exploring new charter opportunities for himself in Ohio, with an apparent assist from one of SEA's board members. Bryan Bentrott, a Newport Beach developer, who is a personal friend of Smith's, wrote him a letter of support for the venture just six months before SEA closed. Bentrott, who also served as a board member for Smith's failed Long Beach charter school, portrayed Smith as a charter superhero who had saved the academy from closure.
"Last year Marvin singlehandedly rescued a charter school in Los Angeles," Bentrott wrote. "Despite tremendous odds, Marvin stepped in and saved a school, which was on the verge of shutting down."
In reality, SEA was in its death spiral.
As teachers rallied to solve SEA's problems, Smith may have already given up, perhaps having gotten wind of the coming closure. The school's budget documents show that in May, he cashed out his paid time off, collecting over $11,000 a month before the shutdown vote.
Smith may still be pursuing the chance to open a new charter school in Ohio. He wouldn't answer questions about it. Such applications are difficult to track because many private and public agencies are authorized to approve charters in Ohio.
While the teachers' efforts to help save the academy didn't bear fruit, José Cole-Gutiérrez, a director at LAUSD's charter school division, said they weren't necessarily wrong to try. Unless it had a fatal flaw, such as a serious threat to student safety, he said his office would have considered renewal if SEA showed improvement.
It also turns out that the school's financial picture might not have been as bleak as Tommy Newman and his board colleagues painted. A draft audit shows the school ending 2016 $175,000 in the black, although he contends that late legal bills might not have been factored into the bottom line.
Newman, an attorney who currently works as communications and public affairs director for a nonprofit housing developer, also cited an unpaid loan, high personnel costs and legal expenses associated with negotiations for a union contract as reasons the school could not continue. He also said the school faced risk because of the contractor affair, although Cole-Gutiérrez said no specific action on the overpayment is currently contemplated, adding that LAUSD has the authority to ask its inspector general to investigate or refer the matter to the district attorney.
SEA's closure meant kids would lose the close teacher-student relationships the school had cultivated, and either have to navigate a large high school or scramble for a spot elsewhere long after enrollment decisions had been made for the next year.
"To me, the shame is that this was a teacher-led and teacher-initiated school," said LAUSD board member Ref Rodriguez. "That we were not able to make it work pains me."
A couple of months before the closure vote, social studies teacher Kari Mans and art teacher Bill Neal had both joined with co-workers in a last-ditch effort to solve some of the school's most vital issues, like finding space for the school to operate out of, or recruiting students. In an interview, Neal said he was still hopeful, even though he said his and the other teachers' efforts had largely been ignored or rebuffed by Smith.
"We were starting to get this sinking feeling," he said. "All of this had already been decided. It was like a foreboding. This is going to be bad."
"It was heart-breaking," Newman acknowledged. "It felt like failure. I'd invested a year and a half of my life in it."
However, he argued, the school couldn't survive financially because of low enrollment and lack of funds. He contended that even if SEA made it through another year, the Los Angeles Unified School District would be unlikely to renew its charter because of poor oversight reports. Still, the latest report also highlighted strengths, such as the school's $250,000 Walton Foundation grant and its substantial implementation of the innovative aspects of its charter.
Teachers pointed to other assets: Graduation rates were relatively high, and many in the class of 2016 were bound for college. Mans, who had recently joined the faculty, told Capital & Main that the school's project-based learning approach produced students who could think critically and solve problems.
For all the dedication he described, Tommy Newman didn't have to answer to anyone for his vote.
He and his four fellow board members were essentially in charge of a very tiny school district, with final responsibility for everything from finances to personnel to purchasing, albeit with oversight from the LAUSD.
But unlike the LAUSD's board members, SEA's weren't elected to their posts and when they decided to throw in the towel, they faced no consequences. They were not required to show they'd done everything possible to keep the school open. With the exception of the sole parent representative on the board, they didn't live in the community and could return to their jobs or businesses after the closure without looking back.
The LAUSD's Cole-Gutiérrez said he takes closures seriously, but that a school's board of directors holds ultimate decision-making power.
"It's contemplated in the Charter Schools Act that there is an exchange of autonomy for accountability," Cole-Gutiérrez said, adding that shuttering schools is sometimes a necessary part of that.
In addition to Newman and the lone parent, the board included a retired middle school principal, Bentrott and another attorney. The board might have been savvier than some, but Newman said he had no idea of the problems he'd face when he agreed to join.
That's not uncommon, said UTLA's Betty Forrester, who got involved at SEA after teachers voted to join the union. Charter school board members are sometimes recruited simply because they raise their hands to volunteer, or so that a school can meet the basic requirement of having a board in place, she said. And even though they don't have to answer to voters, their decisions carry huge weight for the children they serve.
"Students only get one chance to be in ninth grade," Forrester noted.
For what it's worth, parents and teachers could get some answers about the school's financial viability when the school's final audit is submitted later this week.
They will be lucky if they do. The state Department of Education reports that many charters can't afford to provide a final audit, or simply ignore the requirement after they close. Smith's former charter, Doris Topsy-Elvord Academy, was one that did not bother submitting a final audit as required by law.
Additionally, more than 100 shuttered schools have failed to return public funds they've been granted; collectively they owe the state upwards of $49 million.
The question of whether the school itself could have made it, had the board not opted for closure, will likely remain unanswered, because board members have no further obligations to the community the school served.
What is known, said Forrester, is that the students Marvin Smith vowed to fight for were the losers at the Student Empowerment Academy.
"There were issues with academics, with supplies, and massive teacher turnover," she said. "Stability is huge in education. They weren't able to stabilize the school. They didn't do right by the students."

Living Homeless in California: The University of Hunger
A January study found that 11 percent of students on the California State University's 23-campuses reported being homeless during the past year. At Humboldt State nearly a fifth said they'd been homeless at one point during 2017.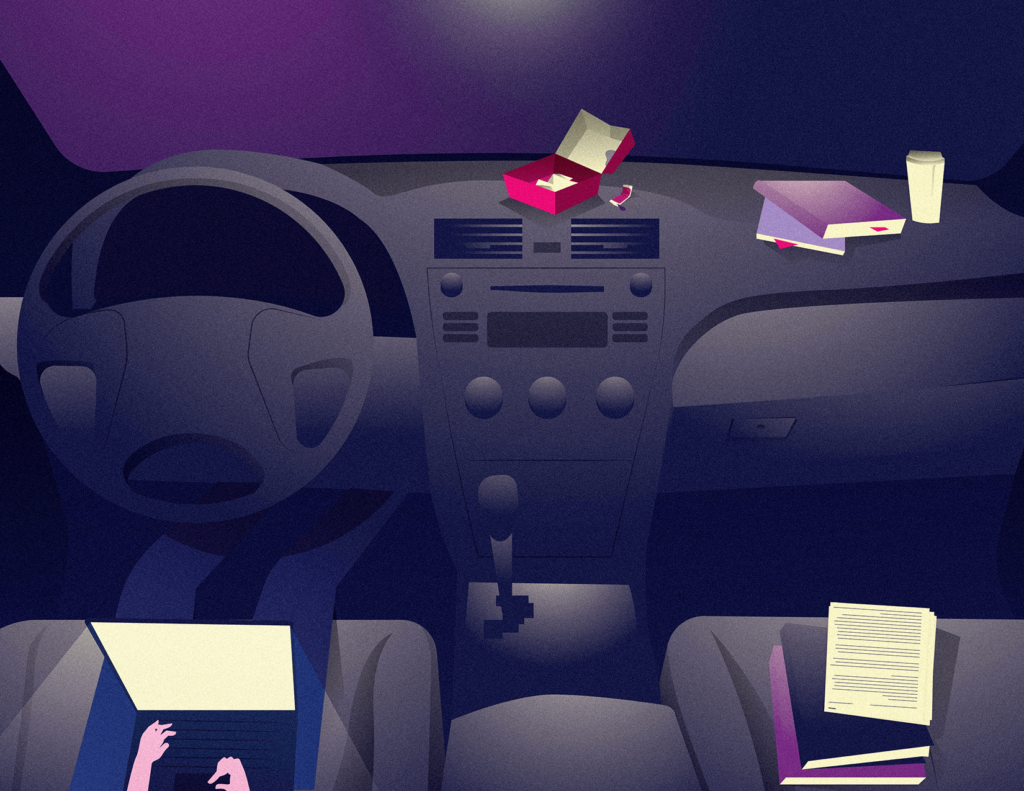 ---
Homeless students told of sleeping in the woods and of completing research assignments at McDonald's, to take advantage of free Wi-Fi.
---
In August of 2016, Chanté Marie Catt left her home in Redding, in the Sacramento Valley, to begin her first semester at Humboldt State University. Catt was 36, with a boyfriend and 1-year-old daughter, and possessed a booming laugh and no small amount of confidence. After nearly two decades running her own pet-care business in Los Angeles, she had begun to feel limited by her lack of a college degree, and several years earlier followed her parents north and enrolled at Redding's Shasta College. The transfer to Humboldt had her dreaming of towering redwoods and cool ocean breezes. "We were excited to start a new life, maybe buy a house," she says.
The couple tried to find a place from Redding, scouring Craigslist for openings without luck. In person, Catt figured, her prospects would improve. Once they had checked into a campground north of the university and enrolled their daughter in daycare, she dedicated her time to visiting property management companies. A week went by, then another. She paid application fees to management companies—$20 here, $43 there—and called through every listing she found, but even with a solid credit and rental history, never heard back. The family bounced from one campsite to another, with occasional stops at a motel to clean up. It was an expensive way to live, and she rapidly blew through $16,000 in financial aid and student loans. One day, out of a combination of anger and desperation, Catt took to Craigslist from her motel room. "I'm a sociology student," she wrote, "starting research on our homeless students and on the property management companies here. Anyone want to share their stories!?"
Within hours, she received more than 150 responses. Homeless students told her of moving from couch to couch, of sleeping in the woods and of completing their research assignments at McDonald's, where they took advantage of free Wi-Fi. "My children are cold, we are broke from all the rental application fees and I'm tired of it," wrote a mother of two. A graduate student who worked full-time revealed that he was living in his car for the second consecutive semester: "I never knew it would be this hard to find a place to rent."
Several weeks later, while still homeless, Catt had organized a campus group, the Homeless Student Advocate Alliance, and was spending her free time passing out fliers to attract more members. They weren't hard to find. "Every couple of students I talked to was experiencing some sort of displacement," she says. For many students at Humboldt, going to college meant becoming homeless.
---
One homeless-student conference included workshops on outdoor living, covering topics like how to light fires to keep homework dry.
---
The true scale of this crisis was revealed last January in a groundbreaking report commissioned by the California State University system. The study found that 11 percent of students on the university's 23-campuses reported being homeless during the past year. The problem was most acute at Humboldt State, where nearly a fifth of the student body had been homeless at one point the previous year.
"In large part, students are homeless because they don't get enough financial aid," says Jennifer Maguire, a Humboldt social work professor, who co-authored the study with Rashida Crutchfield of Long Beach State. "It's even worse here, because we're in a rural area with a very limited housing stock." According to the North Coast Journal, a local newspaper, there aren't even enough rental units in the city of Arcata, where the university is located, for the students who need housing—much less anywhere else. And while the university plans to build more student housing, it can currently only guarantee slots for first-year students.
This shortage allows landlords to crank up rents and reject applicants at whim. For students without a financial cushion, the situation can quickly turn into a full-blown emergency—and in the CSU system, that's a lot of students. More than half the students at Humboldt are the first in their family to attend college, and a third are Latino. Many work full-time; some have kids. "The 'non-traditional' student is now the traditional student," says Maguire.
On a cool April morning, more than 200 people packed into a theater at the College of the Redwoods in nearby Eureka, for a forum on homelessness co-hosted by Humboldt State. "I mentioned to a community member last week that I would be attending this summit today and she asked me, 'What does homelessness have to do with HSU?'" said Humboldt State president Lisa Rossbacher. The crowd laughed, which represented at least some progress. It's no longer a secret that Humboldt State students struggle with homelessness.
---
"My children are cold, we are broke from all the rental application fees and I'm tired of it," wrote a Humboldt State University student.
---
Much of the progress is due to the efforts of activists like Catt. After several months of homelessness, her family eventually landed an apartment, thanks in part to an emergency welfare grant. By that time, she had organized the homeless student alliance, which was pressing the university to finally address the problem. Last fall, the group held a three-day conference at Humboldt State that included workshops on outdoor living, which covered topics like how to light a fire and keep your homework dry. On the third day, a group of students put up tents on the quad and stayed for two nights. They then moved to the library, which they occupied, and demanded that it remain open 24 hours a day to give homeless students a safe and warm place to be.
The next day, an administrator contacted Catt and offered her the position of off-campus housing liaison, which had been one of the alliance's demands. Since January, Catt has worked with more than 100 students, many of whom are in need of housing or have dealt with retaliation from landlords. It's a start, though there are limits to what she can accomplish. One student who was living out of her car recently came to Catt's office, and Catt gave her a code to the campus lockers, which are normally reserved for students taking physical education classes. The student broke down in tears at the prospect of a hot shower. A few days later, Catt texted her that a landlord had recently called with a room to rent, but the student had moved back in with her parents. "She told me it had just been too cold out there," says Catt.
A couple of days after the homeless summit, I met Jasmine Bigham, a 23-year-old transfer student, on the steps of the campus library. Like Catt, she had arrived at Humboldt in 2016, and anticipated finding housing within a week or two. "Weeks turned to months," she says. She spent a semester living out of her Subaru Outback, searching for places to park at night that looked safe, then curling up on the back seat. She didn't tell her parents. "No parents want their kids living like that," she says—and anyways, they didn't have much extra money. Bigham is from a small town in neighboring Siskiyou County, and before college had lived inside a metal shop designed to store tractors and supplies; her parents created walls by hanging tarps. "I sort of grew up having to figure shit out," she says.
---
Homelessness has caused Jasmine to give up on some dreams. She wants a college education, so that means giving up a home.
---
After a semester in the Subaru, she bought a used trailer for $1,000 and parked it at a KOA campground for $600 a month. That felt safer, but then the trailer's ceiling collapsed and an intoxicated neighbor harassed her, so she left for a room in a house that was infested with mold and rats. She could only handle the grime for so long, so last year she sold her Subaru and plowed the rest of her savings—which she earned by waitressing in Lake Tahoe—into a GMC van. Since January, she's been living at a parking lot next to student housing.
As we walk from the library to the parking lot, Bigham outlines her semester budget. Scholarships nearly cover her tuition, and she's in charge of the rest. Right now she's not working, because she's taking 19 units, the maximum allowed. The parking pass is $180 a year, and she rents two lockers, at $5 a piece, for the semester. Each day she stops by the campus food pantry, where she fills plastic containers with soup and picks up rice and beans. She describes the area around campus as a food desert but in reverse—filled with only "really expensive healthy food" that's out of her reach. She takes a bus to Eureka, then walks a mile to reach a more affordable grocery store, where she can load up on quinoa, bell peppers and mangos. She has a camping stove, or else prepares meals for the week at friends' homes.
At the parking lot, she points out several other vehicles where students are living. She'll graduate in December, and tells me that when she returns this fall she hopes to get the other homeless students to park together, to create a greater sense of safety. She opens the back of her van, which is meticulously organized: a plastic container for her clothes, a folded mattress she bought on sale at Ross Dress for Less, an ice chest and cans of beans. "I had to learn what food stays good and what doesn't," she says.
Bigham tells me that she's always felt different. She is an African American from an all-white rural community. She grew up on a "broken-down ranch" with cows and pigs, while many students at Humboldt talk about eating meat as if it were a crime. "The hardest thing is people not understanding," she says, leaning against her van. "If you talk about how people don't have enough to eat, they say, 'Well, why don't they just feed themselves?'"
Homelessness has caused her to give up on some dreams. She loved track, and was recruited by a couple of larger colleges to throw the javelin, but didn't want to live in a big city. She hoped to continue with athletics, but juggling a full academic load while being homeless didn't leave much room for anything else. She shrugs and smiles. "You can either be sad or you can figure it out. If you don't have money, but you still want to do things, you have to give up something," she says. She wants a college education, so that means giving up a home.
---
Copyright Capital & Main