DCFS Strike Gains: Protecting Children, Standing Up for Social Workers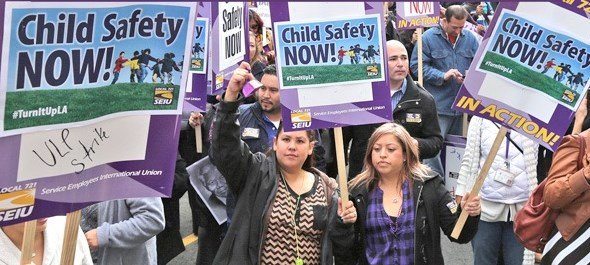 The gains won by Los Angeles County social workers during their strike last December were nothing short of historic. Members of the Department of Children and Family Services (DCFS), through the Children's Social Workers union (part of Service Employees International Union Local 721), may have begun a sea change for children and families in the county. As the nation's largest public child welfare agency, DCFS is now poised to be a bellwether for reform.
The job of the county's social workers is to establish child safety, coordinate and evaluate visitation, substance abuse, mental health and domestic violence services; locate relative or foster care placements; prepare the children and transport them to placements; and for dependency court cases, prepare and write the court reports that are the basis for DCFS' legal recommendations in legal proceedings.
As a former DCFS Supervising Social Worker, I believe that the high number of pre-strike caseloads severely hindered the ability of social workers to adequately provide services to maintain children at home or to reunify children with their parents and conduct thorough safety assessments. The number of caseloads in the Emergency Response program that investigates allegations of child abuse and neglect was set at 30 referrals before the strike. Family maintenance and family reunification cases in the Continuing Services program caseloads were not to exceed 38 individual child cases.
Today, however, the caseload goal for Emergency Response is 18 and, for Continuing Services, 24, thanks to the creation of the Caseload Accountability Panel (CAP), a by-product of the strike and its resulting new contract. The CAP is a joint endeavor between social workers, the union and DCFS management – an ongoing process designed to reach these caseload goals.
This is important because lower caseload numbers will directly benefit the families served by DCFS and also the social workers assigned to cases. When a social worker resigns or takes a leave, the family's case must be reassigned — creating a lag period for the new social worker to get up to speed on a case. Reduced caseloads may help retain social workers that leave the department due to their inability to keep up with the Sisyphean tasks necessary to ensure safety and adherence to department policy and the law.
In addition, the union and DCFS have worked together to hire an additional 450 social workers as of October 2014, which brings some relief to DCFS offices that had caseloads of well over 50 cases per social worker.
Last year's strike slogan was "Protect Children: Stand Up for Social Workers." The DCFS changes for children and families that resulted have provided more thorough safety assessments, better services to maintain children at home, or return them to their homes, and have also helped retain social workers to perform such crucial work. This has huge implications for Los Angeles and for other public child welfare agencies. The work continues, but the road was paved by the social workers who took a stand.