Daring to Dream: Portrait of a Port Driver
Dennis Martinez
It's 5:45 a.m. on Wednesday morning and it's been a long night for Dennis Martinez and his fellow port truck drivers.
Martinez is nearing the end of a 48-hour strike against Total Transportation Services, Inc. (TTSI), the logistics company for which he has worked for two and a half years. The drivers are about to go through the toughest part of the two-day action – asking the company they have been striking against if they can return to work.
The fatigue shows on Martinez's face. He hasn't gotten much sleep but he expected that. He knew taking on a wealthy company wasn't going to be easy.
A slender man dressed in a gray Aero sweatshirt, jeans and tennis shoes, Martinez is 29 but can pass for a teenager. He keeps headphones in his right ear just in case he needs a pick-me-up from Daddy Yankee and Pit Bull, two of reggaeton's biggest artists. He's not smiling. Smiles, at least lately, are mainly reserved for his wife and children. Instead, he wears a determined expression.
Martinez and several co-workers walk over to TTSI's dispatch office at the company's headquarters, a large and shiny modern white building located in an industrial strip of Rancho Dominguez. They face the dispatch manager, who just days earlier was photographing the men picketing in front of the building.
The manager responds to their request to go back to work with a sarcastic, "Oh, now you want to work?"
He tells the drivers that if there is work, they will work. If there isn't work . . .
The manager turns to Martinez.
"You're a night driver," the manager says. "Come back at four this afternoon to check if there's work."
The men leave but are quickly surrounded by a crowd of their allies who have gathered from around the region and the country for the largest port truck driver strike to date. There is a lot of handshaking.
Port Truck Driver interview by Ana Beatriz Cholo from LAANE on Vimeo.
Fredrick P. Potter Jr., who flew in from New Jersey, profusely thanks the group. He is a vice president of the International Brotherhood of Teamsters and director of its port division. Standing next to him is Eric Tate, the secretary-treasurer of L.A.'s Teamsters Local 848, which is backing the strike.
"They're standing up for their rights this week," Potter said, holding a cigar in his hand. "It takes a lot of courage. These guys put their livelihood on the line. They just want what's fair."
Minutes later, someone shouts: "We got a container! They gave them a load. They're going to give them some loads."
It's progress. A few of the morning port truck drivers are going to get some work.
More than 100 truck drivers from three different trucking companies took part in the action earlier this week. (Besides TTSI, drivers struck Pacific 9 Transportation and Green Fleet Systems.) The employees say they have been misclassified by the companies as "independent contractors" — a classification that results in drivers getting lower pay and no workplace protections. They have filed claims against all three companies with the state for wage theft.
There are a total of 44 pending California Division of Labor Standards Enforcement (DLSE) claims against TTSI, a logistics company owned by Vic La Rosa. It is one of the top 10 trucking companies serving the ports of Los Angeles and Long Beach; the firm's key customers are Target, J. Crew, Polo, Ralph Lauren and Home Depot.
On Sunday, the day before the strike, Martinez was at home in a sunny, two-bedroom apartment that he shares with his wife and two kids in a quiet, working-class Watts neighborhood. The apartment is sparsely furnished and decorated with family photos.
His wife, Francis, was going to a baby shower in the afternoon. She was cradling the couple's youngest child, nine-month-old Dominick. Their nine-year-old son Christian sat close by. Martinez has two other children who live with their mother in Corona.
"We have been waiting for this to happen for a long time," Martinez said in his halting English.
His story in the United States began a decade ago when he moved from Tegucigalpa, the capital of Honduras, and joined his mother who was already living here. He took ESL classes at a community college, worked at a Target warehouse for a couple of years, went to work for a Toyota car dealership as a parts salesman but got laid off in 2009. He didn't have a job for six months and had to move back in with his mother. His stepfather encouraged him to get a commercial driver's license. Martinez learned to drive a big rig, spent two years on the road and has driven through 48 states.
He never had an accident and only got one ticket the entire time.
Short-haul driving began well for him at TTSI, which gave him a truck the company claimed was new — despite the 140,000 miles on its odometer. Like other so-called independent contractors, Martinez was responsible for the truck's lease payments, insurance, parking, diesel fuel and repairs. His routes took him from Long Beach to Fontana or San Bernardino, and sometimes he made longer trips to Nevada, San Francisco or Bakersfield.
But Martinez started noticing irregularities in his pay and began asking questions. He wasn't alone. When he, along with about 40 other drivers, filed wage-theft claims with the DLSE, the agency charged with enforcing California labor laws, the group made the case that its members were actually TTSI employees who had been misclassified as independent contractors.
Martinez is quiet and shy, but not afraid to speak up. He said the company began to retaliate against him and other drivers by piling on excessive deductions and giving drivers fewer containers to haul. Even after working a full week, Martinez has ended up owing the company money. Other truck drivers say they have encountered the same situation.
Last November, a truck driver from a different company ran into Martinez's chassis while Martinez was waiting to unload at the Port of L.A. His truck then hit the one in front of him. Martinez ended up having to take five weeks off while his truck was being repaired. During that time he borrowed money, took out a bank loan and tried to keep up with bills.
He said when a fellow driver's truck broke down with a repair bill of $11,000, the company tried to make the driver pay for it. The driver quit instead.
Some truck drivers have backed off from their DLSE claims after being bribed by the company with more pay, nicer trucks and better hauls, Martinez said. He doesn't blame them.
"It's hard," Martinez said sitting in his living room with Francis beside him. "There are bills to pay and we're struggling. They are doing it for their families to be okay, but they're giving the companies the power to not respect you."
Despite his hardships, he wants to dare to dream again, to have dreams big and small: Taking a vacation with his family to their home country. Getting health insurance. Supporting his wife, who already has a college degree from Honduras, to go back to school in the U.S.
His voice sounded shy and hesitant. He would like to go back to school, too, to study architecture and maybe to even become an architect someday. "I would have to start from the beginning," he said hesitantly. His voice trailed off. "But I would love to."
Martinez first approached La Rosa, TTSI's owner, last November with a petition for drivers to be properly recognized as company employees. More than 25 drivers, a priest and a Teamsters representative joined him.
La Rosa, according to Martinez, gave his word that he would not retaliate against the drivers. But on that same day, they were put on hold for an hour when they called in to dispatch for assignments. Then, they were told to go to the port — where there would be a four-hour wait. That meant wasted time since the drivers don't get paid by the hour, but rather, per container. If they are stuck at the port, they are not earning money, Martinez said.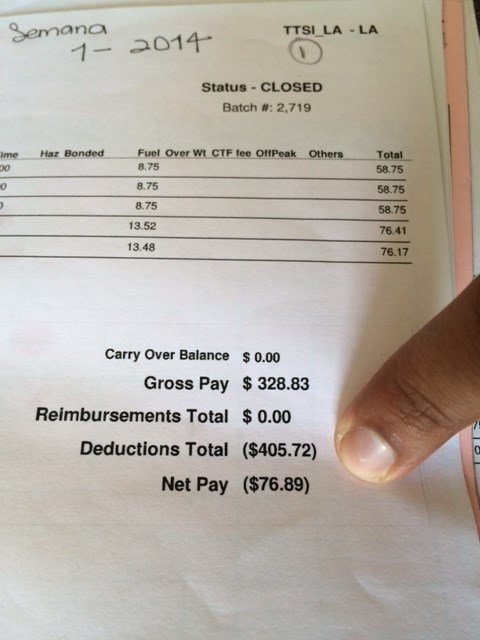 To prove his points, Martinez produced a binder full of pay records and receipts. He flipped through its pages and pointed to TTSI's endless deductions and charges. He then pointed to the bottom line of one paycheck and questioned how a family could survive on $134.64 a week. Monthly rent is $1,200; his child support is $300 and his car payment is $600. The latter is high due to bad credit, Martinez added.
"I see this company just getting richer and taking money from their drivers," he said.
Francis nodded in agreement and beamed at him with pride. Christian watched and listened to everything being said. He is also proud of his father and wrote a school report on their plight. He didn't get a good grade but that's all right, his mother said. He is very smart and his English is getting better. After all, he has only been in the U.S. for a little under two years.
"He wants to grow up and become a lawyer," she said.
And as for her husband?
"All that he is asking is that they respect their rights and respect them as people," she said in Spanish. "This is a country made up of laws. We, as a family, want them to stop these actions. We are very proud of him because he is acting as an example for his kids. On top of everything, he is saying that our voices count. We are asking for justice and dignity."
But why not just quit and find another job?
"It's not a question of economics anymore," Francis answered. "It's a question of morality."
O
n Monday morning at 6 a.m. about a dozen workers start picketing in front of TTSI's company headquarters. The rest are at the truck yard, another TTSI property. Dozens of other drivers are scattered in the area at various locations. Their signs are reminiscent of the "I Am a Man" placards seen during Martin Luther King Jr.'s 1968 labor march in Memphis. The port drivers' signs say, "I Am an Employee."
When a company janitor tries to get into TTSI's parking lot, the picketers block his access. He protests and tells them he's a contractor trying to get to work. Ten minutes later they let him in.
At 11:30 a.m., some strikers, including Martinez, head over to Wilmington Waterfront Park for a press conference.
When Martinez gets there, he walks over to a picnic table and practices what he is going to say – he has been tapped as the emcee. Martinez is nervous but his outward expression is calm. His wife, holding their daughter, comes over and sits next to him. She starts coaching him in Spanish and reminds him of why they are there.
Then Martinez confidently walks to the podium and faces television cameras, reporters, photographers, union coordinators, activists and his fellow drivers. His backdrop, looming behind him, is the Port of Los Angeles and its towering cranes.
"We are fighting these companies because we want a better future for our families and for other employees," he says, his voice getting stronger and more confident with every word.
After it ends, he does a lengthy television interview with a Spanish-language reporter from Channel 22. A communications organizer for Change to Win, a natonal labor group that is involved in the effort, approaches him. Is he willing to be in Burbank early the next morning for a studio interview with the popular Spanish radio host El Cucuy de la Mañana?
The interview will cut into his sleep time but Martinez doesn't hesitate. He knows many of the Spanish-speaking truck drivers listen to the popular radio show on AM 690. It's an opportunity for him to spread their message to a wider audience. Besides, his mother is a big fan and El Cucuy hails from Honduras. It's a win-win.
During the show, El Cucuy graciously gives Norma Castillo in Moreno Valley a "shout-out" on behalf of her son. Martinez later learns that his mother was pleased.
That Tuesday night Martinez goes back on the picket line one last time and wonders what will happen after the strike.
Will there be more retaliation? Will he get even less work?
In his mind, those questions get answered after the Wednesday morning confrontation with the dispatch manager at TTSI. Martinez is feeling somewhat pessimistic.
"Right now," he says, "I'm thinking that they will take more retaliations against us, but I know we sent the message we wanted to send." Martinez is standing across the street from TTSI's company headquarters. Labor representatives and other drivers have been slowly getting into their cars and driving away.
Despite his apprehensions about the eventual outcome, he harbors no regrets.
"It's worth it to speak about this," he said. "It's either I do it or I stay quiet. You saw the support of my wife and my children. That gives me the strength because, really, I'm doing it for them."
At that moment, a fellow truck driver in a big rig slowly drives by. The two men acknowledge each other. Martinez says that this particular driver was originally a part of the claim against the company.
"But they bought him," he says. "I believe they offered him better work in exchange for dropping his claim. He was one of the first to make the claim, but he was also one of the first to drop it."
He goes home and gets some much-needed rest. At 4 p.m., he calls the company dispatch and receives good news. He's got work – two containers.
"It's a good start," he says. And, he adds, they didn't give him any trouble. It was all business. He starts feeling hopeful. Maybe things will start looking up.
---
All photos by Ana Beatriz Cholo

Trump Businesses Could Profit From Supreme Court Case
Co-published by International Business Times
Justice Stephen Breyer has said a case pending before the Supreme Court could cut out "the entire heart of the New Deal." It could also enrich the Trump Organization.

The Trump Organization's reported requirement of mandatory arbitration agreements makes it part of a growing trend of private employers requiring their workers to sign such agreements as a condition of employment.
---
Co-published by International Business Times
An upcoming U.S. Supreme Court decision could strip key rights from tens of millions of American workers — and also be a boon to the Trump Organization, which could benefit from the Trump administration's reversal of the government's position on the case. At stake in the case is whether employers can require their employees to sign arbitration agreements in which they give up their right to file class action lawsuits.
A ruling in management's favor in National Labor Relations Board v. Murphy Oil would be no mere tweak of American labor law. Justice Stephen Breyer has said it could cut out "the entire heart of the New Deal," which put in place the modern framework for labor and management relations.
In arbitration agreements employees surrender their right to file a lawsuit and must take complaints to a third-party arbitrator paid for by the employer. About 60 million people—more than half of the non-union private sector workforce—are covered by mandatory arbitration agreements, according to an Economic Policy Institute study. An estimated 25 million of these arbitration agreements also include "class action waivers," in which employees give up their rights to band together to bring class action suits to address workplace disputes in the courts.
Celine McNicholas, an EPI labor counsel, said that without the ability to bring joint actions, workers often lack the means to bring wage, sexual discrimination and other claims forward — or to even attract the interest of lawyers.
"It's very difficult for individual workers, particular low-wage workers, to find attorneys for those cases if they can't aggregate their claims," she said.
Attorneys arguing in favor of retaining the class action waiver say that the 1925 Federal Arbitration Act supports their position that such contracts are legally binding. The NLRB, which brought the suit against Murphy Oil—and labor attorneys like Michael Rubin—argue that employees' rights are protected by the National Labor Relations Act and can't be signed away.
Since 2003 Trump's business ventures have been the target of at least seven lawsuits involving allegations of unpaid wages and overtime, missed lunch breaks, age discrimination and retaliation.
The class action waiver "strips workers" of basic rights established by federal labor law and therefore constitutes an "illegal contract," according to Rubin, a partner at Altshuler Berzon, which filed a friend-of-the-court brief on behalf of 10 international labor unions in the court cases. (The court consolidated arguments in the Murphy case with arguments from two other similar cases, Epic Systems Corporation v. Lewis, Ernst and Young v. Morris.)
In a blog post, EPI's McNicholas added there are serious policy implications to a ruling that favors employers, as many significant cases dealing with workers' rights have been brought as collective or class actions.
"Murphy Oil may be the last workers' rights case the Supreme Court has the opportunity to consider for the foreseeable future," she wrote.
Last June, the case's defendants received a powerful boost from the Trump administration. That this happened says as much about the embrace of big business and this administration as it does about the precarious status of American labor.
Murphy Oil attracted media attention when President Trump's acting solicitor general, Jeffrey Wall, reversed the government's position last June. Under the Obama administration, the solicitor general had filed a petition supporting the NLRB's view that the right to collective action was protected under federal labor law. (Unlike the solicitor general's office, Trump's NLRB has not changed the agency's position on the Murphy case.)
Because of the government's reversal, the Murphy case pits the solicitor general's office against the NLRB. Seeing two representatives of the federal government argue opposite sides in a case was a first for Justice Ruth Bader Ginsburg in her 25 years on the bench, she told Georgetown University law students last fall.
What's drawn less scrutiny is the degree to which this decision could potentially benefit the Trump Organization, the holding company for the president's many business enterprises.
The degree to which the acting solicitor general's reversal could potentially benefit the Trump Organization has drawn little scrutiny.
Since 2003, according to a Capital & Main review, Trump's business ventures have been the target of at least seven lawsuits in which Trump employees achieved or sought class action status. These involved allegations of unpaid wages and overtime, missed lunch breaks, age discrimination and retaliation.
A USA Today investigation found 130 state and federal employment cases involving Trump companies dating back to the 1980s, a figure that Jill Martin, a vice president and assistant general counsel for the Trump Organization, insists is small for an organization of its size.
CBS News has reported the Trump Organization has tried to keep employee complaints out of the courts: Last August—two months after the acting solicitor general reversed his agency's position on Murphy Oil — Trump Organization employees were told they must sign arbitration agreements if they wanted to keep their jobs.
It's not been disclosed whether those arbitration agreements include the class action waivers at issue in the Murphy Oil lawsuit. But Capital & Main has viewed a copy of an arbitration agreement between a Trump Organization employee and management that contains a class action waiver. The worker at the Trump National Golf Club in Rancho Palos Verdes, California signed the agreement as a condition of employment in the spring of 2011, two and a half years into litigation against the oceanside golf club, according to the agreement that was viewed.
By signing the arbitration agreement containing the class action waiver, this employee gave up the right to go to court to address violations of the labor code, age discrimination statutes, Title VII of the Civil Rights Act, and the Fair Employment and Housing Act, a California statute used to fight sexual harassment and other forms of discrimination in employment and housing, according to the document that was viewed.
The Palos Verdes lawsuit received significant media attention during the 2016 presidential campaign because of sworn testimony by its lead plaintiff, Lucy Messerschmidt, who said she was fired after she complained about not being scheduled to work when Trump was on the premises, allegedly because of his "preference for young pretty women in the hostess position."
Her claims were backed up in court documents by former employees, including Hayley Strozier, who said that Trump told managers "many times" that "hostesses were 'not pretty enough' and that they should be fired and replaced with more attractive women."
The case, settled in 2013 for almost half a million dollars, resulted in service workers with little individual clout joining together to address a work environment where employees said they were regularly denied rest breaks, and where female employees claimed they faced discrimination. The lawsuit also led to lasting changes in the club's operating practices, said Jeffrey Cowan, one of the attorneys who brought the suit against the club.
At the time Cowan filed the lawsuit, the club "was not being run in a very controlled or careful way," he said. Now "they've got someone there who is riding herd on the managers and on the general business operations to make sure that California and federal law is followed." The club's management did not admit to any fault in the lawsuit, according to court documents.
The Trump Organization did not respond to a request for comment on this story.
Whether conditions at the club have improved would be hard for an outsider to verify. Some club staff say they have been told not to talk to the press, and, according to CBS News, employees throughout the Trump Organization were asked to sign non-disclosure agreements, which require them to keep any information about the Trump family confidential. It is not known whether the class action waivers are still in place at the Palos Verdes club, how many workers were asked to sign the agreement at the time or whether they are widespread in the Trump Organization.
The gag order may be unusually stringent, but the Trump Organization's reported requirement of arbitration agreements makes it part of a growing trend of private employers requiring their employees to sign arbitration agreements as a condition of employment. The high court could issue a ruling as early as this month.
Additional research by Roxane Auer and Stephanie Rosenfeld.
---
Copyright Capital & Main