Critics Attack "Unnecessary" San Diego Pipeline Proposal
California environmentalists and other critics are denouncing a proposed natural gas pipeline that would parallel Interstate 15, saying it is not only unnecessary, but that it runs counter to the state's mission of embracing green energy.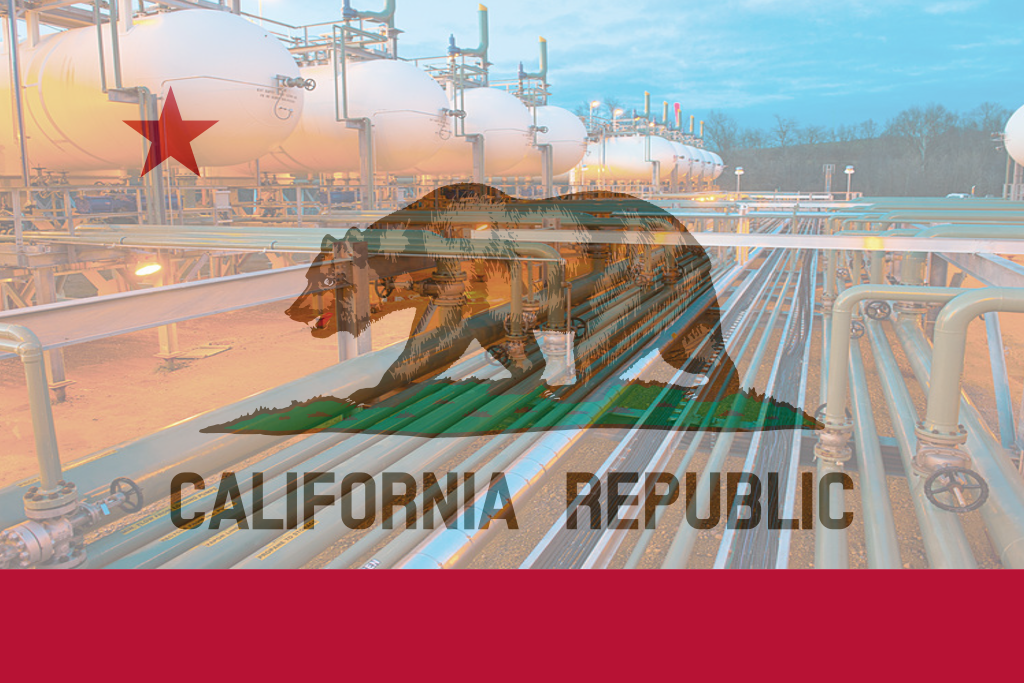 Copyright Capital & Main
---
Environmentalists and economic justice advocates question the motives behind a massive natural gas infrastructure project when the state is committed to tough pollution controls.
San Diego Gas & Electric customers in San Diego County are served by two natural gas pipelines, but the company wants to build a third — a $600 million, 36-inch line.
Environmentalists and other critics are denouncing the proposed line, saying not only is a new, three-foot wide pipe not needed in the region, but that it runs counter to the state's mission of embracing green energy.
The new pipeline, called "3602," would run nearly 50 miles, roughly along the east side of Interstate 15 from Rainbow, near the Riverside County line, south to Marine Corps Air Station Miramar. Right now San Diego customers are being served by a 30-inch pipe, dubbed "3010," which went into service in 1960 and provides about 90 percent of the gas for the region, and a 16-inch line, designated "1600," which dates to 1949.
"Does it make sense to build a pipeline when we are decarbonizing?"
SDG&E cites safety and reliability concerns in its desire to de-rate 1600 and take it from a transmission to a distribution line – though not decommissioning it – and letting 3602 take up the slack. The company isn't proposing decommissioning or de-rating 3010, even though it's nearly as old as 1600.
Environmentalists and economic justice advocates question the company's stated motives in proposing a massive natural gas infrastructure project when the state is committed to tough pollution controls. They believe that lower demand for natural gas in six years, when 3602 would go into service, would make the project a stranded asset.
Matt Vespa, an attorney for Earthjustice, said San Diego Gas & Electric's parent company Sempra Energy "admits that demand for natural gas is going down."
"Does it actually make sense to build a pipeline when we are decarbonizing?" Vespa asked.
Sempra spokeswoman Ramp said line 1600 "was constructed in 1949 using non-state-of-the-art materials and construction and is older than 89 percent of the natural gas pipelines in service in the United States."
She added that in-line inspections on that line have been performed several times and have shown more than 2,700 anomalies. "Pressure testing is costly . . . requires taking the line out of service and may interrupt service to customers, including electric generators fueled by natural gas," she said.
Engineer Powers, who opposes construction, said the company is using circular logic.
"They've morphed a simple requirement, to test, into some massive new infrastructure project that the region doesn't need," Powers said. "Their argument is, 'It's old, so obviously it's unsafe, so let's not bother testing.'"
Powers objected to the company's use of words like anomalies and defects with regard to 1600.
"They're pejorative words, and the company doesn't explain what kind of anomalies they're talking about," Powers said, adding that he thinks those words are "used to sway the commissioners, who have no scientific background."
On its Pipeline Safety Awareness page, the U.S. Department of Transportation challenges the assumption that old pipes are dangerous, saying, "If pipelines are constructed and maintained correctly, the life of the pipeline is virtually endless."
Sempra justifies building 3602, saying pipeline redundancy is necessary to prevent any service interruptions. And the company has a new, unlikely ally, the Utility Consumers' Action Network (UCAN), a San Diego-based utility watchdog, which recently reversed its initial opposition to the proposal.
The action network's executive director,  Donald Kelly, said he never thought he would conclude that a new pipeline in the region was needed, but his organization's safety expert, Margaret Felts, convinced him. Felts is a technical consultant who previously testified to the CPUC that PG&E's shoddy record keeping contributed to the catastrophic San Bruno explosion in 2010.
Kelly said Felts "was concerned about rupture risks to line 1600, and even when the pressure is reduced, it's still a high-pressure pipeline." He added that a second pipeline is necessary for energy reliability in San Diego.
In written testimony submitted to the CPUC, Felts wrote: "By the time Line 3602 is completed in 2022, Line 1600 will be 73 years old and Line 3010 will be 62 years old, well beyond the design lives of both lines. As 2022 approaches, ensuring the integrity of Line 3010 will require increased vigilance, inspections, maintenance and repairs." She said the proposed 36-inch pipe "will provide complete redundancy in times when Line 3010 will be shut down."
Powers questioned Felts' engineering qualifications in his CPUC testimony and challenged her claim that line 3010 alone could not meet peak power demand through 2024. Other environmental and consumer groups like the Southern California Generation Coalition (SCGC) also maintain that constructing a new backup pipeline makes little sense.
"They're saying we need pipeline redundancy in case of failure, but I say the project meets Webster's Dictionary's other definition of redundancy, unnecessary," Norman Pedersen, the coalition's attorney said. "If they are concerned about safety of 1600 and possible downtime of 3010, there are plenty of alternatives that are actually safer than building a third pipeline."
SCGC and the Sierra Club have said shortages Sempra warned about are based on projections for "one-in-10-year cold days," and don't account for advancements in solar deployment and energy storage capabilities to take up the slack in a gas emergency. These opponents say it is easy enough to simply buy gas temporarily. Catherine Yap, SCGC's natural gas industry expert, told the CPUC that transporting gas from other pipelines, such as an existing pipeline flowing north from Otay Mesa on the Mexican border, could resolve outages.
"The Applicants acknowledge that they have relied upon deliveries of gas at Otay Mesa in the past when shortfalls have arisen between customer demands and deliveries across Lines 3010 and 1600," Yap wrote in testimony the coalition provided to Capital & Main.
Sempra's Ramp pointed to "unknowns" in obtaining gas from Mexico, while acknowledging that getting gas from that country has proven to be helpful in emergency situations.
Following hearings scheduled to continue through September, the CPUC could scuttle the construction of 3602 if commissioners determine the line simply isn't needed. It has happened before, though it's rare. Last year commissioners rejected the $621.3 million "North-South" pipeline proposed by SDG&E and SoCalGas that would have stretched 65 miles between Adelanto and Moreno Valley. The companies said that line was needed for energy reliability, but unlike the proposed 3602, it wouldn't have replaced any existing line.
Is Environmental Law to Blame for California's Housing Crisis?
Developers blame a half-century-old law for slowing development. Studies show there are other factors at work.
---
The debate intensifies over how much the California Environmental Quality Act is an impediment to the construction of affordable housing.
---
Since it was enacted in 1970, California environmentalists have hailed the state's most sweeping environmental law, the California Environmental Quality Act, as a bulwark against destruction of California's natural resources and endangerment of its most vulnerable residents. The law requires developers to involve the public in their building plans, and to minimize damage to the environment in accordance with public input and scientific study.
But now, with Governor Gavin Newsom's push to see 3.5 million homes built by 2025, CEQA may be in Sacramento's crosshairs. Developers and trade unions have long complained that the law was written so broadly that neighborhood groups and certain unions have used it to start litigation that slows or stops necessary projects. Newsom's goal, which would require a six-fold increase in current housing production over the next seven years, could lead to their complaints overriding environmental concerns.
Cesar Diaz, legal and political director of the State Building and Construction Trades Council of California, confirmed to Capital & Main that that his union was working with builders and legislators to streamline CEQA. But he denies that their plans amount to gutting the landmark law. "We have been fighting to protect CEQA for years," Diaz says, "and we will fight to make sure any changes to CEQA are done surgically, rather than getting rid of it." In January Diaz signed on to a letter, with environmental justice and low-income housing advocates, urging the governor and legislators to not weaken CEQA.
Diaz says his union and the California Building Industry Association were instead working to refine two already-introduced housing bills, SB 50 and SB 4, both aimed at spurring high-density housing near jobs and transit centers. The additions to those bills, and possibly more, Diaz said, would "provide certainty to developers and stronger labor protections and pay increases for construction workers." Certainty for developers, he clarified, would mean relief from impact fees and construction defect litigation that can entangle builders in litigation. In exchange, construction workers would receive higher wages and benefits.
But the fact that environmental groups and low-income housing advocates, thus far, are not at the table concerns Caroline Farrell, Executive Director of the Center for Race, Poverty and the Environment. "Discussions between the building trade and developers have led to a lot of confusion and frustration among environmentalists. The people who would be impacted by any change [to CEQA] have to be heard."
* * *
There is significant debate over how much CEQA is an impediment to development. Environmental interests worry that views expressed by two researchers in recent New York Times op-ed, arguing that CEQA alone is a significant contributor to the housing crisis, will prevail in any housing legislation. David Pettit, a senior attorney with the Natural Resources Defense Council (NRDC) says that there are already CEQA speed-ups and work-arounds for some large construction projects, including a 27-story development in Los Angeles' Chinatown.
"There has been the occasional abuse of CEQA, as with any area of the law, like locals in Venice using the law to fight a homeless shelter," he says. "That's appalling, but you don't get rid of the whole law."
A recent (and continuing) study of nine California cities conducted by the University of California, Berkeley has so far concluded that CEQA is not the primary driver of delays in new developments. Eric Biber, a UC Berkeley law professor who was involved in the study, says local governments and local zoning restrictions have more to do with lengthening the development timeline.
"We don't say CEQA itself is not important, but [reforming it] is not the silver bullet to solve the building crisis. CEQA lawsuits are triggered when local governments impose judgments on whether their own standards are met."
Jennfier Hernandez, a partner at the Holland & Knight law firm, disagrees with that assessment. "CEQA is tremendous, but it has been used as a tool to stop any project at any time." Suggesting that CEQA reformers and low-income housing activists should be on the same side, Hernandez cited her study, which concluded 100 percent of Bay Area CEQA lawsuits and 98 percent of Los Angeles CEQA suits targeted "infill" development in existing communities. CEQA, she says, is "an excuse by NIMBYs to preserve the status quo."
Yet other data back up Biber's findings. A 2018 survey from the Association of Environmental Professionals looked at over 140,000 housing projects that went through CEQA review from 2015 to 2017 across California, and found that exemptions to or streamlining of environmental law were used in 42 percent of the projects. As with Biber's study, the survey concluded that the top inhibitors to housing production were not related to CEQA.
Alexander Harnden, a housing policy advocate for the Western Center on Law and Poverty, agrees that CEQA has been occasionally abused by exclusionary neighborhood groups and city councils. But he argues that lengthy legal challenges under CEQA account for a small fraction of projects. "The rest of the projects are altered in appropriate ways and getting approved."
Harnden says that streamlining housing development should include incentives for developers – such as eliminating parking requirements – in exchange for commitments to build a larger percentage of affordable units. He also advocates expanding rent-control measures and prohibiting landlords from refusing Section 8 vouchers, subsidize housing for low-income tenants. But he emphasizes that supply-side solutions like building houses at more than six times the current rate won't fix everything. No matter how many millions of units go up in the next seven years, he says, "it won't solve the increases in homelessness and rent gouging." Nearly everyone in the debate agrees that there's no single solution to the housing crisis. And they say taking on all of these aspects requires both compromise and political will.
---
Copyright Capital & Main