Courting History: Why John Roberts Is No Earl Warren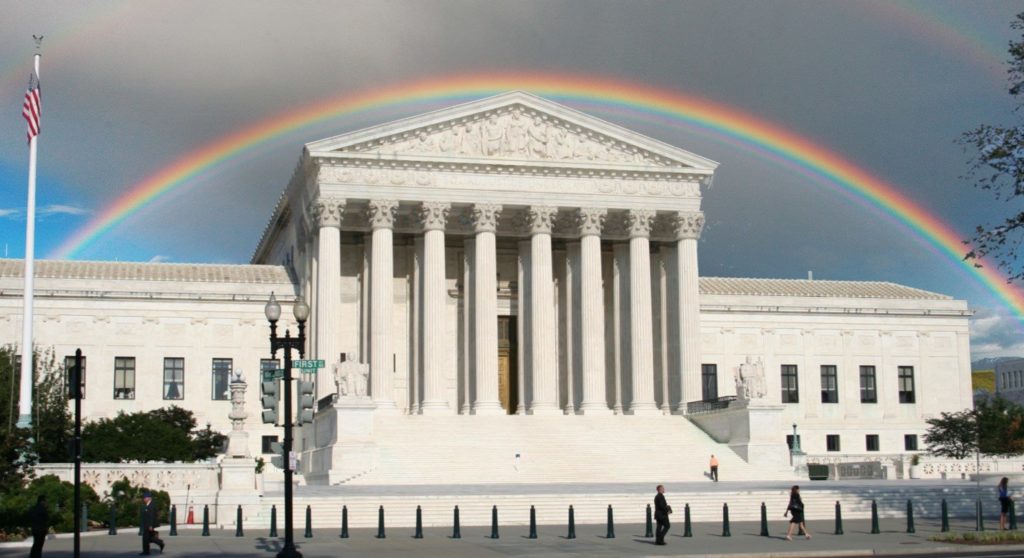 The Supreme Court's ruling Friday to legalize same-sex marriage is a victory for human rights and an occasion to rejoice. The decision follows in the footsteps of the Supreme Court's 1967 decision in Loving v. Virginia that outlawed states' bans on interracial marriage, an earlier pathbreaking victory for marriage equality.
But there is a huge difference in the two rulings. The Loving decision on inter-racial marriage was unanimous. Friday's ruling on same-sex marriage was a 5 to 4 decision. We should not forget that four members of the nation's highest court — Chief Justice John Roberts and Justices Samuel Alito, Antonin Scalia and Clarence Thomas — opposed marriage equality. Each had his own reasons to justify his vote to himself and to the public, but history will record that all four of them supported states' rights over equal rights, bigotry over tolerance. Justices Stephen Breyer, Ruth Bader Ginsburg, Elena Kagan, Sonia Sotomayor and Anthony Kennedy (who was the swing vote and who wrote the majority decision) will be remembered for embracing the notion that that marriage is a matter of personal choice.
How do we explain the difference in these two rulings? Friday's decision certainly reflects the increasing partisanship and polarization of American politics. But they also reflect differences in the court's leadership then and now.
The Supreme Court that decided the Loving case was hardly a group of similar thinkers. It included a moderate Republican (Chief Justice Earl Warren), two conservative Republicans (John Harlan and Potter Stewart), a moderate Democrat (Byron White), and two Southern Democrats (former KKK member Hugo Black of Alabama and Tom Clark of Texas), as well as three solid liberal Democrats (William Douglas, William Brennan and Abe Fortas).
The Loving v. Virginia ruling was particularly bold because, at the time, public opinion was overwhelmingly against inter-racial marriage. In the 1950s, half the states still had laws prohibiting interracial marriage. According to the Gallup Poll, in 1958, 94 percent of Americans were against marriage between whites and blacks, while only 4 percent said they approved. By 1967, when the Supreme Court knocked down state anti-miscegenation laws everywhere, 16 states still had such laws on the books. Gallup didn't conduct a poll on the issue that year, but the following year, 73 percent of Americans still disapproved of inter-racial marriage, while 20 percent approved. It wasn't until the 1990s that a majority of Americans told pollsters they supported inter-racial marriage.
One could not have predicted from the make-up of the court that all nine of the justices would embrace equal rights over states' rights. What led the Supreme Court in 1967 to be so far ahead of public opinion?
The Warren Court's 1954 Brown v Board of Education ruling, outlawing school segregation, had triggered a white backlash in the South, galvanizing a resistance movement and a revival of the Ku Klux Klan and other hate movements, with the Confederate flag its symbol of defiance, and the use of vigilante tactics — including bombings, lynchings, and other forms of violence — to oppose racial integration and equality. Warren became a hated figure among segregationist, who waged a campaign for almost two decades calling for impeachment. At the time, Southern racists used the idea of "states' rights" to defend Jim Crow laws, including school segregation, racial discrimination in restaurants and buses, severe limits on voting by African Americans, and bans on interracial marriage.
But the Brown ruling had also spurred a new wave of courageous civil rights activism, beginning with the 1955 Montgomery bus boycott, the 1957 desegregation of Little Rock, Arkansas' schools by brave black children, the lunch counter sit-ins that began in 1960 in Greensboro, N.C., the Freedom Rights, and the courageous voter registration drives sponsored by the NAACP and the Student Nonviolent Coordinating Committee (SNCC). Civil rights activists put their bodies and their lives on the line. Many were injured, and some were killed, by racist thugs who were part of, and/or inspired by, the organized hate groups like the KKK and the White Citizens Councils.
In 1964, Congress passed the Civil Rights Act. The next year, following the civil rights marches in Selma, Alabama, President Lyndon Johnson — a Texas native who had been, at best, a moderate on racial issues — addressed Congress and urged it to pass the Voting Rights Act, ending his speech with the phrase "we shall overcome." Later that year, Congress enacted that historic law.
The civil rights movement had stirred the nation's conscience about racial injustice. In deciding the Loving case, the justices no doubt recognized that, despite the fact that most white Americans still opposed interracial marriage, the tide of history was turning, and they wanted to be on the right side.
But do not underestimate the influence of one man, Chief Justice Earl Warren, in forging the unanimous Loving decision. Warren was not a great legal scholar, but he was a brilliant politician, whose views on race and civil liberties had evolved over the years. As California's Attorney General, he had played a key role in detaining Japanese Americans during World War Two on the grounds that they posed a security risk as potential spies and saboteurs. Only in retirement did he acknowledge that the relocation was a mistake based on hysteria. When President Dwight Eisenhower appointed Warren — who had been the Republican governor of California and the GOP's Vice Presidential nominee in 1948 with running mate Thomas Dewey — he thought he was naming a conservative to nation's highest court.
Warren joined the court just before it heard new arguments in the Brown case. Knowing that the decision would be politically controversial, Warren sought a unanimous decision. He assigned the job of writing the opinion to himself, and then, like a shrewd politician, he met with each of his eight colleagues separately and listened to their views in order to construct a decision that they could all agree on. After he brought the last holdout, Justice Stanley Reed, on board, Warren drafted the ruling. He wrote:
"We cannot turn the clock back. We must consider public education in the light of its full development and its present place in American life throughout the Nation. Only in this way can it be determined if segregation in public schools deprives these plaintiffs of the equal protection of the laws."
The Warren Court subsequently issued liberal rulings in other civil rights cases, but the Loving case promised to be as controversial as the Brown ruling. As with the Brown case, Warren believed that the nation needed to see the Supreme Court united on this potentially explosive issue.
The case was filed by an interracial couple — Mildred Jeter Loving, a black woman, and Richard Loving, a white man — who lived in Central Point in rural Virginia. The Lovings were a humble working-class couple who simply wanted to live as husband and wife and raise their three children in Virginia, where they were born and where they and their extended families lived.
In June 1958, they drove 90 miles and got married in Washington, D.C., to circumvent Virginia's Racial Integrity Act of 1924, which made interracial marriage a crime. The local police raided their home at night, hoping to find them having sex, which was also a crime in Virginia. The cops found the couple in bed. Mrs. Loving showed them their marriage certificate on the bedroom wall. That was used as evidence that they had violated Virginia's law. The Lovings were charged with "cohabiting as man and wife, against the peace and dignity of the Commonwealth."
In his ruling, Leon M. Bazile, the Virginia trial judge wrote:
Almighty God created the races white, black, yellow, malay and red, and he placed them on separate continents. And but for the interference with his arrangement there would be no cause for such marriages. The fact that he separated the races shows that he did not intend for the races to mix.
On January 6, 1959, the Lovings pled guilty and Bazile sentenced them to one year in prison. The judge said he'd suspend their sentence if they agreed to leave the state for 25 years. They agreed and moved to Washington, D.C.
In November 1963, the Lovings filed a motion in the state trial court to reverse the sentence on the grounds that it violated the Constitution's 14th Amendment. It took four years to reach the U.S. Supreme Court.
When it did, Warren again used his political skills to push for a unanimous verdict.
It was certainly, in today's parlance, no slam dunk. Five of his Supreme Court colleagues had been appointed by Democratic presidents — Douglas and Black by Franklin Roosevelt, Clark by Harry Truman, White by John F. Kennedy, and Fortas by Lyndon Johnson — but they espoused different views on a variety of legal and social issues.
As Southern Democrats, Black and Clark understand how explosive the Loving case would be. Black, who had represented Alabama in the U.S. Senate from 1927 to 1937, no doubt felt guilty for his racist past. In 1926, running for the Senate, Black joined the Ku Klux Klan, thinking that he needed the votes of Klan members. He spoke at Klan meetings, espousing anti-black and anti-Catholic views. Near the end of his life, Black would admit that joining the Klan was a mistake, but he went on to say "I would have joined any group if it helped get me votes." In 1929 Black wrote to a constituent denouncing an inter-racial marriage in New York, observing that "New York State should have a law prohibiting this sort of thing," according to Roger Newman's Hugo Black: A Biography. In the Senate, Black was an ardent New Dealer, but hardly a progressive on racial issues. He consistently opposed the passage of anti-lynching legislation. In 1935, for example, he lead a filibuster of the Wagner-Costigan anti-lynching bill.
Clark, a Texan, was an assistant to U.S. Attorney General Biddle when the Japanese attacked Pearl Harbor in 1941. Biddle named Clark to be Civilian Coordinator of the Alien Enemy Control Program. He worked with General John DeWitt and then-California Attorney General Earl Warren to evacuate Japanese Americans from military areas, which eventually (after Clark was reassigned to Washington in May 1942) led to their forcible relocation to prison camps. Like Warren, Clark later acknowledged that the government's relocation program was a mistake. Appointed Attorney General by Truman in 1945, Clark helped formulate and carry out Truman's aggressive Cold War anti-communist policies, including requiring federal employees to sign loyalty oaths and creating a list of so-called "subversive" organizations that were used by witch hunters to blacklist liberals and radicals. But Clark also played a key role in supporting Truman's civil rights efforts. He filed a brief in the landmark (and controversial) Shelley v. Kraemer case which, in 1948, struck down racial covenants in housing contracts restricting the sale of property to blacks. He also helped oversee Truman's civil rights committee that released an important report, "To Secure These Rights," which made 35 recommendations, including ending segregation, elimination of poll taxes, enactment of a law to protect voting rights, and creation of a civil rights division at the Department of Justice.
Three of Warren's Supreme Court colleagues — Harlan, Brennan, and Stewart — had, like Warren, been appointed by Republican President Dwight Eisenhower. Harlan was generally a conservative jurist but he often voted in favor of civil rights; in this he was similar to his grandfather and namesake, who was the only dissenting justice in the landmark Plessy v. Ferguson case which, in 1896, upheld the constitutionality of state laws requiring racial segregation under the doctrine of "separate but equal." But Harlan was the lone dissenter in the 1964 Reynolds v Sims decision, which established the principle of "one man, one vote" to ensure equal protection under the Fourteenth Amendment. In 1956, Eisenhower appointed Brennan — who New Jersey's Republican governor had appointed to that state's court — for purely political reasons. Brennan was a Democrat and a Catholic and Eisenhower, who was running for re-election, wanted to appeal to both groups. Only one Senator, Republican Joe McCarthy of Wisconsin, voted against Brennan's confirmation. Stewart was from a prominent conservative Republican family in Ohio and was often a dissenter on the Warren court, but in 1965, in Shuttlesworth v. City of Birmingham, Stewart was in the majority that ruled that police could not use an anti-loitering law to keep civil rights workers from standing or demonstrating on a sidewalk, a clear victory for the civil rights movement.
As he had done in the Brown ruling thirteen years earlier, Warren penned the opinion for the court. Noting that the Virginia law endorsed the doctrine of white supremacy, he wrote:
Marriage is one of the 'basic civil rights of man,' fundamental to our very existence and survival… To deny this fundamental freedom on so unsupportable a basis as the racial classifications embodied in these statutes, classifications so directly subversive of the principle of equality at the heart of the Fourteenth Amendment, is surely to deprive all the State's citizens of liberty without due process of law. The Fourteenth Amendment requires that the freedom of choice to marry not be restricted by invidious racial discrimination. Under our Constitution, the freedom to marry, or not marry, a person of another race resides with the individual and cannot be infringed by the State.
The Supreme Court had spoken, but public opinion, particularly in the South, lagged behind. In 1969, members of Georgia's state legislature and Board of Regents objected to hiring former Secretary of State Dean Rusk to a teaching job at the University of Georgia because he had participated in his daughter's wedding to a black man. Although the Loving ruling invalidated state laws banning inter-racial marriage, many Southern states were slow to erase their own laws. South Carolina didn't repeal its law until 1998; Alabama didn't do so until 2000.
Reread Warren's words. Then substitute same-sex marriage for interracial marriage and see if his views are any less compelling. Most Americans would now agree that to deny gays and lesbians the right to marry is, as Warren put it, "directly subversive of the principle of equality at the heart of the Fourteenth Amendment."
Indeed, the Loving case helped lay the foundation for the dismantling of state bans on same-sex marriage.
In June 2007, on the 40th anniversary of the case that bore her name, Mildred Loving issued a statement that said:
I believe all Americans, no matter their race, no matter their sex, no matter their sexual orientation, should have that same freedom to marry… I am still not a political person, but I am proud that Richard's and my name is on a court case that can help reinforce the love, the commitment, the fairness and the family that so many people, black or white, young or old, gay or straight, seek in life. I support the freedom to marry for all. That's what Loving, and loving, are all about.
Public opinion on gay marriage has shifted much faster than it did on inter-racial marriage, according to surveys by the Pew Research Center and the Gallup Poll. In 1996, only 27 percent of Americans believed it should be legal for gay and lesbian couples to marry, Gallup found. Ten years later, it had increased to just 37 percent. Today, however, that number has increased to 60 percent, an all-time peak. Moreover, support for gay marriage is much higher among younger Americans. Pew found that among Millennials (Americans between 18 and 39), 73 percent endorse gay marriage. Support has also been increasing among older Americans. Among baby-boomers (those who are now between 51 and 69), support for same-sex marriage has increased from 32 to 45 percent since 2001.
When children born this year reach voting age 18 years from now, they will surely wonder how it was even possible that America once deprived gays and lesbians the right to marry. They will take same-sex marriage for granted.
Homophobia has not disappeared, but the gay rights movement has clearly won most Americans' hearts and minds. The tide has turned. Opponents can try, but they can't push it back.
But four members of the current Supreme Court are stilling trying to do so. Among the five justices appointed by Republican presidents, only Anthony Kennedy, a Reagan appointee who is often the court's swing vote, has evolved with the times.
Unlike their counterparts on the 1967 Warren Court who unanimously ruled for marriage equality in Loving v Virginia, the other four GOP appointees — Scalia (appointed by Reagan), Thomas (appointed by George H.W. Bush), and Roberts and Alito (both appointed by George W. Bush) — are locked into their personal and ideological positions. They don't seem to care about being on the wrong side of history.
---
This article is crossposted from the Huffington Post with permission.

Blue State/Red District: Trump May Blow Reelection Headwind at David Valadao
Co-published by International Business Times
A Central Valley Congressman may be worrying that the fallout from Donald Trump's policies could land on himself.

Pictured: Hanford, David Valadao's hometown and political base.
---
Whether voters hold Valadao accountable for his repeated efforts to repeal Obamacare, and his failure to protect Dreamers, remains to be seen.
---
Co-published by International Business Times
California's 21st Congressional District, which includes all of Kings County and portions of Fresno, Tulare and Kern counties, expands northward through the dusty flatness of the southern San Joaquin Valley, anchored by two main arteries, Interstate 5 and Highway 99. To the south, precisely planned orchards, occasionally interrupted by clusters of gas stations and restaurants at the exits, give way to pump jacks and fracking wells around Bakersfield.
The district is represented in Congress by Republican David Valadao, a dairy farmer, small-business owner and son of Portuguese immigrants. His vigorous support of agribusiness interests makes him a good fit for any politically conservative farming district, but CA-21 does not really tilt conservative. Although Valadao beat Democratic challenger Emilio Huerta in a roughly 57-43 percent split in 2016, Hillary Clinton won the district. Barack Obama carried it in 2008 and 2012.
Valadao's vocal support for immigrants should put him in good stead in a district that is 71 percent Latino, but it also places him at odds with his party, while other critics attack what they say is Valadao's lack of concern for environmental and worker protections, as well as for his votes on health care. Valadao represents a particularly vulnerable constituency. CA-21 has a poverty rate of just over 30 percent, making it among the poorest congressional districts in the state. Only 57 percent of residents have earned a high school diploma or higher, and fewer than 10 percent have a bachelor's degree or higher. The median household income is just under $40,000, significantly less than the statewide median household income of $64,000.
Oil fields and Kern River, viewed from Bakersfield's Panorama Bluffs. (Dean Kuipers)
But these families do not form Valadao's donor base. According to Open Secrets, oil and gas interests donated nearly $205,000 to Valadao between 2011 and 2018, making them his sixth-largest industry contributor (behind crop production, dairy and real estate). Leadership PACs, comprising contributions from unnamed sources, came in at number three.
Last year Valadao, along with fellow  Central Valley GOP representatives Jeff Denham, Devin Nunes and Kevin McCarthy, voted for the American Health Care Act (ACHA) or "Trumpcare," the proposed Republican replacement for the Affordable Care Act (ACA). Valadao had also voted to repeal the ACA during the Obama administration. Though the effort to repeal and replace the ACA with the highly unpopular GOP bill failed in the Senate, a significant number of residents in counties that make up CA-21 would have suffered with the passage of the ACHA, which would have severely cut funding for Medicaid. According to the California Department of Health Care Services, 55 percent of the population of Tulare County was eligible for Medi-Cal, the state version of Medicare. Nearly 50 percent of Fresno County, 46 percent of Kern County, and 38 percent of Kings County were eligible for Medi-Cal.
---
After February's ICE raids, "People are afraid to take their kids to school and to visit local businesses."
---
The counties that comprise CA-21 also have a very high number of people who use the Supplemental Nutrition Assistance Program (SNAP), according to county-by-county data from the U.S. Department of Agriculture in 2011, the latest year available. That could present a political challenge for Valadao because, while the 2018 renewal of the House Farm Bill gives additional subsidies to cotton farmers (an important constituent in the district), it also imposes new restrictions on SNAP eligibility. Valadao voted for the Farm Bill, which passed in the House Agricultural Committee in mid-April. (Valadao did not respond to interview requests made through his Washington office.)
Whether voters hold Valadao accountable for his repeated efforts to repeal the ACA remains to be seen. Republican leaders now openly fret about the headwinds going into the 2018 midterms, though they're reluctant to pin the blame on Trump, or even voter opposition to GOP policies. According to the political forecasting site FiveThirtyEight, Valadao has voted with Trump policies nearly 99 percent of the time, tied for second place as the "most Trump-aligned," along with more than 40 other GOP House caucus members. If Valadao faces trouble going into the midterm, it could be in spite of the few important issues where he's broken with the party line.
ICE Raids and Tariff Threats
Immigration and agriculture are intertwined in CA-21, which is dotted with historical markers of the farmworker movement. South along the 99 lies Delano, the site of the 1965 labor strike against grape growers by the Agricultural Workers Organizing Committee and the United Farm Workers. Farmworkers are the fuel of the economic engine here, and a large percentage are undocumented immigrants — the U.S. Department of Agriculture's Economic Research Service pegs the nationwide percentage of undocumented farmworkers at 50 percent. Some estimates give California a much higher figure. Finding enough farmworkers during peak harvest times has been difficult, even before the Trump administration ratcheted up rhetoric about illegal immigration and border walls, as well as an improving economy in Mexico.
Increasingly, farmers have been turning to the temporary agriculture worker visa program, H-2A, which allows employers to bring in foreign agricultural workers if the growers can provide free housing, demonstrate an agricultural labor shortage and pay wages high enough that they wouldn't undercut the local labor market.
Valadao has been an outspoken supporter of H2-A, despite criticism that it is too expensive and too bureaucratic.
---
The environment is one area where there's little if any daylight between Valadao and Trump.
---
But Immigration and Customs Enforcement raids here have made it unlikely that the worker shortage will improve. In February, ICE made a sweep across the Central Valley and arrested 232 people, including 180 who ICE said were convicted criminals or had been issued a final order of removal or had been previously removed from the U.S. In an email, the United Farm Workers confirmed to Capital & Main that 26 of those arrested in the sweep were farmworkers and that it has received reports of even more detentions, and that ICE is still present in Kern County. One ICE raid in March in Delano led to a high speed chase and crash resulting in the death of two farmworkers.
Leydy Rangel, a UFW spokesperson, said the union has received reports of even more farmworker detentions than the 26 reported. "People are afraid to take their kids to school and to visit local businesses," she said.
Valadao's office provided a statement in response to the ICE raids: "Recent incidents involving immigrants and immigration authorities have left many in our community concerned and scared – which is exactly why we must pass comprehensive legislation that repairs our broken immigration system from the ground up. Just last month, I cosponsored H. Res. 774, a legislative maneuver that will allow the House to individually debate and vote on four different pieces of immigration legislation."
A trade war could make a bigger impact on Valadao's district than the farmworker shortage. In March President Trump announced tariffs on steel and aluminum, mostly aimed at China. Beijing quickly imposed retaliatory tariffs of up to 25 percent on $3 billion worth of U.S. imports, including pistachios and almonds, California's first- and second-largest agricultural exports to China. Valadao signed a letter to President Trump urging him to "reconsider the idea of broad tariffs to avoid unintended negative consequences to the U.S. economy and its workers." He also released a statement denouncing broad tariffs – but not tariffs generally – saying, "Agriculture continues to be the foundation of the Central Valley economy and we must protect strong trade relations with foreign nations."
As far as Valadao's 2018 electoral chances go, he may need to worry that the sins of his party – or its leader, Trump – on trade policy and the attendant fallout could be visited upon himself. On immigration, the popular perception is that his ties to Trump could hurt him even more.
On DACA, Taking Heat for His Party
The White House had set March 5, 2018 as the expiration date for Deferred Action for Childhood Arrivals (DACA), pushing 700,000 recipients of this Obama-era program into uncertainty, although that termination is now being challenged in courts. Valadao has supported a permanent solution for DACA, declaring in December that it was not a partisan issue and that Congress "must come together to provide a legislative solution so these individuals may continue to live in the only home they know: the United States."
Valadao has continually affirmed his commitment to repairing the "broken immigration system," and his website mentions his support of the failed 2013 immigration reform package, H.R. 15, as well as his vote against a defense bill amendment that would block undocumented youth from serving in the military, and his cosponsoring of both H.R. 496, Bar Removal of Individuals who Dream and Grow our Economy Act (BRIDGE) Act, and H.R. 1468, the Recognizing America's Children (RAC) Act, which promised a path to legal status for undocumented immigrants brought to the United States as children.
---
Critics say Valadao's GROW bill would let California farmers grab more water at the 
expense of wildlife protections and public input on water projects.
---
Nevertheless, Tania Bernal, an undocumented immigrant and political science major at Bakersfield College, blamed Valadao for lack of legislation that would protect her.
"He said he would do everything in his power to protect Dreamers and he failed," she told me. "It's very disappointing because they are stringing us along. About 19,000 Dreamers have lost their DACA and they're vulnerable to deportation right now."
While admitting that technically it was the party, led by President Trump, that failed on DACA, Bernal said she and other local Dreamers also hold Valadao accountable for not delivering a "clean" Dream Act — legislation giving people covered under DACA a way to obtain permanent legal status in America, unconnected to border security upgrades or any other provisions.
A January, 2018 CBS News poll showed nearly nine out of 10 Americans want DACA recipients to remain in the U.S. Valadao's stance should make him bulletproof on DACA. But he has faced resistance from the far right of the GOP in his attempts to do anything for undocumented immigrants. It's not clear how many of his constituents will blame him for the inaction of his own party, especially as it relates to Dreamers. But people I talked with for this story who had an opinion on the matter were not willing to separate Valadao from the GOP.
While in Bakersfield, which is awkwardly split between CA-21 and CA-23, I visited a rally held by Faith in Kern, a grassroots group fighting for racial equity, outside the office of Valadao's fellow GOP Congressman, Kevin McCarthy. The rally was part of a 40-day political action coinciding with Lent (the demonstrators promised to later protest at Valadao's office on the other side of town). They said that they would hold both men responsible for the inaction of their party, which controls Congress. The three-dozen demonstrators were more polite and respectful than angry, and featured several DACA Dreamers who shared their stories. Eloisa Torres tearfully recalled that the recent deaths of her grandparents – whose funerals she couldn't attend in Mexico because of her precarious status – emboldened her to speak out. "If you're not fighting for what you want, you're not going to get it," she said.
Earlier, Stephanie Smith, a faith leader at Tehachapi Community United Church of Christ, had condemned Congress, Valadao and McCarthy for showing "a general disregard for people," while scolding the representatives for voting for H.R.-620, which, she said, guts the Americans with Disabilities Act.
"There are no bills for a path to citizenship under consideration, no solution for them, but we've ramped up the deportation machine that terrorizes our families, or friends, or coworkers, the people who go to our church. Human connectedness should mean more than artificial borders."
Diesel and Dust
Almost everywhere in CA-21 one is aware that mountains exist somewhere in the distance, to the east or the west. But most days they're airbrushed gray-brown by the valley's infamous smog. The American Lung Association's "State of the Air 2018" report lists two regions within CA-21 – Bakersfield and Visalia as, respectively, second- and third-worst for year-round particle pollution, also known as soot. They were also, respectively, second- and third-worst in ozone pollution because of diesel particulates from semis whizzing through their thoroughfares, and from the dust stirred up by farm operations.
The environment is one area where there's little if any daylight between Valadao and Trump.
Valadao has not supported efforts to combat climate change, and does not believe that the weather in the Central Valley, in which the last five years were the hottest in history, is a direct result of climate change. Climate activists have slammed Valadao's support of S.J. Res. 24, a "resolution of disapproval" under the Congressional Review Act that would nullify the Environmental Protection Agency's Clean Power Plan.
But Valadao's office pushed back on any assertion that he had blamed California's drought on regulation, rather than climate change. The office pointed to a more nuanced comment on his website, which stated, "While legislation cannot make it rain, it can provide relief by addressing complex and contradictory laws, court decisions, and regulations at the state and federal level that have made recent droughts increasingly detrimental."
In 2017, Valadao introduced H.R. 23, the "Gaining Responsibility on Water Act" (GROW), that he has proudly touted as a plan to modernize water policies. Critics have said GROW would let California farmers grab more water at the expense of wildlife protections and public input on water projects. Also in 2017, Valadao co-sponsored, with Kevin McCarthy, H.R. 806 (the Ozone Standards Implementation Act), which has been criticized for undermining the EPA's ability to set healthy ozone and particulate-matter standards, and delaying the implementation of clean-air solutions.
In March 2017, in the lead-up to the bill, the House heard testimony from the deputy executive officer of the California Air Resources Board, who said, "H.R. 806 would mean more people would breathe dirty air longer." Jeff Denham and Devin Nunes, who represent the rest of the smoggy Central Valley, voted for Valadao's bill.
Gary Rodriguez, a fourth grade teacher in Shafter, told me that people in the district are growing fed up with the air quality.
"Some days we can't let kids out for recess because of the air quality," he said. "The local air district does a lot of spinning about the cause of pollution. They'll say it's geography or that it's blown in from the Bay Area, Los Angeles or even China."
"You name it we're breathing it, from fracking to pesticides to vehicles," said Lupe Martinez, assistant to the director for the Center on Race Poverty & the Environment (CRPE), when I spoke with him in Delano. Martinez also connected the dots between the environment, immigration and poverty, saying that farmworkers, the backbone of agriculture, haven't benefited from the success of the industry.
"There are communities that don't have natural gas to heat their homes, so they're using wood and butane. It's not that they don't want to have natural gas, it's just that natural gas has bypassed the communities."
And that wood smoke, he said, increases air toxicity, worsened by temperature inversions that trap soot from agricultural burn-offs, especially in the winter. Martinez said he and other activists are pushing the state Public Utilities Commission to increase access to natural gas. "I don't even know if [Valadao's] aware of it," he said.
---
Copyright Capital & Main