Could the Dream Act Become a Nightmare for Young Immigrants?
Co-published by Newsweek

Some DACA activists claim that Dream Act legislation would likely involve trade-offs, such as increased enforcement that could, they say, get Dreamers' loved ones tossed out of the country.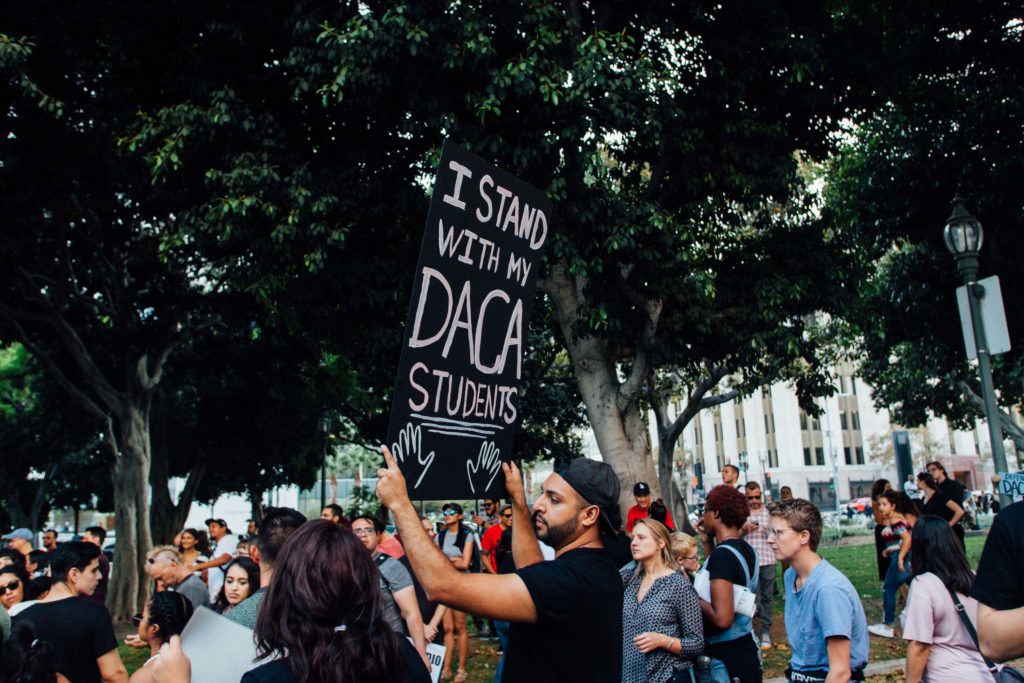 Celestina Mendoza (left) and Margarita Hurtado (right) protest in support of their friend Areli Chairez (center) who is a student and DACA recipient. (Photo: Joanne Kim)
Immigration Activist:
"There's a false narrative that people are for the Dream Act.
We have been building a different movement."
---
Co-published by Newsweek

The day President Donald Trump announced he would rescind DACA – the Deferred Action for Childhood Arrivals program — some 50 young people, many of them directly affected by the move, gathered at the UCLA Labor Center on the western edge of MacArthur Park.
It was 5 p.m. and four whirring fans blew hot air around a steamy upstairs conference room. People mingled and some dug into pad Thai and hunks of fried tofu on paper plates.
A young woman was the first to speak. Asked for a one-word reaction to Trump's announcement, she said, "Damn! But, duh." As in, the president had played to type.
The MacArthur Park location was, ironically, a stone's throw from L.A.'s notorious outdoor marketplace for fake IDs and ground zero for the subterranean economy into which the announcement threatened to thrust these mostly play-by-the-rules attendees.
Many in the room felt numb. Some were angry, fed up or annoyed. No one expressed surprise. Many, like 34-year-old Julieta Loreto, were veteran Dreamers who'd been fighting for the right to education and jobs. Loreto was a high school student when she had lobbied for Assembly Bill 540, the 2001 bill that granted her and other undocumented students in-state tuition at California state colleges and universities.
"I just went through the five stages of grief in one day, so I'm dizzy," Loreto announced to the group.
She said her life had been on hold for a decade until she got DACA status four years ago. Now, she's a newly minted registered nurse searching for work. But her plans to earn a bachelor's degree and become a nurse practitioner are suspended once again.
"We seemed to be moving forward, but now we're back to square one," said John Perez, an organizer with the Immigrant Youth Coalition. Perez, who hosted the meeting, is wiry, full of kinetic energy and originally from Colombia. He rolled out an agenda on brown butcher paper that noted how break-out groups would follow the intros, including a "healing space," and an action space. "I heal by doing shit," Perez added.
One thing Perez won't be doing: joining Congressional Democrats, California legislators and a host of immigrant-rights organizations in a push for the bipartisan Dream Act 2017, sponsored by senators Lindsey Graham (R-SC) and Dick Durbin (D-IL). The bill would offer permanent residency to young people who were younger than 18 when they came to the U.S. and who graduated from high school or earned a general education diploma, and can pass a background check.
"There's a false narrative that people are for the Dream Act," Perez said, speaking for his coalition the next day. "We have been building a different movement."
Dream Act legislation would likely involve trade-offs, such as increased enforcement that could, Perez notes, get Dreamers' loved ones tossed out of the country.
"If you ask a mother, 'Do you want your kid to be safe or do you want to be safe?' you know the answer," said 29-year-old activist Neidi Dominguez. "But that mother, even if she did make a mistake, is equally important. It's a terrible position they've always put us in."
Dominguez, who grew up in L.A. and now lives in Washington DC, is credited with coming up with the original idea that then-President Barack Obama could take executive action to set up the DACA program, and with helping to push the administration to make it happen. Dominguez said she likes Durbin's bill, but that before it comes to a vote  it's almost certain to contain unacceptable sweeteners for Congressional immigration hawks.
"Settling and not fighting back against a bill that is 75 percent bad proves to this administration and politicians that we're in their hands. We should not be playing to their tune. We need to be playing to ours."
Indeed, some immigration hardliners see the Dream Act as an easy enough pill to swallow if it includes long-sought changes to the U.S. immigration system. "Every amnesty sends the message abroad that you can get away with it," said Mark Krikorian, who heads the Center for Immigration Studies, which the Southern Poverty Law Center has branded a hate group. "You have to have enforcement measures to blunt that effect."
Krikorian would like to see Congress make E-Verify, the federal online tool to determine employment eligibility, mandatory for all employers, cut legal immigration by half, reduce the flow of refugees and prioritize immigration of those with English skills, advanced degrees and money to invest in the United States. The latter three provisions are included in the RAISE (Reforming American Immigration for Strong Employment) Act, sponsored by Senate Republicans Tom Cotton of Texas and David Perdue of Georgia.
For their part, most pro-immigrant and progressive groups were quick to leap into the fray nearly as soon as Trump made his September 5 announcement. Victor Narro, a long-time immigrant rights activist and project director at the UCLA Labor Center, said the futures of 800,000 young people are at stake if there is no bill to replace DACA, which expires in six months. It's important to avoid concessions that could hurt other immigrants, but, he said, "[Our] responsibility as advocates is to go into this process. The uncertainty is this is the most polarized Congress we've ever seen."
The debate within the immigrant-rights movement over whether and how to engage legislatively goes back two decades, Narro said. He contended that ever since 9/11, compromise has become more onerous because of the increased focus on national security: "The problem is you include surveillance, employment verification — it's not healthy."
DACA advocates need an initial groundswell of support, Narro said. But even then, there are no guarantees.
"The lives of immigrant youth are not a bargaining chip," said the National Immigration Law Center in an online statement. The Campaign for Humane Immigrant Rights of Los Angeles (CHIRLA) also argued on its website that the Dream Act was the solution to Trump's decision to rescind DACA. "We will support clean legislation that does not throw our loved ones, our family, under the bus," its message noted. Less than a week after the president's announcement, Moveon.org had already collected nearly 250,000 online signatures urging support for a stand-alone bill.
In Phoenix, Reyna Montoya, a 26-year-old DACA recipient, who last year founded an immigrant-rights organization called Aliento, has also joined more established groups in pushing for a legislative solution.
"It's very terrifying knowing I can be deported," Montoya said. "I have a little brother, who's seven years younger, who also has DACA." In addition to lobbying, Montoya's group is warning DACA recipients against immigration scams and pushing those whose benefits expire before March 5, 2018 to renew before the October 5 deadline.
The strategic divide over legislation reflects a cultural difference between people like Neidi Dominguez and more established groups. Dominguez, who is now a legal resident and whose sister is a DACA recipient, said she and other Dreamers took big personal leaps of faith by declaring their at-the-time undocumented status and risking arrest and deportation with sit-ins and other civil disobedience tactics. Dominguez said she and her colleagues borrowed from the nonviolent direct action tactics of the civil rights movement, and they learned that it didn't always pay to listen to established groups.
She said she and other Dreamers won DACA by defying conventional wisdom. When they proposed DACA, the Obama administration countered that the president lacked the authority to act to protect the Dreamers. The activists and the White House were at a stalemate when, in the thick of the 2012 presidential race, Dominguez and her comrades got a call from Obama officials who invited them to Washington DC for a meeting. Dominguez said she didn't think the administration intended a serious discussion. Still, she and three other women with Dream Team L.A. – all undocumented at the time — made the trip, and strategized how to make the meeting work for them. They leaked the DC trip to La Opinion, L.A.'s Spanish-language daily, even though Obama officials warned them not to, and by the end of the meeting, they'd informed the administration officials of the leak, issued a threat and set a deadline. If Obama didn't come back with a DACA-like program in two weeks, the Dreamers would sit-in at Obama for America campaign offices across the country.
"Less than five days later, they caved," Dominguez said of administration officials, despite their annoyance. "It's shocking to tell this story, and knowing this week it got terminated. It's just surreal."
Today Dominguez, who works as the national strategic campaign coordinator for the International Union of Painters and Allied Trades, doesn't see an immediate viable strategy for restoring DACA protection, short of Trump reinstating the program. Instead, she believes immigrant-rights activists should organize for 2020. "I mean, in 2020 we have a real shot at getting rid of all of them," she said, referring to the Trump administration and the Republican-dominated Congress.
---
Copyright Capital & Main

Stephen Miller's Former Rabbi Speaks Out About Trump's Adviser and Immigration
Before Stephen Miller, who is said to be an architect of Trump's zero-tolerance border policy, began espousing far-right views as a teenager, his family belonged to Santa Monica's progressive Temple Beth Shir Shalom.

White House speechwriter and senior adviser Stephen Miller did not grow up poor in a rural town, anxious over his father losing a manufacturing job to a trade agreement — a popular origin story for the nativist movement led by Miller's boss, President Donald Trump. Before reportedly devising the plan to separate immigrant children from their parents, Miller, 32, grew up in socially liberal Santa Monica, a beach city that is whiter and wealthier than the rest of the United States.
According to a Los Angeles Times profile, it wasn't a bad economy but the "culturally sensitive environment" that "infuriated and ultimately shaped" a young Miller. High school announcements in Spanish as well as English, for example.
Before he began espousing far-right views as a teenager, Miller's family belonged to liberal places of worship, the Jewish Journal reported, including Beth Shir Shalom, a progressive Reform temple.
"The Judaism that we teach here is a liberal, progressive Judaism based on longstanding, Reform Jewish values. That of course includes respect for all human beings, respect for families and respect for children," Rabbi Neil Comess-Daniels, organizer of a planned Thursday protest against the Miller-Trump policy of separating and detaining foreign children, said in an interview. "The message was clear," he said, and it was the opposite of what Miller espouses today.
What follows is a lightly edited transcript of a phone interview with Comess-Daniels.
---
Capital & Main: As an educator and a man of faith, what lessons do you take from the fact that maybe some of the people you teach grow up to be Stephen Millers? Does that make you hopeless at all?
Rabbi Neil Comess-Daniels: Oh, it doesn't make me hopeless at all. What it continues to underscore is that I have a lot of work to do. We teach people to have respect for other people — by respecting them and respecting their perspectives and their input. I don't really remember anything about Stephen Miller as a kid — I have no recollection of him being part of who we are. That may tell you a lot too, that he sort of kept it under wraps or it wasn't even really developing yet.
But the reality is that when you tell kids their opinion matters, and you take that risk of allowing their perspectives to flow forward, you have to be able to give that respect to them so that they can give it to other people. That may well be part of the lesson that he didn't pick up.
Do you think bigotry, or anti-immigrant sentiment, manifests itself differently in a wealthy, socially liberal environment?
There are people in Santa Monica who have been here quite a while, and people who are here as rather newbies. There is a certain degree of NIMBYism that's going on here, and a certain resistance to growing this little city literally, physically upwards, because it's really the only place it can go, and also to being inclusive of people at many levels of the economic ladder. Those of us who are working on that are doing everything that we can to try to make that happen.
People who have been here for a while and see it as a haven and very nice place to live, they hear of people coming from other economic levels and they get frightened. It's not just xenophobic — in a lot of ways, it comes out racist too. And fear is easily stoked among people. That's what we're experiencing on a national level and it takes a lot to combat it.
I live not too far from Santa Monica and it's my sense that some of these nationally progressive people that live there might support the idea of a wall — around Santa Monica. There was some opposition to even building out the Expo [light rail] Line to the beach for fear it would bring a bunch of people from a different economic class.
I think the progressive work that people try to do has to base itself in the reality that every single one of us is prone to pull inwards and prone to self-select our friends and neighbors. But for the sake of an American model, and a Santa Monica model and an L.A. model that we want for the future, this is something that we have to deal with every day. A future, inclusive America means we're going to have to get comfortable with something else.
White people are going to be a minority, despite this administration's current efforts. Is this the last-gasp backlash of a minority that has, for now, power?
I don't think that this is any kind of a last gasp. We constantly have to be vigilant to make sure that all of our institutions, from the bottom up, are transparent and treat their neighbors, their workers fairly. People need to have a living wage and have a decent standard of living. And like I said, intolerance is very easy to unleash; it's always waiting in the background.
What's happened is that this xenophobia, this racism, this anti-Semitism, has been let loose from the top down and people who have been hanging on to it more secretly have felt bolder over the last two years. But it is going to ebb and flow. It's never going to go away. That's what humanity is, unfortunately.
What is your reaction to a powerful person claiming their reactionary politics are a product of everything you stand for and have done?
You catch me having just seen the movie about Fred Rogers. That happened to him, from Fox News. They went after him for acknowledging the specialness and wonderfulness of each individual, and saying, "that's not America. In America, kids need to earn that — and he's destroying that American value of earning your place in society."
That whole conservative cliche of "everybody getting a merit badge for participation, and that's ruining our children."
Look, I get that. But I'm going to respond the same way [Rogers] did: It's very, very sad. And the kids who grow up under that cloud need my outreach. The baton has been passed to those of us who are going to take care of these kids who are being separated from their parents. I'm involved in creating an action downtown on Thursday morning, a prayer vigil, at the Department of Homeland Security. What we are going to do is just let these people know there are values and perspectives that are deeper and more important than theirs, and we will never go away. We're just not. And we're not going to become them, in terms of their tactics. We're going to hold on to our integrity and do this the right way.
What are you doing in reaction to what is going on in our country and what should we be doing?
Number one, sign every petition you can. When you sign a petition, give a small donation to that organization to keep them going. Constantly call your senators and congresspeople, even if they agree with you. They count up those emails and they count up those phone calls.
But also we should march every time there's a march…. We all need to "pray with our legs." We all need to just do something and set that example for our kids and grandkids. That's really, really important, that they pick up this baton.
The other thing is to personalize it. There is this story of a rabbi who was on his deathbed — there's all these stories of rabbis on their deathbeds in literature — and students are gathering around and he's starting to cry and they ask, Why? He says, "Well, when I was a young rabbi, I thought I could make change all over. I tried to do it in our region. I tried to do it in our city. I tried to do it in our little community. I tried to do it in my family. And then I realized I should have started with myself and worked outwards." We need to do that.
Without falling into solipsism.
Right. I know so many people who, unfortunately, have just become cynical about all of this. And I don't blame them. My tradition says when you doubt, climb out of it. We need to climb out of it and get to work. That's again what my tradition teaches: We're not expected to complete the work, but we're not free to desist from doing it.
---
Copyright Capital & Main