Could the Dream Act Become a Nightmare for Young Immigrants?
Co-published by Newsweek

Some DACA activists claim that Dream Act legislation would likely involve trade-offs, such as increased enforcement that could, they say, get Dreamers' loved ones tossed out of the country.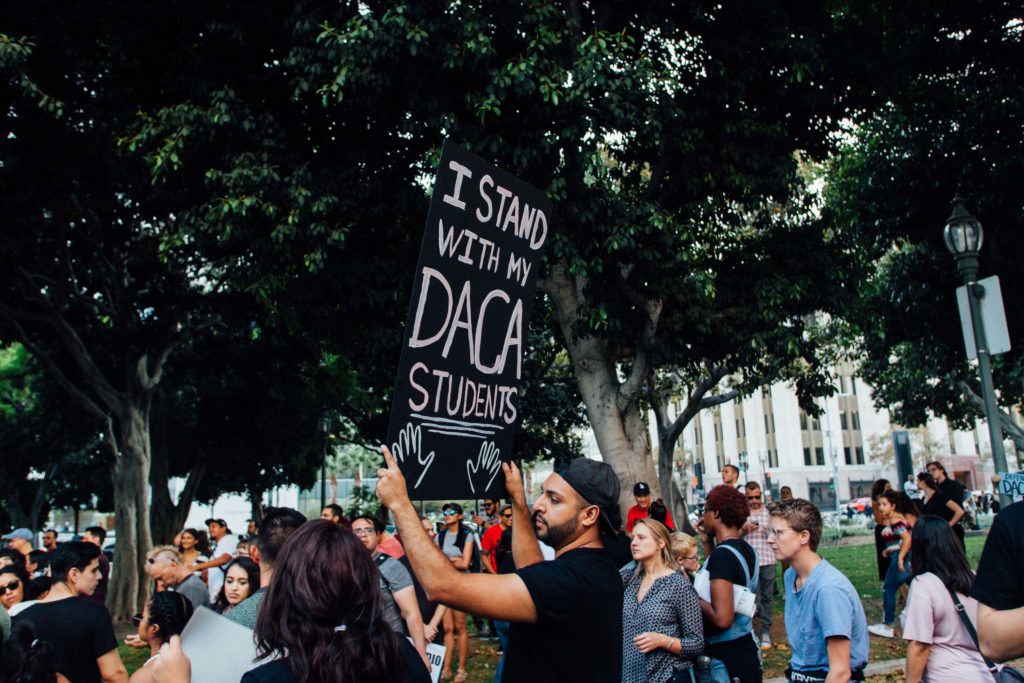 Celestina Mendoza (left) and Margarita Hurtado (right) protest in support of their friend Areli Chairez (center) who is a student and DACA recipient. (Photo: Joanne Kim)
Immigration Activist:
"There's a false narrative that people are for the Dream Act.
We have been building a different movement."
---
Co-published by Newsweek

The day President Donald Trump announced he would rescind DACA – the Deferred Action for Childhood Arrivals program — some 50 young people, many of them directly affected by the move, gathered at the UCLA Labor Center on the western edge of MacArthur Park.
It was 5 p.m. and four whirring fans blew hot air around a steamy upstairs conference room. People mingled and some dug into pad Thai and hunks of fried tofu on paper plates.
A young woman was the first to speak. Asked for a one-word reaction to Trump's announcement, she said, "Damn! But, duh." As in, the president had played to type.
The MacArthur Park location was, ironically, a stone's throw from L.A.'s notorious outdoor marketplace for fake IDs and ground zero for the subterranean economy into which the announcement threatened to thrust these mostly play-by-the-rules attendees.
Many in the room felt numb. Some were angry, fed up or annoyed. No one expressed surprise. Many, like 34-year-old Julieta Loreto, were veteran Dreamers who'd been fighting for the right to education and jobs. Loreto was a high school student when she had lobbied for Assembly Bill 540, the 2001 bill that granted her and other undocumented students in-state tuition at California state colleges and universities.
"I just went through the five stages of grief in one day, so I'm dizzy," Loreto announced to the group.
She said her life had been on hold for a decade until she got DACA status four years ago. Now, she's a newly minted registered nurse searching for work. But her plans to earn a bachelor's degree and become a nurse practitioner are suspended once again.
"We seemed to be moving forward, but now we're back to square one," said John Perez, an organizer with the Immigrant Youth Coalition. Perez, who hosted the meeting, is wiry, full of kinetic energy and originally from Colombia. He rolled out an agenda on brown butcher paper that noted how break-out groups would follow the intros, including a "healing space," and an action space. "I heal by doing shit," Perez added.
One thing Perez won't be doing: joining Congressional Democrats, California legislators and a host of immigrant-rights organizations in a push for the bipartisan Dream Act 2017, sponsored by senators Lindsey Graham (R-SC) and Dick Durbin (D-IL). The bill would offer permanent residency to young people who were younger than 18 when they came to the U.S. and who graduated from high school or earned a general education diploma, and can pass a background check.
"There's a false narrative that people are for the Dream Act," Perez said, speaking for his coalition the next day. "We have been building a different movement."
Dream Act legislation would likely involve trade-offs, such as increased enforcement that could, Perez notes, get Dreamers' loved ones tossed out of the country.
"If you ask a mother, 'Do you want your kid to be safe or do you want to be safe?' you know the answer," said 29-year-old activist Neidi Dominguez. "But that mother, even if she did make a mistake, is equally important. It's a terrible position they've always put us in."
Dominguez, who grew up in L.A. and now lives in Washington DC, is credited with coming up with the original idea that then-President Barack Obama could take executive action to set up the DACA program, and with helping to push the administration to make it happen. Dominguez said she likes Durbin's bill, but that before it comes to a vote  it's almost certain to contain unacceptable sweeteners for Congressional immigration hawks.
"Settling and not fighting back against a bill that is 75 percent bad proves to this administration and politicians that we're in their hands. We should not be playing to their tune. We need to be playing to ours."
Indeed, some immigration hardliners see the Dream Act as an easy enough pill to swallow if it includes long-sought changes to the U.S. immigration system. "Every amnesty sends the message abroad that you can get away with it," said Mark Krikorian, who heads the Center for Immigration Studies, which the Southern Poverty Law Center has branded a hate group. "You have to have enforcement measures to blunt that effect."
Krikorian would like to see Congress make E-Verify, the federal online tool to determine employment eligibility, mandatory for all employers, cut legal immigration by half, reduce the flow of refugees and prioritize immigration of those with English skills, advanced degrees and money to invest in the United States. The latter three provisions are included in the RAISE (Reforming American Immigration for Strong Employment) Act, sponsored by Senate Republicans Tom Cotton of Texas and David Perdue of Georgia.
For their part, most pro-immigrant and progressive groups were quick to leap into the fray nearly as soon as Trump made his September 5 announcement. Victor Narro, a long-time immigrant rights activist and project director at the UCLA Labor Center, said the futures of 800,000 young people are at stake if there is no bill to replace DACA, which expires in six months. It's important to avoid concessions that could hurt other immigrants, but, he said, "[Our] responsibility as advocates is to go into this process. The uncertainty is this is the most polarized Congress we've ever seen."
The debate within the immigrant-rights movement over whether and how to engage legislatively goes back two decades, Narro said. He contended that ever since 9/11, compromise has become more onerous because of the increased focus on national security: "The problem is you include surveillance, employment verification — it's not healthy."
DACA advocates need an initial groundswell of support, Narro said. But even then, there are no guarantees.
"The lives of immigrant youth are not a bargaining chip," said the National Immigration Law Center in an online statement. The Campaign for Humane Immigrant Rights of Los Angeles (CHIRLA) also argued on its website that the Dream Act was the solution to Trump's decision to rescind DACA. "We will support clean legislation that does not throw our loved ones, our family, under the bus," its message noted. Less than a week after the president's announcement, Moveon.org had already collected nearly 250,000 online signatures urging support for a stand-alone bill.
In Phoenix, Reyna Montoya, a 26-year-old DACA recipient, who last year founded an immigrant-rights organization called Aliento, has also joined more established groups in pushing for a legislative solution.
"It's very terrifying knowing I can be deported," Montoya said. "I have a little brother, who's seven years younger, who also has DACA." In addition to lobbying, Montoya's group is warning DACA recipients against immigration scams and pushing those whose benefits expire before March 5, 2018 to renew before the October 5 deadline.
The strategic divide over legislation reflects a cultural difference between people like Neidi Dominguez and more established groups. Dominguez, who is now a legal resident and whose sister is a DACA recipient, said she and other Dreamers took big personal leaps of faith by declaring their at-the-time undocumented status and risking arrest and deportation with sit-ins and other civil disobedience tactics. Dominguez said she and her colleagues borrowed from the nonviolent direct action tactics of the civil rights movement, and they learned that it didn't always pay to listen to established groups.
She said she and other Dreamers won DACA by defying conventional wisdom. When they proposed DACA, the Obama administration countered that the president lacked the authority to act to protect the Dreamers. The activists and the White House were at a stalemate when, in the thick of the 2012 presidential race, Dominguez and her comrades got a call from Obama officials who invited them to Washington DC for a meeting. Dominguez said she didn't think the administration intended a serious discussion. Still, she and three other women with Dream Team L.A. – all undocumented at the time — made the trip, and strategized how to make the meeting work for them. They leaked the DC trip to La Opinion, L.A.'s Spanish-language daily, even though Obama officials warned them not to, and by the end of the meeting, they'd informed the administration officials of the leak, issued a threat and set a deadline. If Obama didn't come back with a DACA-like program in two weeks, the Dreamers would sit-in at Obama for America campaign offices across the country.
"Less than five days later, they caved," Dominguez said of administration officials, despite their annoyance. "It's shocking to tell this story, and knowing this week it got terminated. It's just surreal."
Today Dominguez, who works as the national strategic campaign coordinator for the International Union of Painters and Allied Trades, doesn't see an immediate viable strategy for restoring DACA protection, short of Trump reinstating the program. Instead, she believes immigrant-rights activists should organize for 2020. "I mean, in 2020 we have a real shot at getting rid of all of them," she said, referring to the Trump administration and the Republican-dominated Congress.
---
Copyright Capital & Main
After the Inferno, Undocumented Workers Find Themselves Without Federal Help
Co-published by Newsweek
Undocumented laborers who worked in Wine Country vineyards are now finding the only assistance they can hope for, following Northern California's recent wildfires, is mostly private charity.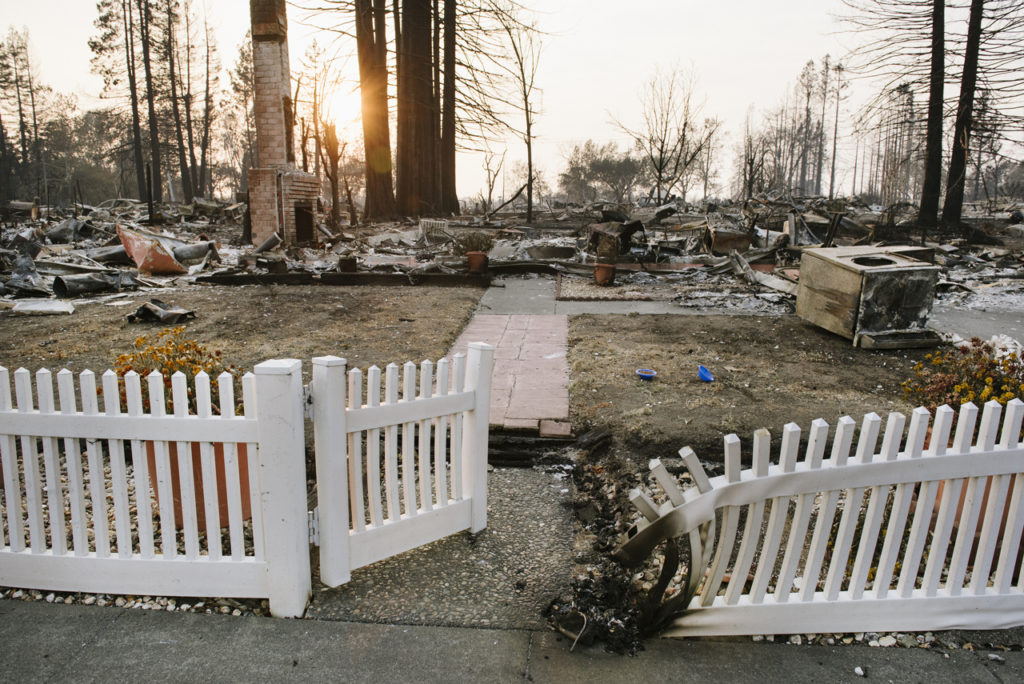 Coffey Park, Santa Rosa. (Photo: Michael Short)
For undocumented immigrants who have lost jobs or homes in the Northern California fires, the road to stability will be especially steep. Many are ineligible for federal aid of any kind.
---
Co-published by Newsweek

By 11 o'clock in the morning, as smoke billowed down a nearby hillside, Tesorito began to wonder if he ought to be in the vineyards. It was Monday, October 9, and he was harvesting wine grapes near the town of Sonoma. He was accustomed to the challenges of the job: the cold mornings, the snakes that hid beneath rocks and the double shifts during harvest time, when he could labor upwards of 90 hours a week. But when he paused to look north, he saw something he'd never seen before: a wall of flames.
Tesorito pointed the flames out to his friend, Lalo, a row over. Though both men could feel the heat on their faces, they turned back to the grapes. This was la pisca—the harvest—when they were paid by the amount of fruit they clipped, so every second counted. They had left for work at 5 a.m. and hadn't heard about the fires that had begun to spread across Sonoma and Napa counties. At one point, Tesorito realized that the flames threatened to encircle the vineyard. In an instant, he and the rest of the panicked crew bolted for their cars and raced down the bumpy country road, using their windshield wipers to push away the falling ash.
"It was crazy, absolutely crazy," Tesorito said in Spanish. He cleared his throat, which had gone raspy. He had picked up a hacking cough from the smoke, which he couldn't seem to shake. It was a Saturday in late October, and he and Lalo were seated on folding chairs in the middle of a school gymnasium in Santa Rosa, attending a Spanish-language meeting about resources available to people affected by the fires. They hadn't worked in two weeks, because roads to the fields were closed.
"My rent's due soon and I don't have it," Tesorito told me. The 37 year old is short and stocky, with broad shoulders and callused hands. Lalo is 58, though he looks at least 10 years younger. Collectively, the friends have spent more than two decades in California's famed Wine Country, part of an immigrant workforce that props up the state's $57 billion a year industry.
"Everywhere we go, people have told us, 'If you don't have papers, we can't help you.' There is nothing for us."
Both men are undocumented Mexican immigrants, but tell me that until recently their status hasn't been much of a concern. ("I don't cause problems and I do good work," said Lalo.) The fires changed that. Neither man is eligible for the various forms of federal disaster aid, which ranges from unemployment benefits to housing assistance. This was their fourth meeting in eight days of searching for anyone who might be able to help.
After sitting through the 90-minute forum, the men approached a table staffed by a representative of a local Legal Aid office and explained their predicament, but while the woman listened politely, she had no advice for them. "Everywhere we go, people have told us, 'If you don't have papers, we can't help you,'" Tesorito said as he walked out. "There is nothing for us."
Vineyard workers Tesorito and Lalo seek help at a Santa Rosa meeting. (Photo: Gabriel Thompson)
The Nuns Fire that nearly engulfed Tesorito and Lalo was the largest of the recent California wildfires, consuming 54,000 acres, destroying at least 1,300 buildings and killing two people. But it wasn't the most destructive. The Tubbs Fire, which began outside of Calistoga and roared south into Santa Rosa, killed at least 22 people and transformed entire neighborhoods into surreal hellscapes. The various Wine Country fires turned the sky black for days and rained ash across the Bay Area, sending folks scurrying to the nearest hardware store in search of protective masks.
For undocumented immigrants who have lost jobs or homes, the road to stability will be especially steep. Many are ineligible for federal aid of any kind. Others may qualify for assistance if they have children who are U.S. citizens, but that would require turning over personal household information to the federal government.
Photo: Michael Short
At the forum, one audience member asked an official from the Federal Emergency Management Agency to promise that it wouldn't share information with Immigration and Customs Enforcement. The official stated that FEMA had never done so in the past, but that he couldn't guarantee that it wouldn't happen in the future. Several days earlier, ICE's acting director, Thomas Homan, released a statement that appeared to link the wildfires to the unrelated arrest of an undocumented immigrant. In response, Sonoma County Sheriff Robert Giordano slammed Homan's statement as "inaccurate" and "inflammatory." (Breitbart News also reported — then retracted — that the undocumented immigrant was suspected of starting the wildfires.)
The forum, which was attended by about 100 people, was held in Roseland, a neighborhood just south of downtown Santa Rosa. This is the heart of Sonoma County's Latino community, and although the fire didn't reach Roseland, the neighborhood has been deeply impacted. A day earlier, I had visited Roseland's library, where dozens waited to speak to representatives of the Mexican consulate. One woman, Trinidad, said that her husband was a gardener and that the homes of half his clients had burned down. Another woman, Nayeli, cleaned five large homes; all five had burned down. It went like this down the line: dishwashers, hotel housekeepers, landscapers and nannies, all without work because their workplaces no longer existed.
Less than a mile from the library, Jonathan Bravo sorted through food donations at Bayer Farm, a community garden that has become a refuge for immigrants during the fires. "The tragedy has been immense," said Bravo, a 63-year-old former math teacher in Mexico. "People are scared, especially our undocumented residents. We try to tell them: Don't have fear. We are all together on the same boat."
Several days after the fire started, Bravo and a group of volunteers began feeding meals to anyone who showed up. "We couldn't just watch the smoke—we needed to respond," said Bravo. On the first day, they served eggs, beans and handmade tortillas to 30 people. The next day, they fed 80. Since then, they've dished out three meals daily to an average of 250 people, all cooked by volunteers. As word about the meals spread, donations started to arrive: organic produce from the food bank, bread from a local bakery, checks to defray the costs of running what amounts to a restaurant for the unemployed.
One recent donation came from the Graton Day Labor Center, located in the small town of Graton, west of Santa Rosa. "We serve the people who fall through every safety net—the day laborers and the domestic workers," said director Christy Lubin. On the other side of the office, a group of men chatted quietly in Spanish, hoping to be sent out. "We've only dispatched 12 folks today, when we'd normally send out 25 or 30," Lubin said.
Photo: Michael Short
Donations soon began to arrive from people who knew that the day labor center could get money into the hands of people who needed it. "We gave out about $5,000 in cash—just money for cellphones, gas and food," said Lubin. "But people wanted to give more, and so I thought, 'What are we going to do?'" Together with the North Bay Jobs with Justice and North Bay Organizing Project, Lubin launched UndocuFund to provide disaster relief to undocumented immigrants. Within 24 hours they had raised more than $100,000. To date, they've brought in $750,000. The fund, whose advisory committee includes undocumented immigrants, will soon begin to accept applications for financial assistance.
At Bayer Farms, about 50 people were seated at picnic tables eating dinner. This was the 11th day that the garden had provided free meals to the community, but with school starting back up soon, it wasn't clear how much longer the experiment would run. Jonathan Bravo had also started to get pressure from the city, which wasn't entirely pleased about the unlicensed operation.
Not that he had any regrets. "We say that we don't grow tomatoes or lettuce, we grow people," he said. The fire had provided a chance to prove it. He picked up a walnut from the ground, cracked it open, and handed me a piece. The nut was from a black walnut tree that rose high above the garden. Bravo told me that last year, nearby construction had damaged the roots of the tree, and an arborist had suggested that they cut it down while the wood was still salvageable. Instead, they decided to see if they could nurse the tree back to health. Each week, classes of schoolchildren work in the garden, and when they learned that the tree was sick, a few made a habit, before leaving, of speaking words of encouragement to the tree and giving it a hug.
"There is hope," Bravo said. "We can't minimize the suffering that the fire caused. Twelve of our garden teachers lost their homes. Four of our volunteers lost their homes. But we still have families and we still have children and we are still here. So there is hope."
---
Copyright Capital & Main