Could the Dream Act Become a Nightmare for Young Immigrants?
Co-published by Newsweek

Some DACA activists claim that Dream Act legislation would likely involve trade-offs, such as increased enforcement that could, they say, get Dreamers' loved ones tossed out of the country.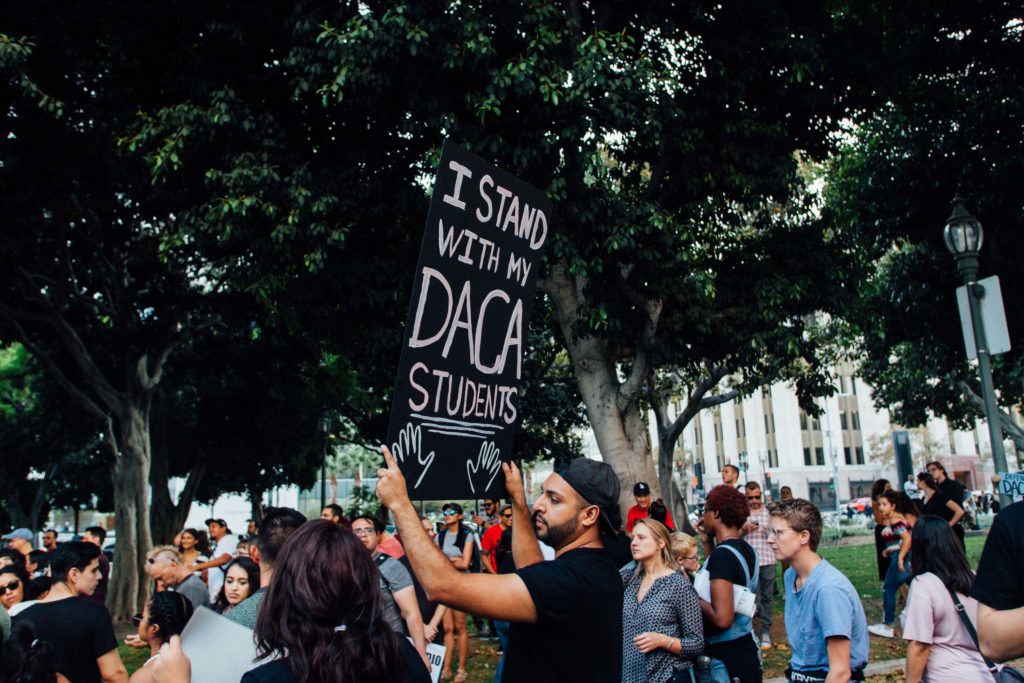 Celestina Mendoza (left) and Margarita Hurtado (right) protest in support of their friend Areli Chairez (center) who is a student and DACA recipient. (Photo: Joanne Kim)
Immigration Activist:
"There's a false narrative that people are for the Dream Act.
We have been building a different movement."
---
Co-published by Newsweek

The day President Donald Trump announced he would rescind DACA – the Deferred Action for Childhood Arrivals program — some 50 young people, many of them directly affected by the move, gathered at the UCLA Labor Center on the western edge of MacArthur Park.
It was 5 p.m. and four whirring fans blew hot air around a steamy upstairs conference room. People mingled and some dug into pad Thai and hunks of fried tofu on paper plates.
A young woman was the first to speak. Asked for a one-word reaction to Trump's announcement, she said, "Damn! But, duh." As in, the president had played to type.
The MacArthur Park location was, ironically, a stone's throw from L.A.'s notorious outdoor marketplace for fake IDs and ground zero for the subterranean economy into which the announcement threatened to thrust these mostly play-by-the-rules attendees.
Many in the room felt numb. Some were angry, fed up or annoyed. No one expressed surprise. Many, like 34-year-old Julieta Loreto, were veteran Dreamers who'd been fighting for the right to education and jobs. Loreto was a high school student when she had lobbied for Assembly Bill 540, the 2001 bill that granted her and other undocumented students in-state tuition at California state colleges and universities.
"I just went through the five stages of grief in one day, so I'm dizzy," Loreto announced to the group.
She said her life had been on hold for a decade until she got DACA status four years ago. Now, she's a newly minted registered nurse searching for work. But her plans to earn a bachelor's degree and become a nurse practitioner are suspended once again.
"We seemed to be moving forward, but now we're back to square one," said John Perez, an organizer with the Immigrant Youth Coalition. Perez, who hosted the meeting, is wiry, full of kinetic energy and originally from Colombia. He rolled out an agenda on brown butcher paper that noted how break-out groups would follow the intros, including a "healing space," and an action space. "I heal by doing shit," Perez added.
One thing Perez won't be doing: joining Congressional Democrats, California legislators and a host of immigrant-rights organizations in a push for the bipartisan Dream Act 2017, sponsored by senators Lindsey Graham (R-SC) and Dick Durbin (D-IL). The bill would offer permanent residency to young people who were younger than 18 when they came to the U.S. and who graduated from high school or earned a general education diploma, and can pass a background check.
"There's a false narrative that people are for the Dream Act," Perez said, speaking for his coalition the next day. "We have been building a different movement."
Dream Act legislation would likely involve trade-offs, such as increased enforcement that could, Perez notes, get Dreamers' loved ones tossed out of the country.
"If you ask a mother, 'Do you want your kid to be safe or do you want to be safe?' you know the answer," said 29-year-old activist Neidi Dominguez. "But that mother, even if she did make a mistake, is equally important. It's a terrible position they've always put us in."
Dominguez, who grew up in L.A. and now lives in Washington DC, is credited with coming up with the original idea that then-President Barack Obama could take executive action to set up the DACA program, and with helping to push the administration to make it happen. Dominguez said she likes Durbin's bill, but that before it comes to a vote  it's almost certain to contain unacceptable sweeteners for Congressional immigration hawks.
"Settling and not fighting back against a bill that is 75 percent bad proves to this administration and politicians that we're in their hands. We should not be playing to their tune. We need to be playing to ours."
Indeed, some immigration hardliners see the Dream Act as an easy enough pill to swallow if it includes long-sought changes to the U.S. immigration system. "Every amnesty sends the message abroad that you can get away with it," said Mark Krikorian, who heads the Center for Immigration Studies, which the Southern Poverty Law Center has branded a hate group. "You have to have enforcement measures to blunt that effect."
Krikorian would like to see Congress make E-Verify, the federal online tool to determine employment eligibility, mandatory for all employers, cut legal immigration by half, reduce the flow of refugees and prioritize immigration of those with English skills, advanced degrees and money to invest in the United States. The latter three provisions are included in the RAISE (Reforming American Immigration for Strong Employment) Act, sponsored by Senate Republicans Tom Cotton of Texas and David Perdue of Georgia.
For their part, most pro-immigrant and progressive groups were quick to leap into the fray nearly as soon as Trump made his September 5 announcement. Victor Narro, a long-time immigrant rights activist and project director at the UCLA Labor Center, said the futures of 800,000 young people are at stake if there is no bill to replace DACA, which expires in six months. It's important to avoid concessions that could hurt other immigrants, but, he said, "[Our] responsibility as advocates is to go into this process. The uncertainty is this is the most polarized Congress we've ever seen."
The debate within the immigrant-rights movement over whether and how to engage legislatively goes back two decades, Narro said. He contended that ever since 9/11, compromise has become more onerous because of the increased focus on national security: "The problem is you include surveillance, employment verification — it's not healthy."
DACA advocates need an initial groundswell of support, Narro said. But even then, there are no guarantees.
"The lives of immigrant youth are not a bargaining chip," said the National Immigration Law Center in an online statement. The Campaign for Humane Immigrant Rights of Los Angeles (CHIRLA) also argued on its website that the Dream Act was the solution to Trump's decision to rescind DACA. "We will support clean legislation that does not throw our loved ones, our family, under the bus," its message noted. Less than a week after the president's announcement, Moveon.org had already collected nearly 250,000 online signatures urging support for a stand-alone bill.
In Phoenix, Reyna Montoya, a 26-year-old DACA recipient, who last year founded an immigrant-rights organization called Aliento, has also joined more established groups in pushing for a legislative solution.
"It's very terrifying knowing I can be deported," Montoya said. "I have a little brother, who's seven years younger, who also has DACA." In addition to lobbying, Montoya's group is warning DACA recipients against immigration scams and pushing those whose benefits expire before March 5, 2018 to renew before the October 5 deadline.
The strategic divide over legislation reflects a cultural difference between people like Neidi Dominguez and more established groups. Dominguez, who is now a legal resident and whose sister is a DACA recipient, said she and other Dreamers took big personal leaps of faith by declaring their at-the-time undocumented status and risking arrest and deportation with sit-ins and other civil disobedience tactics. Dominguez said she and her colleagues borrowed from the nonviolent direct action tactics of the civil rights movement, and they learned that it didn't always pay to listen to established groups.
She said she and other Dreamers won DACA by defying conventional wisdom. When they proposed DACA, the Obama administration countered that the president lacked the authority to act to protect the Dreamers. The activists and the White House were at a stalemate when, in the thick of the 2012 presidential race, Dominguez and her comrades got a call from Obama officials who invited them to Washington DC for a meeting. Dominguez said she didn't think the administration intended a serious discussion. Still, she and three other women with Dream Team L.A. – all undocumented at the time — made the trip, and strategized how to make the meeting work for them. They leaked the DC trip to La Opinion, L.A.'s Spanish-language daily, even though Obama officials warned them not to, and by the end of the meeting, they'd informed the administration officials of the leak, issued a threat and set a deadline. If Obama didn't come back with a DACA-like program in two weeks, the Dreamers would sit-in at Obama for America campaign offices across the country.
"Less than five days later, they caved," Dominguez said of administration officials, despite their annoyance. "It's shocking to tell this story, and knowing this week it got terminated. It's just surreal."
Today Dominguez, who works as the national strategic campaign coordinator for the International Union of Painters and Allied Trades, doesn't see an immediate viable strategy for restoring DACA protection, short of Trump reinstating the program. Instead, she believes immigrant-rights activists should organize for 2020. "I mean, in 2020 we have a real shot at getting rid of all of them," she said, referring to the Trump administration and the Republican-dominated Congress.
---
Copyright Capital & Main

Homeland Security Kicks the Ladder from Under Immigrants Seeking Green Cards
Co-published by American Prospect
"Self-sufficiency has been a basic principle of United States immigration law since this country's earliest immigration statutes," DHS tells would-be citizens. Then it lists the ways a proposed agency rule could devastate the health care of 5.5 million of them.

---
Millions of people could go hungry or forego medical treatment for fear they could jeopardize their chances or those of family members to legalize their status in the U.S.
---
Co-published by American Prospect
Immigrants who use Medi-Cal, food stamps, housing assistance or Medicare prescription drug subsidies could be barred from obtaining green cards or visa extensions under a proposed rule the Department of Homeland Security published in the Federal Register October 10. Currently only those who use cash assistance or who require long-term institutional care at government expense are barred on public charge grounds.
Immigrant rights advocates, health care providers and local governments predict devastating results, especially in California and other states with large immigrant populations: Millions of people would go hungry or forego medical treatment for fear they could jeopardize their chances or those of family members to legalize their status in the United States. The newly uninsured would seek care at hospital emergency rooms, likely waiting until their conditions are painful and costly to treat. Surprisingly the Department of Homeland Security echoes these predictions, but still contends the rule change is necessary.
---
"It's just unconscionable that a family would have to choose between food, health care or a green card for their children."
---
"DHS seeks to better ensure that applicants for admission to the United States…do not depend on public resources to meet their needs, but rather rely on their own capabilities and the resources of their family, sponsor, and private organizations," the government notes in its proposal. "Self-sufficiency has been a basic principle of United States immigration law since this country's earliest immigration statutes."
The California Primary Care Association, the trade group for the state's community health clinics, predicts that between 20 and 60 percent of non-citizens could disenroll from public programs, including Medi-Cal, delivering a potential body blow to California's health care safety net. The forecast is based on what happened during a similar scare 22 years ago, when Congress approved welfare and immigration reform laws that, for the first time, specified that those who received federal public benefits could be excluded from the country on public charge grounds. (The wide gap in the percentage forecast reflects varying rates of disenrollment from different programs and different immigration statuses of individuals, legal permanent residents, visa holders and refugees.) The Clinton administration initiatives didn't define federal public benefits, but later instructed immigration officials to bar only those who used cash welfare benefits or those who required government-paid institutionalization for long-term care.
---
One policy analyst says the rule change is an "end run around Congress" that would favor immigration of wealthier individuals and those with advanced degrees or job skills.
---
"It's just unconscionable that a family would have to choose between food, health care or a green card for their children," says Louise McCarthy, CEO of the Community Clinic Association of Los Angeles County.
The rule would instruct immigration officers to give positive weight to green card applicants with incomes of more than $62,000 for a family of four.
National Immigration Law Center policy analyst Jackie Vimo says the rule change is an "end run around Congress" that would favor immigration of wealthier individuals and those with advanced degrees or job skills.
---
Immigration officers would have broad discretion to exclude children, the elderly and non-English speakers in determining who would become a public charge.
---
"President Trump tried to change our immigration system, which has been a family-based system. This is trying to pass the RAISE Act through the back door," Vimo said, referring to the 2017 Reforming American Immigration for Strong Employment Act, which would cut legal immigration in half and limit legal immigrants' abilities to petition for legal status for family members.
The administration's proposal would exclude those who have received 15 percent or more of the federal poverty level in food stamps or cash assistance, or $1,821 for a single person annually, as well as those who have been on Medicaid or who have received housing assistance for 12 consecutive months in a three-year period from becoming legal permanent residents. It wouldn't penalize individuals who received benefits before the rule took effect.
Under the rule change, immigration officers would also have broad discretion to exclude children, the elderly and people who don't speak English in determining the likelihood that an individual would become a public charge.
---
DHS predicts dire health consequences if its own proposal takes effect.
---
DHS hasn't specifically proposed to exclude immigrants whose children are insured under the Children's Health Insurance Program, which offers low-cost care to children whose parents earn too much to qualify for Medi-Cal, but it has asked for the public to comment on whether it should do so.
DHS estimates that the new public charge rule would cause some 5.5 million people nationwide to either disenroll from Medicaid (as the program is known outside of California) or fail to sign up for fear of immigration consequences. (The DHS estimate is based on a percentage of the foreign-born population who sought to legalize their status between 2012 and 2017.) The government would save some $1.5 billion, but DHS also predicts dire health consequences if its proposal takes effect, writing that it would lead to:
•"Worse health outcomes, including increased prevalence of obesity and malnutrition, especially for pregnant or breastfeeding women, infants, or children, and reduced prescription adherence;
• Increased use of emergency rooms and emergent care as a method of primary health care due to delayed treatment;
• Increased prevalence of communicable diseases, including among members of the U.S. citizen population who are not vaccinated;
• Increases in uncompensated care in which a treatment or service is not paid for by an insurer or patient;
• Increased rates of poverty and housing instability; and
• Reduced productivity and educational attainment."
The DHS press office did not respond to an email query or to phone calls asking how it weighed these negative consequences against the potential benefits of the rule change.
The new rule is so stringent that if American citizens were subject to it, one in three would be excluded, Vimo said. It's also so complicated that among its costs to society, DHS listed an opportunity cost of eight to 10 hours for immigration lawyers representing immigrant clients and others who would seek to understand it.
Thus, it's likely that few people have read the fine print, either of the final proposal or of two earlier versions that were leaked to the public last spring.
But fear of applying for benefits is already palpable among immigrant patients at Eisner Health, a network of community health centers that serve low-income patients in Southern California, say staff members. Katie Tell, Eisner's Vice President for Development and Communications, noted that patients sometimes make untenable choices for fear of immigration consequences.
"Do they enroll or play it safe and not get the care they need? If we have less people in Medi-Cal, it could destabilize community clinics," she said.
But Eisner Health staff report that patients are increasingly fearful of applying for benefits. They say that several women who received Medi-Cal to pay for prenatal care and delivery have recently called insisting on reimbursing the clinic out of pocket for their services. Other patients have refused to sign up for Medi-Cal for their children, who are eligible for the program.
Today, health care providers predict similar outcomes, which they say would reverse some of the progress California has made in tightening its health care safety net. The Affordable Care Act included a major Medi-Cal expansion that added nearly four million people to its rolls and cut the uninsured rate in half, from 17 percent to 8.5 percent between 2013 and 2015. Many previously uninsured Californians who, in the past, had used costly emergency services, were able to access more cost-effective primary and preventive care. Clinics like Eisner expanded and increased their services, but Carmela Castellano Garcia, CEO of the California Primary Care Association, says disenrollment from Medi-Cal could mean some clinics would have to cut back on programs.
The Department of Homeland Security is legally required to consider public comments for 60 days in drafting its final rule, however the FCC ignored that requirement last year in scrapping net neutrality rules — claiming that it only considered comments that introduced new facts or made legal arguments. Meanwhile, the Department of Justice has announced its intention to change the way immigration judges apply the public charge rule, in order to align with the DHS proposal.
---
Copyright Capital & Main