Cornerstone Theater Co. Creates a "Fellowship" of Hunger
The Merriam-Webster dictionary defines fellowship in various ways: as companionship, as a community of interest or experience, as a company of equals or friends, among others. These definitions serve as prologue to Julie Marie Myatt's immersive stage play, fellowship

Bahni Turpin as Regina, with ensemble and audience members. (Photo by Brian Biery)
The Merriam-Webster dictionary defines fellowship in various ways: as companionship, as a community of interest or experience, as a company of equals or friends, among others. These definitions serve as prologue to Julie Marie Myatt's immersive stage play, fellowship: a play for volunteers, a Cornerstone Theater Company production, directed by Peter Howard, in which audience members are called on to be volunteers who prepare lunches for the hungry in Los Angeles. As drama, the play is unmemorable, but the way in which the piece makes its point — that point being the responsibility of each of us has to take care of our neighbors — is singular and hits home.
The show plays at various sites throughout L.A. County: I attended a performance at the Pico Union Project, held in an old church, with a high vaulted ceiling and stained-glass windows.
At the opening, we hear the piped-in sounds of Sly and the Family Stone's "Ordinary People," while ensemble members distribute disposable aprons and gloves, the first step to preparing the lunches: turkey and cheese sandwiches, accompanied by fruit, a snack, a bottle of water and, not insignificantly, a note of encouragement to the recipient (written by volunteers) to bolster their self-respect. Everything is done in steps, including decorating the lunch bags with crayons (reminiscent of art period in third grade), the composing of the notes, the sealing of the bags with a cheery sticker. When you participate, you work with other audience members you don't know, and with whom you develop a transient camaraderie as you work to complete a task.
A play about hunger is ongoing while the lunch prep takes place. The performers portray a fictional group of volunteers drawn together by their work, each with a story about food or hunger in their background. Roscoe (Marcenus "M.C." Earl) grew up in a home that opened its doors to feed everyone, however spare the family budget might be. Rachel's (Michelle DeRosa) mom would watch her eat but often, when there wasn't enough food, would tell her daughter that she would "eat later." Regina (Bahni Turpin) recalls staring in amazement at a bowl of fruit on the table of some household more affluent than her own, wondering at the excess that allowed the household's members to let it just sit there. One person, Roy (Matthew Ramos), has never known want; he is volunteering as part of his "community service," and his ignorance about want serves as a foil for the others.
Now and then there's a song to provide inspiration — "Lean on Me," "Move on Up," "Let the Sun Shine In" — and at some point "Hunger" appears in the form of a large puppet with a big silvery head and huge groping hands, and each of the performers interacts with it to some symbolic end.
None of this is likely to impress a seasoned theatergoer, but then again the aim here is not to effect high drama but to make a point about community and respect. If the piece and its execution aren't exactly gripping, the message — represented by newly bagged lunches arrayed atop the tables where we the theatergoers assembled them — comes through loud and clear.
---
Cornerstone Theater; Thurs., 7:30 p.m. (Pico-Union); Fri., 7:30 p.m. (Santa Monica); Sat., 5 p.m. (Pacoima); Sun. 2 p.m. (Watts); through February 12. (800) 578-1335 or cornerstonetheater.org

'Skeleton Crew' Is a Play With a Moral Spine
Set in a Detroit automobile outfitting plant, Dominique Morisseau's drama grabs you from the start with its focus on blue-collar men and women, and their struggle for dignity and self-respect.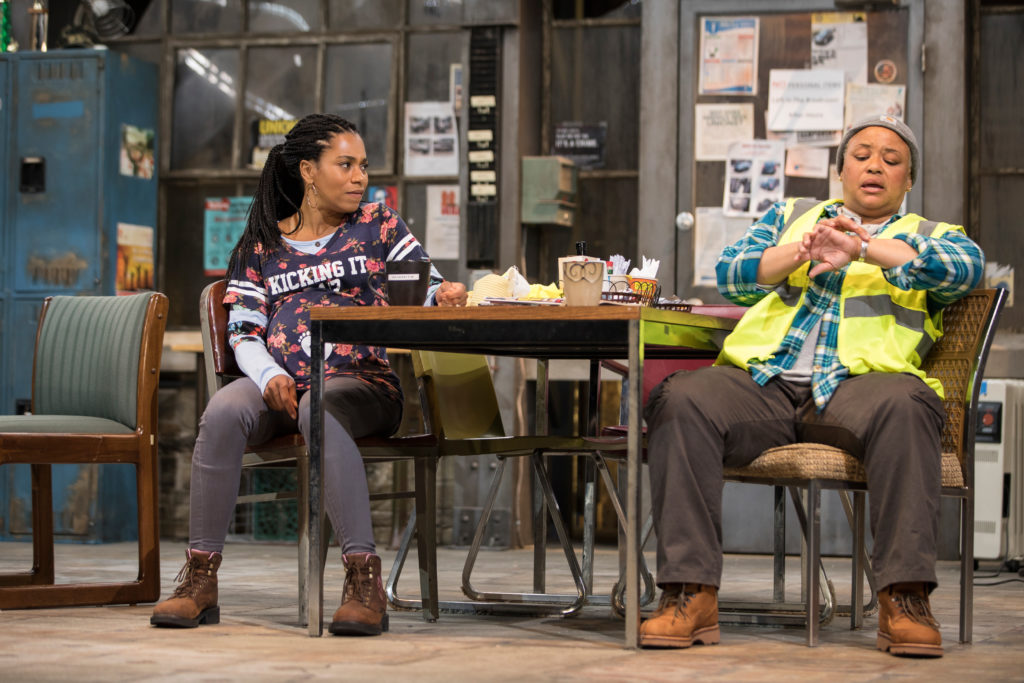 Working-class men and women of color are rarely front and center in today's media and, likewise, are presented all too occasionally on the American stage. So it's buoying to see that trend bucked in playwright Dominique Morisseau's percipient and well-crafted drama, Skeleton Crew. The play is the final installment in her Detroit  Project Trilogy; the first, Paradise Blue, is set in the 1940s amidst displacement caused by urban renewal and gentrification, while the second, Detroit '67, transpires on the eve of the 1967 Detroit riots sparked by a police action.
Directed by Patricia McGregor at Los Angeles' Geffen Playhouse, Skeleton Crew is a play with a moral spine. It takes place in 2008, when the shrinking U.S. auto industry is being further downsized. Morisseau's engaging quartet of characters — Faye (Caroline Stefanie Clay), Dez (Armari Cheatom), Shanita (Kelly McCreary) and Reggie (DB Woodside) – are employed at an automobile outfitting plant. Faye, Dez and Shanita are workers on the line while Reggie (who has a wife and kids, and has pulled himself together after a troubled youth) is their supervisor.
The first three customarily mingle in their break room (designer Rachel Myers' impressively cluttered, dingy and detailed set), trading the sort of familiar barbs and genuine concern for each other common among longtime co-workers. They also face off on philosophy: Upper-middle-aged Faye and the younger, pregnant Shanita take pride in their labor, while Dez, though a good worker, is a malcontent scornful of management and firm in the belief that everyone needs to watch out for himself. He's a thorn in Reggie's side, for while Reggie wants to be supportive of his workers, he must act at the behest of higher management. For his part, Dez resents Reggie's authority, and a palpable unease exists between them.
Besides this male matchup, we're made privy to Dez's attraction to Shanita, who mostly turns away his advances, but every now and then displays a hint of interest. Most poignant is Reggie's regard and affection for the lesbian Faye, which has roots in his boyhood when she loved, and lived, with his now-deceased mom.
These people's various predicaments intensify when rumors spread of the plant's shutdown — a disaster for all, but a particular calamity for the already near-broke Faye who, one year short of retirement, would lose her pension. The crisis forces each of these people to make a choice.
A sound piece of social realism, Skeleton Crew grabs you from the start in its focus on blue-collar men and women, and their struggle against odds for dignity and self-respect. Morisseau not only furnishes these characters a platform for their travails, she endows them with strong values, big hearts and the opportunity to choose between right and wrong.
Unfortunately, the performance I attended did not soar. Many exchanges lacked a fresh edge. The actors certainly had their characters down, but too often they appeared to be coasting on technique. (This seemed particularly true of Clay, who performed the role to great accolades in Washington, DC in 2017, also under McGregor's direction). Additionally, some of the stage movement was not entirely fluid; in confrontations, actors sometimes would just stand and face each other in an artificial way. And Cheatom's interpretation of Dez struck me as a bit overly churlish and depressive: I needed more glimpses of the intelligence and edge that would secretly attract the strong, self-directed Shanita.
The most compelling moments belong to Woodside, well-cast as a man trying his best in difficult circumstances to do the right thing.
---
Gil Cates Theater at the Geffen Playhouse, 10886 Le Conte Ave., Westwood Village; Tues.-Fri., 8 p.m.; Sat., 3 & 8 p.m. Sun., 2 & 7 p.m.; through July 8. (310) 208-5454 or www.geffenplayhouse.org