Contraceptive Mandate: Another Budget Hostage
An ounce of prevention is worth a pound of cure. A stitch in time saves nine. One dollar spent on contraception saves three on pregnancy and newborn care, and that is just the beginning.
Nationally, we spend 11 billion taxpayer dollars a year on unintended pregnancies. But who's counting? Automatic cuts built into the sequester slashed $86 million from family planning and reproductive health care for poor women. But that is not enough for Congressional Republicans, who are trying yet again to roll back the contraceptive mandate. If there ever was an indication that they are more interested in ideology than balanced budgets, this is it.
Research published this fall showed that effective, affordable, accessible contraception dramatically drops the rate of unintended pregnancy and related public health costs. In the study, whose co-author explained that it was essentially designed to mimic what Obamacare would have provided, 9,000 St. Louis youth and women were offered the free contraceptive of their choice, three quarters chose a top-tier, long acting method – a state-of-the-art implant or IUD – and both teen pregnancy and abortion need plummeted. Two years later, the teen pregnancy rate was at six per 1,000 rather than the national average of 34. The abortion rate fell to 80 percent below the national average.
Unintended pregnancies can have broad ripple effects, straining family and community resources. Maternal drinking or poor nutrition in the weeks right before and after conception may increase birth defects, and as a consequence, the Centers for Disease Control (CDC) has launched a pre-conception nutrition campaign encouraging women to prepare before becoming pregnant.
Because of the strong correlation between unplanned pregnancy and poverty, most unplanned births are paid for on the public dime. In 2006, Oregon spent $72 million on births from unintended pregnancies. In Washington State, during fiscal year 2012, Medicaid paid $700 million for prenatal, delivery and infant care. When asked by the state Department of Health, approximately half of the women who received this care said that they would have preferred to get pregnant later or not at all. The State of California saved an estimated $2.2 billion over a five-year period by increasing birth-control access for residents who fell below 200 percent of the federal poverty level. But the public costs don't begin or end at birth.
Even with all of those public dollars flowing in to support moms and kids, the statistics are dismal, especially for teens. Only 40 percent of the girls who give birth between ages 15 and 17 ever graduate high school, compared to 90 percent of their peers. A mere two percent graduate from college by age 30. Their offspring are at higher risk to have mental health problems, health problems and academic problems. Male offspring are more likely to end up in the criminal justice system. Girls are more likely to end up pregnant as teens. We often want to give young people the most supportive, affirming perspective possible – to talk about what is possible rather than what is probable. But the reality is that the cycle of teen pregnancy and poverty stacks the odds against both moms and kids.
New York City is taking heat for what proponents have called a "brutally honest" ad campaign about teen pregnancy. It includes posters that say, "Dad, you'll be paying to support me for the next 20 years." "Honestly mom, chances are he won't stay with you." And "I'm twice as likely not to graduate high school because you had me as a teen." Some teen advocates say the campaign is unnecessarily cruel or stigmatizing. But others, including some with firsthand experience, think that kids are best served by knowing what's real. Here's what one online commenter on an article about the campaign had to say: "Not all teen parents are terrible, mine happened to be great and always used their struggles as an example for us. Teen pregnancy is a vicious cycle. If this ad makes one teen think about the consequences of their actions, then it's worth it."
Some young women choose to get pregnant, but most of the problem is what I call go-with-the-flow childbearing. Half of all pregnancies in the United States are unintended. For unmarried women under 30, that number is 70 percent. For teens, it is over 80 percent. A host of factors can interfere with effective contraception, including fatigue, forgetfulness, finances, domestic conflict, substance abuse and ambivalence. That is why long acting "fit and forget" methods like implants and IUDs are 10 to 50 times more effective than the pill, and why they are recommended by the National Campaign to Prevent Teen Pregnancy. One in 12 women relying on the pill gets pregnant each year. (With condoms, that's one in eight; with no birth control, it's eight in ten.) With an IUD or implant, that rate drops below one in 500.
Teens are particularly unreliable at taking the pill, and are even more vulnerable than older women to barriers including costs and delays. Asking a teen to come back next week or go to another clinic can be one step too many, so public health experts increasingly recommend bringing services to youth via the growing system of school-based health clinics. But this requires that teens have the right to access services. When the state of Texas implemented parental notification requirements for teens seeking contraception and abortions, the teen birth rate went up, second trimester abortions went up, and state budgets took a hit to the tune of $40 million annually. When Texas cut funding for family services in 2011 as a way to kill Planned Parenthood, state budgets took another hit. Health officials projected last year that the $73 million in cuts would produce 24,000 additional unplanned births, costing the taxpayers $273 million. Now Texas Republicans are quietly proposing to restore the funding.
In Washington State, the Supreme Court ruled that the state has failed in its duty to fund education, which has put other programs, possibly including contraception, on the chopping block. Should this happen, we know the consequences. Unintended pregnancies disproportionately increase the need for special services in education, and they lower graduation rates. In King County, home of Seattle, approximately 300 babies are born each year to girls between the ages of 15 and 17. That's enough to fill an entire grade school when those kids hit kindergarten. It doesn't have to be this way. As the St. Louis lesson teaches, we now have the technology and tools to make most unintended pregnancy, teen pregnancy and abortion-need things of the past.
Cutting family planning is not conservative – not from the standpoint of conserving funding, nor from the standpoint of taking a precautionary approach to public health, nor from the standpoint of listening to the wisdom of our ancestors. Foresight is a hallmark of intelligence. It is also the virtue that our grandparents extolled when they quoted those old sayings – a pound of prevention, a stitch in time. Winston Churchill put it thus: "Want of foresight, unwillingness to act when action would be simple and effective, lack of clear thinking, confusion of counsel … until the emergency comes, until self-preservation strikes its jarring gong, these are the features which constitute the endless repetition of history."
In the Bible, the book of Proverbs opens with these words: "The proverbs of Solomon, David's son who was king of Israel, given to grasp wisdom and discipline, to understand deep thoughts, to acquire the discipline of wise behavior – righteousness and justice and fairness – to give insight to gullible people, to give knowledge and foresight to the young." Any parenting book will tell you that the best way to teach plan-fulness or foresight to young people is to model it. Someone should tell Congress.
(Valerie Tarico is a psychologist and the founder of WisdomCommons.org. Her post first appeared on Truthout and is republished with permission.)

Rick Scott Invested in the Same Financial Firms As Florida's Pension System
Co-published by MapLight
For most of his time in office, Florida's governor has shielded his investments from public view. A new disclosure shows Rick Scott and his wife have invested at least $18 million in financial firms managing money for the state's pension system that he oversees.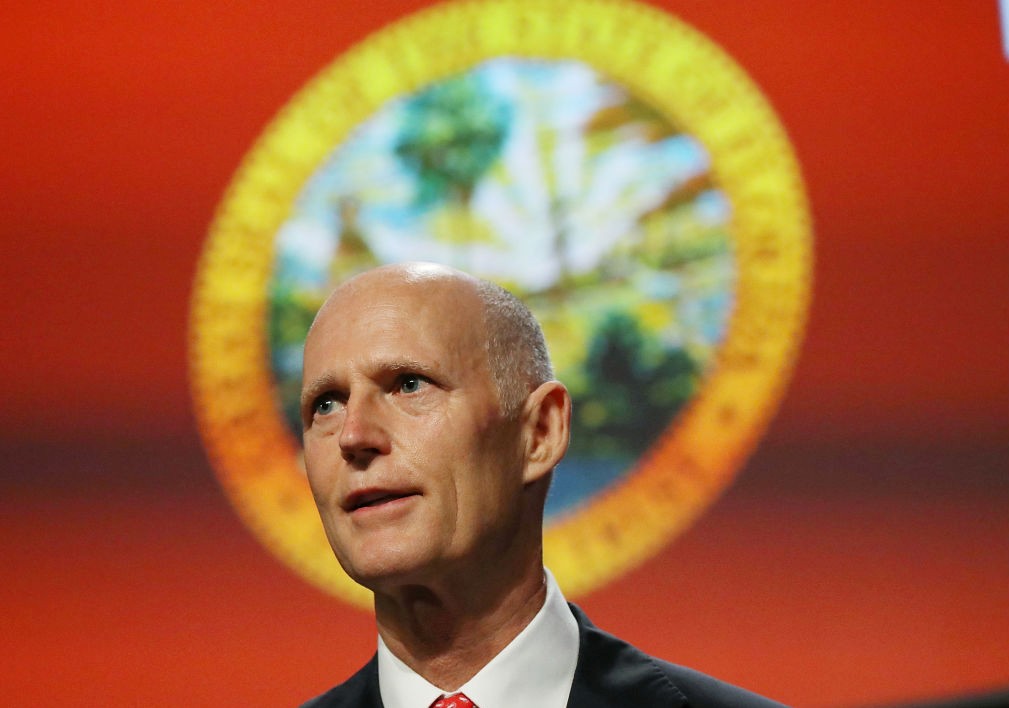 ---
Former SEC Lawyer: "There needs to be an investigation into whether the state is subsidizing Rick Scott's personal returns."
---
Co-published by MapLight
Florida Gov. Rick Scott and his wife have invested at least $18 million in three financial firms managing money for the state's pension system that Scott oversees — a situation that intertwines the governor's personal finances with his responsibility for supervising state employees' retirement savings.
The investments were first divulged in a federal financial disclosure form that Scott filed as part of his U.S. Senate campaign in July. For most of his time in office, Scott has shielded his investments from public view, and only reported their overall value in his blind trust.
The terms of Scott's investments remain undisclosed. The firms' own corporate documents say they can give certain investors special preferences not afforded to other investors — and experts have in recent years argued that hedge funds, private equity firms, and other "alternative investments" are giving such preferences to elite investors. One former Securities and Exchange Commission attorney told MapLight and Capital & Main that Scott must disclose whether he is being given such preferences.
---
Critics have raised questions about how blind the Scott family trusts really are.
---
Florida ethics laws are supposed to prohibit state officials from entering into contractual relationships with companies that do business with their agencies. However, after Scott became governor in 2011, state ethics officials said he and his family members could put their assets into a blind trust to avoid conflicts of interest and still maintain their investments in companies operating in Florida.
Critics have raised questions about how blind the Scott family trusts really are. Scott placed one of his longtime business associates in charge of managing his blind trust. The Tampa Bay Times reported that Scott's blind trust has invested with a private equity firm tied to a high-speed rail project in Florida. The trust also had an indirect interest in a cancer treatment company that received tax breaks from Scott's administration.
---
"The question is whether Rick Scott is being allowed to invest on better terms than the state pension fund."
---
"When Governor Scott was elected, he put all of his assets in a blind trust, which is managed by an independent financial professional who decides what assets are bought, sold or changed," said Scott campaign spokesperson Lauren Schenone. "The rules of the blind trust prevent any specific assets or the value of those assets within the trust from being disclosed to the governor, and those requirements have always been followed."
Scott is one of three state officials who serve as trustees for the Florida State Board of Administration, which manages a $160 billion fund for roughly 400,000 retirees. Scott, Attorney General Pam Bondi, and Chief Financial Officer Jimmy Patronis oversee lucrative state investment deals granted to cash-hungry Wall Street firms.
The three firms that have received $325 million worth of Florida pension investments have allowed the Scott family's blind trusts to simultaneously invest their personal fortunes in these funds. Scott's investments in the funds did not appear in a 2014 disclosure itemizing his holdings. His campaign did not say when the investments were made.
"There are no ethics rules that prohibit or limit a trustee from investing in funds also invested in by the SBA," said SBA spokesperson John Kuczwanski, though he added that trustees are subject to Florida's general code of ethics. Kuczwanski said that the governor has no involvement in specific pension investment decisions.
Don Hinkle, a Democratic lawyer, filed a lawsuit last year alleging that the governor has failed to comply with the state's blind trust and financial disclosure laws. He said he was surprised by the news that Scott had invested in the same firms as the Florida pension system.
"I would think that he would have avoided investments where the state of Florida's money is propping his up," Hinkle told MapLight and Capital & Main.
In 2011, a few months after Scott became governor, the SBA committed $150 million to Highline Capital Partners, a New York-based hedge fund. Scott's financial disclosure shows that his family's trusts have invested at least $4 million in the same Highline fund as the state.
The SBA also committed $100 million in 2015 to a hedge fund managed by Canyon Capital Advisors, a Los Angeles-based firm created by veterans of the notorious investment bank Drexel Burnham Lambert, which was driven into bankruptcy as a result of illegal and unethical trading practices. Scott and his family have invested at least $12 million in Canyon funds, according to his financial disclosure.
Before Scott became governor, the SBA invested $75 million with VSS, a New York-based private equity firm that was launched by a co-founder of Psychology Today. Scott and his wife, Ann, have invested more than $2.2 million in another VSS fund. A spokesperson for VSS said the firm doesn't comment on its investors.
All three firms' SEC filings say they can offer certain investors special fee terms or other benefits not offered to other investors.
"Alternative investment funds have the ability to offer every investor different fees at a different rate of return, so the question is whether Rick Scott is being allowed to invest on better terms than the state pension fund," said former SEC attorney Edward Siedle, whose Florida-based firm conducts forensic investigations of state pension systems.
"If you give one investor an advantage, another investor has to be disadvantaged," Siedle said. "That means there needs to be an investigation into whether the state is actually subsidizing Rick Scott's personal returns and whether the governor enjoys advantages that are harming the retirees."
Schenone, Scott's spokesperson, said that his blind trust has "been upheld multiple times by the State Commission on Ethics and the court system. Governor Scott has also followed the requirements of all state and federal financial filings."
She noted that former Florida Republican Gov. Jeb Bush and Scott's 2010 Democratic opponent Alex Sink had also used blind trusts, although Scott's campaign attacked Sink for hers at the time.
"Blind trusts sound good but can run afoul of state laws requiring public officials to disclose their personal finances," a Scott campaign ad said in 2010. "[But] simply moving large amounts of money into a blind trust does not magically erase the knowledge of what you own."
---
This piece was reported by Andrew Perez of MapLight and David Sirota of Capital & Main, and published in partnership with the Florida Center for Investigative Reporting.