Classic Koch: How Prop. 32 Could Enrich Two Billionaires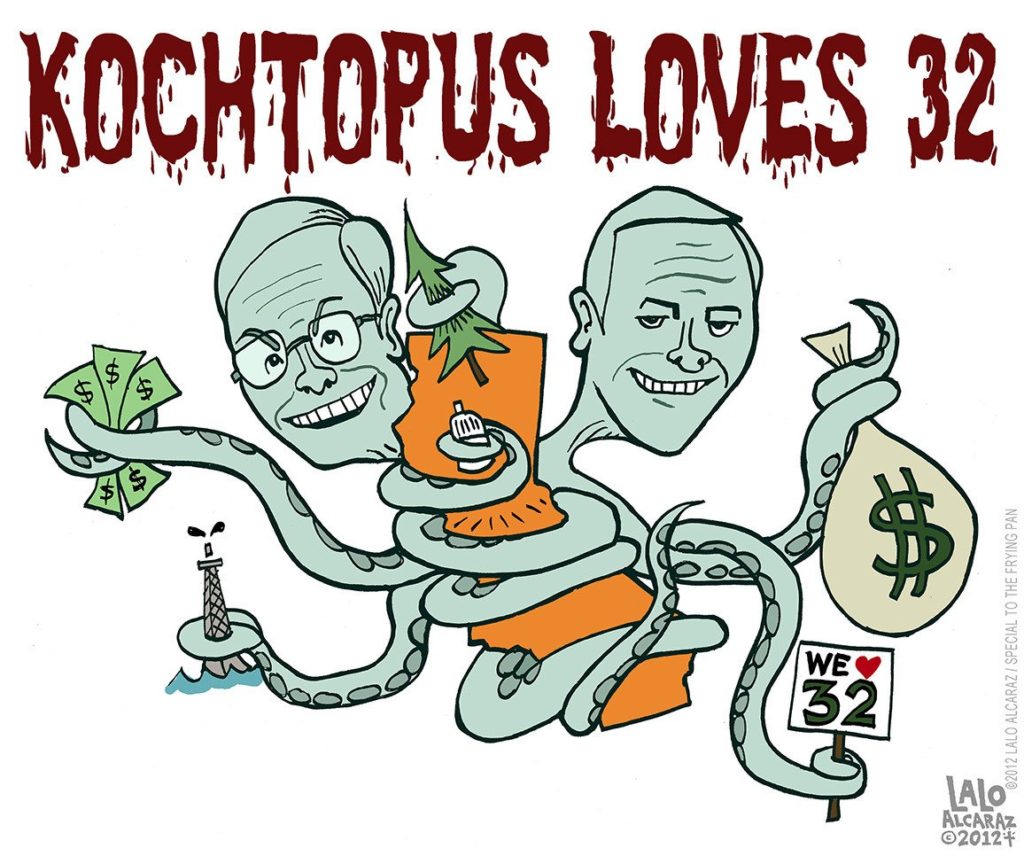 (Note: This feature first appeared September 21, 2012.)
On September 14 the Web exploded with news that billionaire industrialists Charles and David Koch had donated $4 million in support of Proposition 32. A San Francisco Chronicle editorial noting the donation labeled the brothers "conservative ideologues" – a moniker often applied to the Kochs. This description, however, gives the Kochs far too much credit for their supposed philosophical purity—particularly as it relates to the Prop. 32 battle.
Despite their reputations as libertarian true believers, the Koch brothers are nothing if not practical businessmen, who have no trouble taking advantage of government subsidies when it bolsters their bottom line. (Koch Industries, for instance, was for years heavily invested in the $6 billion, federally subsidized ethanol industry.) That bottom line runs up and down the state of California, where Koch Industries has hundreds of millions of dollars invested through its subsidiary Georgia-Pacific—a gypsum, pulp paper product and packaging company that operates 11 facilities in California with more than 1,100 employees and $190 million in annual payroll and benefit expenses.
Other Koch subsidiaries, such as Flint Hills Resources—a petrochemical company–stand to make a killing should California reverse its strict carbon emission standards. Koch Industries has an array of powerful lobbyists working for its interests in Sacramento and a nearly decade-long history of major donations to California politicians in support of the Kochs' business agenda. The brothers' latest crusade, to pass Prop. 32 and reduce the political voice of unions in California, stands to vastly increase their personal fortunes—at the expense of the rest of us.
For years prior to becoming the piggybank of the conservative movement, Koch Industries quietly channeled money to various California lawmakers through its Georgia-Pacific subsidiary.
In February of 2005, then-California Assemblyman Greg Aghazarian introduced legislation to put a one-year statute of limitations during which people suffering disabilities resulting from asbestos exposure could sue manufacturers. Georgia-Pacific—which for decades used asbestos in its wallboard products–lobbied on the bill's behalf and subsequently donated to Aghazarian's reelection campaign in December of 2005, shortly after the Koch's took control of the company. Georgia-Pacific continued to lobby for the bill throughout 2006, until it was ultimately shelved.
Between 2009 and 2010, Georgia-Pacific funneled donations of $1,000 or more to the campaigns of 25 different California state Senators and Assembly members—including the Howard Jarvis-approved Senator Sam Blakeslee, offshore oil drilling advocate Assemblyman Martin Garrick, and Assemblywoman Diane Harkey, whose environmental voting record looks like John Galt's Christmas list.
The company retains the services of the powerful lobbying firm McHugh, Koepke & Associates. The firm spent much of the past few years attempting to gut provisions of California's Green Chemistry Initiative–a 2008 law protecting California citizens from exposure to toxic industrial chemicals–on behalf of an Orwellian-named consortium of chemical companies (including Georgia-Pacific) called the Green Chemistry Alliance.
"Frankly, the Green Chemistry Initiative is pretty sensible," California Sierra Club Director Kathryn Phillips, who helped lobby for the bill, tells Frying Pan News. "It's important, but it's not a radical departure. It's going to be slowly implemented. It's using a scientifically established lists of toxic chemicals. It's not pulling new chemicals in. But now that the regulations are on the verge of being adopted they're pick, pick, picking away at it."
Georgia-Pacific, incidentally, is registered with the California Secretary of State's office as a limited liability company (LLC). This means none of its political activity will be hampered by Prop. 32's proposed restrictions should the measure pass, as it only "[p]rohibits unions and corporations from contributing directly or indirectly to candidates and candidate-controlled committees." An LLC is not considered a corporation nor, certainly, a union.
The Kochs' most conspicuous foray into California politics—prior to their Prop. 32 support –came in 2010, when the Koch Industries subsidiary Flint Hills Resources donated $1 million to support Proposition 23. Had voters ratified it, Prop. 23 would have overturned California's landmark climate change prevention statute, AB 32. Flint Hills didn't chip in out of climate change denial. The company has a substantial investment in Canadian tar sands oil, whose extraction and consumption creates a Sasquatch-sized carbon footprint. Robust clean emissions standards, Koch Industries complained on its website, "would cripple refiners that rely on heavy crude feedstocks."
In addition to their attempts to cripple the state's environmental laws, the Kochs seem to have a keen interest in opening up California's waters to new offshore drilling. The Koch-backed American Future Fund, which supplied the recent $4 million lump-sum to Prop. 32, is a vociferous "drill, baby, drill" backer. In 2008, the group went after Colorado Congressman Mark Udall in a series of ads for supposedly "blocking American energy" by refusing to support opening up protected waters for oil exploration. The pressure appeared to get to Udall, as he ultimately switched his position.
In August of 2008, the Koch-backed FreedomWorks organization also helped fund such pro-drilling, proto-Tea Party outfits as the Sam Adams Alliance and DontGo Movement. The combined Astroturf efforts of these groups helped convince the U.S. House and Senate to lift longstanding federal restrictions on new offshore oil and gas drilling.
Had the British Petroleum spill in the Gulf of Mexico not occurred in 2010, forcing Governor Arnold Schwarzenegger (a major recipient of Georgia-Pacific campaign contributions) to rescind his efforts to open up California waters to new oil exploration, there's a good chance the Koch's national efforts would have been successful here too.
Now, with lessons of the BP spill two years in hindsight, the idea of offshore drilling in California has resurfaced. Koch Industries recently donated $5,000 to the Congressional campaign of Santa Barbara Republican Tony Strickland—who, in various campaigns over the years, has routinely advocated opening up waters off the coast of California to drilling.
Though they don't yet appear to have their feet in the door financially, there's no reason to suspect that, with their army of lobbyists at the ready and history of campaign contributions in the state, the Kochs couldn't maneuver to profit off of California's offshore oil.
It certainly wouldn't be the first time Koch Industries took advantage of California's public resources.
Georgia-Pacific, for instance, leases public land along the San Joaquin River in Northern California. In 2011, it was discovered that, for years, the understaffed California State Lands Commission failed to monitor and appropriately raise rents on Georgia-Pacific's lease as well as other public properties under their watch. This error cost taxpayers a cool $8 million. Such are the benefits of small government.
Georgia-Pacific has also taken advantage of taxpayer-funded worker training subsidies provided by California's Employment Training Panel. Between December of 2005 and December of 2007, Georgia-Pacific received $680,394 in taxpayer subsidies under the ETP program. One could attempt to explain these subsidies as the legacy of the previous owners–the Kochs bought the company for $13 billion in 2005. But in 2009, Georgia-Pacific went back to the taxpayer well, requesting $25,200 to train workers at its San Leandro gypsum paper mill and Antioch wallboard plant.
The Koch brothers are no weekend fishermen when it comes to reeling in legislators and government officials. They are the moneyed heads of a sophisticated and organized political machine that serves to back one thing and one thing only—their profits. Since 2010, the brothers have reportedly sank anywhere from $2.5 to $20 million into developing an advanced conservative voter database called Themis—which, by many press accounts, was crucial in defeating the effort to recall Wisconsin's Governor Scott Walker.
"Our geo-targeting looks at everything from voting data to Census data to consumer-purchasing information," Americans for Prosperity President Tim Phillips told USA Today of Themis last month. "We know their magazine subscriptions. In some cases, we know the websites they prefer to surf."
This level of detail will help the Kochs maximize efficiency in rallying conservative support for any conceivable California initiative—distinguishing Christian values voters from small-government libertarians and plastering them with targeted political marketing in the blink of an eye.
The Kochs' massive donation to the Prop. 32 cause was not a principled ideological stand. It was an investment – an extended warranty on their California possessions. It was also a signal that there is money to be made in California, both from its natural resources and from its taxpayers. Should Prop. 32 pass and smother the political voice of a key anti-corporate foe to the Koch agenda, the Kochs and their political influence machine should have little trouble recouping those funds–and then some.
Seen this way, $4 million is a drop in the bucket.
Can Airbnb Be Regulated?
Co-published by Fast Company
As cities struggle to rein in the short-term rental service, a detente in San Francisco may show the way.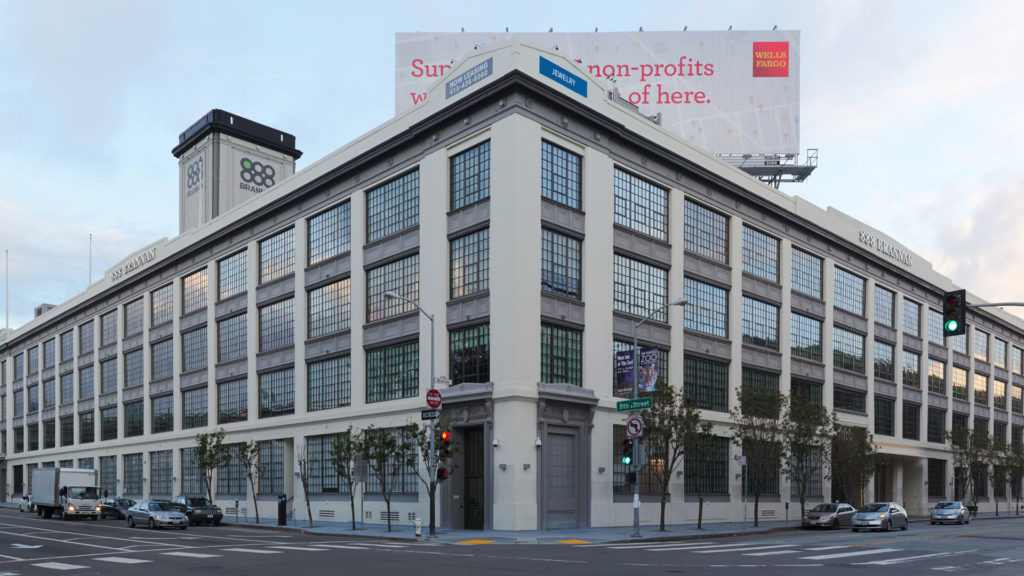 Co-published by Fast Company

From Barcelona to Santa Monica, cities alarmed by the proliferation of short-term rental homes have attempted to rein in Airbnb and its competitors with regulations. They have taxed them. They have limited them to certain neighborhoods or building types. They have banned them altogether. In December, after three years of debate, Los Angeles capped the number of days hosts could rent out their homes at 120.
But do these rules work? One test of the effectiveness of cities' regulatory efforts is their impact on Airbnb's growth. Two years ago, UBS, the Swiss investment bank, analyzed data from 127 cities and attributed slowing growth in listings at Airbnb to the emergence of local regulations. A November survey of travelers by Morgan Stanley lists their concerns about home sharing's legality as one of several factors explaining the company's plateauing growth. That said, Airbnb, which has a $30 billion valuation and is planning an initial public offering as early as this year, is still experiencing user growth in the double digits.
---
There are myriad ways for Airbnb hosts to elude cities' regulatory efforts.
---
The success of cities that have been able to regulate tech-enabled tourism owes to the powerful coalitions that have mobilized to challenge these data-driven platforms and to the fact that they are beginning to fight with their own digital weaponry.
One major challenge is simply finding and monitoring illegal rentals. Traditional code enforcement methods — door knocking and taking photos — have been supplanted with "web scrapes" and other high-tech approaches. Without these tools, "it's like bringing a knife to gun fight," says Ulrik Binzer, a former Airbnb host from Marin County who now runs San Francisco-based Host Compliance, a company that helps cities develop and enforce short-term rental regulation. "There are just too many of them."
In addition, a "city has to be able to go to a platform that ignores its law and hold it accountable," says Dale Carson, a hotel industry lobbyist and co-founder of Share Better San Francisco, a coalition of sometime adversaries — tenants, apartment owners, hotels and hotel workers — who advocate for regulations of the behemoth Airbnb and other home-sharing platforms. (Disclosure: Share Better New York is a financial supporter of this website.)
In a landmark 2016 case, a U.S. District Court upheld San Francisco's ability to hold Airbnb liable when hosts operate illegal rentals. Airbnb can now face fines if it charges a booking fee for units that are not legally registered with the city.
---
San Francisco shed about half of its short-term rental listings after its rules were updated in 2017.
---
But there are still myriad ways for hosts to elude cities' regulatory efforts, including setting up fake host names and shell companies, or registering on multiple platforms. The hardest violators to root out, according to some researchers, are hosts who run de facto hotels and take permanent housing off the market. "The biggest problem are the commercial short-term rentals" since "the risk might be worth it to stay operating," says Shirley Nieuwland, a doctoral candidate at Erasmus University in the Netherlands who co-authored a study on cities' attempts to regulate Airbnb.
*   *   *
San Francisco has been held up as a regulatory success story, in part because it shed about half of its short-term rental listings after its rules were updated in 2017.
City Attorney Dennis Herrera notably secured $2.25 million in penalties from property owners Darren and Valerie Lee, who, after being caught once in 2014, returned to illegally renting out 14 other apartments on Airbnb until being caught again last year. (Only permanent San Francisco residents may let their homes as a short-term rental — and for not more than 90 days in a year.)
More tellingly, what was once an adversarial relationship characterized by battles at the ballot box and legal sparring between the city and Airbnb is now a cooperative one. "I think we have a system in place that is very effective," says Kevin Guy, director of San Francisco's Office of Short-Term Rental. "We have a regular cadence of email communications back and forth" between the various platforms and the city.
Airbnb spokesman Christopher Nulty says that regulations help bring stability to the platform. "We think that to be regulated is to be recognized," says Nulty. Over the last five years, Airbnb has worked with "hundreds and hundreds of governments globally" to establish tax and regulatory partnerships, he adds.
Dale Carson credits a legal settlement between San Francisco and Airbnb for the new spirit of cooperation — after Airbnb and its competitor HomeAway/VRBO challenged a 2016 law requiring hosts to register with the city.
Even after the enforcement battles, Airbnb officials are sanguine about its prospects in its hometown. Revenue from bookings in the city have remained steady since the tougher enforcement regime was put in place. Meanwhile, the company has seen a 44 percent annual growth in guest arrivals in the five counties surrounding San Francisco. But what has watchdogs on alert is the sizable growth in listings of units that can rent for 30 days or more, according to the San Francisco Chronicle. Unlike other short-term rental hosts, the owners of such units are not required to be permanent residents.
And a study by McGill University researchers raises questions about the law's effectiveness, claiming it merely purged Airbnb of hosts who rarely rented their homes and had "relatively little impact" on those hosts renting out multiple units or a single home with great frequency. "This suggests that few if any Airbnb listings in San Francisco have been returned to the long-term rental market," according to the report, which was published in January.
*   *   *
Meanwhile, New York City remains a legal battleground for Airbnb. Typical New Yorkers saw their rents rise by $384 in a three-year period – and by more than $700 in some Manhattan neighborhoods, according to another McGill University study, published last year. While San Francisco allows its residents to rent their homes for months at a time when they leave town, New York City's stricter law bans short-term rentals in most buildings unless the home sharer is present.
---
Data activist: "Airbnb is constantly suing cities or threatening to sue them."
---
That has not stopped short-term rentals in Airbnb's largest domestic market from proliferating. Last month, the New York Times recounted an elaborate scheme undertaken by local real estate brokers who allegedly raked in more than $20 million from thousands of illegal rentals.
There were more than 56,000 active daily Airbnb listings in New York City last year, according to the 2019 McGill University study, which also estimated that 68 percent of host revenue came from illegal reservations.
Airbnb has fought back hard against the city's tough regulatory regime. After New York passed a law that required platforms to provide regulators with hosts' names and addresses, Airbnb sued, arguing the city had violated Fourth Amendment protections from unreasonable search and seizure. In January, a U.S. District Court judge in Manhattan placed an injunction on the law. The city has since subpoenaed Airbnb for data on 20,000 listings that regulators believe may be in violation of local laws.
"Airbnb is constantly suing cities or threatening to sue them, and so there's a lot of hesitancy from cities" to regulate them, said Murray Cox, a New York-based data activist who runs a website called Inside Airbnb.
Airbnb's Nulty counters that the number of lawsuits that Airbnb has brought is small relative to the 88,000 cities where the platform operates, and objects to New York's desire to have "unfettered access" to host data "without due process."
At least one host is not impressed by cities' regulatory efforts. Gene Dexter owns seven short-term rental properties in Thailand and in cities across the U.S., from Los Angeles to New Orleans, and manages rentals for clients. He takes great pride in carefully designing each of his units with items from his travels. He said that tougher regulations in a city would not be a major factor in his deciding where to operate. "They are kind of a cool challenge for me," says Dexter. "With the tech, I could easily play the game to the point where — catch me if you can."
---
Copyright Capital & Main