Chicago Gets Rolling Toward Good American Jobs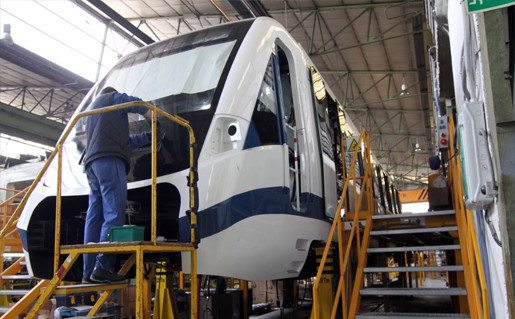 Chi-Town, the Windy City, Chicagoland – whatever you want to call it, the city just made a bold move to encourage good American jobs. On October 18, the Chicago Transit Authority (CTA) for the first time asked companies vying for a $2 billion contract to manufacture 854 rapid transit cars to disclose their plans to create American jobs and opportunities for American workers. CTA's addendum to its Invitation for Bids encourages companies to develop comprehensive American jobs plans and follow through to create them if awarded the contract – a move that could create as many as 20,000 good American manufacturing and related jobs, according to University of Massachusetts, Amherst economists.
Jorge Ramirez, President of the Chicago Federation of Labor celebrated the decision, saying, "We applaud Mayor Emanuel and the CTA for taking a lead role in bolstering Chicago's economy and creating jobs. We urge manufacturers to work in partnership with the CTA to create quality manufacturing jobs here in Chicago and around the U.S."
CTA's adoption of the Jobs to Move America framework demonstrates the growing muscle of the coalition of community, labor, environmental, philanthropic and academic groups, and small businesses, which called publicly on Mayor Rahm Emmanuel and CTA President Forrest Claypool to amplify the $2 billion taxpayer dollar investment in rail cars to create good jobs and opportunities for unemployed workers. CTA's amendment implements the Jobs to Move America coalition's vision of "not only improving Chicago's rails, but also putting thousands of Americans to work… [including] folks who've been locked out of the old economy, like people of color and women."
CTA's move comes not a moment too soon for Chicago working families in dire need of jobs. Illinois' unemployment rate is the second highest in the country at 9.2 percent, and the unemployment rate for Illinois African American workers is nearly double, at 17.6 percent. The state's once-mighty manufacturing sector has declined by 20 percent over the last decade.
The question now is whether manufacturing companies will get rolling to solve this problem, developing robust plans to create and sustain good American jobs, locate factories in the U.S., and recruit and train disadvantaged workers such as veterans, single parents and residents of low-income communities. Given what I wrote last week about certain manufacturing companies' hostile response to the Jobs to Move America plan, the Jobs to Move America coalition and CTA will likely need to hold companies accountable for using the $2 billion public funds responsibly. As Madeline Janis, National Policy Director of LAANE (Los Angeles Alliance for a New Economy) , says, "If manufacturers step up, this could be a big opportunity to create jobs for low-income communities and communities of color, while upgrading Chicago's transit networks with new, efficient, American-made rail cars."
Naomi Davis, a fellow at Green for All and founder of BIG: Blacks in Green concurred, saying, "Community activists and city officials must now work closely together to ensure that CTA's intentions result in real jobs and opportunities for Chicagoans. We're ready to roll up our sleeves and collaborate."
Kudos to Chi-Town for taking the first step towards Jobs to Move America!