César Chávez Home Becomes a National Monument
President Obama this week designated the home and burial site of the legendary United Farm Workers (UFW) leader, César Chávez, a national monument. Known as La Paz, short for Nuestra Señora Reina de la Paz, or Our Lady Queen of Peace, the site is in Keene, California
AFL-CIO President Richard Trumka says the designation is a
fitting tribute for a man whose campaign for civil rights and respect for workers struggling in the shadows broke new ground and left an indelible mark on the pages of American history. The farm worker movement that Chávez is most often associated with was never deterred by their lack of money or clout. These workers knew that together they could form a mighty force for justice. Their collective action through the United Farm Workers brought national support to the moral cause and won historic victories and protections for agricultural workers.
UFW President Arturo S. Rodriguez says even though Chávez dedicated his life to the farm workers,
His legacy, reflected at La Paz where he spent his last quarter century, transcended farm labor and even Latinos because it became a universal message of hope, empowerment and social justice.
Chávez's fight for justice is still relevant today, says Trumka:
Far too many workers struggle for basic dignities and rights on the job, and anti-immigrant hysteria runs high. The AFL-CIO remains deeply committed to continuing the fight for dignity, decent pay, good benefits and a secure retirement for all of America's working families.
Many of the farm worker movement's most significant milestones of the 1970s and beyond and were born, planned and coordinated at La Paz, says the UFW in a statement. Among them were major field strikes and national boycotts, landmark political campaigns in California and Arizona and strategy sessions leading to enactment of California's historic 1975 Agricultural Labor Relations Act, still the nation's only law establishing the right of farm workers to organize.
In addition to where César Chávez and many others in the movement engaged in their life's work, La Paz also offered a respite from bitter struggles in agricultural valleys and big cities. It is where Chávez returned to recharge his batteries, celebrate victories, mourn losses, forge new ideas, strategize and plan the next campaign; and where he helped the union endure and modernize; and watch his children and the children of other movement volunteers grow over the 1970s, '80s and '90s. Chavez asked to be buried at La Paz, which remains an enduring testament to the strength of his association with the property.
Mike Hall is a former West Virginia newspaper reporter, staff writer for the United Mine Workers Journal and managing editor of the Seafarers Log. His post first appeared on Labor's Edge and is republished here with permission.

'Skeleton Crew' Is a Play With a Moral Spine
Set in a Detroit automobile outfitting plant, Dominique Morisseau's drama grabs you from the start with its focus on blue-collar men and women, and their struggle for dignity and self-respect.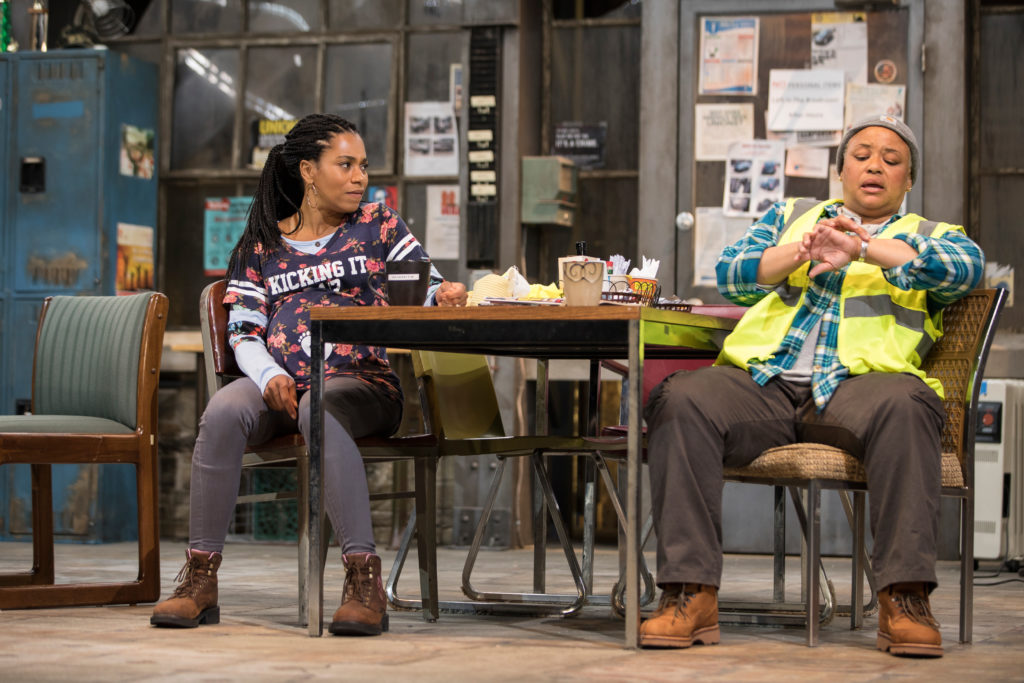 Working-class men and women of color are rarely front and center in today's media and, likewise, are presented all too occasionally on the American stage. So it's buoying to see that trend bucked in playwright Dominique Morisseau's percipient and well-crafted drama, Skeleton Crew. The play is the final installment in her Detroit  Project Trilogy; the first, Paradise Blue, is set in the 1940s amidst displacement caused by urban renewal and gentrification, while the second, Detroit '67, transpires on the eve of the 1967 Detroit riots sparked by a police action.
Directed by Patricia McGregor at Los Angeles' Geffen Playhouse, Skeleton Crew is a play with a moral spine. It takes place in 2008, when the shrinking U.S. auto industry is being further downsized. Morisseau's engaging quartet of characters — Faye (Caroline Stefanie Clay), Dez (Armari Cheatom), Shanita (Kelly McCreary) and Reggie (DB Woodside) – are employed at an automobile outfitting plant. Faye, Dez and Shanita are workers on the line while Reggie (who has a wife and kids, and has pulled himself together after a troubled youth) is their supervisor.
The first three customarily mingle in their break room (designer Rachel Myers' impressively cluttered, dingy and detailed set), trading the sort of familiar barbs and genuine concern for each other common among longtime co-workers. They also face off on philosophy: Upper-middle-aged Faye and the younger, pregnant Shanita take pride in their labor, while Dez, though a good worker, is a malcontent scornful of management and firm in the belief that everyone needs to watch out for himself. He's a thorn in Reggie's side, for while Reggie wants to be supportive of his workers, he must act at the behest of higher management. For his part, Dez resents Reggie's authority, and a palpable unease exists between them.
Besides this male matchup, we're made privy to Dez's attraction to Shanita, who mostly turns away his advances, but every now and then displays a hint of interest. Most poignant is Reggie's regard and affection for the lesbian Faye, which has roots in his boyhood when she loved, and lived, with his now-deceased mom.
These people's various predicaments intensify when rumors spread of the plant's shutdown — a disaster for all, but a particular calamity for the already near-broke Faye who, one year short of retirement, would lose her pension. The crisis forces each of these people to make a choice.
A sound piece of social realism, Skeleton Crew grabs you from the start in its focus on blue-collar men and women, and their struggle against odds for dignity and self-respect. Morisseau not only furnishes these characters a platform for their travails, she endows them with strong values, big hearts and the opportunity to choose between right and wrong.
Unfortunately, the performance I attended did not soar. Many exchanges lacked a fresh edge. The actors certainly had their characters down, but too often they appeared to be coasting on technique. (This seemed particularly true of Clay, who performed the role to great accolades in Washington, DC in 2017, also under McGregor's direction). Additionally, some of the stage movement was not entirely fluid; in confrontations, actors sometimes would just stand and face each other in an artificial way. And Cheatom's interpretation of Dez struck me as a bit overly churlish and depressive: I needed more glimpses of the intelligence and edge that would secretly attract the strong, self-directed Shanita.
The most compelling moments belong to Woodside, well-cast as a man trying his best in difficult circumstances to do the right thing.
---
Gil Cates Theater at the Geffen Playhouse, 10886 Le Conte Ave., Westwood Village; Tues.-Fri., 8 p.m.; Sat., 3 & 8 p.m. Sun., 2 & 7 p.m.; through July 8. (310) 208-5454 or www.geffenplayhouse.org