César Chávez Home Becomes a National Monument
President Obama this week designated the home and burial site of the legendary United Farm Workers (UFW) leader, César Chávez, a national monument. Known as La Paz, short for Nuestra Señora Reina de la Paz, or Our Lady Queen of Peace, the site is in Keene, California
AFL-CIO President Richard Trumka says the designation is a
fitting tribute for a man whose campaign for civil rights and respect for workers struggling in the shadows broke new ground and left an indelible mark on the pages of American history. The farm worker movement that Chávez is most often associated with was never deterred by their lack of money or clout. These workers knew that together they could form a mighty force for justice. Their collective action through the United Farm Workers brought national support to the moral cause and won historic victories and protections for agricultural workers.
UFW President Arturo S. Rodriguez says even though Chávez dedicated his life to the farm workers,
His legacy, reflected at La Paz where he spent his last quarter century, transcended farm labor and even Latinos because it became a universal message of hope, empowerment and social justice.
Chávez's fight for justice is still relevant today, says Trumka:
Far too many workers struggle for basic dignities and rights on the job, and anti-immigrant hysteria runs high. The AFL-CIO remains deeply committed to continuing the fight for dignity, decent pay, good benefits and a secure retirement for all of America's working families.
Many of the farm worker movement's most significant milestones of the 1970s and beyond and were born, planned and coordinated at La Paz, says the UFW in a statement. Among them were major field strikes and national boycotts, landmark political campaigns in California and Arizona and strategy sessions leading to enactment of California's historic 1975 Agricultural Labor Relations Act, still the nation's only law establishing the right of farm workers to organize.
In addition to where César Chávez and many others in the movement engaged in their life's work, La Paz also offered a respite from bitter struggles in agricultural valleys and big cities. It is where Chávez returned to recharge his batteries, celebrate victories, mourn losses, forge new ideas, strategize and plan the next campaign; and where he helped the union endure and modernize; and watch his children and the children of other movement volunteers grow over the 1970s, '80s and '90s. Chavez asked to be buried at La Paz, which remains an enduring testament to the strength of his association with the property.
Mike Hall is a former West Virginia newspaper reporter, staff writer for the United Mine Workers Journal and managing editor of the Seafarers Log. His post first appeared on Labor's Edge and is republished here with permission.

Blindfolds: Iranian Hostage Drama Offers Few Surprises
One of the play's weaknesses is the surfeit of soap-operatic family exchanges that spill into melodramatic shouting matches.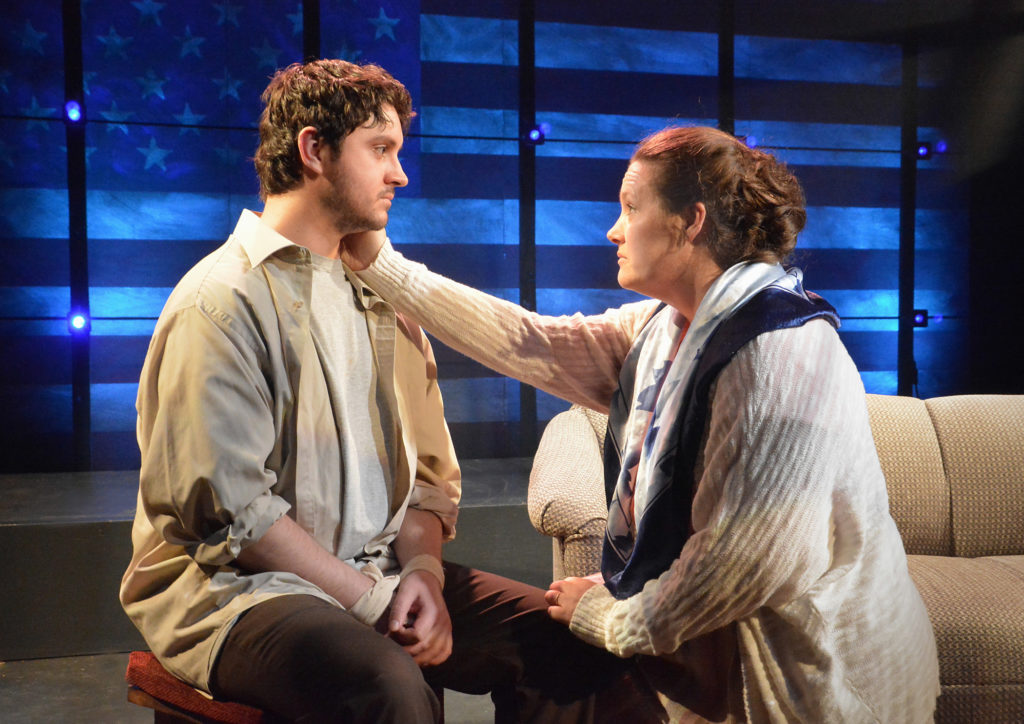 On November 4, 1979, several hundred Iranians, mostly students, stormed the American embassy in Tehran and took 60-odd hostages — 52 of whom were held captive for 444 days. It was a humiliating event for the U.S. government and, in general, a wake-up call for Americans heretofore unaware of the antipathy of many Iranians towards the United States.
Against the wishes of the Carter administration, a mother of one of the hostages, Barbara Timm, flew to Tehran to see her son. Hostage, by Michelle Kholos Brooks, re-imagines the exchange that took place among Barbara (Tracie Lockwood), her captive son Kevin (Zachary Grant) and two of his captors: Tehran Mary (Vaneh Assadourian), a media spokeswoman for her cause and Ebrahim (Satiar Pourvasei), a rifle-wielding guard swift to anger. The drama, some of which takes place in Barbara's mind, shifts between the embassy, where a handcuffed, blindfolded and barefoot Kevin has been doing his best to survive, and Barbara's Wisconsin living room, where she struggles to cope with both a controlling ex-husband and an angry mob outside her home. The latter has gathered to protest a public statement she made critical of the failed rescue attempt to free the hostages — a statement interpreted by "patriots" as her having taken the side of the revolutionaries.
As the drama progresses, scenarios begin to overlap; Kevin, always on Barbara's mind, is physically present onstage as she disputes with her former spouse about the latter's parental responsibility — or lack of it — and whether or not he betrayed her when they were teens, salaciously spreading the word about their intimacy. An argument also ensues between Richard and Barbara's current husband, Ken (Jack Clinton), who accompanied Barbara to Iran and has open-heartedly raised Kevin as his own.
Directed by Elina de Santos, Hostage aims to explain and garner sympathy for both sides, but it offers few surprises or depth. One of its weaknesses is the surfeit of soap-operatic family exchanges that filter attention away from more vital dramatic themes: how far a mother is prepared to go to protect her child and the distance its pivotal character, a Midwestern matron and a Republican, will ideologically travel before the play's catharsis (the dynamic most interesting to us). While these threads, as well as the propensity for intolerance of people on both sides of the cultural divide, are clearly most central, they get obscured for long stretches by melodramatic shouting matches between Kevin's two fathers or the past marital problems of Barbara and Ken.
Grant turns in a well-grounded performance as the palpably fearful Kevin, drilled in compliance and anxious for his mother to understand how precipitous his situation is. But other performances on opening weekend were less persuasive. Lockwood, usually an excellent actor, did not seem entirely comfortable as the maternal lioness the playwright aims to conjure. One problem is the script, which calls for her to assertively challenge Kevin's captors' motives and beliefs — a device for getting us to understand where they are coming from. Some of these confrontations appear as the artifices they are. None of the other actors were able to get past the polemical nature of their roles, either. One hopes they will evolve.
Designer Stephanie Kerley Schwartz's no-frills set features an American flag splayed across the back wall — albeit behind a scrim, an apt reference to the covert power wielded (this time not so successfully) by our government.
Skylight Theatre, 1816½ Vermont Avenue, Los Feliz; Fri.-Sat. & Mon., 8 p.m.; Sun., 2 p.m.; through June 24; (213) 761-7061 or (866) 811-4111.
---
Copyright Capital & Main