Celebrating Medicare's 50th by Ensuring Medicare for All
Fifty years ago this month, on July 30, 1965, President Lyndon Johnson signed into law an amendment to the Social Security Act that established Medicare, providing health insurance to people 65 and older regardless of income or medical history, and dramatically changed the landscape of senior health care for the better. As we celebrate this important anniversary, all of us should take a moment to consider how Medicare, the nation's most successful and efficient health insurance program, continues to protect millions of seniors who might otherwise live without adequate health care or who might face bankruptcy because of medical bills.
As Medicare has been weaved into the fabric of our society, it's hard to fathom a time when America placed its aging population at such risk, but prior to Medicare only 50 percent of Americans 65 and older had health insurance, and more than a third lived in poverty.
Although union members and seniors worked hard to make Medicare a reality, the final credit certainly goes to President Johnson. Getting Medicare passed was a multi-decade effort. It started with President Franklin D. Roosevelt during the Great Depression, who advocated inclusion of a national health insurance component in his Social Security Act of 1935, but was forced to drop it to avoid jeopardizing the bill's passage. Presidents Truman and Kennedy also sent senior health bills to Congress, but they were blocked in committees. It took Johnson and his political capital to get the law signed. Equally important, the law also had the significant effect of desegregating hundreds of hospitals, a requirement for receiving funding under the program.
Today there are more than 54 million people enrolled in Medicare. Since its inception, the program has grown stronger and expanded to include things like disability coverage to those under 65, home health care, and prescription drug coverage. Whether we are of eligible age, virtually everyone reading this has some connection to someone whose life has been made better because of Medicare. 
Unfortunately, and despite Medicare being the most popular and efficiently run health program in our nation's history, there are still lawmakers in Washington who seek to dismantle it by cutting benefits, raising the eligibility age, increasing current copays and deductibles, or radically transforming Medicare into a voucher program that would shift major cost risks to aging patients. This is not something America's seniors want, nor is it what they deserve. At a time when most of us are celebrating a bill that has enhanced the quality of life for millions of aging Americans, there are politicians looking for ways to metaphorically, and in some cases literally, pull the plug on them.
This anniversary is a time for all of us to stand up to those attacks and to let Congress know that we strongly support Medicare for all. In another fifteen years, the people born the year the law was signed will themselves be eligible for Medicare. Let's not go back on a promise made to them the day they were born, and instead celebrate this milestone with a new commitment to strengthening, protecting, and expanding Medicare for decades to come. Happy Birthday, Medicare. And many more.
Eric Heins is president of the California Teachers Association and Malinda Markowitz, RN, is co-president of the California Nurses Association.
There will be events all across the country Thursday, celebrating Medicare's 50th and advocating for its protection and expansion. Join us at the Oakland and Los Angeles events, or find one in your area at www.medicareturns50.org.
The Tests Facing California's New Governor
Gavin Newsom now leads the state with the nation's biggest economy and largest population — and one riven by economic inequality. What will be his most important challenges?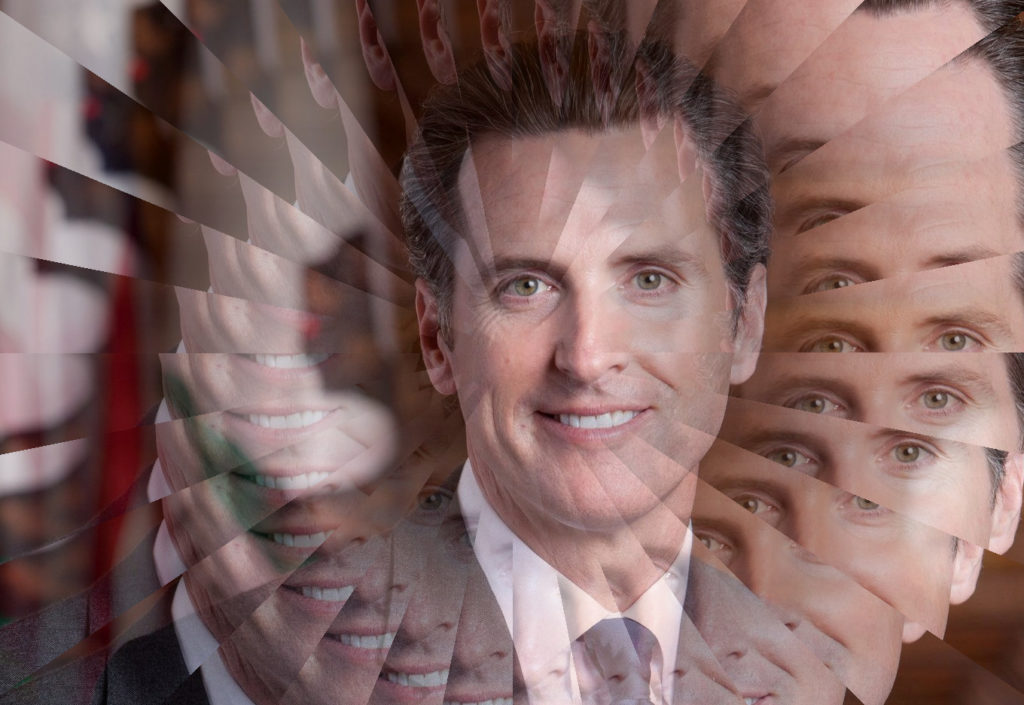 G
avin Newsom inherits a state that should be any governor's dream: A California that is the cradle of the tech revolution and brims with prosperity, a one-party state with supermajorities in both chambers for Newsom's Democrats. But there are clouds darkening the horizon: Daily prophecies tell of coming economic storms; legislative initiatives taken on behalf of immigrants, retirement security and the stemming of global warming are increasingly thwarted by a bellicose White House. And that Democratic Party monopoly in Sacramento masks a deepening ideological fault line dividing pro-business moderates and progressives – the latter of which have largely chafed for the last 16 years under the thrifty administrations of Jerry Brown and Arnold Schwarzenegger, and are eager to burst out with far-reaching (if pricey) legislation.
Then, there are memories of three high-riding liberal governors (Pat and Jerry Brown, and Gray Davis) whose programs or careers were derailed by resentful taxpayers. There are more recent memories, too: Of an impulsive, hard-partying San Francisco mayor whose blunted ambitions led him to spend eight years in the ceremonial wilderness of the lieutenant governor's office. Newsom is said to have matured into a more circumspect, pragmatic politician, although some of the old doubts were fanned back to life by an unflattering New Yorker profile that appeared shortly before his landslide victory November 6.
Perhaps overriding all these auguries is the undeniable fact that despite its enviable economy, its abundance of billionaires-in-residence and laudable array of social services, California still has the highest poverty rate in the U.S., nearly half of its children live in poverty or near-poverty, and merely finding an affordable place to live has become an existential challenge for many. These and similar factors superimpose on the state another kind of fault line, that of economic inequality. Most of the new governor's time will be spent wrangling crises that spring from this disparity. Which is why the following Capital & Main stories primarily focus on the inequality that separates so many Californians from one another.
Affordable Housing, by Jessica Goodheart.
Single-Payer Health Care, by Gabriel Thompson.
Climate Change and Big Oil, by Judith Lewis Mernit.
Inequality Interviews with Manuel Pastor, Ann Huff Stevens and David Grusky.
Early Childhood Education, by Bill Raden.
Inequality in California: Six Takeaways.
---
Copyright Capital & Main