can't let go of it: Appreciating Wanda Coleman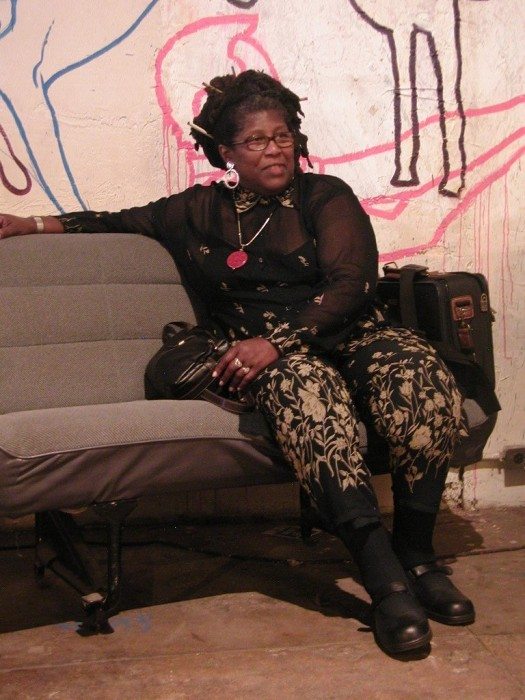 (Photo: Harold Abramowitz)
Over the past week, since Wanda Coleman's untimely death at 67, admirers have been remembering her formidable body of work, her electrifying readings – and her identification with the city she called her home. Growing up in Watts in the 1950s, she experienced not only discrimination but also taunts by other black children because of her dark skin and untamable hair—which she describes in Bathwater Wine as "threads within coils within knots within twists."
As a child, she took refuge in books, although not necessarily in libraries. (One poem describes a white librarian policing her through the stacks.) Her love of language sustained Coleman through her struggles to earn a living as a single mother, to cope with the death of a son and her own ill health. She did not choose an easy path. Furthermore, the West Coast is a hard place for any poet to make her name.
But Los Angeles gave Coleman a vocabulary and a landscape that she in turn made her own.
"Wanda didn't just live in Los Angeles—she was L.A.," E. Ethelbert Miller writes in The Nation, "While some writers are associated with creative writing programs or a style, Wanda needed a city—a place to define her, a place she defined."
The L.A. Times' David Ulin talks about how Coleman broke through the convention of outsiders writing about L.A. as a glittering surface. "Working in the tradition of John Fante, Chester Himes and Charles Bukowski, Coleman invented a new way of thinking and writing about the city: street-level, gritty, engaged with it not as a mythic landscape, but in the most fundamental sense as home."
I first heard Wanda read in the 1990s at Beyond Baroque, and like others found the reading unforgettable. I was in my 20s, and had recently studied African American poetry and literature in college. I recognized in her the links to blues, to black vernacular speech and to the canon of black poets and writers I had studied. But I had never experienced a performance like hers. Coleman's work had a concreteness, a contemporary flavor, an exuberance and humor that were entirely her own. I remember being floored by her reading of "I Live for My Car," a working class riff on our car-obsessed culture.
can't let go of it. to live is to drive. to have it function
smooth, flawless. to rise with morning and have it start
i pray to the mechanic for heat again and air conditioning
when i meet people i used to know i'm glad to see them until
i remember what i'm driving and am afraid they'll go outside and
see me climb into that struggle buggy and laugh deep long loud
i've become very proficient at keeping my car running. i
visit service stations and repair shops often which is why
i haven't a coat to wear or nice clothes or enough money each
month to pay the rent. i don't like my car to be dirty. i spend
saturday mornings scrubbing it down. i've promised it a new bumper
and a paint job. luckily this year i was able to pay registration
i dream that my car is transformed into a stylish
convertible and i'm riding along happily beneath sun glasses
the desert wind kissing my face my man beside me. we smile
we are very beautiful. sometimes the dreams become nightmares
i'm careening into an intersection the kids in the back seat scream
"mama!" i mash down on the brake. the pedal goes to the floor
The line that follows – "i have frequent fantasies about running over people i don't like with my car" — is set apart from the stanzas as a line on its own, as a cool and self-knowing expression of anger. In my mind, Wanda Coleman was a fierce woman and poet, whose power came in part through what she'd suffered. I believe her when she writes, "There is no poison I have not swallowed./I have known blackness." She had a toughness and wasn't afraid to call it as she saw it. She famously took on the revered poet Maya Angelou, calling her Song Flung Up to Heaven, "a sloppily-written fake" in an L.A. Times review, causing a literary storm.
There is another side to Wanda, a generosity and warmth l got to experience firsthand. In 2011, I had the privilege to read alongside her husband of 30 years, Austin Straus, a fine poet in his own right, at Pacifica Radio's Poets Cafe, in a reading arranged by the poet Suzanne Lummis. Although the couple had moved to Lancaster, Wanda had joined Austin for the reading, and one got the sense of a devoted couple who wanted to experience their days unfold together.
As I awaited the recording session, Wanda and I chatted about the challenges of balancing poetry with working life. A few days later, she sent me a link to her blog on the Poetry Foundation website – the premiere website in the poetry world — where she referenced our brief chat and mentioned the book I'd recently published. I was astounded that Wanda Coleman, winner of prizes, writer of 15 books or more, had name-dropped me.
At Frying Pan News (now Capital and Main), we were delighted to include her loving portrait of her father, "Maintenance Engineer Part Time," among the Five Poems the Next Mayor Should Read that launched our poetry section last May. Told she wasn't well, I nevertheless sent her and Austin an invitation to Frying Pan's September Happy Hour. The couple had another engagement, but Wanda took the time to spread more love, praising our featured poets, Erika Ayón ("someone I'll be watching from the sidelines") and Brendan Constantine ("he is one of the finest poets in town"), and sending warm regrets, including "a proud salute" from her husband, Austin. The email is now a keepsake and a reminder of a gracious woman and a masterful poet.