can't let go of it: Appreciating Wanda Coleman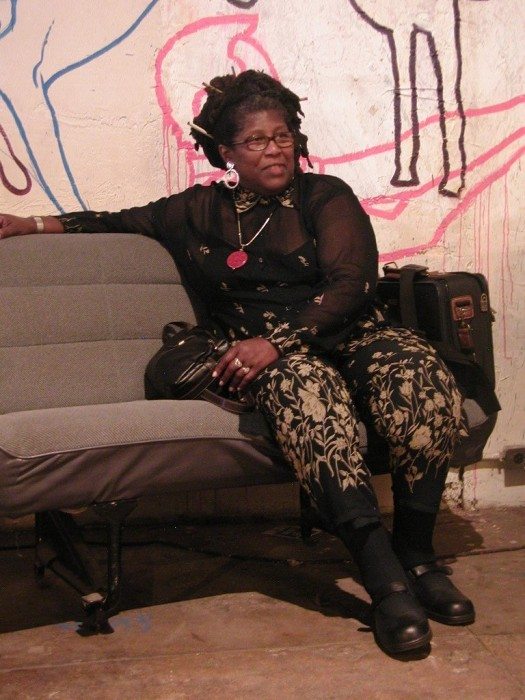 (Photo: Harold Abramowitz)
Over the past week, since Wanda Coleman's untimely death at 67, admirers have been remembering her formidable body of work, her electrifying readings – and her identification with the city she called her home. Growing up in Watts in the 1950s, she experienced not only discrimination but also taunts by other black children because of her dark skin and untamable hair—which she describes in Bathwater Wine as "threads within coils within knots within twists."
As a child, she took refuge in books, although not necessarily in libraries. (One poem describes a white librarian policing her through the stacks.) Her love of language sustained Coleman through her struggles to earn a living as a single mother, to cope with the death of a son and her own ill health. She did not choose an easy path. Furthermore, the West Coast is a hard place for any poet to make her name.
But Los Angeles gave Coleman a vocabulary and a landscape that she in turn made her own.
"Wanda didn't just live in Los Angeles—she was L.A.," E. Ethelbert Miller writes in The Nation, "While some writers are associated with creative writing programs or a style, Wanda needed a city—a place to define her, a place she defined."
The L.A. Times' David Ulin talks about how Coleman broke through the convention of outsiders writing about L.A. as a glittering surface. "Working in the tradition of John Fante, Chester Himes and Charles Bukowski, Coleman invented a new way of thinking and writing about the city: street-level, gritty, engaged with it not as a mythic landscape, but in the most fundamental sense as home."
I first heard Wanda read in the 1990s at Beyond Baroque, and like others found the reading unforgettable. I was in my 20s, and had recently studied African American poetry and literature in college. I recognized in her the links to blues, to black vernacular speech and to the canon of black poets and writers I had studied. But I had never experienced a performance like hers. Coleman's work had a concreteness, a contemporary flavor, an exuberance and humor that were entirely her own. I remember being floored by her reading of "I Live for My Car," a working class riff on our car-obsessed culture.
can't let go of it. to live is to drive. to have it function
smooth, flawless. to rise with morning and have it start
i pray to the mechanic for heat again and air conditioning
when i meet people i used to know i'm glad to see them until
i remember what i'm driving and am afraid they'll go outside and
see me climb into that struggle buggy and laugh deep long loud
i've become very proficient at keeping my car running. i
visit service stations and repair shops often which is why
i haven't a coat to wear or nice clothes or enough money each
month to pay the rent. i don't like my car to be dirty. i spend
saturday mornings scrubbing it down. i've promised it a new bumper
and a paint job. luckily this year i was able to pay registration
i dream that my car is transformed into a stylish
convertible and i'm riding along happily beneath sun glasses
the desert wind kissing my face my man beside me. we smile
we are very beautiful. sometimes the dreams become nightmares
i'm careening into an intersection the kids in the back seat scream
"mama!" i mash down on the brake. the pedal goes to the floor
The line that follows – "i have frequent fantasies about running over people i don't like with my car" — is set apart from the stanzas as a line on its own, as a cool and self-knowing expression of anger. In my mind, Wanda Coleman was a fierce woman and poet, whose power came in part through what she'd suffered. I believe her when she writes, "There is no poison I have not swallowed./I have known blackness." She had a toughness and wasn't afraid to call it as she saw it. She famously took on the revered poet Maya Angelou, calling her Song Flung Up to Heaven, "a sloppily-written fake" in an L.A. Times review, causing a literary storm.
There is another side to Wanda, a generosity and warmth l got to experience firsthand. In 2011, I had the privilege to read alongside her husband of 30 years, Austin Straus, a fine poet in his own right, at Pacifica Radio's Poets Cafe, in a reading arranged by the poet Suzanne Lummis. Although the couple had moved to Lancaster, Wanda had joined Austin for the reading, and one got the sense of a devoted couple who wanted to experience their days unfold together.
As I awaited the recording session, Wanda and I chatted about the challenges of balancing poetry with working life. A few days later, she sent me a link to her blog on the Poetry Foundation website – the premiere website in the poetry world — where she referenced our brief chat and mentioned the book I'd recently published. I was astounded that Wanda Coleman, winner of prizes, writer of 15 books or more, had name-dropped me.
At Frying Pan News (now Capital and Main), we were delighted to include her loving portrait of her father, "Maintenance Engineer Part Time," among the Five Poems the Next Mayor Should Read that launched our poetry section last May. Told she wasn't well, I nevertheless sent her and Austin an invitation to Frying Pan's September Happy Hour. The couple had another engagement, but Wanda took the time to spread more love, praising our featured poets, Erika Ayón ("someone I'll be watching from the sidelines") and Brendan Constantine ("he is one of the finest poets in town"), and sending warm regrets, including "a proud salute" from her husband, Austin. The email is now a keepsake and a reminder of a gracious woman and a masterful poet.

'Skeleton Crew' Is a Play With a Moral Spine
Set in a Detroit automobile outfitting plant, Dominique Morisseau's drama grabs you from the start with its focus on blue-collar men and women, and their struggle for dignity and self-respect.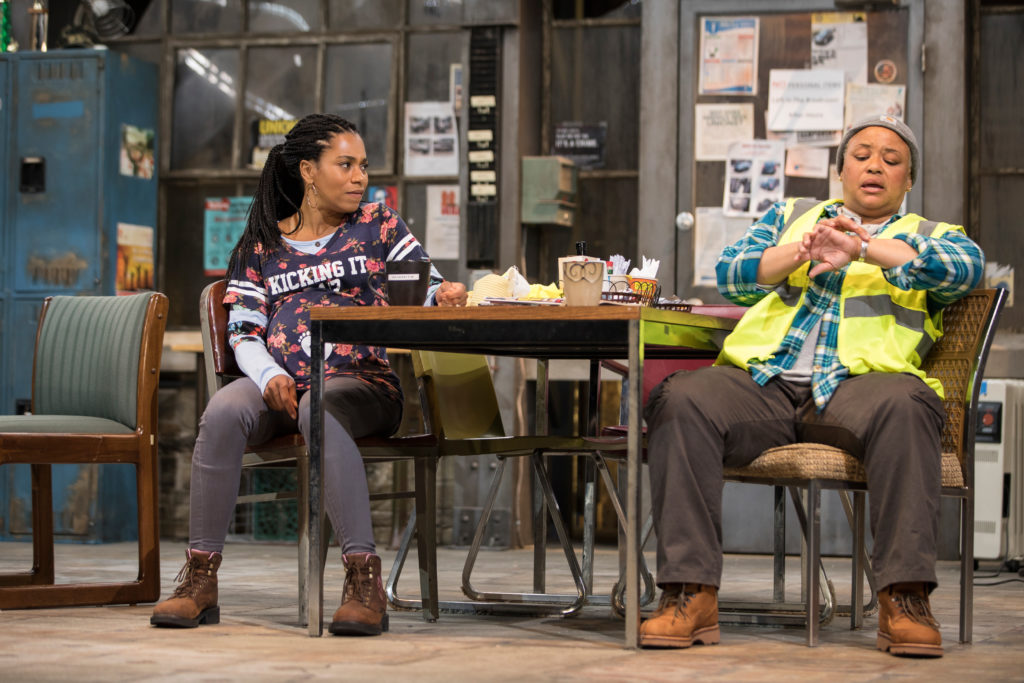 Working-class men and women of color are rarely front and center in today's media and, likewise, are presented all too occasionally on the American stage. So it's buoying to see that trend bucked in playwright Dominique Morisseau's percipient and well-crafted drama, Skeleton Crew. The play is the final installment in her Detroit  Project Trilogy; the first, Paradise Blue, is set in the 1940s amidst displacement caused by urban renewal and gentrification, while the second, Detroit '67, transpires on the eve of the 1967 Detroit riots sparked by a police action.
Directed by Patricia McGregor at Los Angeles' Geffen Playhouse, Skeleton Crew is a play with a moral spine. It takes place in 2008, when the shrinking U.S. auto industry is being further downsized. Morisseau's engaging quartet of characters — Faye (Caroline Stefanie Clay), Dez (Armari Cheatom), Shanita (Kelly McCreary) and Reggie (DB Woodside) – are employed at an automobile outfitting plant. Faye, Dez and Shanita are workers on the line while Reggie (who has a wife and kids, and has pulled himself together after a troubled youth) is their supervisor.
The first three customarily mingle in their break room (designer Rachel Myers' impressively cluttered, dingy and detailed set), trading the sort of familiar barbs and genuine concern for each other common among longtime co-workers. They also face off on philosophy: Upper-middle-aged Faye and the younger, pregnant Shanita take pride in their labor, while Dez, though a good worker, is a malcontent scornful of management and firm in the belief that everyone needs to watch out for himself. He's a thorn in Reggie's side, for while Reggie wants to be supportive of his workers, he must act at the behest of higher management. For his part, Dez resents Reggie's authority, and a palpable unease exists between them.
Besides this male matchup, we're made privy to Dez's attraction to Shanita, who mostly turns away his advances, but every now and then displays a hint of interest. Most poignant is Reggie's regard and affection for the lesbian Faye, which has roots in his boyhood when she loved, and lived, with his now-deceased mom.
These people's various predicaments intensify when rumors spread of the plant's shutdown — a disaster for all, but a particular calamity for the already near-broke Faye who, one year short of retirement, would lose her pension. The crisis forces each of these people to make a choice.
A sound piece of social realism, Skeleton Crew grabs you from the start in its focus on blue-collar men and women, and their struggle against odds for dignity and self-respect. Morisseau not only furnishes these characters a platform for their travails, she endows them with strong values, big hearts and the opportunity to choose between right and wrong.
Unfortunately, the performance I attended did not soar. Many exchanges lacked a fresh edge. The actors certainly had their characters down, but too often they appeared to be coasting on technique. (This seemed particularly true of Clay, who performed the role to great accolades in Washington, DC in 2017, also under McGregor's direction). Additionally, some of the stage movement was not entirely fluid; in confrontations, actors sometimes would just stand and face each other in an artificial way. And Cheatom's interpretation of Dez struck me as a bit overly churlish and depressive: I needed more glimpses of the intelligence and edge that would secretly attract the strong, self-directed Shanita.
The most compelling moments belong to Woodside, well-cast as a man trying his best in difficult circumstances to do the right thing.
---
Gil Cates Theater at the Geffen Playhouse, 10886 Le Conte Ave., Westwood Village; Tues.-Fri., 8 p.m.; Sat., 3 & 8 p.m. Sun., 2 & 7 p.m.; through July 8. (310) 208-5454 or www.geffenplayhouse.org