California's Public Schools: Separate and Definitely Unequal
America's education system is unequal and unfair. Students who live in wealthy communities have huge advantages that rig the system in their favor. They have more experienced teachers and a much lower student-teacher ratio. They have more modern facilities, more up-to-date computer and science equipment and more up-to-date textbooks. They have more elective courses, more music and art offerings and more extracurricular programs. They have better libraries, more guidance counselors and superior athletic facilities.
Not surprisingly, affluent students in well-off school districts have higher rates of high school graduation, college attendance and entry to the more selective colleges. This has little to do with intelligence or ability. For example, 82 percent of affluent students who had SAT scores over 1200 graduate from college. In contrast, only 44 percent of low-income students with the same high SAT scores graduate from college. This wide gap can't be explained by differences in motivation or smarts. It can, however, be explained by differences in money.
All parents want what is best for their children, but some parents — and states and school districts — have greater means to provide them with educational resources.
Last year, the average per-student expenditure for public K-12 schools in the United States was $10,938, but states varied greatly in how much they invested in students, from $19,752 in Vermont to $6,949 in Arizona. There are also huge disparities within states, between wealthy suburban school districts and poorer urban and rural school districts. Efforts by some states to equalize funding between affluent and poor school districts — often prompted by law suits — have not significantly narrowed the per-student spending gap in part because of loopholes in the laws and in part because of huge disparities in private fundraising for public schools.
*****
California reflects this embarrassing aspect of America's class system. Compared with other states, California ranks close to the bottom in per-student spending on public education as well as student-teacher ratios, librarians, guidance counselors and other measures, even with the additional funding from Proposition 30. And within California, there are still huge disparities in per-student spending between school districts, despite the new local control funding formula adopted by the state legislature.
Even if the state government allocated exactly the same amount per student to every school district, disparities would remain between the wealthiest and the poorest school districts. The reason is that school districts vary widely in their capacity to supplement state funding with locally raised money.
The Los Angeles Times recently published an article that zeroed in on one aspect of California's educational class system: local private education foundations. In his July 12 article "Private Summer Schools Prompt Debate on Education Inequality," reporter Stephen Ceasar focused on how these foundations exacerbate the disparities between affluent and non-affluent school districts. To illustrate how the accident of geography and wealth shapes the educational opportunities available to students in different communities, Ceasar looked at the growing number of summer schools sponsored by these local private foundations.
As California school districts face budget crises, many of them have downsized or totally eliminated their summer schools. To replace publicly funded summer schools, some districts call on their local education foundations to sponsor summer schools. But, as Ceasar noted, it is the wealthier districts that are most likely to sponsor their own summer schools and affluent students whose families are most likely to have the means to pay for the summer classes that provide educational enrichment, help students make up courses they missed or failed during the academic year and look good on students' transcripts when they apply to college.
There are over 600 local education foundations in California. They raise money from individuals and businesses to compensate for shortfalls in state funding. According to Ceasar, these private foundations "contribute to an already wide inequity in educational opportunity by offering public school credit at a cost only some can afford."
Just within Los Angeles County, there are huge differences between such wealthy communities as La Cañada Flintridge (with a median household income of $154,947 and 2.1 percent poverty rate) and San Marino ($139,122 — 4.6 percent), and poorer cities such as Pomona ($48,864 — 20.4 percent) and Huntington Park ($36,620 — 27.7 percent) in their ability to raise additional money for their local schools.
As Ceasar reported in the Times, the privately funded summer school in Beverly Hills charges $798 per course. Its counterpart in La Cañada Flintridge charges $775. The Arcadia Education Foundation's summer school sets parents back $605 per course, plus a $25 registration fee.
Students from school districts with mostly low-income and working-class students aren't so lucky. Their parents don't have the income to pay the tuition required to operate summer school. Even if those communities have a privately funded school foundation, they lack the affluent families or corporate ties to raise funds to subsidize the cost for low-income families.
The Pasadena Educational Foundation (PEF) is an exception to this pattern. Perhaps Ceasar was unaware that for the past 11 years PEF has sponsored a summer school for students in the Pasadena Unified School District (PUSD). This summer, about 1,550 students are enrolled in the summer school, which offers a wide variety of courses for K-12 students, including Spanish and Mandarin immersion classes, robotics, writing, cooking, chess, science, math, history, art, music, comedy, 3D printing and many others. High schoolers can take SAT prep classes and earn physical educational credits as well. All courses are taught by credentialed teachers.
It costs about $495 per student to operate the summer school, but PEF charges only $395 for three courses, making up the difference by raising more than $300,000 from private individuals and institutions. But PEF turns no student down if his or her family is unable to afford the summer school tuition. In fact, more than one-third of the students in the current PEF summer school are from low-income families (those eligible for free and reduced lunch). They all receive scholarships. PEF actively recruits low-income families and holds its summer school classes on several PUSD campuses, including several schools that serve the poorest students.
Pasadena's median household income ($68,310) and its poverty rate (12.9 percent) fall in between the wealthiest and poorest communities. Students in PUSD (who come from Pasadena, Altadena and Sierra Madre) are fortunate that PEF has been able to enlist the support of the wider community for public education. Last year, PEF raised over $12 million dollars from individuals, foundations, corporations and government for a variety of programs, including its summer school.
But despite PEF's commitment and caring, it cannot raise enough funds to compensate for the severe funding cutbacks that have devastated California public education over the past three decades. Even PEF's remarkable summer school falls short. One-third of its summer school students come from low-income families, but two-thirds of PUSD students come from that economic group.
*****
The huge disparities in funding raised by local private educational foundations provide just one example of our educational class system. This inequality is compounded by local school "booster" clubs that support athletics and other extracurricular activities through private fundraising, and local parcel taxes, which allow school districts to supplement state funding by levying additional taxes on residential and commercial properties. Studies reveal that California's wealthier school districts are most likely to pass parcel taxes (which require a two-thirds vote margin to pass) and to adopt much higher parcel taxes. Put simply, voters in wealthier cities and suburbs have more discretionary income to spend on their local schools.
Few school districts in Los Angeles County have passed parcel taxes. In recent years, voters in some of the largest and neediest districts, including LAUSD, Pasadena, Long Beach and Pomona, have defeated parcel taxes, while voters in wealthier districts have overwhelmingly approved significant tax levies for schools, including $228 per parcel in Arcadia, $330 per parcel in San Marino and $386 per parcel in South Pasadena. Across California, districts that have passed parcel taxes provide an average of $584 per pupil, but they range from about $25 to $4,500 per student.
Additionally, affluent parents are more likely to provide their children with other educational advantages, such as first-class pre-kindergarten classes, private SAT preparation classes and private after-school, weekend and summer enrichment programs (such as summer camp, dance and music lessons and vacations abroad).
*****
All these factors make a mockery of the idea of "equal opportunity" when it comes to education.
If California is serious about providing all students with the education they need to fulfill their potential and succeed in society, it must address two kinds of educational inequities. First, it should raise the overall level of per-student funding to at least the national average. Second, the state should significantly increase its supplemental funding for the neediest students and school districts. Equal educational opportunity demands that we spend more on low-income students than on students from wealthy families.
That's the only way that we will raise the bar for all and also narrow the gap between the haves and have-nots. That's an investment that will pay off for generations to come.
(This feature has been crossposted with the Huffington Post.)

Living Homeless in California: The University of Hunger
A January study found that 11 percent of students on the California State University's 23-campuses reported being homeless during the past year. At Humboldt State nearly a fifth said they'd been homeless at one point during 2017.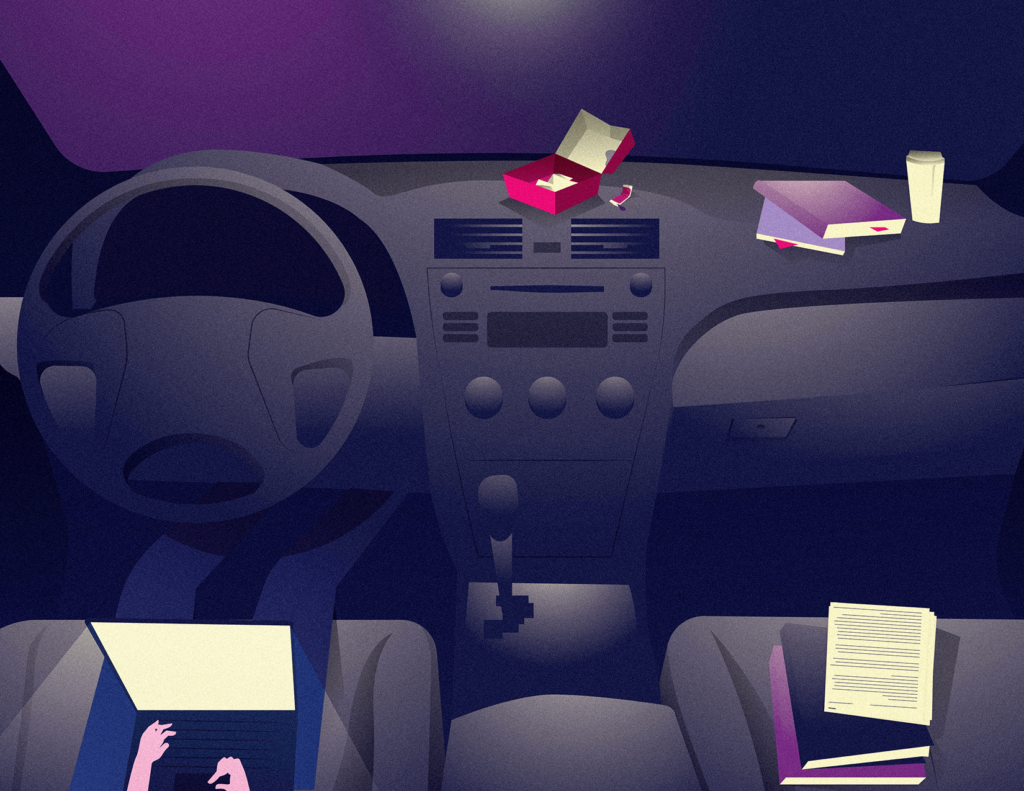 ---
Homeless students told of sleeping in the woods and of completing research assignments at McDonald's, to take advantage of free Wi-Fi.
---
In August of 2016, Chanté Marie Catt left her home in Redding, in the Sacramento Valley, to begin her first semester at Humboldt State University. Catt was 36, with a boyfriend and 1-year-old daughter, and possessed a booming laugh and no small amount of confidence. After nearly two decades running her own pet-care business in Los Angeles, she had begun to feel limited by her lack of a college degree, and several years earlier followed her parents north and enrolled at Redding's Shasta College. The transfer to Humboldt had her dreaming of towering redwoods and cool ocean breezes. "We were excited to start a new life, maybe buy a house," she says.
The couple tried to find a place from Redding, scouring Craigslist for openings without luck. In person, Catt figured, her prospects would improve. Once they had checked into a campground north of the university and enrolled their daughter in daycare, she dedicated her time to visiting property management companies. A week went by, then another. She paid application fees to management companies—$20 here, $43 there—and called through every listing she found, but even with a solid credit and rental history, never heard back. The family bounced from one campsite to another, with occasional stops at a motel to clean up. It was an expensive way to live, and she rapidly blew through $16,000 in financial aid and student loans. One day, out of a combination of anger and desperation, Catt took to Craigslist from her motel room. "I'm a sociology student," she wrote, "starting research on our homeless students and on the property management companies here. Anyone want to share their stories!?"
Within hours, she received more than 150 responses. Homeless students told her of moving from couch to couch, of sleeping in the woods and of completing their research assignments at McDonald's, where they took advantage of free Wi-Fi. "My children are cold, we are broke from all the rental application fees and I'm tired of it," wrote a mother of two. A graduate student who worked full-time revealed that he was living in his car for the second consecutive semester: "I never knew it would be this hard to find a place to rent."
Several weeks later, while still homeless, Catt had organized a campus group, the Homeless Student Advocate Alliance, and was spending her free time passing out fliers to attract more members. They weren't hard to find. "Every couple of students I talked to was experiencing some sort of displacement," she says. For many students at Humboldt, going to college meant becoming homeless.
---
One homeless-student conference included workshops on outdoor living, covering topics like how to light fires to keep homework dry.
---
The true scale of this crisis was revealed last January in a groundbreaking report commissioned by the California State University system. The study found that 11 percent of students on the university's 23-campuses reported being homeless during the past year. The problem was most acute at Humboldt State, where nearly a fifth of the student body had been homeless at one point the previous year.
"In large part, students are homeless because they don't get enough financial aid," says Jennifer Maguire, a Humboldt social work professor, who co-authored the study with Rashida Crutchfield of Long Beach State. "It's even worse here, because we're in a rural area with a very limited housing stock." According to the North Coast Journal, a local newspaper, there aren't even enough rental units in the city of Arcata, where the university is located, for the students who need housing—much less anywhere else. And while the university plans to build more student housing, it can currently only guarantee slots for first-year students.
This shortage allows landlords to crank up rents and reject applicants at whim. For students without a financial cushion, the situation can quickly turn into a full-blown emergency—and in the CSU system, that's a lot of students. More than half the students at Humboldt are the first in their family to attend college, and a third are Latino. Many work full-time; some have kids. "The 'non-traditional' student is now the traditional student," says Maguire.
On a cool April morning, more than 200 people packed into a theater at the College of the Redwoods in nearby Eureka, for a forum on homelessness co-hosted by Humboldt State. "I mentioned to a community member last week that I would be attending this summit today and she asked me, 'What does homelessness have to do with HSU?'" said Humboldt State president Lisa Rossbacher. The crowd laughed, which represented at least some progress. It's no longer a secret that Humboldt State students struggle with homelessness.
---
"My children are cold, we are broke from all the rental application fees and I'm tired of it," wrote a Humboldt State University student.
---
Much of the progress is due to the efforts of activists like Catt. After several months of homelessness, her family eventually landed an apartment, thanks in part to an emergency welfare grant. By that time, she had organized the homeless student alliance, which was pressing the university to finally address the problem. Last fall, the group held a three-day conference at Humboldt State that included workshops on outdoor living, which covered topics like how to light a fire and keep your homework dry. On the third day, a group of students put up tents on the quad and stayed for two nights. They then moved to the library, which they occupied, and demanded that it remain open 24 hours a day to give homeless students a safe and warm place to be.
The next day, an administrator contacted Catt and offered her the position of off-campus housing liaison, which had been one of the alliance's demands. Since January, Catt has worked with more than 100 students, many of whom are in need of housing or have dealt with retaliation from landlords. It's a start, though there are limits to what she can accomplish. One student who was living out of her car recently came to Catt's office, and Catt gave her a code to the campus lockers, which are normally reserved for students taking physical education classes. The student broke down in tears at the prospect of a hot shower. A few days later, Catt texted her that a landlord had recently called with a room to rent, but the student had moved back in with her parents. "She told me it had just been too cold out there," says Catt.
A couple of days after the homeless summit, I met Jasmine Bigham, a 23-year-old transfer student, on the steps of the campus library. Like Catt, she had arrived at Humboldt in 2016, and anticipated finding housing within a week or two. "Weeks turned to months," she says. She spent a semester living out of her Subaru Outback, searching for places to park at night that looked safe, then curling up on the back seat. She didn't tell her parents. "No parents want their kids living like that," she says—and anyways, they didn't have much extra money. Bigham is from a small town in neighboring Siskiyou County, and before college had lived inside a metal shop designed to store tractors and supplies; her parents created walls by hanging tarps. "I sort of grew up having to figure shit out," she says.
---
Homelessness has caused Jasmine to give up on some dreams. She wants a college education, so that means giving up a home.
---
After a semester in the Subaru, she bought a used trailer for $1,000 and parked it at a KOA campground for $600 a month. That felt safer, but then the trailer's ceiling collapsed and an intoxicated neighbor harassed her, so she left for a room in a house that was infested with mold and rats. She could only handle the grime for so long, so last year she sold her Subaru and plowed the rest of her savings—which she earned by waitressing in Lake Tahoe—into a GMC van. Since January, she's been living at a parking lot next to student housing.
As we walk from the library to the parking lot, Bigham outlines her semester budget. Scholarships nearly cover her tuition, and she's in charge of the rest. Right now she's not working, because she's taking 19 units, the maximum allowed. The parking pass is $180 a year, and she rents two lockers, at $5 a piece, for the semester. Each day she stops by the campus food pantry, where she fills plastic containers with soup and picks up rice and beans. She describes the area around campus as a food desert but in reverse—filled with only "really expensive healthy food" that's out of her reach. She takes a bus to Eureka, then walks a mile to reach a more affordable grocery store, where she can load up on quinoa, bell peppers and mangos. She has a camping stove, or else prepares meals for the week at friends' homes.
At the parking lot, she points out several other vehicles where students are living. She'll graduate in December, and tells me that when she returns this fall she hopes to get the other homeless students to park together, to create a greater sense of safety. She opens the back of her van, which is meticulously organized: a plastic container for her clothes, a folded mattress she bought on sale at Ross Dress for Less, an ice chest and cans of beans. "I had to learn what food stays good and what doesn't," she says.
Bigham tells me that she's always felt different. She is an African American from an all-white rural community. She grew up on a "broken-down ranch" with cows and pigs, while many students at Humboldt talk about eating meat as if it were a crime. "The hardest thing is people not understanding," she says, leaning against her van. "If you talk about how people don't have enough to eat, they say, 'Well, why don't they just feed themselves?'"
Homelessness has caused her to give up on some dreams. She loved track, and was recruited by a couple of larger colleges to throw the javelin, but didn't want to live in a big city. She hoped to continue with athletics, but juggling a full academic load while being homeless didn't leave much room for anything else. She shrugs and smiles. "You can either be sad or you can figure it out. If you don't have money, but you still want to do things, you have to give up something," she says. She wants a college education, so that means giving up a home.
---
Copyright Capital & Main