California State Universities: Walkout or Agreement?
Members of the 26,000-strong California Faculty Association (CFA) are threatening to carry out their first system-wide, simultaneous strike in the event contract talks with the California State University administration (CSU) reach a stalemate.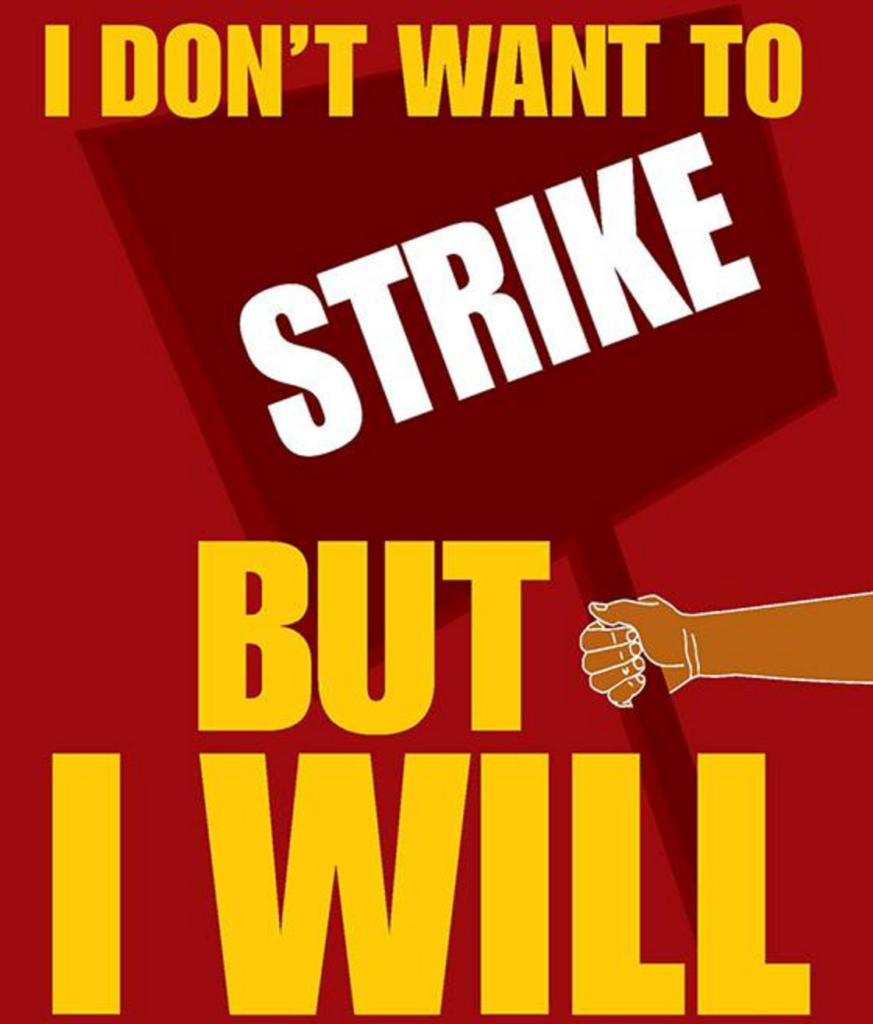 UPDATE: Officials with the California Faculty Association and the California State University system have announced they have "agreed to honor a 48-hour blackout period . . . on internal strike planning, communication efforts and news." The press release added that the two sides "plan to hold a joint news conference on Friday, April 8 in Sacramento, at which time they hope to announce a settlement."[/box]
Members of the 26,000-strong California Faculty Association (CFA) are threatening to carry out their first system-wide, simultaneous strike in the event contract talks with the California State University administration (CSU) reach a stalemate. The union, which represents faculty, counselors, librarians and athletics coaches, is seeking a five percent raise, along with 2.65 percent service step, or seniority, increases, and says its members will walk out on all 23 campuses April 13-15 and April 18-19. (Disclosure: CFA is a financial supporter of Capital & Main.)
The university system claims it cannot afford to pay the salary increases and is offering a two percent salary hike. "Half of all the new state funding provided to the CSU this year is being directed toward employee compensation," said CSU Chancellor Tim White in an email to Capital & Main.
Union president Jennifer Eagan, a philosophy and public affairs professor at CSU East Bay, said by phone that CSU management failed to allocate sufficient money for union members' pay raises. "The CSU does have the funding for the five percent salary increase," she said, "with a $5 billion operating budget and $500 million in positive cash flow."
The CFA and CSU presented their respective evidence to neutral factfinder Bonnie Castrey, who is based in Huntington Beach, after the parties failed, after 11 months, to resolve contract differences during negotiations and mediation. A state mediator had directed the CFA and CSU to fact-finding on October 15, 2015. The CFA hearings took place November 11 and December 7 in Sacramento. The CSU hearing occurred January 13 in Long Beach.
Castrey's 16-page report, publicly released March 28, recommended that CSU pay its union members the five percent pay hike they are seeking. In its response, however, management claimed the union's position would harm students and "create a long-term structural deficit."
The CSU could avert a CFA strike before it begins or in midstream, according to Kevin Wehr, a sociology professor at CSU Sacramento, and chair of the CFA bargaining committee. A strike would bring a near shutdown of CSU's daily operations, Wehr said, adding, "We will withhold our labor and set up picket lines. There will be no classes, emails or committee work. The strike will be our job."
"We are looking for the CSU to provide us with a reasonable offer," said Eagan. As yet, no university offer is on the horizon.
According to the CSU, administrative functions would continue during a strike. Meanwhile, management is preparing for a strike in part by addressing other workers.
"Other represented employees in the CSU are prohibited from engaging in sympathy strikes and thus may not also go on strike," said a CSU statement. "Other union employees and activists who are not part of the CSU can participate."
The union has garnered strike support from advocacy groups such as the nationwide League of United Latin American Citizens, along with the American Association of University Professors, California Democratic Party, Clergy & Laity United for Economic Justice, the California Labor Federation and other labor organizations.
Public opinion in a possible CFA strike matters, although it is unclear how Californians view such an action.
CFA members would not receive pay during a strike. Accordingly, the union's strike fund for a walkout on campuses from San Diego in the south to Humboldt in the north would help unpaid rank-and-file strikers who struggle to make ends meet.
Businesses on and near campuses statewide would likely feel a negative impact from a strike. Small firms would take a bigger financial hit than large companies.
In the meantime, the CFA is presenting its case to elected lawmakers at the state Capitol. An email campaign to Governor Jerry Brown urges him to contact CSU Chancellor Tim White to consent to the union's salary proposals.
L.A. Charter School Teachers Also Flex Strike Muscles
Obscured by Los Angeles' massive public teachers strike, a separate charter-schools walkout targets many of the same issues.
---
Teachers at three charter schools are decrying a lack of job protections and rising health-care costs.
---
A day after more than 30,000 teachers in the country's second-largest school district went on strike, 80 teachers at three South Los Angeles charter schools coincidentally also walked out, marking only the second charter school teacher strike the nation has seen.
Earlier this month 99 percent of the teachers at the three schools operated by The Accelerated Schools (TAS) voted to authorize a strike. Their demands, aside from a pay increase, have been different from those of other United Teachers Los Angeles (UTLA) teachers who walked off on Monday.
TAS and UTLA had reached an agreement in March 2018 for an average salary increase of 17 percent for teachers working 195 days in the current school year. But sticking points remained, including binding arbitration to enforce the contract, "just cause" language to govern terminations or nonrenewals, so that teachers can't be fired arbitrarily, and competitive health benefits. According to Hong Bui, UTLA's Charter Representative, TAS management proposes to freeze the company contributions, so that any future increase in health-care premiums is borne by employees. Bui noted that binding arbitration and just cause are "enjoyed by 90 percent of unionized teachers in Los Angeles County."
---
Grandmother: "There is no excuse that we're at this point. The money is there. We are not investing in the kids' education as was promised."
---
"Most unionized charter schools have some due process and just cause, but TAS schools do not," Bui said. "Without these protections, the employer can and has made life unbearable for those teachers who speak up."
Bui added that between 2016 and 2018, TAS schools had nearly a 50 percent staff turnover.
On Monday TAS co-founder and CEO Johnathan Williams said, in a prepared statement: "TAS presented UTLA with a new offer that included a process for teachers with strong performance evaluations to receive a guaranteed two-year contract with a $2,000 bonus upon completion. UTLA refused the offer. Teachers who are doing a great job for students will always have a place at TAS. On behalf of our students, we implore UTLA to work with us to find a reasonable resolution that puts kids first."
Los Angeles has the nation's most charter schools, with 277 independent and affiliated schools serving more than 154,000 students. The breakdown can get complicated: District-affiliated charter schools are directly operated by the Los Angeles Unified School District (LAUSD) and their teachers are part of the larger strike that began Monday against the LAUSD.
---
Union: Between 2016 and 2018, The Accelerated Schools had a nearly 50 percent staff turnover.
---
Thirty-seven independent charter schools are unionized, and some of those unionized schools, like TAS, are represented by UTLA, while others are represented by the California Teachers Association. (Disclosure: The CTA is a financial supporter of this website.) But their collective bargaining agreements are negotiated with the charter school management, not LAUSD. The California Charter Schools Association (CCSA) estimates that 30 percent of charter schools in the state have some form of a collective bargaining agreement or representation.
At a news conference last week, teachers emphasized that their goal is to improve teacher retention by increasing teacher protections. German Gallardo, who has taught 12th-grade history at Wallis Annenberg High School for the past two years, says that educational progress cannot be made with high teacher turnover. "I have students who have missed teachers for a year, and that inconsistency hurts when we send them off to college," he said, referring to students who had substitutes for an entire school year.
---
Randi Weingarten: Educators are not the ones who have framed public schools and charters as competitors. "That's done by people like Austin Beutner."
---
Second-grade teacher Simone Barclay told Capital & Main that TAS instructors are technically "at will" employees without the ability to appeal dismissals, and who don't know whether their contracts will be renewed year to year. "It creates anxiety and stress and doesn't allow us to advocate for our students, whether it is [for] special education or resources for our classroom. And it leads to much higher turnover," Barclay said.
The TAS strike comes after the release of a report by a state-appointed fact-finding panel that included recommendations for resolving many of the outstanding contract issues at TAS.
In the past year there has been a groundswell of public teacher walkouts and strikes in states including West Virginia, Arizona, Oklahoma, North Carolina, Kentucky and Colorado. But until December's walkout of 500 charter educators in Chicago, strikes at charter schools were unheard of. According to the American Federation of Teachers (AFT), between 10 and 12 percent of the charter school sector nationwide is unionized, and the rapid growth of charter schools is outpacing the growth of unionization. (Disclosure: AFT is a financial supporter of this website.)
California's explosive charter growth and competition for students have made charter detractors worry about those quasi-public schools siphoning resources from traditional schools. UTLA president Alex Caputo-Pearl said teachers are asking for "common-sense regulations on charter school growth" as part of their contract demands, making the concurrent strikes by TAS and LAUSD school educators, in theory, somewhat awkward, although teachers at both schools have told Capital & Main that, no matter where they work, they are in solidarity with one another.
---
Until last December's walkout of 500 charter educators in Chicago, strikes at charter schools were unheard of.
---
Randi Weingarten, president of AFT, said educators are not the ones who have framed public schools and charters, per se, as competitors. "That's done by people like [LAUSD Superintendent] Austin Beutner . . . and that creates a survival of the fittest. For years they have said that competition in schools is good, but this is a very wrongheaded premise."
"The charter school industry said their teachers are private school employees," Weingarten added, "but most charter schools by laws are public schools funded by taxpayers and must enable a voice for parents and educators."
Charter school supporters, such as TAS founding member and grandmother Hilda Rodriguez-Guzman, say that charters ideally provide a higher quality and more robust education with more flexibility.
"But that's not what's happening [at TAS]," Rodriguez-Guzman recently admitted. "There is no excuse that we're at this point. The money is there. We are not investing in the kids' education as was promised. It is not acceptable that we keep losing good quality teachers and having substitutes. Sometimes we have computers teaching kids in high school, when they need that human instruction and interaction."
---
Copyright Capital & Main