Brett Kavanaugh and Sexual Harassment: The Two Faces of Chuck Grassley
Co-published by Newsweek
Senator Charles Grassley has raced to confirm Brett Kavanaugh, in spite of sexual assault allegations against the Supreme Court nominee. Contrast this with Grassley's public support for victims of sexual harassment in the judicial branch during a June hearing of his committee.
Co-published by Newsweek
It's a little peculiar to watch a C-SPAN clip from mid-June and hear the Chair of the Senate Judiciary Committee, Charles Grassley (R-IA), waxing sympathetic about women who came forward claiming they were sexually harassed by a federal judge.
"Being a whistleblower, or saying something's wrong — sometimes you ruin yourself professionally," Grassley says. "But because of these women's bravery, we can hopefully begin to make real significant changes to these powerful imbalances that allow harassment to thrive."
The venue was a committee hearing focused on developing a better process to address sexual harassment claims in the federal judiciary branch. More than a dozen women alleged that acts of sexual misconduct had been committed by the powerful former Ninth Circuit Court of Appeals' Chief Judge, Alex Kozinski, who had resigned from the bench last December under a cloud.
Contrast the Senator's show of sympathy at this hearing to his office's recent treatment of the women who have come forward with accusations of sexual assault against U.S. Supreme Court nominee Brett Kavanaugh, a Washington, DC Circuit Court judge.
The Senator has rushed ahead with the nominating process in spite of several allegations of sexual assault against Kavanaugh. He refused to back an FBI investigation into sexual assault claims made by Christine Blasey Ford, the Palo Alto University psychology professor, that Kavanaugh assaulted her at a party in the early 1980s when they were both teenagers. Grassley gave Ford repeated ultimatums to appear before the Senate Judiciary Committee and, even before the committee had an opportunity to hear her testimony, he scheduled a vote on the nominee for this coming Friday. In a tweet that was later deleted, Mike Davis, the committee's chief counsel on nomination, wrote that he was "unfazed and determined" to see Kavanaugh confirmed.
Heidi Bond, one of the women Grassley described as brave, apparently noticed the dissonance. She sent a letter to Grassley last Saturday urging him to treat Ford with respect. "Every attack that is being leveled at Dr. Ford could be applied to me as well, and in that regard, it feels personal for me, and I suspect for many victims of harassment and assault," wrote Bond, who left the legal profession and is now a romance novelist who goes by the pen name Courtney Milan. She asked that Grassley establish a timetable to hold an impartial investigation into Blasey's claims.
Judge Kozinski's alleged harassment of Bond and others – and the efforts that grew out of it to combat sexual misconduct in the judiciary – have been an important if buried footnote in the headline-grabbing hearings that have been defined by harrowing allegations of the nominee sexually assaulting as many as three women as a teenager and college student.
Kavanaugh clerked for Kozinski in the early 1990s and remained friends with him over the decades. Kozinski helped Kavanaugh secure a clerkship at the Supreme Court with Justice Anthony Kennedy, who he will replace if confirmed. Yet Kavanaugh claimed – under oath – in early September to be completely unaware of his mentor's predilection for porn and sexually explicit jokes, in spite of the fact that it was considered an open secret, as the Intercept, Bond and others have pointed out.
The Kozinski scandal galvanized the leadership of the 30,000-employee-strong federal judiciary to take action, thanks to a group of current and former law clerks who, in a letter sent to Chief Justice John Roberts and others in December 2017, demanded reforms to the process for bringing harassment claims forward.
A group of women lawyers gathered 700 signatures in "just a matter of a few days," in a testament to the "power of women's informal networks," according to Sara McDermott, a Los Angeles attorney and a member of Law Clerks for Workplace Accountability.
In response, Roberts established a Working Group, which issued a report in early June. Based on input from anonymous surveys and interviews with court employees, the Working Group determined that "inappropriate conduct, although not pervasive in the Judiciary, is not limited to a few isolated instances."
But the U.S. Equal Employment Opportunity Commission's Jenny Yang, in written testimony before the Senate Judiciary Committee, cautioned against drawing optimistic conclusions from a small number of formal complaints, given that 70 percent of individuals experiencing harassment never report it.
She also acknowledged that the structure of the federal judiciary brings with it built-in risk factors for sexual harassment — "significant power disparities and 'high value' employees' who often operate by their own rules," and "workforces lacking diversity where men typically dominate leadership posts."
Jaime Santos, from Law Clerks for Workplace Accountability, put it more bluntly when she testified at the June hearing that judges are "more demigods than they are employers." Santos added that law clerks and externs from "numerous federal courts shared with us that they had felt demeaned, belittled or humiliated during their clerkships or externships. Some shared stories about being asked sexual questions during job interviews, hearing their judge or co-clerks speak about female attorneys in derogatory and objectifying terms."
When the report emerged in June, Grassley, who is now leading the dash to vote on Kavanaugh's nomination, seemed to echo the response of Law Clerks for Workplace Accountability in describing the report as overly vague, and said it "kicks the can down the road."
For her part, McDermott said she is "glad that there is movement," but worries that without more specifics there will not be the kind of culture change that is needed in the judiciary. She would like to see a national reporting hotline supplant a process that often requires a complainant to report to the chief judge of a circuit or district court. The courts' leadership should require reforms of the lower courts based on best practices, she added.
"Judges are the ones who hear sexual harassment claims" in court, as well as other claims of workplace misconduct, says McDermott. "If the judiciary can't get a handle on these sorts of workplace issues even within their own ranks, it's hard to be sure that the judge sitting on your case is going to take these things seriously."
"But also, I think we should be holding the judiciary to a high standard," she added. "These are people who, [in their] job, must be fair and impartial. Historically, we have asked that they be of higher moral character than the average person."
---
Copyright Capital & Main
California Workers and Retirees Are Unwittingly Financing an Anti-Rent-Control Campaign
Co-Published by The Guardian and MapLight
Blackstone is quietly funneling investors' money into its campaign against Proposition 10.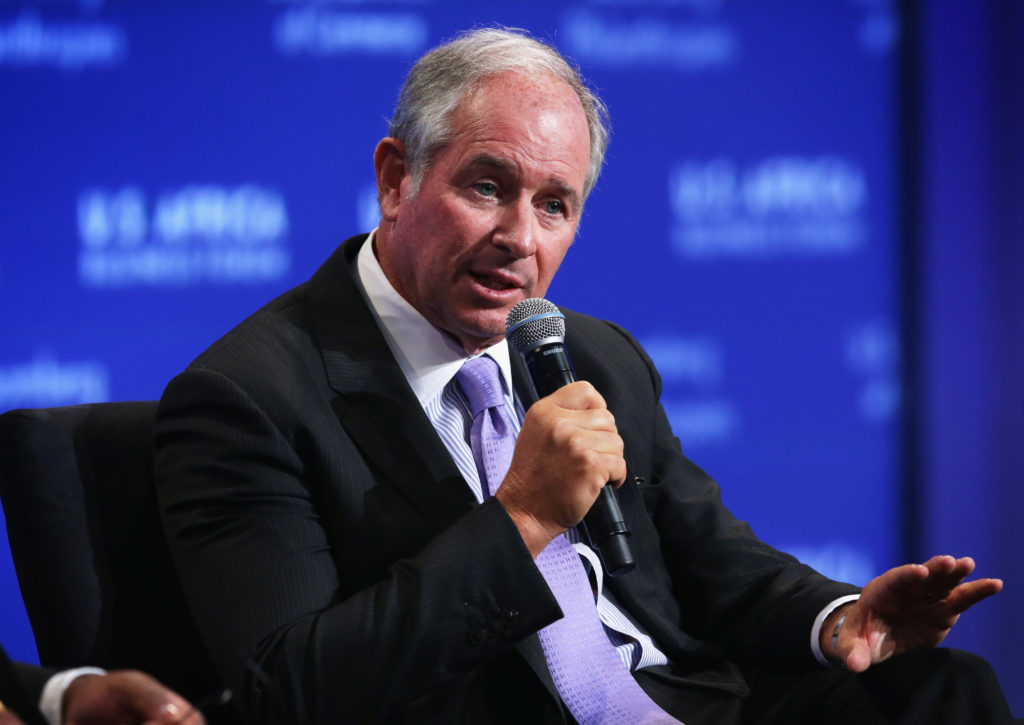 ---
Blackstone contributions did not come from the firm's corporate treasury, but from investors: Dozens of state and local pension systems, and public university endowments.
---
Co-Published by The Guardian and MapLight
When San Francisco's local government endorsed a state ballot initiative to permit rent control measures earlier this month, it appeared to be a victory for housing rights advocates in a city where stratospheric prices have sown social unrest and class animosity. The measure has found similar support from other California cities and unions representing public employees who can't afford to live in cities where they work.
Those advocates, however, may be unwittingly financing the opposition to the rent control measure. Documents reviewed by Capital & Main and MapLight reveal that a private equity giant with ties to President Donald Trump has boosted the campaign to defeat Proposition 10 with money taken from real estate investments funded by California public employees and the state university system.
Campaign finance records show entities controlled by private equity giant Blackstone have been among the biggest sources of cash for opponents of the ballot measure. More than $5.6 million has come from a Blackstone holding company and four of its  investment funds.
But unlike typical corporate political donations, the Blackstone contributions didn't come from the firm's executives or its corporate treasury. Instead, they came from pools of capital from investors, which include dozens of state and local pension systems, as well as public university endowments. The move has been described as the equivalent of mutual fund executives taking money out of customers' accounts to make political contributions.
In effect, Blackstone's maneuver means the opposition to the rent control initiative is being bankrolled by everyone from San Francisco municipal workers to university employees to public school teachers — all of whose retirement savings are in the Blackstone funds that have been tapped for the Proposition 10 fight.
"What we have is the largest Wall Street landlords in the country who are the very people profiting off of the housing crisis leading the opposition to Proposition 10," said Amy Schur, the campaign director for the Alliance of Californians for Community Empowerment, which supports the ballot measure. "It's adding insult to injury that they're using the pension funds' dollars of hard-working families to beat back an essential policy to provide relief to working families."
Michael Bustamante, a spokesman for a committee opposing Proposition 10, didn't answer questions about Blackstone's contributions. He said the measure is a "bad public policy that will make it harder for those looking for a safe, affordable place to live and is a perfect example of a well-intentioned law with disastrous consequences."
Blackstone didn't respond to a request for comment.
"Can't Afford a Place to Live"
The rent control initiative was prompted by anger over California's housing costs. The median home price in the state  has topped $600,000, double the national median. Californians pay some of the highest rents in the nation, and retirees have been hit hard.
A coalition of community organizations, tenants rights groups and unions have lined up behind Proposition 10, which would repeal a 1995 state law that blocks municipalities from imposing rent controls on new apartment units or single-family homes.
"In my district, teachers, firefighters and nurses often can't afford a place to live," said U.S. Rep. Ro Khanna (D-CA). "Cities should have the right to provide apartments at affordable rents. Any effort to kill Proposition 10 hurts not just the working class but also undermines the ability of local communities to determine their own destiny."
Opponents of Proposition 10 have cited an analysis from state legislative auditors that said the measure would likely reduce state and local revenues in the long term. The auditors estimated that revenue losses could be "in the hundreds of millions of dollars per year." Critics have also argued that reduced profitability would deter developers from building more housing.
"There is no doubt we need to make housing more affordable for Californians, but Proposition 10 will make our current situation worse, not better, by constricting future development of affordable units," former Los Angeles Mayor Antonio Villaraigosa said last month.
"The Investors Would Have No Idea"
More than $60 million has been donated for the Proposition 10 fight, with most of the money coming from landlords opposed to the measure. Blackstone and its affiliates have donated more than $6.8 million to two organizations opposing the initiative.
Almost $1.3 million has come from Invitation Homes, a Blackstone subsidiary that bought foreclosed single-family homes in the wake of the 2008 financial crisis and converted them to rental properties. Invitation now owns about 13,000 rental homes in California. Invitation tenants have complained of toxic mold, leaks and black widow spider infestations, and some have alleged they're victims of excessive and illegal late payment fees.
Another $5.6 million has come from Blackstone Property Partners, LP; Blackstone Real Estate Partners (VI-VIII); and BREIT MF Holdings LLC. Government records show that the four Blackstone investment funds are controlled by company CEO Stephen Schwarzman, a billionaire Trump ally. The funds have received investments from dozens of state pension systems, local pension funds and public university endowments.
---
---
Real estate funds typically pool institutional investors' cash, use it to buy properties, and return profits from rents and asset sales to the investors. The agreements governing public pension investments — which are usually exempted from open records laws — typically give Wall Street managers wide discretion over investor money. Blackstone appears to be using that latitude to direct investors cash into an election battle.
"Private equity fund investors — pension funds, endowments and others — are limited partners, and these private equity funds are in effect 'blind pools' which afford investors with very proscribed legal rights and with surprisingly little insight into and information about the funds' investments," said Leo Hindery, a New York-based private equity executive. "The investors would have no idea, if some of their money is going into partisan or activist political campaigns."
Blackstone has warned investors they could face losses from "fluctuations in occupancy, rental rates, operating income and expenses" as well as from "changes in legal, fiscal and regulatory regimes," corporate documents show.
Eileen Appelbaum, co-director of the Washington, DC-based Center for Economic and Policy Research, said the donations are likely legal, but she argued that pension managers should steer clear of private equity firms that use retirees' money for political causes.
"It would be bad enough if Stephen Schwarzman and [executive vice chairman] Tony James of Blackstone were spending some of their own billions to oppose legislation that will put a brake on their ability to drive sky-high rents even higher in the Bay Area," Appelbaum said. "But it is unconscionable for them to use millions of dollars taken from properties in which they have invested the retirement savings of police, firefighters, teachers and other public employees to deprive these workers of affordable rents in the communities in which they work."
"There Can Be Some Tension"
Alex Caputo-Pearl, president of United Teachers Los Angeles, said last month that teachers spend as much as half of their salaries on rent. "We need to say enough is enough and implement measures that better protect students, teachers and families. Implementing rent control is a strong first step," he said.
Even so, some of the retirement money those teachers contribute monthly to the California State Teachers' Retirement System (CalSTRS) is invested in the Blackstone funds that are financing the campaign against Proposition 10. Those investments were valued at more than $715 million last year, according to the CalSTRS website.
"As a public entity, CalSTRS does not participate directly in electoral politics," said a CalSTRS spokesperson.
Similarly, San Francisco's board of supervisors last month voted to endorse Proposition 10. But in 2015, the city employees' pension system committed $150 million to a Blackstone fund that has donated to the measure's opponents.
Then there is the University of California system. Proposition 10 was endorsed by the University of California Student Association, which represents student governments at schools throughout the UC system, and by the city government of Berkeley, which is home to one of the largest branches of the UC system.
At the same time, though, the UC Retirement Plan, which provides benefits for university employees, has invested $35 million in the Blackstone funds used to finance the Proposition 10 opposition.
"The University of California does not make donations to political campaigns," said UC spokesperson Dianne Klein. She added that the UC system's Blackstone investments only include a small amount of California real estate.
---
---
In recent years, pension overseers have faced increasing pressure to generate solid returns for retirees while ensuring their investments reflect environmental, human rights and other social values. For example, pension fund managers in New York and Chicago have announced plans to pull investments from private prison companies, citing their impact on poor and minority neighborhoods. New York City pension officials are also attempting to divest from fossil fuels.
Lou Barberini, a former San Francisco police officer whose retirement system has invested in the Blackstone funds, said his fellow retirees should be concerned that Blackstone's move will set a precedent that allows Wall Street firms to use pension money for pet political causes.
"It is morally wrong that they are using our retirement money to fund a political campaign," Barberini said. "It is also a slippery slope. Where does this stop? What if a money manager wants to take our retirement savings and give it to a candidate?
"Once you start taking money out of pensions to fund political campaigns, where do you draw the line?"
---
This story was reported by David Sirota of Capital & Main and Andrew Perez of MapLight. Amari Cowan contributed reporting.
MapLight and Capital & Main's funders include some non-profit groups that have declared their support for Proposition 10. Neither organization has received any funding from any for-profit entities that have a commercial interest in the outcome of the ballot measure.