Boyle's Heights: A New Book by the Founder of Homeboy Industries
Fr. Gregory Boyle's book includes stories of young parents who have figured out how to manage jobs and child care, and enjoy their kids even if the parents themselves didn't have much of a childhood.

---
"Homies inhabit their truest selves once they are on the receiving end of tenderness."
---
Father Gregory Boyle doesn't exactly credit the Los Angeles homeboys and homegirls he's worked with for 30 years with writing his book Barking to the Choir-The Power of Radical Kinship. But he makes it clear that their voices are what the book is about and opens giving props to the homie who came up with the title.
Barking to the Choir vividly expresses Boyle's passionate perspective that "homies inhabit their truest selves once they are on the receiving end of tenderness."
In Boyle's view, that goes for all of us.
It's easy to think it's a book about gangs and "the gang experience." Boyle, after all, founded Homeboy Industries, the largest gang intervention and rehabilitation program in the world, has testified before Congress on the issue, received the California Peace Prize and was named a 2014 Champion for Change by the Obama White House.
It is not a book about gangs.
Boyle is the author—the scholar who references Jesus along with Buddhist monks Pema Chodron and Thich Nhat Hanh, Desmond Tutu, Martin Luther King Jr. and Thomas Wolfe.
But it's the voices of the homeboys and homegirls that supply the most affecting words. Heart-breaking, harrowing or very frequently laugh-out-loud funny, they lead us through Boyle's story of a community and relationships that connect him with "the tenderness of God."
Barking to the Choir is loaded with spiritual references that may even be accessible to and moving for the non-churched reader. The stories that weave the book together—all brief anecdotes—bring us into some very hard lives but can take us from tears to guffaws within a page.
Boyle draws us in through profiles of those in the Homeboy community—some 10,000 have gone through its job training and placement process, recovery programs and tattoo removal essential to getting that job—helping us see it through his soulful lens.
Ramon, a gang member working at Homeboy Bakery, was the guy who created the book title, not that he knew it at the time. He was in a little trouble, had been late for work, missing his shift some days. He waved Boyle off when the priest approached him after co-workers recommended an "attitude-ectomy." "Don't sweat it, bald-headed," he told Boyle. "You're barking to the choir."
The expression combines "barking up the wrong tree"–and "singing to the choir."
The book is full of such inventive phrasing—seizing the language and shaping it to your will.
"And that's what got the camel to fall," said one homie, explaining how a broken refrigerator put him over the financial edge after all the food spoiled—the straw that broke the camel's back.
Boyle is intent on breaking down the "otherness" that separates the mainstream middle-class in L.A. and other cities from poorer, browner neighbors not too many miles away.
Financially stable people can say don't sweat the small stuff, he explains, but lacking a bank account, a reliable car, being a few bucks short on buying diapers tips you toward disaster. "Being poor means living in a continual state of acute crisis," Boyle says. "That's something they have to endure every day."
He doesn't dodge the pain of families that have lost children to gang life. He has buried 222 young people taken down by the violence. The book details the efforts of the mothers who have struggled to bring about change and who hold rallies to collect guns and throw them away.
Boyle grew up in affluent Hancock Park, in an intact family of seven siblings miles from Boyle Heights. Gang life was not even a notion. "No hopeful kid has ever joined a gang. Not now. Not ever."
Instead, he introduces us to the young man who described at a conference how his mother pressed his hand on a stove-top burner until the flesh charred. That was to teach the boy not to play with matches. "Nothing can render a person more of a stranger to himself than the unspeakable things he was forced to endure when young," Boyle writes.
Such stories run throughout the book, crisply and briefly told—you don't need much detail to get the picture. Or to get a sense of the effects of multi-generational poverty and how it figures into the brutality and neglect he describes—the parents who had no parenting and have no resources to attend to their own kids.
There are also stories of young parents who have figured out how to manage jobs and child care, and enjoy their kids even if the parents themselves didn't have much of a childhood.
None of it is abstract or sociological. We meet people with real names and lives. Boyle strives to present a complex portrait—including a story about the mother who approached him at an awards event to say she hated him and his work; her son had been killed by gang violence.
As the director of a non-profit agency that serves "a trauma-informed community" he is well aware of a need to bridge "the distance between direct service and structural change."
His aim is not to romanticize the poor, but "to see ourselves in kinship with them."
Boyle covered some of this ground in his best-seller Tattoos on the Heart, but in this book his reach seems to be greater, and he shares more of the spiritual influences and practices that sustain him and connect him to the genuine joy and love he finds in his work and his community. And his community is our community.
Our community. That's his point.
---
Copyright Capital & Main
'Skeleton Crew' Is a Play With a Moral Spine
Set in a Detroit automobile outfitting plant, Dominique Morisseau's drama grabs you from the start with its focus on blue-collar men and women, and their struggle for dignity and self-respect.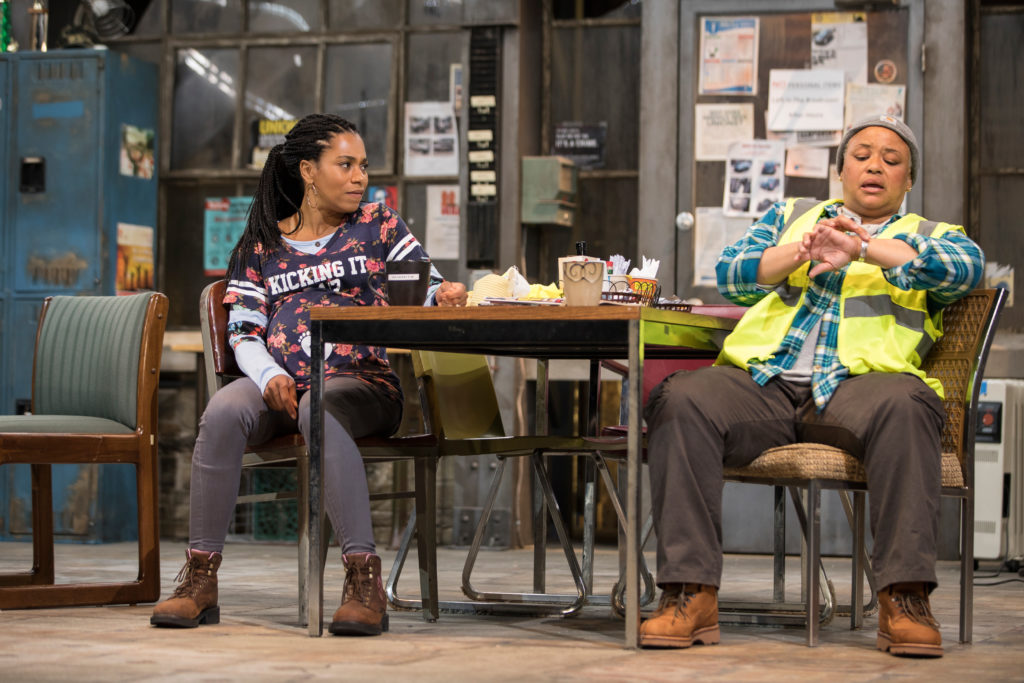 Working-class men and women of color are rarely front and center in today's media and, likewise, are presented all too occasionally on the American stage. So it's buoying to see that trend bucked in playwright Dominique Morisseau's percipient and well-crafted drama, Skeleton Crew. The play is the final installment in her Detroit  Project Trilogy; the first, Paradise Blue, is set in the 1940s amidst displacement caused by urban renewal and gentrification, while the second, Detroit '67, transpires on the eve of the 1967 Detroit riots sparked by a police action.
Directed by Patricia McGregor at Los Angeles' Geffen Playhouse, Skeleton Crew is a play with a moral spine. It takes place in 2008, when the shrinking U.S. auto industry is being further downsized. Morisseau's engaging quartet of characters — Faye (Caroline Stefanie Clay), Dez (Armari Cheatom), Shanita (Kelly McCreary) and Reggie (DB Woodside) – are employed at an automobile outfitting plant. Faye, Dez and Shanita are workers on the line while Reggie (who has a wife and kids, and has pulled himself together after a troubled youth) is their supervisor.
The first three customarily mingle in their break room (designer Rachel Myers' impressively cluttered, dingy and detailed set), trading the sort of familiar barbs and genuine concern for each other common among longtime co-workers. They also face off on philosophy: Upper-middle-aged Faye and the younger, pregnant Shanita take pride in their labor, while Dez, though a good worker, is a malcontent scornful of management and firm in the belief that everyone needs to watch out for himself. He's a thorn in Reggie's side, for while Reggie wants to be supportive of his workers, he must act at the behest of higher management. For his part, Dez resents Reggie's authority, and a palpable unease exists between them.
Besides this male matchup, we're made privy to Dez's attraction to Shanita, who mostly turns away his advances, but every now and then displays a hint of interest. Most poignant is Reggie's regard and affection for the lesbian Faye, which has roots in his boyhood when she loved, and lived, with his now-deceased mom.
These people's various predicaments intensify when rumors spread of the plant's shutdown — a disaster for all, but a particular calamity for the already near-broke Faye who, one year short of retirement, would lose her pension. The crisis forces each of these people to make a choice.
A sound piece of social realism, Skeleton Crew grabs you from the start in its focus on blue-collar men and women, and their struggle against odds for dignity and self-respect. Morisseau not only furnishes these characters a platform for their travails, she endows them with strong values, big hearts and the opportunity to choose between right and wrong.
Unfortunately, the performance I attended did not soar. Many exchanges lacked a fresh edge. The actors certainly had their characters down, but too often they appeared to be coasting on technique. (This seemed particularly true of Clay, who performed the role to great accolades in Washington, DC in 2017, also under McGregor's direction). Additionally, some of the stage movement was not entirely fluid; in confrontations, actors sometimes would just stand and face each other in an artificial way. And Cheatom's interpretation of Dez struck me as a bit overly churlish and depressive: I needed more glimpses of the intelligence and edge that would secretly attract the strong, self-directed Shanita.
The most compelling moments belong to Woodside, well-cast as a man trying his best in difficult circumstances to do the right thing.
---
Gil Cates Theater at the Geffen Playhouse, 10886 Le Conte Ave., Westwood Village; Tues.-Fri., 8 p.m.; Sat., 3 & 8 p.m. Sun., 2 & 7 p.m.; through July 8. (310) 208-5454 or www.geffenplayhouse.org