Boyle's Heights: A New Book by the Founder of Homeboy Industries
Fr. Gregory Boyle's book includes stories of young parents who have figured out how to manage jobs and child care, and enjoy their kids even if the parents themselves didn't have much of a childhood.

---
"Homies inhabit their truest selves once they are on the receiving end of tenderness."
---
Father Gregory Boyle doesn't exactly credit the Los Angeles homeboys and homegirls he's worked with for 30 years with writing his book Barking to the Choir-The Power of Radical Kinship. But he makes it clear that their voices are what the book is about and opens giving props to the homie who came up with the title.
Barking to the Choir vividly expresses Boyle's passionate perspective that "homies inhabit their truest selves once they are on the receiving end of tenderness."
In Boyle's view, that goes for all of us.
It's easy to think it's a book about gangs and "the gang experience." Boyle, after all, founded Homeboy Industries, the largest gang intervention and rehabilitation program in the world, has testified before Congress on the issue, received the California Peace Prize and was named a 2014 Champion for Change by the Obama White House.
It is not a book about gangs.
Boyle is the author—the scholar who references Jesus along with Buddhist monks Pema Chodron and Thich Nhat Hanh, Desmond Tutu, Martin Luther King Jr. and Thomas Wolfe.
But it's the voices of the homeboys and homegirls that supply the most affecting words. Heart-breaking, harrowing or very frequently laugh-out-loud funny, they lead us through Boyle's story of a community and relationships that connect him with "the tenderness of God."
Barking to the Choir is loaded with spiritual references that may even be accessible to and moving for the non-churched reader. The stories that weave the book together—all brief anecdotes—bring us into some very hard lives but can take us from tears to guffaws within a page.
Boyle draws us in through profiles of those in the Homeboy community—some 10,000 have gone through its job training and placement process, recovery programs and tattoo removal essential to getting that job—helping us see it through his soulful lens.
Ramon, a gang member working at Homeboy Bakery, was the guy who created the book title, not that he knew it at the time. He was in a little trouble, had been late for work, missing his shift some days. He waved Boyle off when the priest approached him after co-workers recommended an "attitude-ectomy." "Don't sweat it, bald-headed," he told Boyle. "You're barking to the choir."
The expression combines "barking up the wrong tree"–and "singing to the choir."
The book is full of such inventive phrasing—seizing the language and shaping it to your will.
"And that's what got the camel to fall," said one homie, explaining how a broken refrigerator put him over the financial edge after all the food spoiled—the straw that broke the camel's back.
Boyle is intent on breaking down the "otherness" that separates the mainstream middle-class in L.A. and other cities from poorer, browner neighbors not too many miles away.
Financially stable people can say don't sweat the small stuff, he explains, but lacking a bank account, a reliable car, being a few bucks short on buying diapers tips you toward disaster. "Being poor means living in a continual state of acute crisis," Boyle says. "That's something they have to endure every day."
He doesn't dodge the pain of families that have lost children to gang life. He has buried 222 young people taken down by the violence. The book details the efforts of the mothers who have struggled to bring about change and who hold rallies to collect guns and throw them away.
Boyle grew up in affluent Hancock Park, in an intact family of seven siblings miles from Boyle Heights. Gang life was not even a notion. "No hopeful kid has ever joined a gang. Not now. Not ever."
Instead, he introduces us to the young man who described at a conference how his mother pressed his hand on a stove-top burner until the flesh charred. That was to teach the boy not to play with matches. "Nothing can render a person more of a stranger to himself than the unspeakable things he was forced to endure when young," Boyle writes.
Such stories run throughout the book, crisply and briefly told—you don't need much detail to get the picture. Or to get a sense of the effects of multi-generational poverty and how it figures into the brutality and neglect he describes—the parents who had no parenting and have no resources to attend to their own kids.
There are also stories of young parents who have figured out how to manage jobs and child care, and enjoy their kids even if the parents themselves didn't have much of a childhood.
None of it is abstract or sociological. We meet people with real names and lives. Boyle strives to present a complex portrait—including a story about the mother who approached him at an awards event to say she hated him and his work; her son had been killed by gang violence.
As the director of a non-profit agency that serves "a trauma-informed community" he is well aware of a need to bridge "the distance between direct service and structural change."
His aim is not to romanticize the poor, but "to see ourselves in kinship with them."
Boyle covered some of this ground in his best-seller Tattoos on the Heart, but in this book his reach seems to be greater, and he shares more of the spiritual influences and practices that sustain him and connect him to the genuine joy and love he finds in his work and his community. And his community is our community.
Our community. That's his point.
---
Copyright Capital & Main
A Spiritual Mystery Play Fails to Enlighten
Yusuf Toropov's drama, set in a contaminated, cancer-ridden community, involves a publisher and his brother — a priest struggling against the local archdiocese.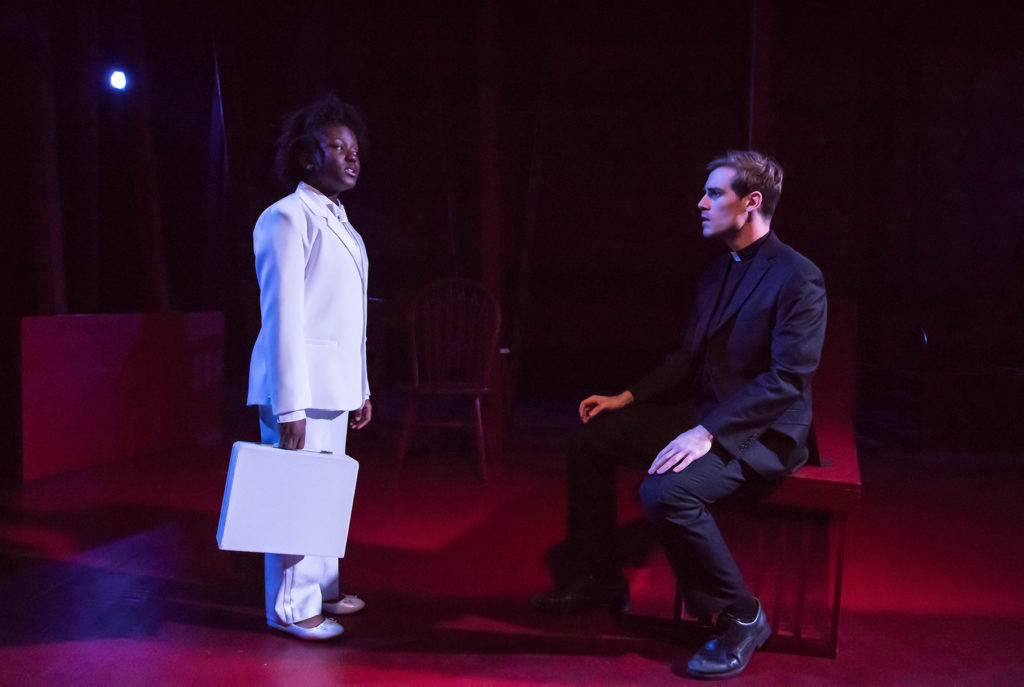 Directed by Chris Fields, Yusuf Toropov's An Undivided Heart, co-produced by the Echo Theater Company and the Circle X Theatre Co., is an aspiring work that aims to be deep but doesn't get there.
The play, running at the Atwater Village Theatre, unfolds on several levels. First, it tells the story of a young Catholic priest who must decide whether or not to publicly expose the pedophiles among his fellow clerics. Second, the work deals with our human struggle to understand why bad things happen with seeming random cruelty (a conundrum whose answers are regularly dispensed by spiritual leaders of all faiths, not very satisfactorily). On yet a third level, the play seeks to express the paradoxical wonder and mystery of life, with an assist from the supernatural.
That's a lot to cover in a little over two hours and, while the production is handsomely staged, its ambitious narrative is diminished by dangling threads, one major improbable setup near the end and too many bits of opaque dialogue.
Tim Wright, Alison Martin and Alana Dietze.
The setting is Holbrook, Massachusetts — a community whose residents have been exposed to contaminants, so cancer is rampant — in the summer of 1992. The story revolves around two brothers, both good guys: Mike (Matthew Gallenstein), a local priest who's written a revelatory book that his superiors want him not to publish, and Max (Tim Wright), an editor, who'd like to help his brother proceed.
When Max arrives at some sort of civic facility (the background particulars of this scene are unclear), he promptly tangles with an angry pregnant clerk named Lynne (Alana Dietz). A few minutes into their altercation, she goes into premature labor, and he rushes her to the hospital — the beginning of a nurturing romance.
Mike, meanwhile, is having strange dreams involving a burning typewriter and a cryptic little girl (Ann'Jewel Lee) who appears to him brandishing a dead cat. The same young person manifests in the dreams of Janice (Tracey A. Leigh, alternating with Jennifer A. Skinner), Max's Buddhism teacher, who is fond of posing riddles. Her favorite: If I am preparing to slice a cat in two, how would you prevent me from doing it?
The narrative shifts between Mike's struggle with his archdiocese, personified by its Cardinal (John Getz, alternating with William Salyers) and Lynne's problems with her dying mom Ruth (Alison Martin, alternating with Sigute Miller), a devout Catholic still in denial over her son's abuse by a priest when he was a youth.
These two storylines are interposed with the baffling dream sequences and Max's (and later Mike's) sessions with the inscrutably smiling Janice and her eschatological brain teasers. One crucial scene that leads to the dramatic climax has Mike looking to entrap an abusive priest (Jeff Alan-Lee, alternating with Jesse Bush) by attending confession with him and pretending to be a pedophile himself. The interchange, in which the priest probes for salacious details, is awkwardly plotted and escalates into over-the-top melodrama.
Cricket Myers' superlative sound design hints at the depth and scope that the playwright himself perhaps had in mind but was unable to attain. Amanda Knehans' set is an effective arrangement of wooden beams, tables and chairs that lighting designer Rose Malone smartly shades with a reddish-orange chroma, like the hues of hell. Elsewhere, she spotlights the players well.
Wright's warm and empathetic Max is highly likable, and he keeps you interested in the scenes he's involved with. Getz is appropriately unctuous as the Cardinal, and Martin draws a richly textured portrait of a not terribly educated housewife, who, buffeted by adversity, still clings to her faith. Michael Sturgis steals the limelight as a singing, simpering cleric. A couple of the other lead performances need refining.
Atwater Village Theatre, 3269 Casitas Ave., Los Angeles; Mon., 8 p.m.; Fri.- Sat., 8 p.m.; Sun., 4 p.m.; through April 22. www.EchoTheaterCompany.com
---
Copyright Capital & Main