Borderline Crazy: Prop. 32's Anti-Immigrant Allies
In October of 2011, Governor Jerry Brown signed into law the California Dream Act—which allows undocumented but high-achieving immigrant students to receive state funds to help pay for college. It was a monumental victory for tolerance and the culmination of a long fight—Arnold Schwarzenegger repeatedly vetoed similar measures during his tenure in the California governor's office.
Come November 6, however, that fight could begin all over again if California's Proposition 32 passes. The initiative will outlaw the use of automatic payroll deductions from union members and corporations for political purposes, crippling union political activity and empowering the measure's billionaire backers to impose their political will on the state. While state unions passionately fought for the California Dream Act's passage, they were opposed by politicians with ties to Prop. 32's backers. Though they might not be rabid with anti-immigrant bile, Prop. 32's moneymen have no problem funneling money to politicians who are.
Take, for instance, Allan Mansoor, currently running for the State Assembly. He is an avowed enemy of the Dream Act, calling it "A slap in the face to people who followed the rules." Mansoor has received major donations and support from Prop. 32 backers like Larry T. Smith and his powerful political action committee Family Action and the Lincoln Club of Orange County, as well as Howard Ahmanson.
When he served as mayor of the Orange County city of Costa Mesa in the early aughts, Mansoor launched a very public crackdown on Mexican lunch trucks—or, in his words "roach-coaches" blaring "La Cucaracha"—that were supposedly despoiling the suburban tranquility of his once peaceful town.
The move was blasted by the local press. Wrote OC Weekly food critic Gustavo Arellano: "Trust me on this one: As someone who has followed [these trucks] for nearly a decade, they're not going into Costa Mesa . . . Mansoor is a bigot."
The lunch truck crackdown, however, paled besides Mansoor's next foray into immigration politics. In 2005, well before Arizona ever passed its anti-immigrant law SB 1070, Mansoor authorized Costa Mesa police to run immigration checks on individuals suspected of crimes, as well as on unlicensed drivers. He even proposed authorizing local police to investigate federal immigration crimes—creating a national news story over fear the rule would result in the racial profiling of Latinos.
The situation was ultimately resolved by installing a permanent Immigration and Customs Enforcement official in the local jail. But not before the American Civil Liberties Union sued Mansoor and Costa Mesa, after an immigrant rights advocate was arrested for speaking up against the plan at a city council meeting.
Belinda Escobosa Helzer, director and senior attorney of the ACLU's Orange County office, which filed the suit, says that during the discovery phase of the lawsuit her group uncovered close ties between Mansoor and the anti-immigrant vigilante group the Minutemen, as well as its founder, Jim Gilchrist. Mansoor was even made an honorary member of the organization at one event.
"We believe the Minutemen to be a very dangerous group," says Helzer. "Given the history of [Mansoor's] activities in Costa Mesa, we would be concerned with any public servant who has those kinds of connections."
Mansoor isn't the only anti-immigrant zealot receiving material support from Prop. 32's backers. San Bernardino Republican State Assemblyman Tim Donnelly recently received a $3,900 contribution from Howard Ahmanson's political asset manager, Fieldstead and Company, for his reelection bid. Donnelly is probably best known for bringing a loaded .45-caliber Colt Mark IV on board a flight to Sacramento in January of this year. His excuse? Illegal immigrants were after him!
Donnelly is one of California's most publicly anti-immigrant politicians. He's the founder of his town's chapter of the Minuteman—the xenophobic group that has tasked itself with patrolling the borders for undocumented immigrants. He was also the leading opponent of the Dream Act. Not only did he vote against the bill's passage, Donnelly began collecting signatures to have the law repealed by ballot measure shortly after it was signed into law.
Fieldstead, incidentally, donated to Donnelly's campaign well after his airplane adventure and anti-immigrant paranoia made national news. Ahmanson, rather disingenuously, claims that he himself isn't anti-immigrant: "Most immigrants," he told the Sacramento Bee in 2011, "are conservative on the social issues."
Perhaps more hypocritical than disingenuous, however, is major Prop. 32 donor Jerry Perenchio. Even though he made much of his fortune as a co-owner of the Spanish-language TV network Univision, Perenchio has channeled $2.5 million in this election cycle to Republican candidates across America who could easily be described as anti-immigrant. The money was largely routed through Karl Rove's American Crossroads Super PAC.
In Nevada alone, American Crossroads has supported Republican Senator Dean Heller, who vowed to alter the 14th Amendment to prevent those born in this country from automatically becoming citizens—in order to eliminate immigrant "anchor babies." Earlier, in a 2011 special election, American Crossroads helped finance the campaign of Republican Mark Amodei, who compares the effects of illegal immigration to the devastation Hurricane Katrina wreaked on New Orleans.
Even before this election cycle, Perenchio donated money to such anti-immigrant California politicians as Santa Barbara Republican Tony Strickland—who voted against both the Dream Act and the Trust Act, the latter of which would have limited California law enforcement's cooperation with federal officials in rounding up undocumented immigrants for deportation.
Strickland is a popular choice among Prop. 32 donors, receiving a rare direct donation to a California politician from Koch Industries—to the tune of $5,000.
Admittedly, most of Prop. 32's backers aren't aggressively anti-immigrant. At least not openly. They're too savvy for that—after all, 38 percent of California is Latino. On a statewide level, pushing for an Arizona-type law would ultimately mean political suicide for California Republicans.
However, while political considerations may be keeping Prop. 32's known backers from frothing at the mouth over immigration, it's the unknown that is cause for concern. Earlier this week, the Prop. 32 campaign netted a massive $11 million donation from a mysterious non-profit calling itself Americans for Responsible Leadership. The organization is based in Arizona.
Little is known about ARL, and even less about its financial supporters. Our efforts to contact the group by press-time were unsuccessful.
Despite the scant details over the Arizona money's origins, however, its infusion into the political process ultimately points to the greatest cause for concern over Prop. 32—the complete unknown. Even if California Republicans are too timid to launch an Arizona-type crackdown, that doesn't mean shadowy out-of-state money from wealthy xenophobes couldn't push for such a measure. As Perenchio's national donations, as well as pro-Prop. 32 donations to candidates like Mansoor and Donnelly, indicate, curbing anti-Latino rhetoric and stemming the tide of xenophobic legislation is nowhere on the Prop. 32 donors' priority list.

Rick Scott Invested in the Same Financial Firms As Florida's Pension System
Co-published by MapLight
For most of his time in office, Florida's governor has shielded his investments from public view. A new disclosure shows Rick Scott and his wife have invested at least $18 million in financial firms managing money for the state's pension system that he oversees.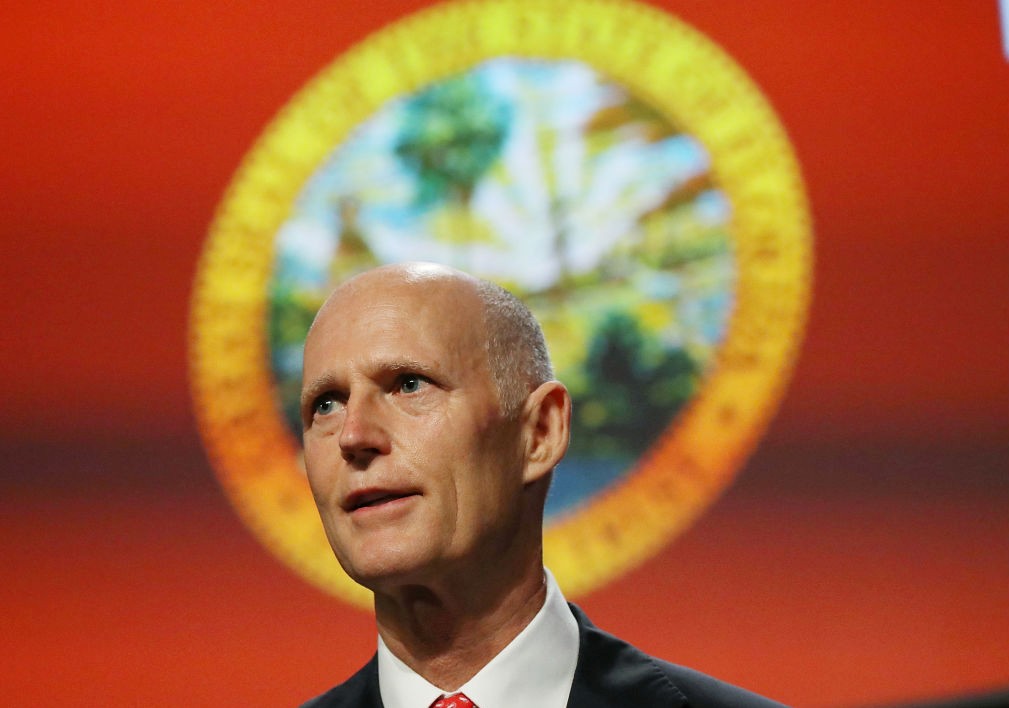 ---
Former SEC Lawyer: "There needs to be an investigation into whether the state is subsidizing Rick Scott's personal returns."
---
Co-published by MapLight
Florida Gov. Rick Scott and his wife have invested at least $18 million in three financial firms managing money for the state's pension system that Scott oversees — a situation that intertwines the governor's personal finances with his responsibility for supervising state employees' retirement savings.
The investments were first divulged in a federal financial disclosure form that Scott filed as part of his U.S. Senate campaign in July. For most of his time in office, Scott has shielded his investments from public view, and only reported their overall value in his blind trust.
The terms of Scott's investments remain undisclosed. The firms' own corporate documents say they can give certain investors special preferences not afforded to other investors — and experts have in recent years argued that hedge funds, private equity firms, and other "alternative investments" are giving such preferences to elite investors. One former Securities and Exchange Commission attorney told MapLight and Capital & Main that Scott must disclose whether he is being given such preferences.
---
Critics have raised questions about how blind the Scott family trusts really are.
---
Florida ethics laws are supposed to prohibit state officials from entering into contractual relationships with companies that do business with their agencies. However, after Scott became governor in 2011, state ethics officials said he and his family members could put their assets into a blind trust to avoid conflicts of interest and still maintain their investments in companies operating in Florida.
Critics have raised questions about how blind the Scott family trusts really are. Scott placed one of his longtime business associates in charge of managing his blind trust. The Tampa Bay Times reported that Scott's blind trust has invested with a private equity firm tied to a high-speed rail project in Florida. The trust also had an indirect interest in a cancer treatment company that received tax breaks from Scott's administration.
---
"The question is whether Rick Scott is being allowed to invest on better terms than the state pension fund."
---
"When Governor Scott was elected, he put all of his assets in a blind trust, which is managed by an independent financial professional who decides what assets are bought, sold or changed," said Scott campaign spokesperson Lauren Schenone. "The rules of the blind trust prevent any specific assets or the value of those assets within the trust from being disclosed to the governor, and those requirements have always been followed."
Scott is one of three state officials who serve as trustees for the Florida State Board of Administration, which manages a $160 billion fund for roughly 400,000 retirees. Scott, Attorney General Pam Bondi, and Chief Financial Officer Jimmy Patronis oversee lucrative state investment deals granted to cash-hungry Wall Street firms.
The three firms that have received $325 million worth of Florida pension investments have allowed the Scott family's blind trusts to simultaneously invest their personal fortunes in these funds. Scott's investments in the funds did not appear in a 2014 disclosure itemizing his holdings. His campaign did not say when the investments were made.
"There are no ethics rules that prohibit or limit a trustee from investing in funds also invested in by the SBA," said SBA spokesperson John Kuczwanski, though he added that trustees are subject to Florida's general code of ethics. Kuczwanski said that the governor has no involvement in specific pension investment decisions.
Don Hinkle, a Democratic lawyer, filed a lawsuit last year alleging that the governor has failed to comply with the state's blind trust and financial disclosure laws. He said he was surprised by the news that Scott had invested in the same firms as the Florida pension system.
"I would think that he would have avoided investments where the state of Florida's money is propping his up," Hinkle told MapLight and Capital & Main.
In 2011, a few months after Scott became governor, the SBA committed $150 million to Highline Capital Partners, a New York-based hedge fund. Scott's financial disclosure shows that his family's trusts have invested at least $4 million in the same Highline fund as the state.
The SBA also committed $100 million in 2015 to a hedge fund managed by Canyon Capital Advisors, a Los Angeles-based firm created by veterans of the notorious investment bank Drexel Burnham Lambert, which was driven into bankruptcy as a result of illegal and unethical trading practices. Scott and his family have invested at least $12 million in Canyon funds, according to his financial disclosure.
Before Scott became governor, the SBA invested $75 million with VSS, a New York-based private equity firm that was launched by a co-founder of Psychology Today. Scott and his wife, Ann, have invested more than $2.2 million in another VSS fund. A spokesperson for VSS said the firm doesn't comment on its investors.
All three firms' SEC filings say they can offer certain investors special fee terms or other benefits not offered to other investors.
"Alternative investment funds have the ability to offer every investor different fees at a different rate of return, so the question is whether Rick Scott is being allowed to invest on better terms than the state pension fund," said former SEC attorney Edward Siedle, whose Florida-based firm conducts forensic investigations of state pension systems.
"If you give one investor an advantage, another investor has to be disadvantaged," Siedle said. "That means there needs to be an investigation into whether the state is actually subsidizing Rick Scott's personal returns and whether the governor enjoys advantages that are harming the retirees."
Schenone, Scott's spokesperson, said that his blind trust has "been upheld multiple times by the State Commission on Ethics and the court system. Governor Scott has also followed the requirements of all state and federal financial filings."
She noted that former Florida Republican Gov. Jeb Bush and Scott's 2010 Democratic opponent Alex Sink had also used blind trusts, although Scott's campaign attacked Sink for hers at the time.
"Blind trusts sound good but can run afoul of state laws requiring public officials to disclose their personal finances," a Scott campaign ad said in 2010. "[But] simply moving large amounts of money into a blind trust does not magically erase the knowledge of what you own."
---
This piece was reported by Andrew Perez of MapLight and David Sirota of Capital & Main, and published in partnership with the Florida Center for Investigative Reporting.