Book Review: "The Squeezed Middle"
The Squeezed Middle: The Pressure on Ordinary Workers in America and Britain, a short book edited by Sophia Parker, brings together 16 scholars and activists to diagnose America's malaise. (Policy Press, 2013.)
You probably don't need a book to tell you that the United States has fallen into the economic abyss and the United Kingdom is teetering on the edge. Wages have been flat for 40 years; welfare as we knew it is gone and the political system has been corrupted by corporations and greed.
If you're British, you might think that the United Kingdom isn't teetering, but has already firmly landed at rock bottom. If that's what you think, then think again. Things are much more savage on the Tea Party side of the Atlantic Ocean. Mother country, beware.
Inequality has risen dramatically in both the United States and the United Kingdom, but the United Kingdom maintains some vestiges of civilization, including universal health care, job protections for full-time workers, and decent (if declining) unemployment benefits.
In the United States, workers are, for the most part, on their own.
The Squeezed Middle, edited by Sophia Parker of the U.K. think tanks Demos and the Resolution Foundation, does a good job of laying out the depressing statistics behind the "we are the 99 percent" activism of the Occupy movement and other progressives. It is a collection of 11 essays by leading scholars and policy professionals from both sides of the Atlantic.
Each chapter focuses on a different aspect of how today's social and economic policies put pressure on ordinary workers. The editor and publishers are British, but most of the authors and studies are American. American readers of The Squeezed Middle will recognize many of the high-profile American contributors to the book.
For example, Larry Mishel of the Economic Policy Institute writes with coauthor Heidi Shierholz of the lost decade of the 2000s. They burst the myth that the Great Recession began with the burst bubble of 2008. They show that the business cycle before 2008 was the first ever in which wages peaked lower than at the peak of the previous cycle.
For most Americans, the last time they got a raise in real inflation-adjusted wages was the late 1990s.
Sociologist Lane Kenworthy of the University of Arizona places the American experience in comparative perspective. We weren't the only ones to feel the pressures of globalization and technological change. We were just the only ones to let those pressures destroy our middle class.
Kenworthy advocates a high-employment route out of permanent recession centered on greater public employment and resurgent unionization. He also calls for the creation of an independent commission to set and manage the minimum wage for the United States, as the U.K.'s Low Pay Commission does for the United Kingdom.
Another American contributor is Tamara Draut from the U.S. incarnation of Demos. She exposes the lunacy of austerity as a path to prosperity and lays out a more rational approach based on appropriate levels of taxation and spending, in particular spending on childcare and infrastructure.
Political scientist Jacob Hacker, co-author of Winner-Take-All Politics, points in his essay to three lessons to be learned. First, pay attention to market incomes. Second, don't let policies drift for years without renewal. Third and most important, invest in organizations that can advocate for ordinary people.
Other contributors to The Squeezed Middle write about the lived realities of low-wage employment, ways to improve worker opportunities through training, and the role of savings in raising families out of poverty. The role of money in politics also comes in for a drubbing in many of the essays.
For anyone who wants an all-in-one primer on the economic problems facing the middle class in America today, this is your book. The Squeezed Middle is full of data, but it is no academic tome. It is accessible to anyone who cares enough about deteriorating living standards to want to know how we got into this hole and what we can do to get out of it.
Teachers, social workers, union organizers and activists of all kinds will find in this book meaningful answers to many of the questions they face every day. At $30 it's not too taxing on your wallet, and at 169 pages it's not too taxing on your time. Best of all, it's from a progressive nonprofit publisher, the Policy Press at the University of Bristol.
Books like The Squeezed Middle won't solve our economic problems, but they do help give people like you and me the information we need.
The truth is that we don't have to sacrifice the well-being of ordinary people in order to make our economies run properly again. Quite the contrary: Our economies will run properly again when we put the well-being of ordinary people back at the center of economic policy-making. The Squeezed Middle offers much sound advice on how to do just that.
(Salvatore Babones is a senior lecturer in sociology and social policy at Australia's University of Sydney and an associate fellow at the Institute for Policy Studies in Washington, DC. His post first appeared in Truth Out and is republished with permission.)
The Power of the Poster
Carol Wells, the founder of the Center for the Study of Political Graphics in Los Angeles, talks to Capital & Main about the enduring power of political art.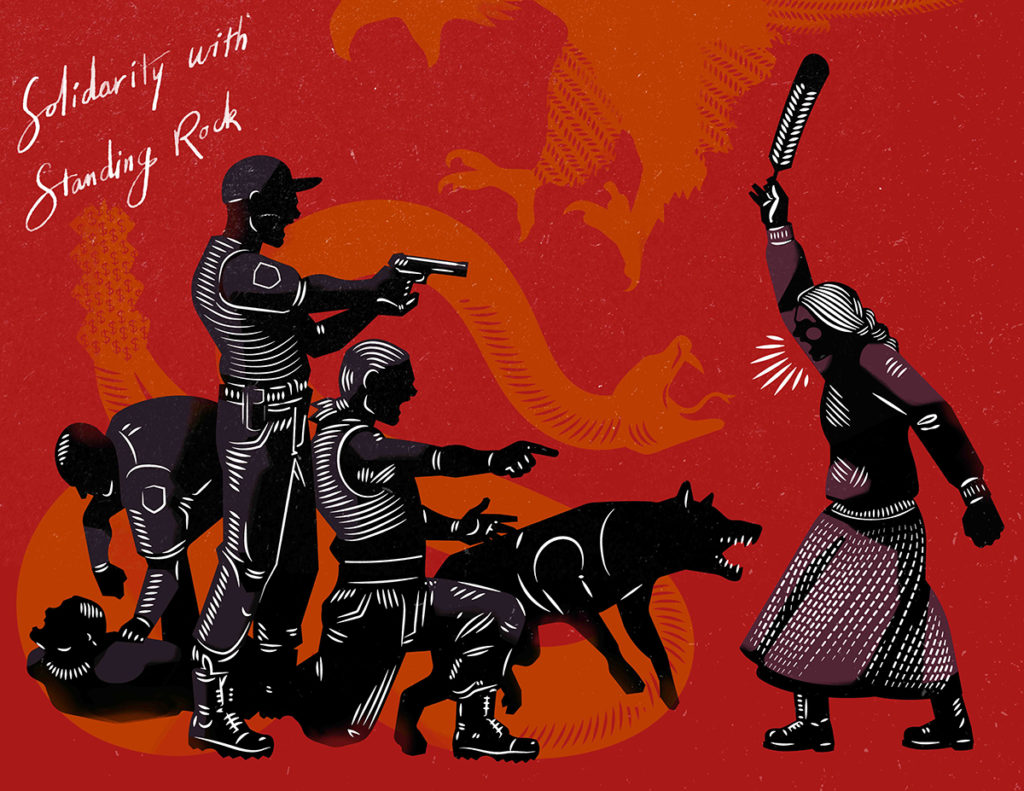 Carol Wells remembers the exact moment she discovered her calling. An art historian at the time, she was on a trip to Nicaragua with her friend David Kunzle, a UCLA art history professor, who was collecting political posters to add to his burgeoning collection. While staying with friends, Wells watched a neighbor's 8-year-old son approach a poster on the wall, stare at it intently, and then start to silently mouth the words. Wells was struck by how engaged the boy was. "In that moment I became obsessed with collecting posters."
Now over 40 years later, Wells is the founder and executive director of the Center for the Study of Political Graphics in Los Angeles. Wells has amassed approximately 90,000 posters, building one of the largest collections of its kind in the world. The Center shares its collection with the public in part through curated exhibits. This year the CSPG has produced Feminae: Typographic Voices of Women by Women and its latest is To Protect & Serve? Five Decades of Posters Protesting Police Violence, running through July 15 at the Mercado La Paloma in downtown Los Angeles.
Since that encounter in Nicaragua in 1981, Wells' obsession with collecting posters hasn't waned. In CSPG's nondescript West L.A. office space, Wells pulls out poster after poster, lecturing passionately on the backstory and cultural impact of each, including one that superimposes text from a New York Times interview with a shocking image of the My Lai massacre ("Q: And babies? A: And babies."). Recently, she managed to sit down with C&M to discuss her passion.
---
Capital & Main: So, you were an art history professor, you happen to see a kid on a trip, and suddenly your life was changed forever?
Carol Wells: Yeah, I'm in Nicaragua alone in the living room with this kid. He's looking around, and all of a sudden, he sees the poster. It was pretty big, bright green, a thick outlines of a woman holding a big basket of coffee beans. And the text in Spanish said, "In constructing the new country, we are becoming the new woman." I see him walk over to the poster and I'm watching him mouth the words. It was a pretty sophisticated concept, so I doubt he figured it out. But I literally had this epiphany: "Oh my God. That's how posters work." You're going about your daily life, and all of a sudden something breaks through the bubble, and it grabs your attention. It's the graphic, it's the color, it's the combination, and it pulls you out of your head and into that poster and it makes you ask a question. "Why is this here? What is this about? What does this mean?" And every time you ask a question, you're a different person than you were before you asked the question.
How many posters do you get a year?
We get between two to five thousand a year donated from all over the world. The bulk of our collection is [from] 1945 and later.
I assume technology has probably hurt the art form, but has it helped get the messages out?
Most people think that, and it's actually not true. Since the internet age started, there's actually a poster renaissance of works on paper. Because you can't walk with your computer monitor in a demonstration. You can't plant your monitor on your lawn.
And you can't put a laptop on the wall…
Exactly. You want to hear a really great story? Truthdig.org published a cartoon [made by] a political cartoonist named Mr. Fish. It was during the Arab spring, and he had superimposed Che Guevara with the stylized beard and King Tut's face, but it had Che's beret. And it [was titled], "Walk like an Egyptian." So, it was a reference to the music, but [it was also] a reference to what was going on the streets of Cairo. I sent it out as our poster of the week to 9,000 people. The very next day, somebody took a photograph on the street of Cairo, with somebody holding a piece of paper with that image on it. A poster can literally go around the world and people will print it out.
What struck me in viewing your exhibits is how many of these posters could still be used today, not only artistically but also, sadly, in the timeliness of their messages.
We had this fabulous poster by Yolanda Lopez, a Bay Area artist, which she first did in 1978. It depicts a young man in Aztec garb pointing a finger like Uncle Sam saying, "Who's the illegal alien, PILGRIM?" And it's a great poster, it's simple, not too many words, funny, provocative. So, we had an exhibit at UCLA in the mid '90s and there were 4 or 5 high school students standing around this poster saying, "Wow, you've got posters up to the minute." And I went over to them and I said, "Look at the date. This is before you were born."
Is that one of your goals with the exhibitions? To show the evergreen nature of this work?
Absolutely. I mean that's why we did the police abuse exhibition now. It basically goes back five decades. It's 50 years of posters protesting police abuse. Mainly in the United States, but also internationally.
What's the goal for CSPG?
Well the aim right now is really to digitize the collection and get it online. We have 10% of the collection digitized. But the mission is to collect and to document, because stories get lost. All the exhibitions, they're showing massacres, they're showing genocide, they're showing police abuse, they're showing all of these horrible things. And people often ask me, "How can you look at this stuff all day long?" I said, "Because the poster artists are optimists. They believe people can change if they have the information."
Yes, that's the reason why they're doing it, right?
That's why they're doing it, and that's why I'm doing this, because I believe that people can change if they knew the truth.
And what happens 20, 50 years from now?
Well, my goal is to stay independent, because the other option is to become part of the university. Universities, for all the fabulous things that they do, they also censor. We did an exhibition at USC in 1992 on the 500 years since Columbus, and how the legacy of racism and exploitation and genocide continues. And one of the board of trustees was Italian and took [the exhibit] as an affront to Columbus. It really wasn't about Columbus, it was about colonialism. And he ordered it down.
Do you have a favorite poster?
I'm always amazed at the creativity and vision of artists. Every week I'll say, "Oh my God, how do they think of that?" But it's always still going to be the poster I saw that kid trying to figure out. It has to be my favorite one because that one changed my life.
What makes a perfect poster?
The right balance between aesthetics and message. If you only rely on the corporate press, the New York Times and L.A. Times, for your information, you're not going to get the side from the street, from the movement, from the activists. The posters are primary historical documents that are recording the issues that were at the time, and the passions that were at the time, and the divisions that were at the time. You're not going to get it anyplace else.
---
Copyright Capital & Main