Book Review: 'A Bitter Pill'
(Spoiler Alert: The last paragraph of this review of Timothy Sheard's novel, A Bitter Pill, reveals plot endings.)
When a business-oriented company takes over the management of the James Madison Medical Center in Philadelphia, Pennsylvania, it is immediately clear that things are about to change, and not for the better. The sudden appearance of the Committee to Save James Madison – supposedly established by a group of disgruntled employees who don't think the union has their best interests at heart, but in actual fact created by Croesus Health Care, the new owners of the hospital – is the first clue that the bosses are eager to crush the workers' organization, fire staff and focus on the bottom line, service delivery be damned. In short order, everyone's work life is turned upside down as a petition drive to decertify said union to "save jobs" leads to mayhem, murder and more.
It's a fun read, the sixth in Timothy Sheard's well-established series of Lenny Moss mysteries. In it, hero Moss, a tireless, working-class college dropout, articulates a solid message about worker solidarity and union militancy that is both refreshing and inspiring.
Despite some stereotypes – for example, the new hospital president, Robert "Third Reich" Reichart, is an ogre writ almost humorously large, and several of the female nurses, housekeepers and aides come close to being clichés – the dilemmas the workers face, from increased caseloads and constant monitoring to speed-ups and reliance on computers rather than human diagnosticians, reflect contemporary realities in the delivery of medical care in the US of A.
It's scary stuff, and Sheard has clearly done his homework. What's more, his solutions are heartening. When management proposes cuts that amount to a reduction in services to patients as well as a diminution of workers' rights, Moss and his colleagues, a multi-ethnic group that includes Abrahm [sic], Dante, Little Mary, Mimi, Moose and Patience, decide that the only solution is organizing – loudly, proudly and aggressively. That is, instead of rolling over and granting concessions, the workers at James Madison decide to go on the offensive and not only reject give-backs, but also launch a campaign to bring registered nurses into the union fold.
Bob Feltcher, the union's area director, describes the situation facing staff in stark terms. Decertification, he begins, will ruin the hospital, not save it. Despite management's stated intention of outsourcing many departments to off-site administrators if employees vote to keep the union – a claim meant to scare staff into submission – Feltcher is adamant that the union will do everything it can to keep this from happening. Still, if the decertification effort wins, his prognosis is bleak: "Health and safety? Out the window! Respect for seniority? Gone fishing! Benefits and vacation accrual? Sayonara! But you know what you will get if they destroy this union? Increased workloads! Mandatory overtime! Forced weekend duty! Part-time benefits while working sixty hours a week! That's what you'll get if that bullshit committee wins their vote to decertify this great union!"
As Feltcher and Moss rev up the rank and file, Moss reminds them that collective bargaining has resulted in numerous pro-worker victories, even in today's era of austerity budgets and diminished dissent. The California Nurses Association, he reports, has successfully pushed the state legislature to mandate humane nurse-to-patient ratios – a huge win and something that Madison's nurses can demand if they have the clout of a union behind them. As he sees it, a broad-based worker organization is essential – and is the only way to stem the anti-worker tide that threatens not only James Madison staff, but workers the world over.
Sheard – an active member of the New York City chapter of the National Writers' Union – further confronts the pervasive anti-worker ideology that presently holds sway on many job sites, from outright fear of unions to the elitism that posits professionals, in this case nurses, in a category separate from, and above, laborers, janitors and security personnel. "The best defense is a good offense," he reminds his peers. "Croesus only respects strength. We take the offense … or they'll roll over us…. The greatest threat to the new bosses was cross-discipline unity."
Moss, of course, is hell-bent on winning – as are his colleagues. At the same time, other concerns compete for their attention. In fact, as the pro-union campaign at James Madison catches fire, an additional conundrum grabs their attention. And it's grisly. When dialysis technician Louie Gordon is found hanging in a remote area of the hospital, his former co-workers become suspicious. Was it really suicide, as initially stated by Croesus, or was Louie murdered? Worse, if he was killed, who could have done such a thing, and why?
It doesn't take long for Moss – an amateur detective with an impressive track record – to begin digging, and his efforts to unravel this mystery are highly entertaining. In addition, they add intrigue and drama to an already complex and layered story.
Suffice it to say that A Bitter Pill has a relatively happy ending. Worker solidarity is invoked and the Croesus big-wigs get their just desserts and then some. Good, old-fashioned, grassroots organizing is championed and labor unions are heralded. Prejudice, whether born of race, class or gender bias, is laid to rest in favor of all-for-one and one-for-all camaraderie. It's a rare scenario these days – in literature or in life. Indeed, as the proud activists raise a glass to their success, it's impossible not to want to join them for a round or two.
(Eleanor J. Bader is a freelance writer, teacher and feminist activist from Brooklyn, New York. Her review first appeared in Truthout and is republished with permission.)

'Skeleton Crew' Is a Play With a Moral Spine
Set in a Detroit automobile outfitting plant, Dominique Morisseau's drama grabs you from the start with its focus on blue-collar men and women, and their struggle for dignity and self-respect.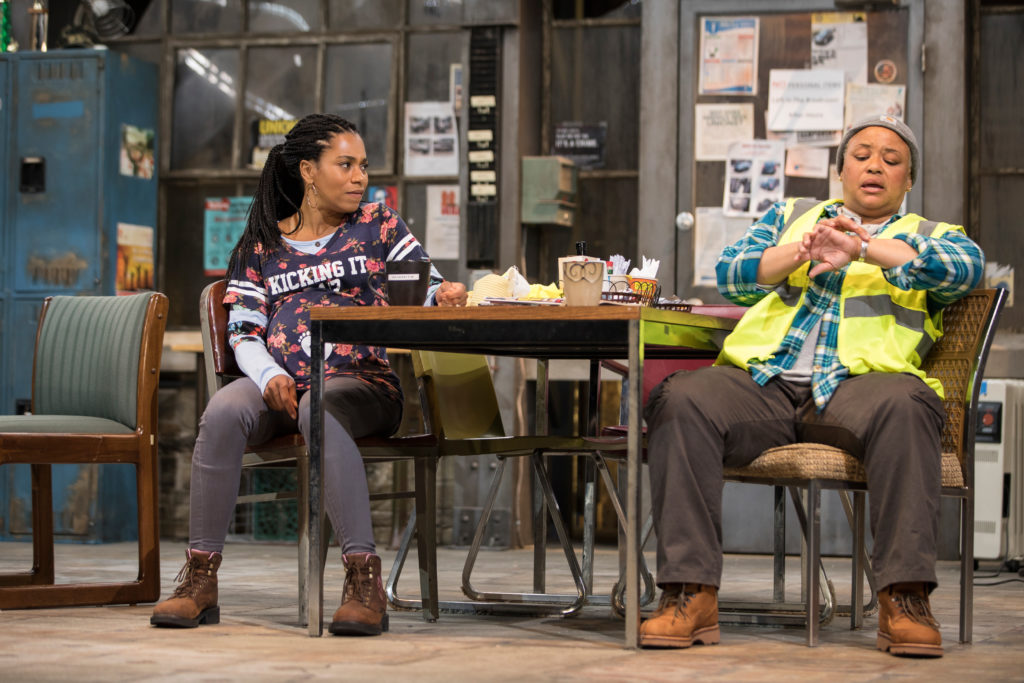 Working-class men and women of color are rarely front and center in today's media and, likewise, are presented all too occasionally on the American stage. So it's buoying to see that trend bucked in playwright Dominique Morisseau's percipient and well-crafted drama, Skeleton Crew. The play is the final installment in her Detroit  Project Trilogy; the first, Paradise Blue, is set in the 1940s amidst displacement caused by urban renewal and gentrification, while the second, Detroit '67, transpires on the eve of the 1967 Detroit riots sparked by a police action.
Directed by Patricia McGregor at Los Angeles' Geffen Playhouse, Skeleton Crew is a play with a moral spine. It takes place in 2008, when the shrinking U.S. auto industry is being further downsized. Morisseau's engaging quartet of characters — Faye (Caroline Stefanie Clay), Dez (Armari Cheatom), Shanita (Kelly McCreary) and Reggie (DB Woodside) – are employed at an automobile outfitting plant. Faye, Dez and Shanita are workers on the line while Reggie (who has a wife and kids, and has pulled himself together after a troubled youth) is their supervisor.
The first three customarily mingle in their break room (designer Rachel Myers' impressively cluttered, dingy and detailed set), trading the sort of familiar barbs and genuine concern for each other common among longtime co-workers. They also face off on philosophy: Upper-middle-aged Faye and the younger, pregnant Shanita take pride in their labor, while Dez, though a good worker, is a malcontent scornful of management and firm in the belief that everyone needs to watch out for himself. He's a thorn in Reggie's side, for while Reggie wants to be supportive of his workers, he must act at the behest of higher management. For his part, Dez resents Reggie's authority, and a palpable unease exists between them.
Besides this male matchup, we're made privy to Dez's attraction to Shanita, who mostly turns away his advances, but every now and then displays a hint of interest. Most poignant is Reggie's regard and affection for the lesbian Faye, which has roots in his boyhood when she loved, and lived, with his now-deceased mom.
These people's various predicaments intensify when rumors spread of the plant's shutdown — a disaster for all, but a particular calamity for the already near-broke Faye who, one year short of retirement, would lose her pension. The crisis forces each of these people to make a choice.
A sound piece of social realism, Skeleton Crew grabs you from the start in its focus on blue-collar men and women, and their struggle against odds for dignity and self-respect. Morisseau not only furnishes these characters a platform for their travails, she endows them with strong values, big hearts and the opportunity to choose between right and wrong.
Unfortunately, the performance I attended did not soar. Many exchanges lacked a fresh edge. The actors certainly had their characters down, but too often they appeared to be coasting on technique. (This seemed particularly true of Clay, who performed the role to great accolades in Washington, DC in 2017, also under McGregor's direction). Additionally, some of the stage movement was not entirely fluid; in confrontations, actors sometimes would just stand and face each other in an artificial way. And Cheatom's interpretation of Dez struck me as a bit overly churlish and depressive: I needed more glimpses of the intelligence and edge that would secretly attract the strong, self-directed Shanita.
The most compelling moments belong to Woodside, well-cast as a man trying his best in difficult circumstances to do the right thing.
---
Gil Cates Theater at the Geffen Playhouse, 10886 Le Conte Ave., Westwood Village; Tues.-Fri., 8 p.m.; Sat., 3 & 8 p.m. Sun., 2 & 7 p.m.; through July 8. (310) 208-5454 or www.geffenplayhouse.org