Blue States Prep for an Onslaught of Abortion Refugees
Divisions deepen as America waits for the official Supreme Court ruling.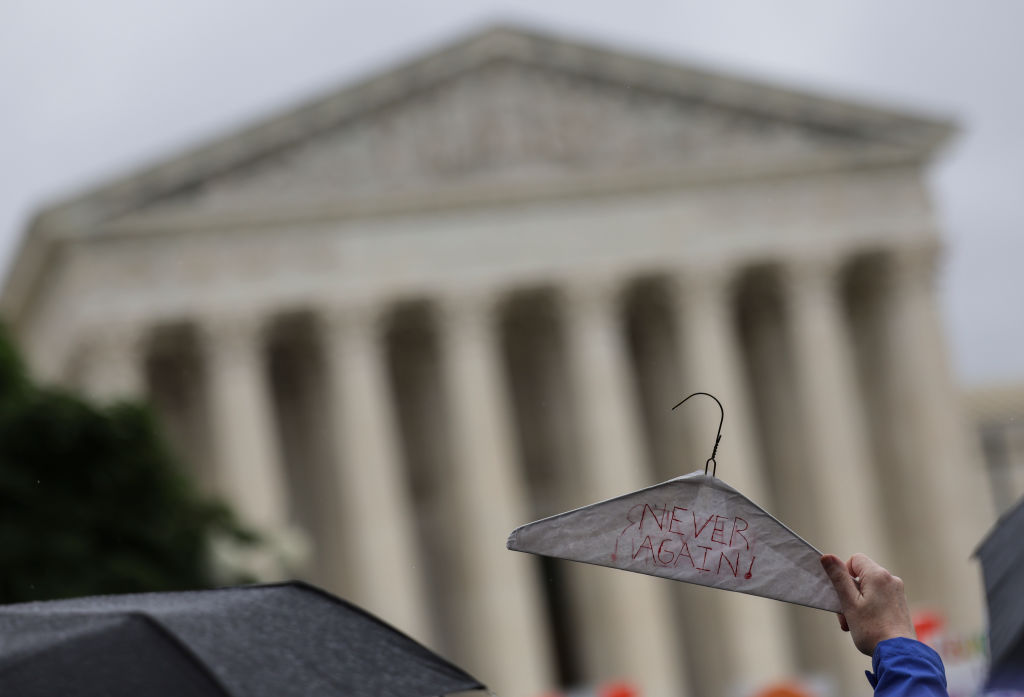 Since a draft majority opinion from the U.S. Supreme Court reversing Roe v. Wade was leaked, lawmakers in blue states have been moving quickly to protect abortion rights and preparing to welcome refugees from states where the procedure could soon be outlawed. The result, if the opinion remains unchanged, could be an America even more deeply divided.
Roe had already been dying a death by a thousand cuts and has been de facto outlawed in Texas since September and been hard to get in many states for years. The decision to overturn that 1973 ruling has been predicted since Justice Amy Coney Barrett cemented the Court's 6-3 conservative majority upon the death of Ruth Bader Ginsburg just before the 2020 election. Assuming the court's draft decision remains mostly unchanged, 26 states are likely or certain to ban abortion, according to the Guttmacher Institute, a sexual and reproductive health rights advocacy group.
In some of these states, "trigger laws" outlawing abortion will kick in within 30 days of the ruling, with some of them, so-called "heartbeat laws," outlawing abortion before most women know they're pregnant. In other states, zombie laws outlawing abortion dating back to the time before Roe became the law of the land will go into effect once the decision is overturned. Only 16 states and the District of Columbia have laws on the books that protect abortion rights, and they are planning to see a wave of travelers from restrictive states. According to Guttmacher, 36 million people may need to cross state lines to seek an abortion.
Justice Samuel Alito, in his draft opinion, wrote that because abortion is not mentioned in the Constitution, "It is time to heed the Constitution and return the issue of abortion to the people's elected representatives."

---
The Guttmacher Institute estimates that out-of-state patients traveling to California by car to seek abortions would increase nearly 3,000%.
---

Experts say restricting or banning abortion disproportionately hurts low-income women and women of color. Researchers at the University of Colorado, Boulder, found that maternal deaths among Black women could increase by one-third if Roe is overturned, among a population already much more likely to die of pregnancy-related causes than white women. Another study found that women who are denied the right to an abortion are likely to experience physical and psychological trauma and suffer serious complications from pregnancy. The Turnaway study conducted at the University of California, San Francisco, found that the denial of abortion plunges already impoverished women deeper into poverty, leaving them at greater risk of bankruptcy and eviction, and more likely to be unable to cover necessities like food and transportation. Treasury Secretary Janet Yellen said she believes that "eliminating the right of women to make decisions about when and whether to have children would have very damaging effects on the economy and would set women back decades."
Jessica Pinckney, the executive director of Access Reproductive Justice, an organization providing financial and logistical help for women coming to California for abortions, told Capital & Main that in the past few months they've already supported a surge of women from Texas, where a controversial new law allows private citizens to take civil action to enforce the state's ban on abortion after about six weeks of pregnancy.
"We're preparing for an onslaught of states completely shutting down many clinics and putting many providers and clinic staff out of jobs, and anticipate many patients coming long distances and really crossing unnecessary and incredibly unfair hurdles to get the care they need," Pinckney said.
Heather Shumaker, the director of state abortion access at the National Women's Law Center, told Capital & Main that women in states restricting abortion, Texas in particular, are already hurting.
"I was talking to [a Texas abortion provider] who said, 'We know that people who are undocumented are not getting care; they can't leave their area [because] they can't go past a border checkpoint.' So where are they going to go? We know that young people are not getting the care that they need, because they might need a parent to help get them out of state. Those are the people who are the most vulnerable to laws like that, and they aren't getting care," Shumaker said.

A Thin Blue Wall
California is only one of more than a dozen blue states planning for an onslaught of abortion seekers. As of last month, at least 11 protective measures had been enacted in seven states this year, according to the Guttmacher Institute. Those include laws and proposed ballot measures to enshrine abortion into state constitutions in Colorado, Vermont and Michigan. Laws have also been passed to protect people seeking abortions, and those helping them, in Connecticut and Washington state.
California may become the largest safe haven for abortion seekers. The Guttmacher Institute estimates that out-of-state patients traveling to the state by car to seek abortions would increase nearly 3,000%, from 46,000 to 1.4 million, with the bulk of women coming from neighboring Arizona.
Immediately after the Supreme Court draft ruling was leaked earlier this month, California Senate President Pro Tempore Toni Atkins, State Assembly Speaker Anthony Rendon and Gov. Gavin Newsom issued a statement proposing an amendment to enshrine the right to choose in the state constitution. "We know we can't trust the Supreme Court to protect reproductive rights," the statement read, "so California will build a firewall around this right in our state constitution. Women will remain protected here."

---
Prohibiting abortions in all cases, even when the life of the mother is in danger, doesn't poll well, even in red states.
---

That amendment would be voted on by Californians in November and has until June 30 to qualify for the ballot. According to one of the sponsors of the amendment proposal, Assemblymember Cristina Garcia (D) of Bell Gardens, the draft is still being created but will likely include some recommendations from the California Future of Abortion Council. The council released a report last year calling for funding of organizations, abortion providers, and other community-based organizations; a central information source for those seeking abortions; improved safety for clinics; and improved access to Medi-Cal transportation services. Some of these recommendations may end up in the amendment, according to the California Legislative Women's Caucus.
"We saw it coming," said Garcia in a statement following the Supreme Court draft document leak. "California is prepared to be a refuge state for women here and across this nation. The Legislative Women's Caucus stands with Senate Pro Tem Atkins, Assembly Speaker Rendon and Governor Newsom in support of a constitutional amendment to enshrine reproductive rights for all in California. We will be the national beacon for reproductive justice."
The Legislative Women's Caucus in Sacramento introduced a package of 13 bills this year that focused on protecting abortion access and preparing for a crush of abortion seekers from other states. In March, Governor Newsom signed one of these bills into law, lowering the cost of getting an abortion (Illinois, New York and Oregon have similar laws).
Earlier this month, Los Angeles County supervisors voted unanimously for a $20 million state reproductive health care pilot program that would "support innovative approaches and patient-centered collaborations to safeguard patient access to abortions, regardless of residency."

Anti-Abortion Floodgates Are Open
A majority of Americans oppose Roe v. Wade being overturned, according to recent polls. Prohibiting abortions in all cases, even when the life of the mother is in danger, doesn't poll well, even in red states. Although 55% of Americans claim to be pro-life, even in red states, only 25% favor banning all abortions without exceptions. And there is no state where a total ban on abortion has more than 30% support.
Nevertheless, Republican lawmakers and anti-abortion activists are passing even more restrictive laws, targeting not only surgical abortions, but also medical abortions and even contraception. Earlier this month, Louisiana advanced a bill that would expose a mother to homicide charges for ending a pregnancy any time after the moment of fertilization, before the bill was scrapped. Louisiana, Missouri and Tennessee have passed restrictions on obtaining abortion pills through the mail. A bill passed in Kentucky — which was vetoed by its Democratic governor and then overridden by the legislature — that restricts medical abortions, prohibits medication dispensed without a Kentucky doctor's prescription and bans sending the prescription via mail. Medical abortions, in which women obtain prescriptions through telehealth and get the medication through the mail, has seen an upsurge during the pandemic, and if Roe falls, they're expected to be a new line of defense for women who want to terminate a pregnancy.
Blue-state efforts to codify Roe could become moot under a federal ban on abortions, which is being pursued by Republicans in D.C., according to The Washington Post. Republican Senate Minority Leader Mitch McConnell confirmed that report, telling USA Today that such a ban would be possible if Republicans take back Congress and the White House.
Shumaker said, for now the focus for abortion rights is on ensuring protection and access in blue states, but she admits a national ban is a distinct possibility. Regarding restrictive abortion laws, she said, "I feel nothing is off the table now."
---

Copyright 2022 Capital & Main