Blindfolds: Iranian Hostage Drama Offers Few Surprises
One of the play's weaknesses is the surfeit of soap-operatic family exchanges that spill into melodramatic shouting matches.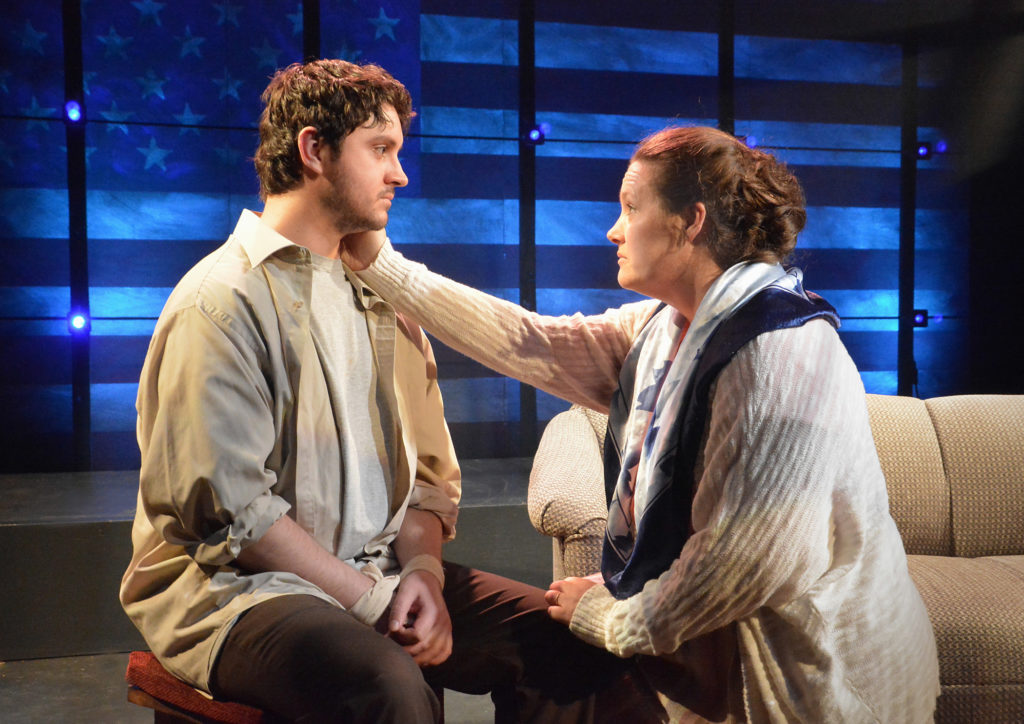 On November 4, 1979, several hundred Iranians, mostly students, stormed the American embassy in Tehran and took 60-odd hostages — 52 of whom were held captive for 444 days. It was a humiliating event for the U.S. government and, in general, a wake-up call for Americans heretofore unaware of the antipathy of many Iranians towards the United States.
Against the wishes of the Carter administration, a mother of one of the hostages, Barbara Timm, flew to Tehran to see her son. Hostage, by Michelle Kholos Brooks, re-imagines the exchange that took place among Barbara (Tracie Lockwood), her captive son Kevin (Zachary Grant) and two of his captors: Tehran Mary (Vaneh Assadourian), a media spokeswoman for her cause and Ebrahim (Satiar Pourvasei), a rifle-wielding guard swift to anger. The drama, some of which takes place in Barbara's mind, shifts between the embassy, where a handcuffed, blindfolded and barefoot Kevin has been doing his best to survive, and Barbara's Wisconsin living room, where she struggles to cope with both a controlling ex-husband and an angry mob outside her home. The latter has gathered to protest a public statement she made critical of the failed rescue attempt to free the hostages — a statement interpreted by "patriots" as her having taken the side of the revolutionaries.
As the drama progresses, scenarios begin to overlap; Kevin, always on Barbara's mind, is physically present onstage as she disputes with her former spouse about the latter's parental responsibility — or lack of it — and whether or not he betrayed her when they were teens, salaciously spreading the word about their intimacy. An argument also ensues between Richard and Barbara's current husband, Ken (Jack Clinton), who accompanied Barbara to Iran and has open-heartedly raised Kevin as his own.
Directed by Elina de Santos, Hostage aims to explain and garner sympathy for both sides, but it offers few surprises or depth. One of its weaknesses is the surfeit of soap-operatic family exchanges that filter attention away from more vital dramatic themes: how far a mother is prepared to go to protect her child and the distance its pivotal character, a Midwestern matron and a Republican, will ideologically travel before the play's catharsis (the dynamic most interesting to us). While these threads, as well as the propensity for intolerance of people on both sides of the cultural divide, are clearly most central, they get obscured for long stretches by melodramatic shouting matches between Kevin's two fathers or the past marital problems of Barbara and Ken.
Grant turns in a well-grounded performance as the palpably fearful Kevin, drilled in compliance and anxious for his mother to understand how precipitous his situation is. But other performances on opening weekend were less persuasive. Lockwood, usually an excellent actor, did not seem entirely comfortable as the maternal lioness the playwright aims to conjure. One problem is the script, which calls for her to assertively challenge Kevin's captors' motives and beliefs — a device for getting us to understand where they are coming from. Some of these confrontations appear as the artifices they are. None of the other actors were able to get past the polemical nature of their roles, either. One hopes they will evolve.
Designer Stephanie Kerley Schwartz's no-frills set features an American flag splayed across the back wall — albeit behind a scrim, an apt reference to the covert power wielded (this time not so successfully) by our government.
Skylight Theatre, 1816½ Vermont Avenue, Los Feliz; Fri.-Sat. & Mon., 8 p.m.; Sun., 2 p.m.; through June 24; (213) 761-7061 or (866) 811-4111.
---
Copyright Capital & Main

'Skeleton Crew' Is a Play With a Moral Spine
Set in a Detroit automobile outfitting plant, Dominique Morisseau's drama grabs you from the start with its focus on blue-collar men and women, and their struggle for dignity and self-respect.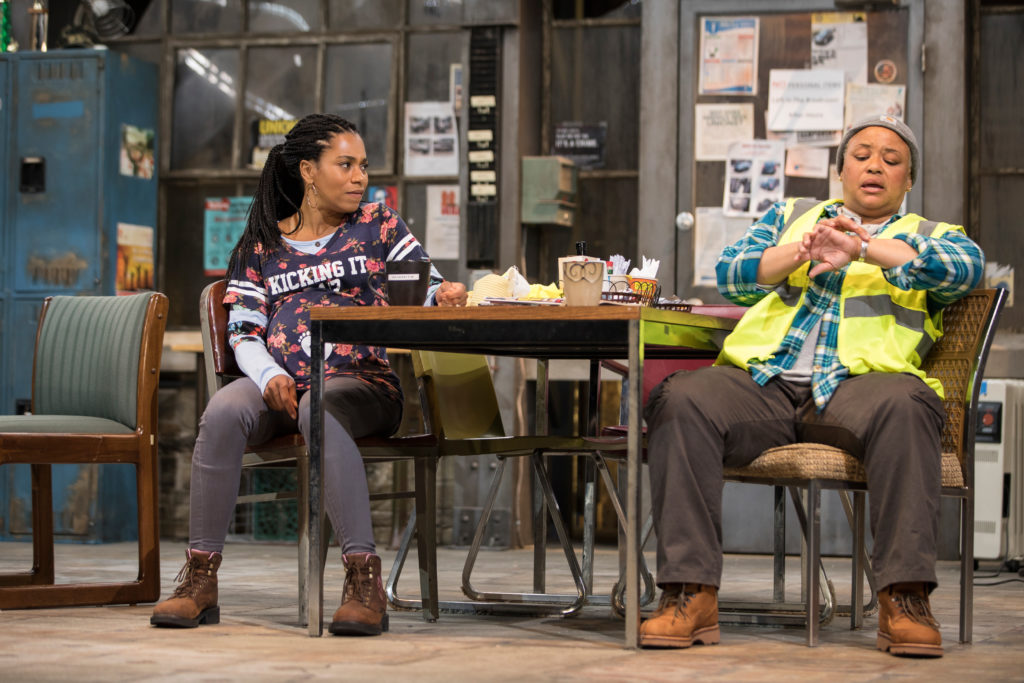 Working-class men and women of color are rarely front and center in today's media and, likewise, are presented all too occasionally on the American stage. So it's buoying to see that trend bucked in playwright Dominique Morisseau's percipient and well-crafted drama, Skeleton Crew. The play is the final installment in her Detroit  Project Trilogy; the first, Paradise Blue, is set in the 1940s amidst displacement caused by urban renewal and gentrification, while the second, Detroit '67, transpires on the eve of the 1967 Detroit riots sparked by a police action.
Directed by Patricia McGregor at Los Angeles' Geffen Playhouse, Skeleton Crew is a play with a moral spine. It takes place in 2008, when the shrinking U.S. auto industry is being further downsized. Morisseau's engaging quartet of characters — Faye (Caroline Stefanie Clay), Dez (Armari Cheatom), Shanita (Kelly McCreary) and Reggie (DB Woodside) – are employed at an automobile outfitting plant. Faye, Dez and Shanita are workers on the line while Reggie (who has a wife and kids, and has pulled himself together after a troubled youth) is their supervisor.
The first three customarily mingle in their break room (designer Rachel Myers' impressively cluttered, dingy and detailed set), trading the sort of familiar barbs and genuine concern for each other common among longtime co-workers. They also face off on philosophy: Upper-middle-aged Faye and the younger, pregnant Shanita take pride in their labor, while Dez, though a good worker, is a malcontent scornful of management and firm in the belief that everyone needs to watch out for himself. He's a thorn in Reggie's side, for while Reggie wants to be supportive of his workers, he must act at the behest of higher management. For his part, Dez resents Reggie's authority, and a palpable unease exists between them.
Besides this male matchup, we're made privy to Dez's attraction to Shanita, who mostly turns away his advances, but every now and then displays a hint of interest. Most poignant is Reggie's regard and affection for the lesbian Faye, which has roots in his boyhood when she loved, and lived, with his now-deceased mom.
These people's various predicaments intensify when rumors spread of the plant's shutdown — a disaster for all, but a particular calamity for the already near-broke Faye who, one year short of retirement, would lose her pension. The crisis forces each of these people to make a choice.
A sound piece of social realism, Skeleton Crew grabs you from the start in its focus on blue-collar men and women, and their struggle against odds for dignity and self-respect. Morisseau not only furnishes these characters a platform for their travails, she endows them with strong values, big hearts and the opportunity to choose between right and wrong.
Unfortunately, the performance I attended did not soar. Many exchanges lacked a fresh edge. The actors certainly had their characters down, but too often they appeared to be coasting on technique. (This seemed particularly true of Clay, who performed the role to great accolades in Washington, DC in 2017, also under McGregor's direction). Additionally, some of the stage movement was not entirely fluid; in confrontations, actors sometimes would just stand and face each other in an artificial way. And Cheatom's interpretation of Dez struck me as a bit overly churlish and depressive: I needed more glimpses of the intelligence and edge that would secretly attract the strong, self-directed Shanita.
The most compelling moments belong to Woodside, well-cast as a man trying his best in difficult circumstances to do the right thing.
---
Gil Cates Theater at the Geffen Playhouse, 10886 Le Conte Ave., Westwood Village; Tues.-Fri., 8 p.m.; Sat., 3 & 8 p.m. Sun., 2 & 7 p.m.; through July 8. (310) 208-5454 or www.geffenplayhouse.org