Blindfolds: Iranian Hostage Drama Offers Few Surprises
One of the play's weaknesses is the surfeit of soap-operatic family exchanges that spill into melodramatic shouting matches.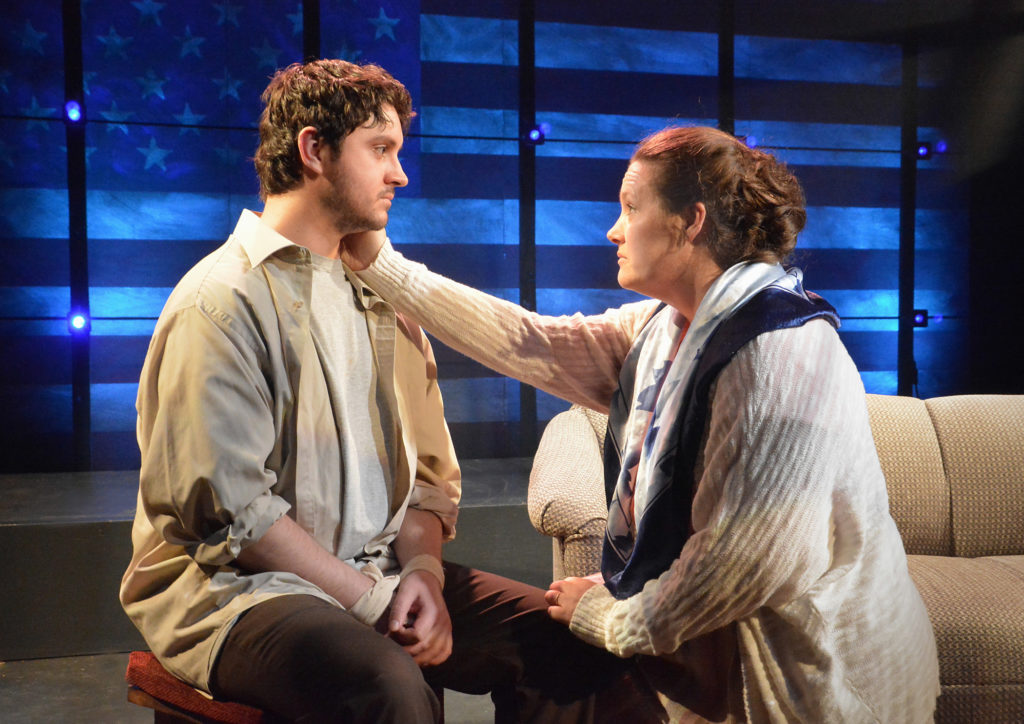 On November 4, 1979, several hundred Iranians, mostly students, stormed the American embassy in Tehran and took 60-odd hostages — 52 of whom were held captive for 444 days. It was a humiliating event for the U.S. government and, in general, a wake-up call for Americans heretofore unaware of the antipathy of many Iranians towards the United States.
Against the wishes of the Carter administration, a mother of one of the hostages, Barbara Timm, flew to Tehran to see her son. Hostage, by Michelle Kholos Brooks, re-imagines the exchange that took place among Barbara (Tracie Lockwood), her captive son Kevin (Zachary Grant) and two of his captors: Tehran Mary (Vaneh Assadourian), a media spokeswoman for her cause and Ebrahim (Satiar Pourvasei), a rifle-wielding guard swift to anger. The drama, some of which takes place in Barbara's mind, shifts between the embassy, where a handcuffed, blindfolded and barefoot Kevin has been doing his best to survive, and Barbara's Wisconsin living room, where she struggles to cope with both a controlling ex-husband and an angry mob outside her home. The latter has gathered to protest a public statement she made critical of the failed rescue attempt to free the hostages — a statement interpreted by "patriots" as her having taken the side of the revolutionaries.
As the drama progresses, scenarios begin to overlap; Kevin, always on Barbara's mind, is physically present onstage as she disputes with her former spouse about the latter's parental responsibility — or lack of it — and whether or not he betrayed her when they were teens, salaciously spreading the word about their intimacy. An argument also ensues between Richard and Barbara's current husband, Ken (Jack Clinton), who accompanied Barbara to Iran and has open-heartedly raised Kevin as his own.
Directed by Elina de Santos, Hostage aims to explain and garner sympathy for both sides, but it offers few surprises or depth. One of its weaknesses is the surfeit of soap-operatic family exchanges that filter attention away from more vital dramatic themes: how far a mother is prepared to go to protect her child and the distance its pivotal character, a Midwestern matron and a Republican, will ideologically travel before the play's catharsis (the dynamic most interesting to us). While these threads, as well as the propensity for intolerance of people on both sides of the cultural divide, are clearly most central, they get obscured for long stretches by melodramatic shouting matches between Kevin's two fathers or the past marital problems of Barbara and Ken.
Grant turns in a well-grounded performance as the palpably fearful Kevin, drilled in compliance and anxious for his mother to understand how precipitous his situation is. But other performances on opening weekend were less persuasive. Lockwood, usually an excellent actor, did not seem entirely comfortable as the maternal lioness the playwright aims to conjure. One problem is the script, which calls for her to assertively challenge Kevin's captors' motives and beliefs — a device for getting us to understand where they are coming from. Some of these confrontations appear as the artifices they are. None of the other actors were able to get past the polemical nature of their roles, either. One hopes they will evolve.
Designer Stephanie Kerley Schwartz's no-frills set features an American flag splayed across the back wall — albeit behind a scrim, an apt reference to the covert power wielded (this time not so successfully) by our government.
Skylight Theatre, 1816½ Vermont Avenue, Los Feliz; Fri.-Sat. & Mon., 8 p.m.; Sun., 2 p.m.; through June 24; (213) 761-7061 or (866) 811-4111.
---
Copyright Capital & Main
The Power of the Poster
Carol Wells, the founder of the Center for the Study of Political Graphics in Los Angeles, talks to Capital & Main about the enduring power of political art.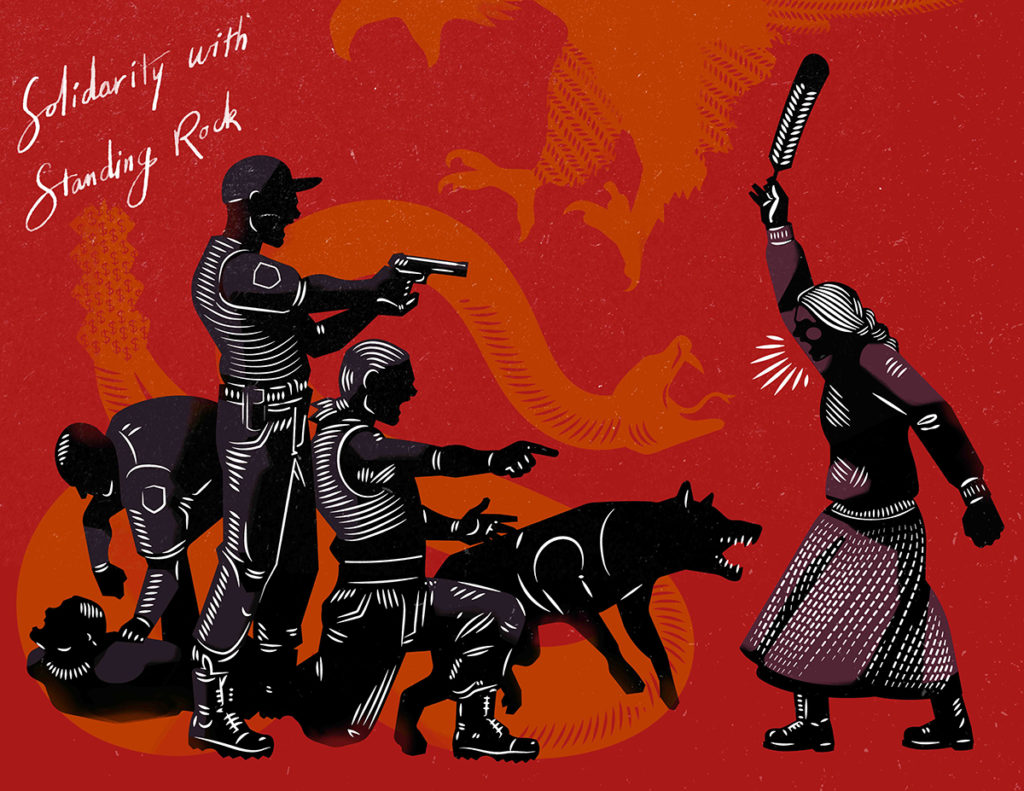 Carol Wells remembers the exact moment she discovered her calling. An art historian at the time, she was on a trip to Nicaragua with her friend David Kunzle, a UCLA art history professor, who was collecting political posters to add to his burgeoning collection. While staying with friends, Wells watched a neighbor's 8-year-old son approach a poster on the wall, stare at it intently, and then start to silently mouth the words. Wells was struck by how engaged the boy was. "In that moment I became obsessed with collecting posters."
Now over 40 years later, Wells is the founder and executive director of the Center for the Study of Political Graphics in Los Angeles. Wells has amassed approximately 90,000 posters, building one of the largest collections of its kind in the world. The Center shares its collection with the public in part through curated exhibits. This year the CSPG has produced Feminae: Typographic Voices of Women by Women and its latest is To Protect & Serve? Five Decades of Posters Protesting Police Violence, running through July 15 at the Mercado La Paloma in downtown Los Angeles.
Since that encounter in Nicaragua in 1981, Wells' obsession with collecting posters hasn't waned. In CSPG's nondescript West L.A. office space, Wells pulls out poster after poster, lecturing passionately on the backstory and cultural impact of each, including one that superimposes text from a New York Times interview with a shocking image of the My Lai massacre ("Q: And babies? A: And babies."). Recently, she managed to sit down with C&M to discuss her passion.
---
Capital & Main: So, you were an art history professor, you happen to see a kid on a trip, and suddenly your life was changed forever?
Carol Wells: Yeah, I'm in Nicaragua alone in the living room with this kid. He's looking around, and all of a sudden, he sees the poster. It was pretty big, bright green, a thick outlines of a woman holding a big basket of coffee beans. And the text in Spanish said, "In constructing the new country, we are becoming the new woman." I see him walk over to the poster and I'm watching him mouth the words. It was a pretty sophisticated concept, so I doubt he figured it out. But I literally had this epiphany: "Oh my God. That's how posters work." You're going about your daily life, and all of a sudden something breaks through the bubble, and it grabs your attention. It's the graphic, it's the color, it's the combination, and it pulls you out of your head and into that poster and it makes you ask a question. "Why is this here? What is this about? What does this mean?" And every time you ask a question, you're a different person than you were before you asked the question.
How many posters do you get a year?
We get between two to five thousand a year donated from all over the world. The bulk of our collection is [from] 1945 and later.
I assume technology has probably hurt the art form, but has it helped get the messages out?
Most people think that, and it's actually not true. Since the internet age started, there's actually a poster renaissance of works on paper. Because you can't walk with your computer monitor in a demonstration. You can't plant your monitor on your lawn.
And you can't put a laptop on the wall…
Exactly. You want to hear a really great story? Truthdig.org published a cartoon [made by] a political cartoonist named Mr. Fish. It was during the Arab spring, and he had superimposed Che Guevara with the stylized beard and King Tut's face, but it had Che's beret. And it [was titled], "Walk like an Egyptian." So, it was a reference to the music, but [it was also] a reference to what was going on the streets of Cairo. I sent it out as our poster of the week to 9,000 people. The very next day, somebody took a photograph on the street of Cairo, with somebody holding a piece of paper with that image on it. A poster can literally go around the world and people will print it out.
What struck me in viewing your exhibits is how many of these posters could still be used today, not only artistically but also, sadly, in the timeliness of their messages.
We had this fabulous poster by Yolanda Lopez, a Bay Area artist, which she first did in 1978. It depicts a young man in Aztec garb pointing a finger like Uncle Sam saying, "Who's the illegal alien, PILGRIM?" And it's a great poster, it's simple, not too many words, funny, provocative. So, we had an exhibit at UCLA in the mid '90s and there were 4 or 5 high school students standing around this poster saying, "Wow, you've got posters up to the minute." And I went over to them and I said, "Look at the date. This is before you were born."
Is that one of your goals with the exhibitions? To show the evergreen nature of this work?
Absolutely. I mean that's why we did the police abuse exhibition now. It basically goes back five decades. It's 50 years of posters protesting police abuse. Mainly in the United States, but also internationally.
What's the goal for CSPG?
Well the aim right now is really to digitize the collection and get it online. We have 10% of the collection digitized. But the mission is to collect and to document, because stories get lost. All the exhibitions, they're showing massacres, they're showing genocide, they're showing police abuse, they're showing all of these horrible things. And people often ask me, "How can you look at this stuff all day long?" I said, "Because the poster artists are optimists. They believe people can change if they have the information."
Yes, that's the reason why they're doing it, right?
That's why they're doing it, and that's why I'm doing this, because I believe that people can change if they knew the truth.
And what happens 20, 50 years from now?
Well, my goal is to stay independent, because the other option is to become part of the university. Universities, for all the fabulous things that they do, they also censor. We did an exhibition at USC in 1992 on the 500 years since Columbus, and how the legacy of racism and exploitation and genocide continues. And one of the board of trustees was Italian and took [the exhibit] as an affront to Columbus. It really wasn't about Columbus, it was about colonialism. And he ordered it down.
Do you have a favorite poster?
I'm always amazed at the creativity and vision of artists. Every week I'll say, "Oh my God, how do they think of that?" But it's always still going to be the poster I saw that kid trying to figure out. It has to be my favorite one because that one changed my life.
What makes a perfect poster?
The right balance between aesthetics and message. If you only rely on the corporate press, the New York Times and L.A. Times, for your information, you're not going to get the side from the street, from the movement, from the activists. The posters are primary historical documents that are recording the issues that were at the time, and the passions that were at the time, and the divisions that were at the time. You're not going to get it anyplace else.
---
Copyright Capital & Main