Behind – and Beyond – Friedrichs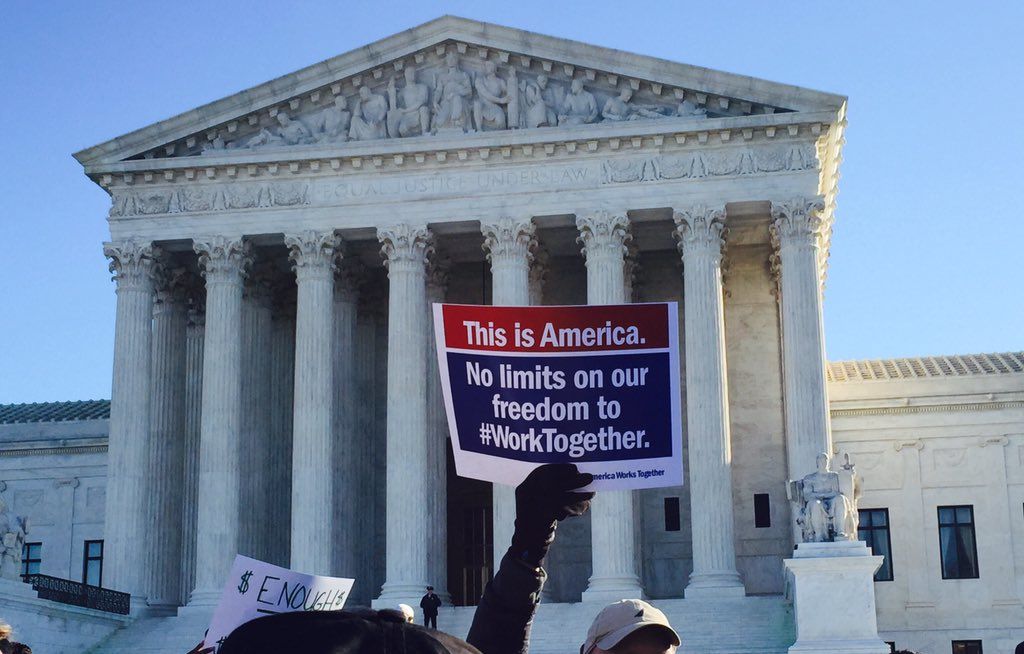 Friedrichs v. California Teachers Association, the latest struggle over workers' rights, a case whose oral arguments were heard Monday by the U.S. Supreme Court, clearly means different things to different groups. The passionate rhetoric around Friedrichs, and most of its proponents' legal arguments, have focused on individual liberties and freedom of speech. "Paying fees to a union should not be a prerequisite for teaching in a public school," Harlan Elrich, one of the plaintiffs, wrote in the Wall Street Journal. "No one in the U.S. should be forced to give money to a private organization he or she disagrees with fundamentally."
But the main goal of those funding the case is, likely, to reshape the political landscape by neutralizing the power of organized labor. The broad impact of a successful suit will be to drain the union of dues, initially by taking away agency fees (also known as fair-share fees), and secondly by creating a "free rider" problem in which many teachers might be incentivized to take their money and leave their unions.
"I don't think even for a moment that this case is truly about anyone's First Amendment freedom," Kyle Barry, Director of Justice Programs at the Alliance for Justice, told Capital & Main. "I don't think the big money interests who are pushing this case and who are behind so much of the conservative movement really care about fair-share fees in themselves."
Friedrichs isn't an instance where a personal dispute touched on a contentious legal question and worked its way up through the courts. The forces behind this case planned to be right where they are, representing this type of plaintiff, and now.
The lead organization that assembled the case and hurried it to the Supreme Court is the Center for Individual Rights (CIR), which describes itself as "a nonprofit public interest law firm that defends individual rights, with particular emphasis on civil rights and free speech."
CIR is well known for "civil rights" lawsuits challenging affirmative action and  defending California's anti-affirmative action Prop 209, while other suits have sought to strip pieces of the Violence Against Women Act, attack the gender-discrimination-in-education law Title IX, protect the Boy Scouts' right to exclude homosexuals and prohibit redistricting that takes race into account. (CIR has not responded to interview requests from Capital & Main. Disclosure: The CTA, Friedrichs' defendants, are financial supporters of Capital & Main.)
The Friedrichs case was built expressly to be rushed to the Supreme Court and specifically to challenge a 38-year-old ruling. 1977's Abood v. Detroit Board of Education, which validated agency fees that unions could charge nonmembers whom they were legally obligated to represent, to cover a union's costs. Unions could not, however, charge for any political activity if a member withheld his or her consent.
Assembling a group of teacher plaintiffs was a smart, strategic choice. A key part of the plaintiffs' argument is that all union activity, even representation in bargaining, is political. It's hard to argue that bargaining for better pay and benefits is political speech to which a worker might object (although the plaintiffs do argue just that as well). But teacher contracts often touch on a few issues that CIR can more plausibly argue are political, such as class sizes and seniority protections.
As an additional benefit for conservative legal activists, these issues are divisive among liberals, with many high-profile Democrats supporting charter schools and fighting teacher unions. (Indeed, there's a brief of amicus curiae of former California state senate leader Gloria Romero and charter school advocates in support of the plaintiffs, right along with those from the Cato and Goldwater institutes.)
CIR found its teacher plaintiffs through the Christian Educators Association International (CEAI), a group dedicated in part to freeing teachers from union ties, which presents itself as an alternative association (providing resources that unions often do, such as legal representation, insurance benefits and access to credit unions). The CEAI is a plaintiff in the case alongside the 10 teachers, eight of whom are CEAI members.
The plaintiffs' attorneys sped up the case by taking the unusual tactic of deliberately trying to lose in the lower courts —not even arguing on their own behalf. Instead, they pointed out that Abood seemed to make for settled law, which a lower court had no business questioning and asked for summary judgment. (You can see the barely-one-page ruling from the 9th Circuit Court of Appeals here.) Then they appealed up the ladder.
Weakening unions has historically been a foremost strategic goal of the political right. Among the more successful avenues for this in recent years has been changing the rules by invoking rights and freedoms, particularly the "right to work" and freedom of speech, by which conservatives often mean freedom of money.
According to the American Prospect, a list of CIR funders "reads like a who's who of the right's organized opposition to labor." Though it tries to keep its donors secret, as recently as 2012 CIR received money from groups such as the Randolph Foundation, the Sarah Scaife Foundation, and the Koch brothers-related Donors Capital Fund – all of which are major supporters of the nation's top right-wing think tanks and advocacy groups.
The massive Lynde and Harry Bradley Foundation, another CIR donor, was a major supporter (along with the Kochs) of Scott Walker's union rollback in Wisconsin, both through direct assistance and by funding a network of conservative advocacy organizations that coordinated on the Walker crusade. While each of these funders may agree with the free speech claims at the visible center of this case, they also have a history of supporting attacks on unions from every direction they can.
Now here sits Friedrichs v. CTA at the Supreme Court, whose majority conservative faction, according to those who listened to the justices' pointed comments Monday, seem bent on handing CIR and its supporters a victory by June, when a decision is expected. Engineered to upset a long-stable arrangement in public employment, backed by the deepest pockets of the conservative movement and threatening to bleed white the resources of one of the Democratic Party's main sectors of support, Friedrichs arrives at the Roberts Court in an election year that is pivotal for the Court's future makeup.
"This is part of a much broader agenda to benefit corporate interests at the expense of ordinary people," said the Alliance for Justice's Barry. "Unfortunately we've seen these same interests using the Supreme Court to pursue that agenda more and more."