Beatriz Rios-Nava's Truck-Driving Odyssey
Beatriz Rios-Nava and daughter Marsha (Photo by the author)
Beatriz Rios-Nava, 57, has been driving trucks for 10 years. Since starting with a company at the port in Long Beach, she has passed the long hours of waiting in shipping yard queues by taking phone-camera snapshots of her environment: her morning coffee and bread nestled on the dashboard of her truck, her co-workers picketing for unionization outside of their company. Her growing collection of images documenting her life on the piers of Long Beach will be showcased in Solitude to Solidarity, a weeklong group exhibit that runs for the next week. (See information at the end of interview.) I spoke with her at her home in Compton, which she moved into three years ago, hoping to settle somewhere closer to her work. We sat on a black leather sofa in her living room, beneath a hanging dreamcatcher, as she attempted to calm her dog Picasso, who was excitedly bouncing between us. At one point Beatriz called her daughter Marsha in to help with our language barrier.
CAPITAL & MAIN: How did you start working as a truck driver?
BEATRIZ (laughing:) Well, my last work was in Pasadena for like, 18 years, and then I wanna change. I wanna do something. Because my kids was grown up and I don't have anything to do, so I need to change something. I saw a woman when I was driving on the freeway. She's driving a truck and I said, "Ah, I can do that!"
How old were you and your children when you saw that woman?
Oh, they were grown up. That's why I was just thinking in my head, I can do it, I can do it! When I go to find the school the first time, the man in the school looked at me and said, "Mm no, I don't think you can do it." And I then I say, "I paid one hundred dollars for one lesson!" But I lost my money.
Then I go to find another school. We're living in Baldwin Park [then], and in El Monte there was a school, so I go there and the man said, "Okay, it's twelve hundred dollars and if you pay right now then that's it." So I paid for the whole thing and got my license in three months.
Were there other women training or working with you?
No, no I don't see women, just a lot of men. I [started] work in a very small company, only 15 drivers – with me the only woman. We have 76 drivers now, two are women.
What is it about driving a truck that is interesting to you?
It's exciting, you can do it like a man can. Sometimes the men, when they see a woman driving, they maybe feel a little jealous because it's a woman. It's a little bit hard when you open the doors, [which are] all metal. Sometimes people help but some guys say, "No she can do it. She wanted this job so she can do it." [Beatriz and Marsha laugh.] But that's okay, I don't care. I can do it.
What do you like to take pictures of, what inspires you?
[Marsha interprets the question and translates Beatriz's response:]
"When she sees something different, to her it's just something pretty. We have old home movies of when we were little and we went to Mexico, and she's recording people on other boats, people eating and feeding animals. Not just what's going on in our boat but the outside life, too. Just daily life that she finds interesting in other people."
[Beatriz continues:]
I saw one driver and I think he's very sick, maybe he has pain in his back. I saw that he can't walk and I tell the guy, "Look, we as truck drivers . . .
[She pauses and then turns to Marsha for translation. Marsha:] "When she took that picture she wanted to show that truck drivers do work long hours and some companies abuse that and make them work more than they should. Just because you're driving doesn't mean that it's not a heavy job." [Beatriz continues:]
I think the pictures show some things from the pier, they show something from the woman driver's view, just little pieces of everything.
It seems like one of this show's aims is to bring the community together and show people what you are doing. What do you hope your art will teach the community?
I think they'll learn something about what truck work really is. I show the inside of the piers. I take pictures of my lunch that I have inside because we only have this space for 12 hours. [She indicates the front windshield of an image of a truck from the art show flyer.]
Do you like your work as a truck driver?
Yes I like it. When I'm working I feel like I have responsibility. I think I can do it for a long time.
Scenes from an Exhibition: Long Beach, March 15
Solitude to Solidarity: A Port Truck Driver's Odyssey
What: A group exhibit featuring the photographs of Beatriz Rios-Nava, including a brief video interview. Free admission, light refreshments.
Where: Cultural Alliance Long Beach, Bungalow Art Center, 727 Pine Avenue, Long Beach.
When: March 15-22.

More Info: Ernesto at erocha@laane.org

'Skeleton Crew' Is a Play With a Moral Spine
Set in a Detroit automobile outfitting plant, Dominique Morisseau's drama grabs you from the start with its focus on blue-collar men and women, and their struggle for dignity and self-respect.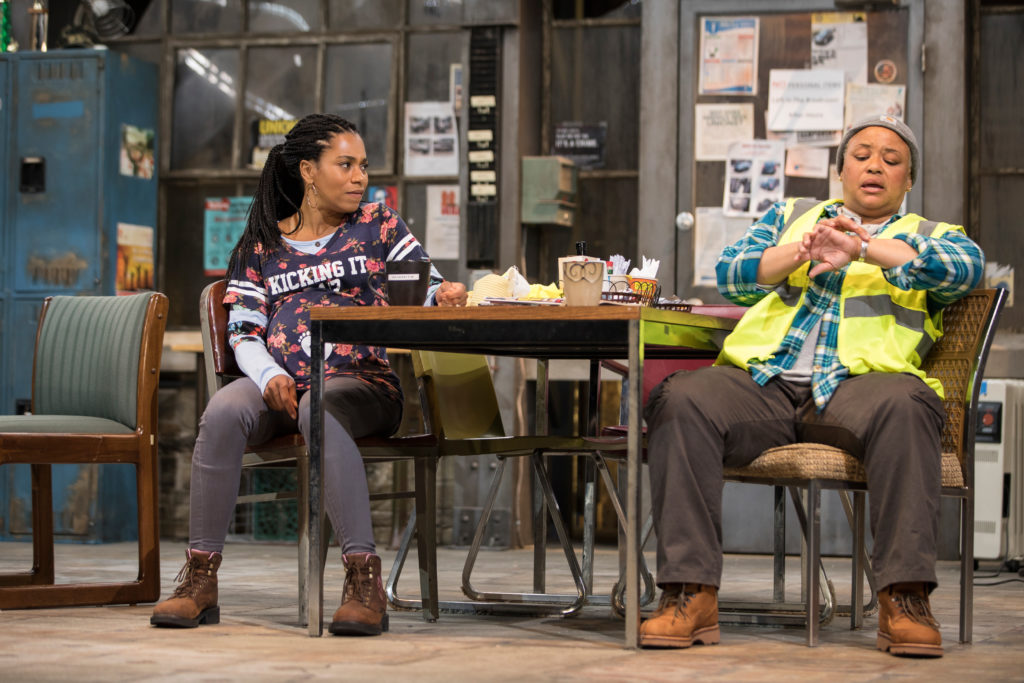 Working-class men and women of color are rarely front and center in today's media and, likewise, are presented all too occasionally on the American stage. So it's buoying to see that trend bucked in playwright Dominique Morisseau's percipient and well-crafted drama, Skeleton Crew. The play is the final installment in her Detroit  Project Trilogy; the first, Paradise Blue, is set in the 1940s amidst displacement caused by urban renewal and gentrification, while the second, Detroit '67, transpires on the eve of the 1967 Detroit riots sparked by a police action.
Directed by Patricia McGregor at Los Angeles' Geffen Playhouse, Skeleton Crew is a play with a moral spine. It takes place in 2008, when the shrinking U.S. auto industry is being further downsized. Morisseau's engaging quartet of characters — Faye (Caroline Stefanie Clay), Dez (Armari Cheatom), Shanita (Kelly McCreary) and Reggie (DB Woodside) – are employed at an automobile outfitting plant. Faye, Dez and Shanita are workers on the line while Reggie (who has a wife and kids, and has pulled himself together after a troubled youth) is their supervisor.
The first three customarily mingle in their break room (designer Rachel Myers' impressively cluttered, dingy and detailed set), trading the sort of familiar barbs and genuine concern for each other common among longtime co-workers. They also face off on philosophy: Upper-middle-aged Faye and the younger, pregnant Shanita take pride in their labor, while Dez, though a good worker, is a malcontent scornful of management and firm in the belief that everyone needs to watch out for himself. He's a thorn in Reggie's side, for while Reggie wants to be supportive of his workers, he must act at the behest of higher management. For his part, Dez resents Reggie's authority, and a palpable unease exists between them.
Besides this male matchup, we're made privy to Dez's attraction to Shanita, who mostly turns away his advances, but every now and then displays a hint of interest. Most poignant is Reggie's regard and affection for the lesbian Faye, which has roots in his boyhood when she loved, and lived, with his now-deceased mom.
These people's various predicaments intensify when rumors spread of the plant's shutdown — a disaster for all, but a particular calamity for the already near-broke Faye who, one year short of retirement, would lose her pension. The crisis forces each of these people to make a choice.
A sound piece of social realism, Skeleton Crew grabs you from the start in its focus on blue-collar men and women, and their struggle against odds for dignity and self-respect. Morisseau not only furnishes these characters a platform for their travails, she endows them with strong values, big hearts and the opportunity to choose between right and wrong.
Unfortunately, the performance I attended did not soar. Many exchanges lacked a fresh edge. The actors certainly had their characters down, but too often they appeared to be coasting on technique. (This seemed particularly true of Clay, who performed the role to great accolades in Washington, DC in 2017, also under McGregor's direction). Additionally, some of the stage movement was not entirely fluid; in confrontations, actors sometimes would just stand and face each other in an artificial way. And Cheatom's interpretation of Dez struck me as a bit overly churlish and depressive: I needed more glimpses of the intelligence and edge that would secretly attract the strong, self-directed Shanita.
The most compelling moments belong to Woodside, well-cast as a man trying his best in difficult circumstances to do the right thing.
---
Gil Cates Theater at the Geffen Playhouse, 10886 Le Conte Ave., Westwood Village; Tues.-Fri., 8 p.m.; Sat., 3 & 8 p.m. Sun., 2 & 7 p.m.; through July 8. (310) 208-5454 or www.geffenplayhouse.org