Bankruptcy: Fixing California's Homestead Exemption Law
Brendel/Wikimedia
It's not news that it is tougher to buy a home in the U.S. than it was 40 years ago. But what may come as a surprise to the roughly 7. 7 million Californians financially secure enough to own their homes is how the state's inadequate and loophole-riddled bankruptcy protections too often make it impossible to hold onto that piece of the American Dream, just when it's needed most. The problem lies with the law's "homestead exemption," a provision intended to shield a core amount of a bankrupt debtor's home equity, when a court forces the sale of the house, in order to allow that debtor to land on their feet with a roof over their head and start afresh.
When Congress enacted the 1978 federal bankruptcy code, which is the basis for California's and the other 49 states' widely varying laws, the state's homestead exemption was set at $40,000. Back in 1975, when Sacramento wrote the state's original exemption under the previous federal law, that was the median price of a California home. This meant that when a court ordered the sale of a house, the debtor could essentially take the exemption and buy another home outright. But four decades of steeply rising home prices have made the exemption's provisions woefully obsolete.
Jenny Doling, a Palm Desert bankruptcy attorney and debt-relief advocate, told Capital & Main that she regularly sees first-hand what in her practice has become a distressingly familiar scenario: families that lose their homes and equity in the face of unexpected medical expenses, bad luck or worse. 
One recent case involved a retirement-age couple — clients who had come to Doling seeking bankruptcy protection because of crippling hospital bills incurred when the husband fell gravely ill. Two days before Doling could file, however, the man suddenly died from his illness.
"He was over 65 and she's under 65," Doling said. "And that distinction is very important, because when he was alive, they qualified for a $175,000 homestead exemption. When he passed, her homestead exemption dropped all the way down to $75,000 for a single person. And so that put her house in jeopardy, and made it so she couldn't file bankruptcy."
Stories like that led California State Senator Bob Wieckowski (D-Fremont) to add bankruptcy reform to last year's Economic Equity and Financial Stability Initiative, the three-bill package he authored to help low- and middle-income families escape the crushing burden of consumer debt. Senate Bill 501 and SB 641, which spelled out reforms to the state's wage garnishment system, were signed into law last fall.
The third, however — SB 308 — passed the Senate only to stall in the Assembly. The legislation, which seeks to modernize the homestead exemption, failed to clear the Assembly when 20 fellow Democrats caved in to pressure from the state's powerful banking and debt-collection lobbies by "taking a walk" during the final floor vote. That defeat set the stage for what is already proving a contentious rematch in the new session for a bill that is perhaps closest to Wieckowski's heart.
"I have a bankruptcy practice," Wieckowski explained to Capital & Main. "Exemptions are supposed to reflect our values and what we want to protect for consumers from creditors forcing a sale or a liquidation. … And the exemptions schedule is supposed to say, 'Hmm, we're going to exempt this much of the value of [a debtor's] house. We're trying to protect the average person because you, creditor, have other options.'"
Although California's original exemption was adjusted in 2009 to its current three-tiered levels ($75,000 for individuals; $100,000 for married couples; $175,000 if the debtor is age 65 or older, is disabled, or is on a limited income), the median California home now costs $437,000. That's nearly six times the individual exemption and well over twice the $176,200 that the 1975 amount would have been had it simply kept pace with inflation. SB 308, which originally called for a single $700,000 across-the-board exemption, has been amended down to relatively modest adjustments of $100,000, $150,000 and $300,000, respectively.
"In the big picture, this is nibbling," Wieckowski noted. "And the banks are full-metal jacket — they just say, 'We can't have this done. We can't raise these exemptions, because we need to liquidate these houses to get these people out of there" — displacing otherwise hardworking Californians that live for that American Dream to actually own a home."
The bill's other major provision redresses an obscure 2012 bankruptcy court ruling that tilted the playing field lopsidedly in favor of banks and collectors. Called In re Jacobson, the case dealt with a rarely invoked provision of 2005's creditor-friendly federal bankruptcy law signed by George W. Bush called a "six-month look-back." The landmark ruling essentially meant that California debtors were now required to reinvest their exemption lifeline in a new house within six months or have it seized by the court trustee.
"It turned the reinvestment protections that California had enjoyed for a hundred years upside-down," Wieckowski recalled. "And it really allowed the trustees in bankruptcy to not only sell the debtor's house but then wait six months and come back and grab their homestead exemption because they hadn't reinvested, because there was nothing for them to buy [in that time]. Freddie Mac and Fannie Mae require two years after bankruptcy to give them the money. It just seems so unfair, so inequitable that I said, 'We've got to fix that.'"
SB 308 would eliminate the six-month look-back rule entirely and free up the equity for more pressing needs.
"A lot of people at 82 years old don't want to buy another house," Jenny Doling noted. "They need to pay for medical care and to live on [the equity]. It makes no sense. A lot of them need to go into long-term care facilities, and that's right around the corner. But that wouldn't be a reinvestment of the homestead exemption."
The bill also addresses some rather bizarre anachronisms in the current law. Not the least of which is the requirement that estranged spouses must sign a waiver approving of their former mate's choice of exemptions. That, said bankruptcy attorney Erik Clark, who is also serving as legislative liaison on SB 308 for the Central District Consumer Bankruptcy Attorney Association, makes little sense given the toxicity that can surround couples going through a bitter divorce.
"You can just think about how that works," he reflected. "And even worse, one of the issues that I brought up is a situation where you have domestic violence, where it's all about power and manipulation, and you have the single mother running away from the abusive ex and [who] now has to go and beg him to approve or choose the exemptions so she can protect her measly assets. It's just ludicrous. … We're just trying to live up to what the law was originally intended to be in California, and undo some of the perversions that have come along since."

Home, Shared Home: Renters Watch as Their Buildings Become Apartels
The displacement of renters by large-scale operators who turn apartment buildings into de facto hotels has hit urban areas like Greater Los Angeles hard.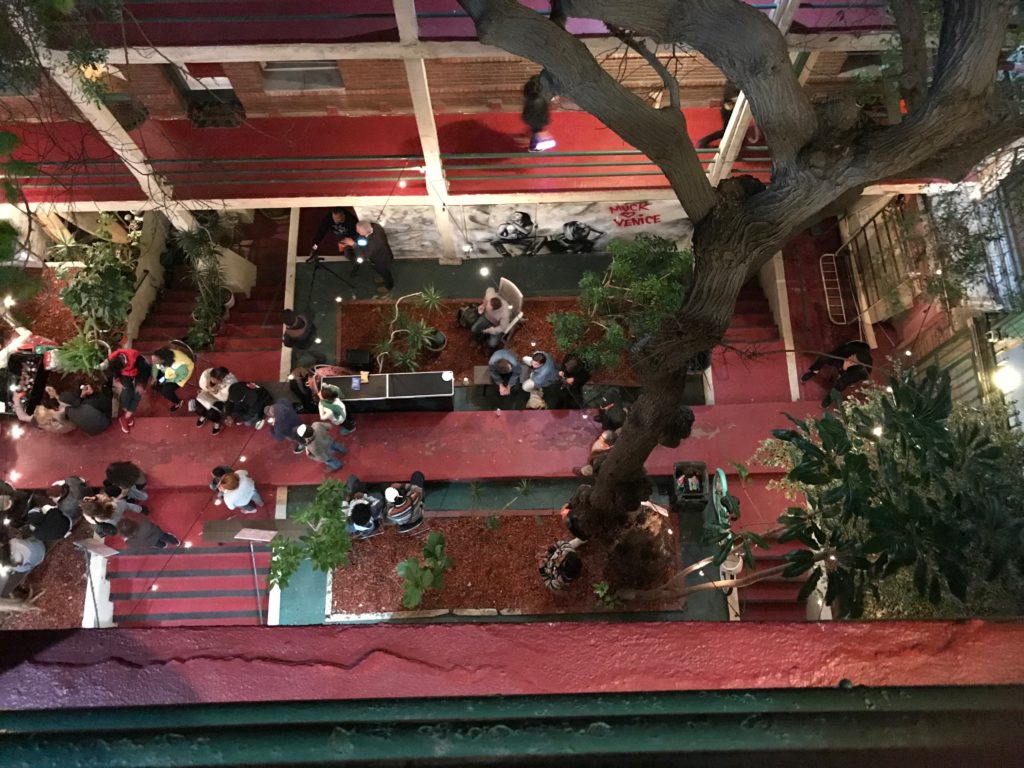 ---
Apartment Renter: Short-term guests begin lining up around 11 a.m., spilling out onto the street as other guests check out.
---
Home-sharing

. This cozy phrase once conjured images of a homeowner generously opening up a room to out-of-towners—while the fee charged by the owner helped him with mortgage payments. Or perhaps we pictured an apartment dweller who left for the weekend and made a little extra cash letting someone else use the premises.
But the present reality of home-sharing is not so cozy for single-family residential neighborhoods, where out-of-town guests may feel no social pressure to allow the neighbors a peaceful night's sleep or to not trash the rental home.
To see today's home-sharing up close, visit the Ellison Suites in coastal Venice, just a block from the famed Venice Boardwalk. Built in 1913 and covered with gigantic murals of Jim Morrison, Marilyn Monroe, John Hurt and Lana Del Rey, it boasts 58 units—but only 12 apartments are occupied by permanent tenants, according to one resident.
---
"We used to have neighbors for 20 years—now we have them for 20 hours."
---
Beyond the Ellison's courtyard, people bump wheeled suitcases up the building's front steps and, on Fridays, signs advertise the night's upcoming party. It might offer a fire dancer, but most parties will at least include free beer and wine — and music that reverberates up through the courtyard.
"We used to have neighbors for 20 years—now we have them for 20 hours," said Bruce Kijewski, one of the remaining tenants, who has lived here since 1977. In the summer, he said, guests begin lining up around 11 a.m., spilling out onto Paloma Avenue as other guests check out.
An online search for The Ellison Suites yields a number of home-sharing and lodging platforms—Booking.com and Expedia among them–advertising its amenities as a short-term beachside rental. The building's own website promotes it as a vacation destination, extolling Jonas Never's murals as "Venice Masterpieces."
The displacement of tenants by large-scale operators who turn their buildings into de facto hotels hit hard in urban areas like Greater Los Angeles, which is plagued by a nearly three percent rental vacancy rate.
While mom and pop are in on some of the home-sharing, today its booming business model most benefits commercial operators who can make more on short-term rentals (STRs) than on permanent residents.
STRs are promoted by a slew of home-sharing platforms, including Airbnb, now valued at $31 billion as it moves toward being publicly traded; and HomeAway and subsidiary VRBO, valued around $3 billion in 2015. The platforms profit by collecting a percentage on every rental offered on their sites by home-sharers.
Local municipalities are scrambling to figure out and ameliorate STR impacts on their neighborhoods and housing stock. In May, Los Angeles City Council measure was sent to the city attorney's office for language changes and is expected to go before the city planning commission in September. The proposed ordinance would set up a permitting system for short-term rentals and establish a 120-day yearly limit for home-sharing. Two nuisance violations—enforced by a city agency—could get an operator's permit revoked.
The Ellison Suites, zoned as a rent-stabilized apartment building, in effect operates as a hotel.
The lowest nightly rate listed on the website is $149. That apartment, when rented to vacationers, could yield $4,470 monthly.
With the Ellison's current rent-stabilized protections, it's hard to straight-up evict someone, but there are ways of persuading them to flee their apartments to make them available for tourists and other visitors.
Michael and Susanne Detto, Ellison residents for 14 years, rented their apartment for $2,000 a month before they moved out in May. All-night parties in the courtyard below their apartment made it impossible to sleep—both work 12-hour shifts as nurses. "It was so loud we couldn't even talk to each other," Susanne Detto said.
Breakdowns in maintenance–power outages, faulty plumbing, leaking ceilings—plus an altercation with management during one of the raucous parties were all part of what the Dettos claim drove them out.
"Especially in summer, he makes three times the money if he rents out every day," Michael Detto said of the Ellison's landlord.
Kijewski and other Ellison tenants say landlord investment goes into creating a hotel entertainment experience rather than supporting habitable apartments. Residents have filed dozens of complaints with the city against building owner Lance Jay Robbins' Paloma Partnership LLC, citing bad plumbing, inadequate water supply, construction without permits and change of use/occupancy without a building permit. (Multiple attempts to get a response from Robbins for this story were unsuccessful.)
---
Michael spoke wistfully of a community where neighbors once shared poetry readings, art discussions and fundraisers in the courtyard now occupied by high-octane weekend parties.
---
The company appealed the building's status to Los Angeles' Building and Safety Commission, arguing that short-term rentals should be allowed because the city's initial certificate of occupancy designating the Ellison a residential apartment was in error and that the building is a hotel.
The company lost. Another appeal is headed for the city planning department.
Meanwhile the Ellison continues to advertise online as a hotel.
With today's lucrative rates of return, it's easy to see why, for large-scale operators, short-term stays make for a more attractive business model than permanent housing. Customers staying for a few nights might do some hating online, but won't be there to press on long-playing maintenance issues.
Tenants at the Metropolitan in Hollywood experience the same push-out climate as Ellison residents, according to Susan Hunter, a case worker with the LA Tenants Union, which is part of a coalition that includes representatives from Los Angeles' hotel industry, labor unions and community groups.
Hunter counts a dozen permanent residents remaining in the sleek, 12-story high-rise that boasts sweeping views of Hollywood and sits within walking distance of Hollywood Boulevard sites.
The website for Apartments.com says there are no apartments presently available.
Zoned as a residential building, the 52-unit Sunset Boulevard property owned by the Harridge Development Group is advertised online as an "apartel." Tenants approached for this story didn't want to speak, they said, for fear of retaliation, but they have complained to Hunter of loud parties, with fighting in the halls and kicked-in doors.
Apart from creating chaotic conditions for tenants sharing space with STRs, the home-sharing model leaves an even larger social footprint. The incentive for large-scale operators everywhere to acquire units—including entire homes — and move them off the permanent housing market places upward price pressure on housing.
From Seattle to New Orleans to Barcelona and beyond, housing advocates are assessing the effects of short-term rentals on housing markets and figuring out how to respond.
In New York City, short-term rentals have resulted in a loss of as many as 13,500 rental housing units, according to a January 2018 report from the School of Urban Planning at McGill University. (The study was commissioned by a labor group opposed to home-sharing.) New York has passed legislation requiring registration and other monitoring measures.
A 2015 San Francisco Board of Supervisors Budget and Legislative Analyst report estimated that Airbnb short-term rentals alone had removed between 925 and 1,960 units from the city's housing market. These, along with 8,000 units already being used for short-term rentals, add up to an 11 percent reduction in rental housing.
Like other cities, San Francisco has aimed to define and enforce the number of nights STRs are permitted. Studies based on data from insideairbnb.com show that, in Los Angeles, renting out a property as a short-term rental for 83 nights or more annually produces more profit than the property could earn as a long-term rental.
In San Francisco, the cradle of Airbnb and adjacent to tech hubs, municipal leaders face an affordable housing shortage and a vacancy rate below three percent, and have established a registration process for short-term rental hosts. Regulations set a cap of 90 days per year for hosts that don't live on the property. Violators are subject to stiff fines.
Seattle, headquarters of several tech giants, took an approach that attacks the short-term rental issue as part of the affordable housing problem. The city defines a short-term rental as a maximum stay of 29 nights and sets up a licensing system.
Using a wider lens on the affordable housing crunch, the city council in May approved an "Amazon tax" that charges the larger employers such as Groupon and Amazon $275 per worker annually to support housing and homeless services. (The city council repealed the tax in August.) Seattle comes in third, behind only New York and Los Angeles, in the numbers of homeless, while boasting only a fraction of those cities' total populations.
Joan Ling, an urban policy analyst who has worked in affordable housing and mixed-use development for over 30 years, supports short-term rental regulation but sees it as only a piece of the larger question of creating affordable housing to support working families. Los Angeles, she said, "has a ways to go . . . Anything is better than nothing. What [regulation] can do is reduce the harm that can be done [by] removing units. The affordability crisis is so pervasive, so deep—we need a huge number of policies to address the crisis."
Michael and Susanne Detto are happy living in their new apartment in Santa Monica—no all-night parties, the plumbing works and it's a 10-minute walk to work. But before the Ellison got pieced out for short term-rentals, the couple also liked their Venice home.
Michael spoke wistfully of the community where neighbors once shared poetry readings, art discussions and fundraisers in the courtyard now occupied by high-octane weekend parties.
Susanne likes where the couple landed, but reflected on the overall cost as tenants got pushed out by the STR model.
"We lost a lot. We lost a lot of our neighbors. We're still kind of recovering."
---
Copyright Capital & Main