Bank of America Foreclosure Backlash in Pasadena
"About 100 Occupy protesters," reports the Pasadena Star News, "seeking to reverse an eviction gathered Tuesday outside the Pasadena house of a Bank of America executive in the San Rafael neighborhood." The newspaper said the home belonged to Raul Anaya, a B of A executive. The following LA Progressive post, by Occupy Fights Foreclosures member Cheryl Aichele, was written just prior to the action, which was designed to bring attention to the dire predicament of Dirma Rodriguez and other foreclosed homeowners.
By Cheryl Aichele
On Friday, David Redy — a partner at Redy & Smith— called Dirma Rodriguez, a widowed mother with a severely disabled daughter and four sons, who says she was fraudulently foreclosed upon by Bank of America. Allegedly during the conversation, Redy — who represents the bank— threatened Carlos Marroquin, a homeowners' advocate and Occupy activist, who helped get the family back into their home after an eviction in late march.
Rodriguez asserts that in addition to the threat against Marroquin, Redy used high-pressure tactics to get her sign away her Rights.
After over two weeks of no communication from the bank, Redy calls Rodriguez, with the assistance of a translator provided by Redy, and insists she signs documents — that day — that would sign away her rights to legal recourse against Bank of America and West Ridge Rentals, a house flipper from El Segundo, who bought the property at auction.
Despite the fact that Marroquin had spoken to Redy two days earlier and explained that Rodriguez was in the middle of securing legal counsel and needed to consult with legal experts and other groups helping her through this foreclosure fiasco.
In addition, activists call into question the auction the property, after a forensic audit.
"It appears the documents show not only was the sale fraudulent but so was the foreclosures," states Suzanne O'Keeffe, an Occupy Activists assisting in this matter, "Bank of America fraudulently foreclosed on this family about a month after they approved a loan modification that the family had been paying according to the agreement."
In a letter, Bank of America acknowledges the loan modification. In official documents from the Los Angeles County Recorders office, obtained by Occupiers, the bank created a Notice of Trustee Sale, to begin the process for an auction of the property. Mrs. Rodriguez made a payment.
"After approving the loan modification, the bank went behind her back to take her home," states O'Keeffe, "They had no intentions of honoring the modification. They want this house because earns them obscene profits."
Even though the documents may prove fraud in the foreclosure, Bank of America likely received a mortgage insurance payment for the unpaid loan amount, over $457,000. Not only that, the bank most likely received tax-payers' money in the form of federally funded insurance of about 80 to 90 cents on the dollar of the unpaid loan.
In addition, Bank of America received $300,100 from West Ridge Rentals at the auction of the home. Activists also say it is likely that the bank will write off the loss on their taxes, again at the expense of hardworking Americans. Bank of America did not pay a dime in federal taxes last year, or the year before. In fact they got a $1 billion dollar refund in 2011.
"When all is said and done, Bank of America made at least one-and-half million dollars off of fraudulent foreclosure of Dirma's home," O'Keeffe explains, "With the creative accounting they use, they are able to profit excessively off of foreclosures, that's why they use fraud to get so many homes back."
Occupiers say that Wall Street and the banking industry will dispute any such profits or fraud.
"And that amount of money only includes the profits the banks make off the loan during foreclosures," continues O'Keeffe, "The banks also profited off the origination and securitization of these loans."
Activists point to one family they know who owed $540,000 at the time of their fraudulent foreclosure and records show that the bank made over seven billion dollars through the life of the loan.
Early last week, at the house of Rodriguez, Nick Rubarych, from Wedgewood Enterprise Corporation, offered her $20,000 to leave the house, even though she has proof of fraud and all entrances to the property have notices of fraud posted.
"How much do you think my life is work?" Dirma Rodriguez responded to Rubarych's offer.
The group says this is why they are fighting foreclosures. And they say they are not just calling into questions the documentation and profit of these foreclosures, they are also questioning the threats, manipulation, intimidation, and coercion they say Rodriguez and Marroquin experienced in this situation.
"High-pressure tactics are a classic way banks and other predatory groups trick families into doing things they normally wouldn't do," continues O'Keeffe. "We're here to turn the tables on them and give them a taste of their own medicine."
They claim what has happened to Rodriguez and her family has happened to ten million of innocent American families since 2008.
Marroquin and O'Keefe are members of Occupy Fights Foreclosures, a subcommittee at Occupy Los Angeles, which will be fraudulently foreclosing on Bank of America, in Pasadena, on Tuesday May 8th, the night before Bank of America's annual Shareholder Meeting which will take place in Charlotte North Carolina on Wednesday morning.
'Skeleton Crew' Is a Play With a Moral Spine
Set in a Detroit automobile outfitting plant, Dominique Morisseau's drama grabs you from the start with its focus on blue-collar men and women, and their struggle for dignity and self-respect.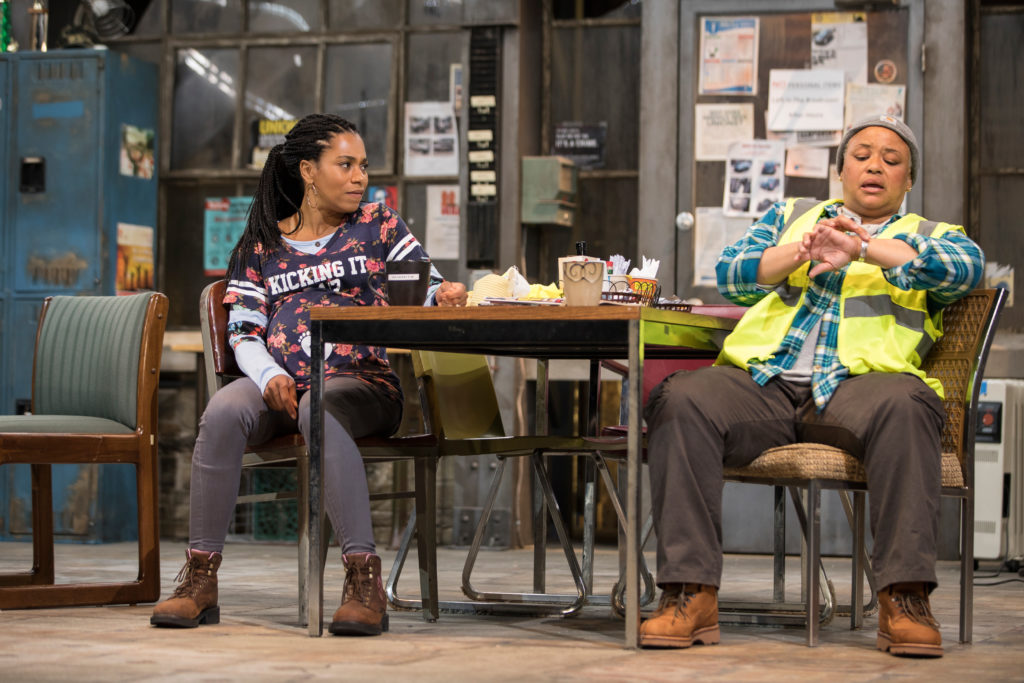 Working-class men and women of color are rarely front and center in today's media and, likewise, are presented all too occasionally on the American stage. So it's buoying to see that trend bucked in playwright Dominique Morisseau's percipient and well-crafted drama, Skeleton Crew. The play is the final installment in her Detroit  Project Trilogy; the first, Paradise Blue, is set in the 1940s amidst displacement caused by urban renewal and gentrification, while the second, Detroit '67, transpires on the eve of the 1967 Detroit riots sparked by a police action.
Directed by Patricia McGregor at Los Angeles' Geffen Playhouse, Skeleton Crew is a play with a moral spine. It takes place in 2008, when the shrinking U.S. auto industry is being further downsized. Morisseau's engaging quartet of characters — Faye (Caroline Stefanie Clay), Dez (Armari Cheatom), Shanita (Kelly McCreary) and Reggie (DB Woodside) – are employed at an automobile outfitting plant. Faye, Dez and Shanita are workers on the line while Reggie (who has a wife and kids, and has pulled himself together after a troubled youth) is their supervisor.
The first three customarily mingle in their break room (designer Rachel Myers' impressively cluttered, dingy and detailed set), trading the sort of familiar barbs and genuine concern for each other common among longtime co-workers. They also face off on philosophy: Upper-middle-aged Faye and the younger, pregnant Shanita take pride in their labor, while Dez, though a good worker, is a malcontent scornful of management and firm in the belief that everyone needs to watch out for himself. He's a thorn in Reggie's side, for while Reggie wants to be supportive of his workers, he must act at the behest of higher management. For his part, Dez resents Reggie's authority, and a palpable unease exists between them.
Besides this male matchup, we're made privy to Dez's attraction to Shanita, who mostly turns away his advances, but every now and then displays a hint of interest. Most poignant is Reggie's regard and affection for the lesbian Faye, which has roots in his boyhood when she loved, and lived, with his now-deceased mom.
These people's various predicaments intensify when rumors spread of the plant's shutdown — a disaster for all, but a particular calamity for the already near-broke Faye who, one year short of retirement, would lose her pension. The crisis forces each of these people to make a choice.
A sound piece of social realism, Skeleton Crew grabs you from the start in its focus on blue-collar men and women, and their struggle against odds for dignity and self-respect. Morisseau not only furnishes these characters a platform for their travails, she endows them with strong values, big hearts and the opportunity to choose between right and wrong.
Unfortunately, the performance I attended did not soar. Many exchanges lacked a fresh edge. The actors certainly had their characters down, but too often they appeared to be coasting on technique. (This seemed particularly true of Clay, who performed the role to great accolades in Washington, DC in 2017, also under McGregor's direction). Additionally, some of the stage movement was not entirely fluid; in confrontations, actors sometimes would just stand and face each other in an artificial way. And Cheatom's interpretation of Dez struck me as a bit overly churlish and depressive: I needed more glimpses of the intelligence and edge that would secretly attract the strong, self-directed Shanita.
The most compelling moments belong to Woodside, well-cast as a man trying his best in difficult circumstances to do the right thing.
---
Gil Cates Theater at the Geffen Playhouse, 10886 Le Conte Ave., Westwood Village; Tues.-Fri., 8 p.m.; Sat., 3 & 8 p.m. Sun., 2 & 7 p.m.; through July 8. (310) 208-5454 or www.geffenplayhouse.org