Richard Montoya in "Palestine, New Mexico."  (Photo: Craig Schwartz)
[printme]Richard Montoya got a surprise not too long ago. The playwright-performer of L.A.'s satirical comedy troupe, Culture Clash, discovered that a book of plays his company had performed over the years had been swept up in a contemporary American controversy. Namely, the shutting down of the Mexican-American Studies Program at Tucson Magnet High School. The book was part of the program's curriculum until Arizona's Attorney General, Tom Horne, found the  program to be insufficiently patriotic under a new state law.
Horne will be appearing before the Ninth Circuit Federal Court of Appeals in a matter of months. Meanwhile, Montoya's new play, American Night – a picaresque view of American history through the eyes of a Mexican immigrant – has received good reviews at the Oregon Shakespeare Festival in Ashland, where it is being performed through September. The Tucson brouhaha re-ignites a debate about the purpose of American political theater with a social justice message.
That a play should have any message at all is anathema to literary traditionalists in the theater, who believe that plays are at their best when revealing emotional truths rather than scoring political points. Were that argument universally believed, Athol Fugard would have been muzzled in South Africa when he wrote plays about the atrocities of Apartheid – even though his plays helped end Apartheid; Vaclav Havel would have been muted in Czechoslovakia at the time his plays were railing against the absurdities and hypocrisies of Soviet-style communism – even though Havel's plays helped bring down the curtain on Czech communism; and Tony Kushner's Angels in America would never have seen the light of day, though Kushner's penchant for gay rights has become his calling card.
The complaint of the traditionalists isn't, ostensibly, about the playwrights' particular political views, but about any political views appearing in a work of drama – about, say, Julius Caesar showing up dressed in U.S. Army fatigues. Because for traditionalists, what's political is topical, and what's topical is temporal, and what's temporal isn't eternal — and therefore isn't important. Shakespeare, their argument goes, endures because he mashes up an array of political perspectives while preaching none. Even though in Shakespeare's canon, England never loses the war – a conclusion at odds with the historical record. This is what happens when a writer is funded by the King or Queen of England.
In the last 30 years or so, political theater, dealing largely but not entirely with identity politics, has latched itself to comedy as a way hurling a political  javelin and actually seeing it land on target: From the San Francisco Mime Troupe, to Culture Clash (which was born in San Francisco's comedy clubs), and culminating in the increasingly earnest television theater of Jon Stewart.
It's easy to forget that Arthur Miller's now internationally admired family drama, Death of a Salesman, caused considerable consternation when, in 1949, it appeared to be questioning the veracity of the American Dream. Such questioning also occurs in Montoya's American Night, now presumably banned from Tucson High's classrooms along with the rest of Culture Clash's work. Plays are purged and burned because they pose a threat to traditional understanding, thereby securing their immediate relevance and reason for being.  The topical-versus-eternal argument that tries to diminish the importance of  current issues – simply for being current — may be a front for something far more eternally sinister.

'Skeleton Crew' Is a Play With a Moral Spine
Set in a Detroit automobile outfitting plant, Dominique Morisseau's drama grabs you from the start with its focus on blue-collar men and women, and their struggle for dignity and self-respect.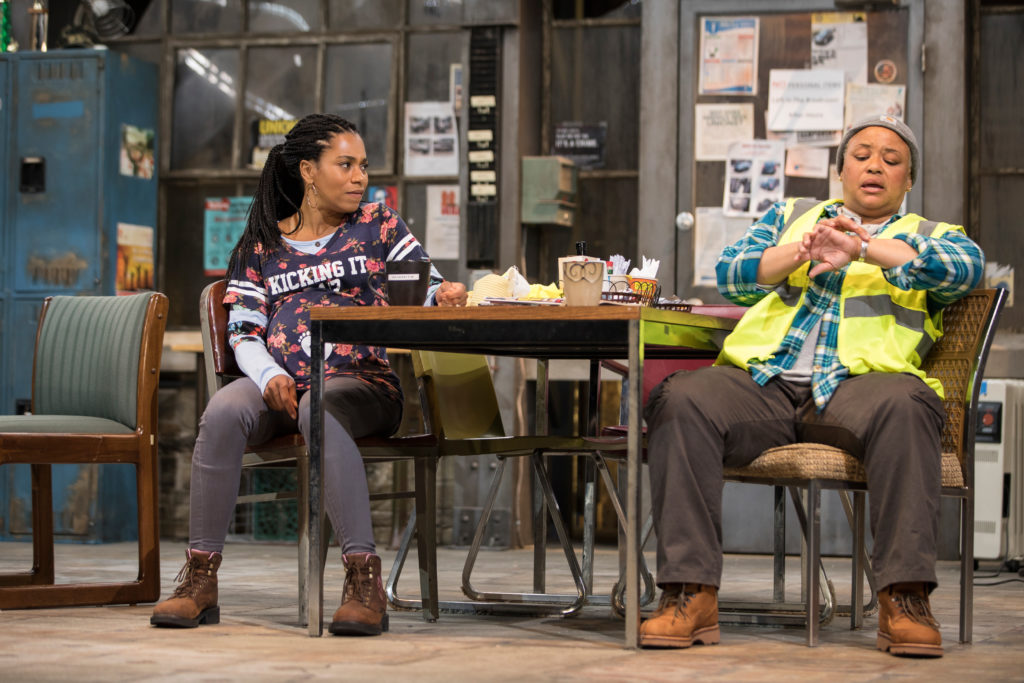 Working-class men and women of color are rarely front and center in today's media and, likewise, are presented all too occasionally on the American stage. So it's buoying to see that trend bucked in playwright Dominique Morisseau's percipient and well-crafted drama, Skeleton Crew. The play is the final installment in her Detroit  Project Trilogy; the first, Paradise Blue, is set in the 1940s amidst displacement caused by urban renewal and gentrification, while the second, Detroit '67, transpires on the eve of the 1967 Detroit riots sparked by a police action.
Directed by Patricia McGregor at Los Angeles' Geffen Playhouse, Skeleton Crew is a play with a moral spine. It takes place in 2008, when the shrinking U.S. auto industry is being further downsized. Morisseau's engaging quartet of characters — Faye (Caroline Stefanie Clay), Dez (Armari Cheatom), Shanita (Kelly McCreary) and Reggie (DB Woodside) – are employed at an automobile outfitting plant. Faye, Dez and Shanita are workers on the line while Reggie (who has a wife and kids, and has pulled himself together after a troubled youth) is their supervisor.
The first three customarily mingle in their break room (designer Rachel Myers' impressively cluttered, dingy and detailed set), trading the sort of familiar barbs and genuine concern for each other common among longtime co-workers. They also face off on philosophy: Upper-middle-aged Faye and the younger, pregnant Shanita take pride in their labor, while Dez, though a good worker, is a malcontent scornful of management and firm in the belief that everyone needs to watch out for himself. He's a thorn in Reggie's side, for while Reggie wants to be supportive of his workers, he must act at the behest of higher management. For his part, Dez resents Reggie's authority, and a palpable unease exists between them.
Besides this male matchup, we're made privy to Dez's attraction to Shanita, who mostly turns away his advances, but every now and then displays a hint of interest. Most poignant is Reggie's regard and affection for the lesbian Faye, which has roots in his boyhood when she loved, and lived, with his now-deceased mom.
These people's various predicaments intensify when rumors spread of the plant's shutdown — a disaster for all, but a particular calamity for the already near-broke Faye who, one year short of retirement, would lose her pension. The crisis forces each of these people to make a choice.
A sound piece of social realism, Skeleton Crew grabs you from the start in its focus on blue-collar men and women, and their struggle against odds for dignity and self-respect. Morisseau not only furnishes these characters a platform for their travails, she endows them with strong values, big hearts and the opportunity to choose between right and wrong.
Unfortunately, the performance I attended did not soar. Many exchanges lacked a fresh edge. The actors certainly had their characters down, but too often they appeared to be coasting on technique. (This seemed particularly true of Clay, who performed the role to great accolades in Washington, DC in 2017, also under McGregor's direction). Additionally, some of the stage movement was not entirely fluid; in confrontations, actors sometimes would just stand and face each other in an artificial way. And Cheatom's interpretation of Dez struck me as a bit overly churlish and depressive: I needed more glimpses of the intelligence and edge that would secretly attract the strong, self-directed Shanita.
The most compelling moments belong to Woodside, well-cast as a man trying his best in difficult circumstances to do the right thing.
---
Gil Cates Theater at the Geffen Playhouse, 10886 Le Conte Ave., Westwood Village; Tues.-Fri., 8 p.m.; Sat., 3 & 8 p.m. Sun., 2 & 7 p.m.; through July 8. (310) 208-5454 or www.geffenplayhouse.org