Are Koch Brothers Behind $11M Gift to Prop. 32 Group?

The most recent gusher of Super PAC cash to flow into California's 2012 election cycle came last Tuesday in the form of an $11 million contribution that has prompted speculation about possible involvement of the Koch brothers. The recipient of the massive donation was the Sacramento-based Small Business Action Committee PAC and its No on Proposition 30/Yes on Proposition 32 efforts. The infusion made headlines, not only because of its generosity but because of its source — an obscure group called Americans for Responsible Leadership, based in Phoenix, Arizona.
The idea of a previously bush-league, locally-focused Arizona PAC writing an $11 million check to out-of-state political campaigns raised an odor that could be smelled all the way to Sacramento. That's where, it was reported Wednesday, that Ann Ravel, the California Fair Political Practices Commission chairwoman, ordered FPPC attorneys to demand that Americans for Responsible Leadership disclose the contribution's original donors.
The FPPC sent the demand, with a Wednesday deadline, to the group's Warrenton, Virginia lawyers — the up-and-coming Republican Super PAC specialists, Holtzman Vogel Josefiak PLLC. It is not yet known at the time of this writing whether the firm had complied.
Ravel's action comes in response to a complaint filed October 19 by California Common Cause and its Vice President for State Operations, Derek Cressman.
The request that the FPPC act on what Common Cause believes may be the largest "secret political donation in California history" came about when Cressman noticed the uncanny coincidence that Americans for Responsible Leadership shared Holtzman Vogel Josefiak as the same attorneys as the Koch brothers-backed Americans for Prosperity PAC and Karl Rove's Crossroads PAC.
"What we found is there is a Virginia law firm that seems to be ground zero for dark money all across the country," Cressman says. "They're tied to the Koch brothers, they're tied to Karl Rove's operation, and they're also behind this Americans for Responsible Leadership group." That common denominator, he explains, "gives a strong indication of where this money is coming from."
The implications of those relationships are hardly news to veteran Arizona political operatives. Ever since ARL dropped its $11 million bombshell onto Sacramento, Phoenix has been humming with speculation that the money originated with the Koch brothers.
According to one scenario discussed by longtime observers of Arizona politics, who spoke on condition of anonymity based on the available facts, the Kochs may have wanted to anonymously dump another massive payload on the Yes on 32 campaign. To do so they would need an out-of-state entity in order to get around California's reporting requirements. These observers conjecture that Americans for Responsible Leadership accommodated by passing the contribution onto SBAC PAC. The price for doing that—according to these observers—may have been to let ARL skim $350,000 off the top in order to fight one of ARL's in-state bête noires, Arizona's single open primary initiative, Proposition 121, a ballot measure that ARL fears would bump Tea Party candidates off the general election ballot.
Though Phoenix media consultant Joe Yuhas says he can't personally confirm such speculation, he is quick to point out that two days after SBAC reported the $11 million contribution, the anti-Prop 121 Stop Top Two Committee revealed it accepted a single $350,000 contribution from ARL.
For his part, Cressman believes that such a scenario sounds "sort of right: It's like, 'Sure, you can run some money through us, but let us shave some stuff across the top to work on issues we care about in Arizona.'" It is, he says, "exactly how these deals go down."
Yuhas, who works for the Phoenix-based media company Riester, is a consultant for both the Prop. 121 campaign and for Arizona's Proposition 204, an initiative that would create a one-cent-per-dollar sales tax to benefit education. He is no stranger to ARL or its colorful chairman, Robert Graham.
Graham, who ran against Arizona Governor Jan Brewer in the 2010 Republican gubernatorial primary and is currently making his second bid to become the state's GOP chairman, is positively phobic when it comes to labor unions. Besides writing a book proclaiming the world would be better off without them, he made a promotional video in which he compares unions to parasites.
According to Yuhas, Graham was a prominent "supporter of Tea Party candidates in the most recent Phoenix municipal election in 2011." In fact, he points out, "this is where Americans for Responsible Leadership first emerged. … They funded campaigns against mainstream candidates in support of Tea Party candidates."
Sam Wercinski works with the Phoenix-based Arizona Advocacy Network to, as he puts it, "promote clean elections and accountability to the voters, not donors. He is well acquainted with Graham, ARL and the SBAC contribution rumors. "What I've heard," Wercinski says, "is that Americans for Responsible Leadership has used Arizona sort of as a laundering site for money to then pour into California. … And Arizona got a slice of that, to then work against citizens' initiatives.
What has struck Wercinski most about the stories is not that they exist, but their pervasiveness and consistency. "When you start hearing rumors from so many different sources," he says, "you just have to wonder if this is true or not."
Establishing the truth of such tales is now in the hands of Ravel and the FPPC. (Frying Pan News calls to Graham and his ARL co-founders, Eric Wnuck and Steven Nickolas requesting comment went unanswered at press time.) To Cressman, however, there's a victory in the mere fact that the FPPC is taking an active interest.
"They're acting on our complaint," he exults, "which is huge.
Bill Raden is a freelance writer based in Los Angeles.

Rick Scott Invested in the Same Financial Firms As Florida's Pension System
Co-published by MapLight
For most of his time in office, Florida's governor has shielded his investments from public view. A new disclosure shows Rick Scott and his wife have invested at least $18 million in financial firms managing money for the state's pension system that he oversees.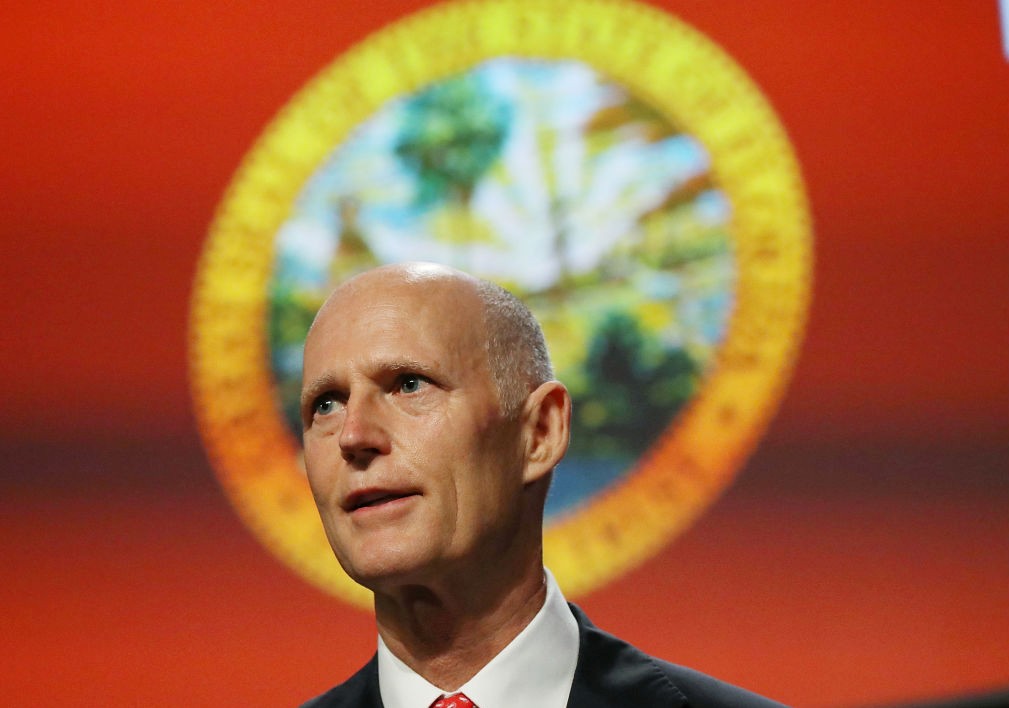 ---
Former SEC Lawyer: "There needs to be an investigation into whether the state is subsidizing Rick Scott's personal returns."
---
Co-published by MapLight
Florida Gov. Rick Scott and his wife have invested at least $18 million in three financial firms managing money for the state's pension system that Scott oversees — a situation that intertwines the governor's personal finances with his responsibility for supervising state employees' retirement savings.
The investments were first divulged in a federal financial disclosure form that Scott filed as part of his U.S. Senate campaign in July. For most of his time in office, Scott has shielded his investments from public view, and only reported their overall value in his blind trust.
The terms of Scott's investments remain undisclosed. The firms' own corporate documents say they can give certain investors special preferences not afforded to other investors — and experts have in recent years argued that hedge funds, private equity firms, and other "alternative investments" are giving such preferences to elite investors. One former Securities and Exchange Commission attorney told MapLight and Capital & Main that Scott must disclose whether he is being given such preferences.
---
Critics have raised questions about how blind the Scott family trusts really are.
---
Florida ethics laws are supposed to prohibit state officials from entering into contractual relationships with companies that do business with their agencies. However, after Scott became governor in 2011, state ethics officials said he and his family members could put their assets into a blind trust to avoid conflicts of interest and still maintain their investments in companies operating in Florida.
Critics have raised questions about how blind the Scott family trusts really are. Scott placed one of his longtime business associates in charge of managing his blind trust. The Tampa Bay Times reported that Scott's blind trust has invested with a private equity firm tied to a high-speed rail project in Florida. The trust also had an indirect interest in a cancer treatment company that received tax breaks from Scott's administration.
---
"The question is whether Rick Scott is being allowed to invest on better terms than the state pension fund."
---
"When Governor Scott was elected, he put all of his assets in a blind trust, which is managed by an independent financial professional who decides what assets are bought, sold or changed," said Scott campaign spokesperson Lauren Schenone. "The rules of the blind trust prevent any specific assets or the value of those assets within the trust from being disclosed to the governor, and those requirements have always been followed."
Scott is one of three state officials who serve as trustees for the Florida State Board of Administration, which manages a $160 billion fund for roughly 400,000 retirees. Scott, Attorney General Pam Bondi, and Chief Financial Officer Jimmy Patronis oversee lucrative state investment deals granted to cash-hungry Wall Street firms.
The three firms that have received $325 million worth of Florida pension investments have allowed the Scott family's blind trusts to simultaneously invest their personal fortunes in these funds. Scott's investments in the funds did not appear in a 2014 disclosure itemizing his holdings. His campaign did not say when the investments were made.
"There are no ethics rules that prohibit or limit a trustee from investing in funds also invested in by the SBA," said SBA spokesperson John Kuczwanski, though he added that trustees are subject to Florida's general code of ethics. Kuczwanski said that the governor has no involvement in specific pension investment decisions.
Don Hinkle, a Democratic lawyer, filed a lawsuit last year alleging that the governor has failed to comply with the state's blind trust and financial disclosure laws. He said he was surprised by the news that Scott had invested in the same firms as the Florida pension system.
"I would think that he would have avoided investments where the state of Florida's money is propping his up," Hinkle told MapLight and Capital & Main.
In 2011, a few months after Scott became governor, the SBA committed $150 million to Highline Capital Partners, a New York-based hedge fund. Scott's financial disclosure shows that his family's trusts have invested at least $4 million in the same Highline fund as the state.
The SBA also committed $100 million in 2015 to a hedge fund managed by Canyon Capital Advisors, a Los Angeles-based firm created by veterans of the notorious investment bank Drexel Burnham Lambert, which was driven into bankruptcy as a result of illegal and unethical trading practices. Scott and his family have invested at least $12 million in Canyon funds, according to his financial disclosure.
Before Scott became governor, the SBA invested $75 million with VSS, a New York-based private equity firm that was launched by a co-founder of Psychology Today. Scott and his wife, Ann, have invested more than $2.2 million in another VSS fund. A spokesperson for VSS said the firm doesn't comment on its investors.
All three firms' SEC filings say they can offer certain investors special fee terms or other benefits not offered to other investors.
"Alternative investment funds have the ability to offer every investor different fees at a different rate of return, so the question is whether Rick Scott is being allowed to invest on better terms than the state pension fund," said former SEC attorney Edward Siedle, whose Florida-based firm conducts forensic investigations of state pension systems.
"If you give one investor an advantage, another investor has to be disadvantaged," Siedle said. "That means there needs to be an investigation into whether the state is actually subsidizing Rick Scott's personal returns and whether the governor enjoys advantages that are harming the retirees."
Schenone, Scott's spokesperson, said that his blind trust has "been upheld multiple times by the State Commission on Ethics and the court system. Governor Scott has also followed the requirements of all state and federal financial filings."
She noted that former Florida Republican Gov. Jeb Bush and Scott's 2010 Democratic opponent Alex Sink had also used blind trusts, although Scott's campaign attacked Sink for hers at the time.
"Blind trusts sound good but can run afoul of state laws requiring public officials to disclose their personal finances," a Scott campaign ad said in 2010. "[But] simply moving large amounts of money into a blind trust does not magically erase the knowledge of what you own."
---
This piece was reported by Andrew Perez of MapLight and David Sirota of Capital & Main, and published in partnership with the Florida Center for Investigative Reporting.