Apple's Labor Pool: Job Market or Slave Auction?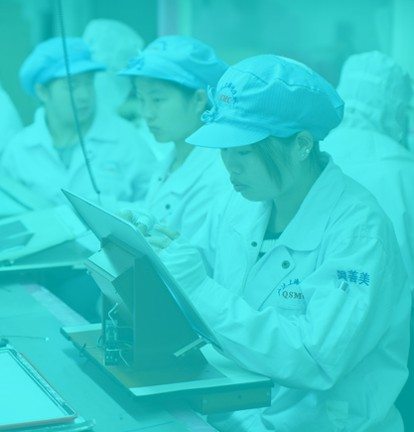 When it comes to America's race to the bottom, Apple is right there at the finish line waving the checkered flag. At least that's the impression one gets from reading "How U.S. Lost Out on iPhone Work," in Sunday's New York Times. Reporters Charles Duhigg and Keith Bradsher begin their lengthy piece with an unsettling anecdote set at a 2011 dinner for Silicon Valley big wigs that was attended by President Obama. At one point the president asked the late Steve Jobs why Apple couldn't bring back to America the tens of thousands of jobs it had outsourced, mostly to Asia, where its iPads, iPhones and other products are engineered and assembled.
"Those jobs aren't coming back," Apple's CEO reportedly replied. End of discussion.
According to Duhigg and Bradsher, Apple's brass believes the American worker, besides earning too much money for his or her labor, just doesn't possess "the flexibility, diligence and industrial skills of foreign workers." Last week Frying Pan News writer Jon Zerolnick described the "flexibility" of Apple's subcontracted Chinese workers, with their 34-hour shifts and 12-foot by 12-foot dormitories, and their skill at sliding into coffin-sized beds at night. Victorian Manchester was a worker's paradise by comparison.
Everything about Apple (from the mocking irony of Jobs' name to the outsourcing of its employees' livelihoods to factories in a totalitarian police state) epitomizes big business's attitude of contempt – not only for American workers but for America itself.
"We sell iPhones in over a hundred countries," answered one Apple executive, when asked by the Times about the unemployment crisis. "We don't have an obligation to solve America's problems." Except that by shipping America's jobs overseas they are creating those problems. Apple executives presumably have their black turtlenecks and toothbrushes packed and ready to go, if the day comes when the country they are fast helping to make an economic wasteland becomes uninhabitable for them. (See Harold Meyerson's sardonic contrast of Jobs and his colleagues with Henry Ford and his contemporaries: "Ford didn't just build the first car the middle class could afford; he built the middle class itself.")
The Times piece ran a devastating graphic of the top labor-intensive companies, comparing the vast numbers of Americans employed by 20th Century industrial giants such as GM and U.S. Steel with contemporary companies that are, for the most part, low-wage service-sector employers. Apple, with its 63,000 worldwide employees, came nowhere close to appearing on that graphic. How could it, when most of its production is contracted out to Taiwan's Foxconn, whose Foxconn City in mainland China employs 230,000?
One bitter irony to emerge from Duhigg and Bradsher's article is the acknowledgment that wages – the original motive for American companies relocating overseas – are no longer the main reason Apple's jobs are not coming back. (Making an iPhone in America would only add an estimated $65 to its production cost.) It's mostly because of the mega-plants and vast distribution systems that have been created in China, South Korea and elsewhere. These have become the production arteries of America's tech firms – arteries this country lacks, along with the necessary number of skilled engineers.
Those distribution matrixes could be built here, just as armies of engineers and other skilled professionals could be taught in American schools. (Or, for that matter, in company-run classrooms.) But that would involve investment – a business concept completely alien to many congressional and business leaders today. Why invest all the time, effort and money when the helpful Chinese government will make sure everything's taken care of for us? This is called free enterprise, but of course Apple and other tech companies couldn't succeed without their Faustian partnerships with the regimented command economy of China.
While it's true that the successes of Apple and other hi-tech corporations have resulted in a few thousand extra American jobs being created (mostly in shipping and marketing businesses), a grim reality raised by the Times article far overshadows those gains. The bad news is that Apple's production model is being adapted by other American industries – even the clean-energy sectors on which so many have placed hopes for future domestic job creation.
The race to the bottom, in which we lower the value of our citizens' labor in exchange for new industry, continues at breakneck pace because we let it. Our society is impoverished a little bit more every time an entrepreneur awards a contract to an "irresistible" foreign bid that is underwritten by slave labor. It's a slippery road to go down — and one that is not even paved with good intentions.

The Real Costs of Living in California
A new report from United Ways of California shows that 1 in 3 working families struggle to make ends meet.

These seem to be boom times for Americans, as monthly statistics from the U.S. Labor Department tout a fast-rising economy and dwindling unemployment since the final years of the Obama administration. What those numbers fail to measure is the real cost of making ends meet, and how far out of reach that remains for many working households that continue to struggle.
The reality in California is that one in three households are falling short, according to Struggling to Stay Afloat: The Real Cost Measure in California 2018, a new report from the nonprofit United Ways of California. The study sought to document the actual costs of a "a bare-bones decent standard of living," says Peter Manzo, president of the nonpartisan advocacy group, and include the real-world impact of housing costs, transportation, education and other immovable factors.
The report is downloadable from the United Ways website, which also has interactive features where each county is examined in detail. In an interview with Capital & Main this week, Manzo explained the report's findings.
---
Captial & Main: What inspired this study?
Peter Manzo: The federal poverty level doesn't really take into account the cost of living in California. It also doesn't tell you where we would like families to be. It doesn't show you what is doing OK and how far most households are from it. Everyone knows it can be expensive to live in California, but this adds more detail.
How did you determine what the real costs were?
The real cost measure we used is a basic needs budget: housing, food, transportation, health care, childcare, taxes and 10 percent of the total for miscellaneous – things like your mobile phone bill. The interesting thing about the real cost measure is that the household budget varies by composition. So if you have two adults working full-time minimum-wage jobs, the household budget was different from the same two adults with an infant. The cost structure changes significantly by adding family members.
It looks like different parts of the state are affected differently.
Obviously, coastal areas are more expensive to live in than inland areas in terms of housing. Even so, there are high numbers of households struggling to meet the cost of a decent standard of living in those lower-cost areas. It's interesting to contrast much of the Bay Area with L.A. County, which has a much higher rate of struggling households: 38 percent of households in L.A. County struggle vs. the composite number across those Bay Area counties, which is about 25 percent. It's very expensive to live in Santa Clara County, but there are more households that are earning above what they need.
If you look at Fresno County, that's a very different situation.
On our website, you can look at neighborhood level data. You can look at it by neighborhood, which is real important. With Fresno, you have a high rate of need. And if you look at West Fresno, which sadly is pretty well known for having a very high unemployment rate and a lot of struggling families, it looks worse than other parts of Fresno.
In the Bay Area there is more opportunity, while in Fresno County the opportunities are less and people are struggling at a higher rate than other parts of the state.
Yes. It's very tough in a lot of place in the Central Valley and the Inland Empire. There are struggling households in just about every part of the state. Every ethnic and racial group struggles. No one's immune to it.
The Bay Area has been going through a difficult boom period where a lot of people moved in and housing costs went up. L.A. seems to be in the middle of that too. How do those kinds of changes affect people's ability to keep up?
HUD fair market rent, which is a proxy for actual rents, increased almost 45 percent in the last three years in Alameda County. That's a steep jump. The Bay Area cost ripple is still going on. L.A. County has rising rents. Our offices are in Downtown L.A., and you can't turn around without bumping into a crane. In the last three years, there has been an incredible boom in construction. And it seems to be mostly high-market condos that aren't very affordable and aren't that well occupied. My sense is that people are buying them for a second home. Obviously we need more housing units, but they need to be affordable. What we want to point out in our study is that we need to do more for renters. There are many more people living in apartments whose rents may go up than would be housed by new construction. Maintaining affordability is key.
How does education play into it?
We see a correlation between a higher level of education and a lower rate of struggle. Households led by college graduates, only 15 percent of those households struggle, compared to 78 percent for households led by somebody who doesn't have a high school diploma.
How do children in a household affect the ability to keep up?
That's one of our big findings. A household with kids really changes the budget of what a decent standard of living looks like. Some people would quarrel with us about this, but we feel children should have access to quality pre-school and childcare. We know most kids don't actually get access to that, but we think they should, and that's included in our budget. We find that 6 in 10 households with a child under 6 are struggling – especially when they're led by a single mother.
It looks like in many parts of the state, transportation is also a big cost, approaching the level that people pay for housing.
Our assumption is that families need a car. We talk to people who do studies back east, and often the assumption there is that low-income households are using public transportation. But even in the Bay Area, most people need a car. It's like a lifeline, to drive around and get to work. It's a little like Grapes of Wrath: You need to be able to move. Our costs are based on reported expenditures from the Bureau of Labor Statistics. If we had a high functioning public transportation system down here, that would help a lot of people.
These are overwhelmingly working households: 9 in 10 of them have a working adult, and in 80 percent of them the household is working full-time. Oftentimes, when people talk about poverty, they just know what the poverty level is – but it doesn't really tell you what they're contending with, and the trade-offs they're having to make. And there's often an assumption that poor people are lazy and if they just get a job, things would be better. Our point is that these are overwhelmingly working families. They have jobs and they're still not earning enough for a decent standard of living.