Anti-Immigrant Legislation has Walmart Roots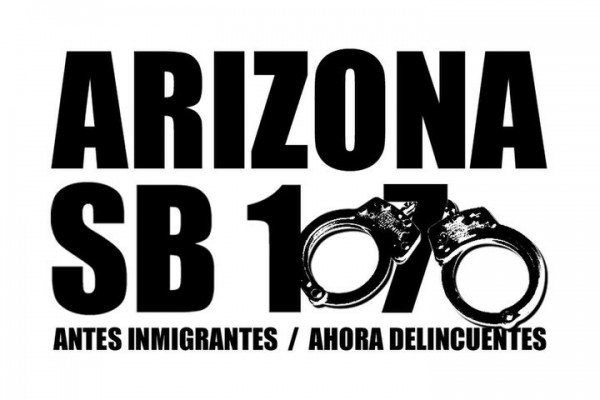 Here's a fun fact you probably didn't know: Arizona's notorious SB 1070 law was born in a Walmart.
Yes, the inspiration for the most draconian anti-immigrant legislation in the nation, a measure that permits law enforcement to ask about immigration status, one that swings the door wide open for racial profiling—SB 1070—reportedly sprang from a moment of inspiration at a Walmart checkstand.
This origins story is brought to you courtesy of the Ministry of Citizenship, a faux MinuteMan-style group that purports to be a fan of the legislation.  According to the Ministry, it happened this way:  state representative Russell Pearce, the measure's sponsor, "hatched the idea for SB 1070 late one night while waiting in the checkout line at Walmart."
"Here I was just trying to buy some Cheetos and cat litter, and the crowds were just horrendous," the Ministry quotes Pearce as saying. "My rights as an American really should mean something."
If we're hearing Russell Pearce's dog whistle clearly—and we are—Russ's rights were abrogated by all those Latino customers getting between him and his Cheetos and cat litter.
Clearly his only recourse was to champion a discriminatory law. (Russ may have more time to cultivate patience these days—a November 2011 recall election removed him from office.)
An apocryphal checkout-line brainstorm, though, is not Walmart's most significant connection to SB 1070.
Pearce enthusiastically carried the water for and is the face of the SB 1070 legislation. But NPR tracks the measure's creation to the American Legislative Exchange Council—known by the innocuous acronym ALEC.
The American Legislative Exchange Council was founded in 1973 by Paul Weyrich, the brains behind the right wing political infrastructure that set the stage for the Reagan Revolution and shifted national policy debate to the right.
ALEC is made up of corporations and legislators.  Russell Pearce was one of those legislators. Walmart is one of those corporations.
It should be noted that Pearce has denounced the NPR report as "a lie" for alleging that discussions at ALEC helped the law take shape, saying he had a fully drafted bill prior to taking it to ALEC. What is not disputed is that Pearce brought it to an ALEC task force for discussion before it was introduced in the Arizona Senate.
Walmart and other corporations provide donations for ALEC. They shovel buckets of cash toward lawmakers, also ALEC members, who promote the legislation that pumps up the bottom line, even if civil rights get trampled along the way.
This makes good sense if you are Walmart. ALEC has been a long-time promulgator of anti-labor legislation.
Anti-union policy is part of the ALEC gospel and intrinsic to Walmart's DNA.  The company indoctrinates employees against unionism from hire, holds workers in "captive audience" meetings that declaim the dangers of unionization and requires managers to report any organizing efforts on the Union Hotline that goes straight to Walmart's Bentonville Arkansas headquarters.
Despite ALEC's enormous policy influence over the past four decades, it operated largely under the public radar until the tragic Trayvon Martin case became a national flashpoint.
ALEC, it turns out, has wielded enormous influence in promoting the stand-your-ground laws that provide gun owners wide discretion in decisions to open fire. The Florida stand-your-ground policy was behind the initial release of George Zimmerman, now facing second-degree murder charges in Martin's shooting death in February.
"A Wal-Mart executive, Janet Scott, was the co-leader of a criminal justice committee at Alec that in 2005 unanimously supported strengthening self-defense laws in shooting incidents," the New York Times said in a recent story.
Since Walmart is the top purveyor of shotguns and ammunition in the United States, it's not hard to see how trigger-happy policies benefit America's Largest Retailer.
ALEC also aggressively promotes the noxious voter suppression legislation sweeping the states–designed to exclude the young, the poor and people of color whose ballot choices could propel the kind of change corporations don't much care for.
Arizona "has been at the forefront of ALEC's voter suppression agenda," writes Donna Gratehouse for AFL-CIO Now.  Between SB 1070 and its successful strategies to trammel upon voter rights, Arizona looks like a ALEC's laboratory run amuck.
The NPR story that details ALEC's pivotal role in crafting and promoting SB 1070 doesn't name Walmart as the key architect. The Corrections Corporation of America, the nation's largest operator of privatized prisons, claims that spot.  NPR reports that CCA executives believe immigrant detention is their next big market.
Not to say Walmart doesn't also benefit from Arizona's privatized prison industry. It does look like Walmart maintains its famous low prices with help from Arizona prison labor—women working for $2.00 an hour under brutal conditions. TruthOut provides a disturbing account of women prisoners' daily life in service to Walmart's largest supplier of organic melons, Martori Farms.
(This according to a 2007 Walmart release; a search on Walmart's corporate site provided no updates.)
ALEC, backed by Walmart and other corporations, is engineering the extreme free-market mayhem and racist policy that has become Arizona legislation.
As of April 10 2012, CNN reported that more than 300 companies were part of ALEC. Some are dropping out, feeling the heat from a campaign led by Color of Change.org, founded after the Hurricane Katrina disaster to provide a louder voice for African-Americans.
Companies long considered to be America's sweethearts have bailed on ALEC—Coca Cola, Kraft, Wendy's. But Walmart? Even with increasing scrutiny for its role in promoting stand-your-ground legislation, even with a burgeoning scandal related to allegations of $24 million in bribes in Mexico and a cover-up at corporate headquarters—Walmart stands its ground for poverty employment and racial discrimination, remaining a large contributor to ALEC.

Rick Scott Super PAC Donations Challenge Federal Anti-Corruption Rule
Co-published by Fast Company
The Florida governor led a group that raked in cash from Wall Street firms after Scott's administration gave them pension deals.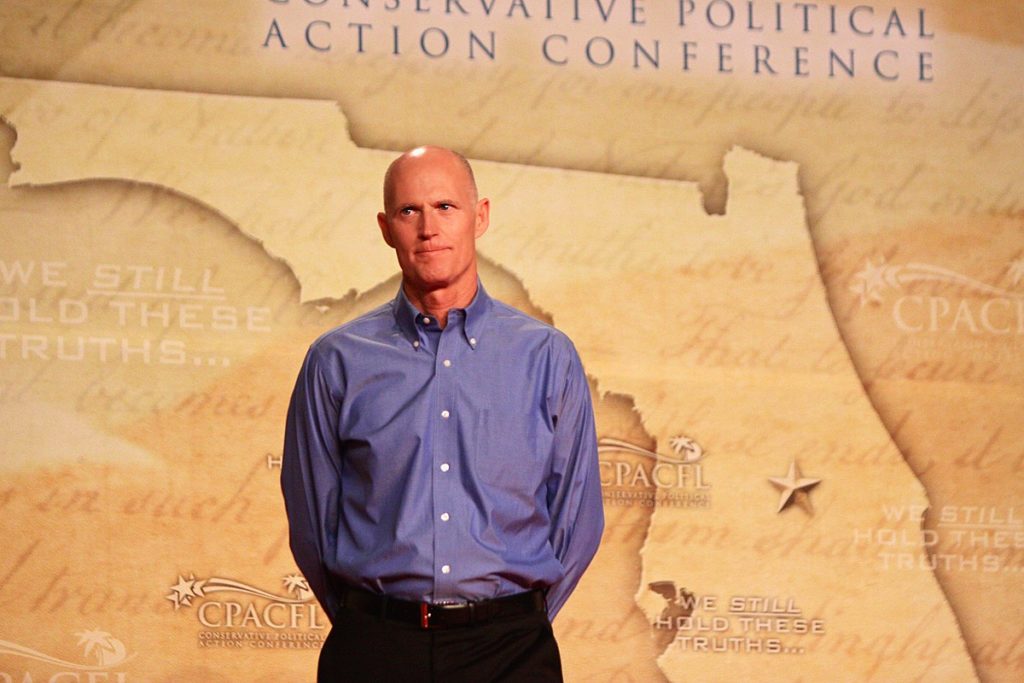 Co-published by Fast Company
A super PAC led by Florida Gov. Rick Scott raked in donations from two private equity executives after Scott's administration directed lucrative state pension investments to their firms, according to government records reviewed by MapLight and Capital & Main.
The donations were made to a committee that's now supporting Scott's U.S. Senate bid, despite a federal rule designed to prevent financial firms from bankrolling the election campaigns of public officials who oversee state pension investments.
Scott, a Republican, began chairing the New Republican PAC in May 2017 and announced his former campaign manager would serve as its executive director. Soon after, the group received $5,000 from New Mountain Capital Chief Executive Officer Steve Klinsky and $50,000 from Energy Capital Partners founder Douglas Kimmelman.
The contributions flowed to the super PAC after New Mountain Capital and Energy Capital Partners received a combined $250 million worth of new investment commitments from Florida's state pension system in 2014 and 2015. Scott is one of three state officials who oversee the $160 billion pension system. During the most recent fiscal year, the Florida investments generated more than $3 million in fees for the firms.
A 2010 Securities and Exchange Commission (SEC) rule prohibits firms from receiving investment fees from public pension systems if their executives donate campaign cash to pension overseers like Scott. SEC officials aimed to prevent investment decisions from being shaped by political influence.
But the commission didn't explicitly bar donations to "independent" political groups, unless the donations were deliberately designed to circumvent the restrictions. And it hasn't addressed whether a state official can lead a super PAC that received donations from firms with pension business and later be supported by the super PAC.
John Kuczwanski, a spokesperson for the Florida State Board of Administration, told MapLight/Capital & Main that Florida's first investments in the two private equity firms happened in 2005 and 2009, and he said Scott had nothing to do with new investments during his governorship, which started in 2011.
"The [state's] initial relationships with both managers predate Governor Scott's time in office," said Kuczwanski, whose agency manages the day-to-day operations of the pension system. "Neither the trustees, nor their appointed investment advisory council members are involved in the investment manager/fund selection process."
Scott's campaign and the super PAC did not respond to questions from MapLight/Capital & Main. New Mountain Capital and Energy Capital Partners did not return requests for comment.
Energy Capital recently completed the purchase of Calpine, whose natural gas power plant near Tampa is regulated by Scott's appointees at the Florida Public Service Commission. Kimmelman, who is now a director of Calpine, also donated $35,000 in 2017 to the National Republican Senatorial Committee, which is backing Scott's Senate campaign.
"A Very Clear Case"
Under the SEC rule — which GOP state parties have tried to overturn — investment executives are not prohibited from donating to independent political groups. But the rule allows regulators to apply restrictions to donations that are deliberately routed through third parties in order to support public officials — a situation that critics argue is happening with Scott and his super PAC.
After the governor announced his Senate bid last week, New Republican PAC's website began promoting his candidacy. End Citizens United, a Democratic-leaning political action committee based in Washington, DC, filed a complaint alleging that Scott has violated Federal Election Commission rules and is using the super PAC, which can accept unlimited donations, to evade contribution limits. Scott's campaign says he stepped down as New Republican PAC's chair in February.
In writing the original rule, SEC officials noted that while they could not restrict all donations to political action committees, contributions to third parties "may effectively operate as a funnel to the campaigns of the government officials." They said the final rule "prohibits acts done indirectly, which, if done directly, would violate the rule."
One ethics expert said that those anti-circumvention provisions should apply to the donations to Scott's super PAC.
"This appears to be a very clear case of close coordination and circumvention of the pay-to-play rule," said Craig Holman, an ethics lobbyist at the government watchdog group Public Citizen. "This is something that I'd like the SEC to pay attention to."
"No Loopholes"
The SEC has only occasionally enforced the pay-to-play rule, and the agency hasn't applied the provisions dealing with third parties to donations to super PACs. Because Scott is a sitting governor who can influence pension investments, he is covered by the rule, which has hampered the fundraising of past governors who tried to run for federal office.
A spokesman for former Texas Gov. Rick Perry's presidential campaign said the rule prevented him from raising enough money to be competitive in the 2012 race. Bloomberg reported that during the same election cycle, then-New Jersey Gov. Chris Christie was rejected as the vice presidential nominee, partly because Republicans feared the rule would prevent them from raising money from Wall Street firms that do business with his state's pension system.
"There is no way around it, and there are no loopholes," said Bill Palatucci, Christie's longtime advisor.
Even so, in recent years the rule has not deterred financial executives from donating to groups that help lawmakers who can influence pension investments. Financial executives whose firms received New Jersey and New Mexico investments continued to donate to the Republican Governors Association (RGA) when Christie and New Mexico Gov. Susana Martinez led the group. During the 2016 election cycle, executives at firms managing state pension money donated nearly $1.3 million to the GOP association, even as the group boosted the campaigns of Republican governors with power over state pension investments.
Last year, U.S. Sen. Tom Udall, D-N.M., called for the SEC to apply the pay-to-play rule to outside groups "to ensure that no one is able to circumvent these laws by using super PACs, dark money groups or other campaign spending vehicles." The RGA has argued that because it funds multiple candidates and does not allow donors to earmark contributions for particular races, it can accept donations from firms with investment business that can be influenced by individual governors. The SEC said in 2016 that donations to outside political groups "are independent expenditures that do not trigger" the rule.
"So long as the PAC faithfully observes the requirement to operate independently of candidates, a contribution to a super PAC will not trigger the [rule], even if the super PAC supports a covered official," Sam Brown, a former advisor to Federal Election Commissioner Ellen Weintraub, wrote in 2016. "Super PACs are increasingly being used in novel ways, and it remains to be seen whether these changes will result in increased circumvention risks."
---
This story is a collaboration between MapLight and Capital & Main.