Anti-Immigrant Legislation has Walmart Roots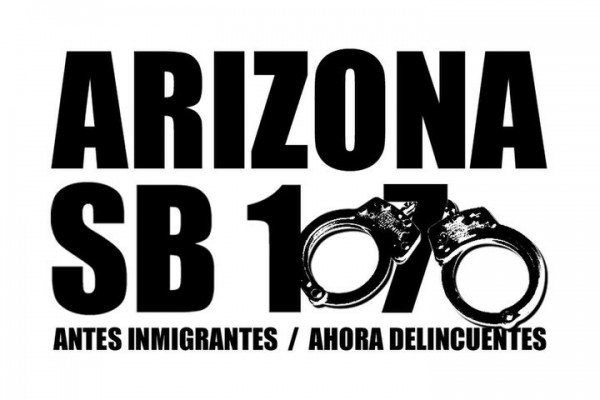 Here's a fun fact you probably didn't know: Arizona's notorious SB 1070 law was born in a Walmart.
Yes, the inspiration for the most draconian anti-immigrant legislation in the nation, a measure that permits law enforcement to ask about immigration status, one that swings the door wide open for racial profiling—SB 1070—reportedly sprang from a moment of inspiration at a Walmart checkstand.
This origins story is brought to you courtesy of the Ministry of Citizenship, a faux MinuteMan-style group that purports to be a fan of the legislation.  According to the Ministry, it happened this way:  state representative Russell Pearce, the measure's sponsor, "hatched the idea for SB 1070 late one night while waiting in the checkout line at Walmart."
"Here I was just trying to buy some Cheetos and cat litter, and the crowds were just horrendous," the Ministry quotes Pearce as saying. "My rights as an American really should mean something."
If we're hearing Russell Pearce's dog whistle clearly—and we are—Russ's rights were abrogated by all those Latino customers getting between him and his Cheetos and cat litter.
Clearly his only recourse was to champion a discriminatory law. (Russ may have more time to cultivate patience these days—a November 2011 recall election removed him from office.)
An apocryphal checkout-line brainstorm, though, is not Walmart's most significant connection to SB 1070.
Pearce enthusiastically carried the water for and is the face of the SB 1070 legislation. But NPR tracks the measure's creation to the American Legislative Exchange Council—known by the innocuous acronym ALEC.
The American Legislative Exchange Council was founded in 1973 by Paul Weyrich, the brains behind the right wing political infrastructure that set the stage for the Reagan Revolution and shifted national policy debate to the right.
ALEC is made up of corporations and legislators.  Russell Pearce was one of those legislators. Walmart is one of those corporations.
It should be noted that Pearce has denounced the NPR report as "a lie" for alleging that discussions at ALEC helped the law take shape, saying he had a fully drafted bill prior to taking it to ALEC. What is not disputed is that Pearce brought it to an ALEC task force for discussion before it was introduced in the Arizona Senate.
Walmart and other corporations provide donations for ALEC. They shovel buckets of cash toward lawmakers, also ALEC members, who promote the legislation that pumps up the bottom line, even if civil rights get trampled along the way.
This makes good sense if you are Walmart. ALEC has been a long-time promulgator of anti-labor legislation.
Anti-union policy is part of the ALEC gospel and intrinsic to Walmart's DNA.  The company indoctrinates employees against unionism from hire, holds workers in "captive audience" meetings that declaim the dangers of unionization and requires managers to report any organizing efforts on the Union Hotline that goes straight to Walmart's Bentonville Arkansas headquarters.
Despite ALEC's enormous policy influence over the past four decades, it operated largely under the public radar until the tragic Trayvon Martin case became a national flashpoint.
ALEC, it turns out, has wielded enormous influence in promoting the stand-your-ground laws that provide gun owners wide discretion in decisions to open fire. The Florida stand-your-ground policy was behind the initial release of George Zimmerman, now facing second-degree murder charges in Martin's shooting death in February.
"A Wal-Mart executive, Janet Scott, was the co-leader of a criminal justice committee at Alec that in 2005 unanimously supported strengthening self-defense laws in shooting incidents," the New York Times said in a recent story.
Since Walmart is the top purveyor of shotguns and ammunition in the United States, it's not hard to see how trigger-happy policies benefit America's Largest Retailer.
ALEC also aggressively promotes the noxious voter suppression legislation sweeping the states–designed to exclude the young, the poor and people of color whose ballot choices could propel the kind of change corporations don't much care for.
Arizona "has been at the forefront of ALEC's voter suppression agenda," writes Donna Gratehouse for AFL-CIO Now.  Between SB 1070 and its successful strategies to trammel upon voter rights, Arizona looks like a ALEC's laboratory run amuck.
The NPR story that details ALEC's pivotal role in crafting and promoting SB 1070 doesn't name Walmart as the key architect. The Corrections Corporation of America, the nation's largest operator of privatized prisons, claims that spot.  NPR reports that CCA executives believe immigrant detention is their next big market.
Not to say Walmart doesn't also benefit from Arizona's privatized prison industry. It does look like Walmart maintains its famous low prices with help from Arizona prison labor—women working for $2.00 an hour under brutal conditions. TruthOut provides a disturbing account of women prisoners' daily life in service to Walmart's largest supplier of organic melons, Martori Farms.
(This according to a 2007 Walmart release; a search on Walmart's corporate site provided no updates.)
ALEC, backed by Walmart and other corporations, is engineering the extreme free-market mayhem and racist policy that has become Arizona legislation.
As of April 10 2012, CNN reported that more than 300 companies were part of ALEC. Some are dropping out, feeling the heat from a campaign led by Color of Change.org, founded after the Hurricane Katrina disaster to provide a louder voice for African-Americans.
Companies long considered to be America's sweethearts have bailed on ALEC—Coca Cola, Kraft, Wendy's. But Walmart? Even with increasing scrutiny for its role in promoting stand-your-ground legislation, even with a burgeoning scandal related to allegations of $24 million in bribes in Mexico and a cover-up at corporate headquarters—Walmart stands its ground for poverty employment and racial discrimination, remaining a large contributor to ALEC.

Fossil Fuel Giant Stealthily Pumping Unregulated Cash Into Colorado Ballot Fight
Co-published by Westword
In a move that goes beyond Citizens United, Noble Energy is airing undisclosed ads against Proposition 112 — and the GOP Secretary of State says that's A-OK.

Co-published by Westword
In a last-ditch attempt to defeat one of the most far-reaching environmental measures on the 2018 ballot, a fossil fuel giant is blanketing Colorado television with election-focused political ads that it now claims are outside the purview of all state campaign finance laws. The maneuver — which pioneers a novel way for corporations to circumvent disclosure statutes and inject money directly into elections — has been blessed by the office of Secretary of State Wayne Williams, who has led a Republican political group bankrolled by the same fossil fuel corporation that is airing the ads.
At issue is Proposition 112, a landmark measure that would force fossil fuel companies to set their drilling and fracking operations further away from hospitals, schools, child care centers and residential neighborhoods. Natural gas colossus Noble Energy and its subsidiaries have been among the most prominent opponents of the initiative, disclosing $7.1 million in contributions to Protect Colorado, the issue committee opposing the initiative.
Noble has also given $200,000 to a PAC supporting the Republican majority in the state senate, which in recent years has been a bulwark against Democratic attempts to pass stronger safety and environmental protections regarding oil and gas operations.
However, on top of those disclosed and regulated expenditures, documents reviewed by Capital & Main show that Noble has also been airing its own corporate television ads against the measure — and the company refuses to tell state campaign finance regulators any details about the ads or about the amount it is spending on the spots.
Although the U.S. Supreme Court's 2010 Citizens United decision deregulated federal campaign finance laws, the ruling preserved state statutes that require direct election expenditures to at least be disclosed. And yet, even as Noble's ads explicitly press Coloradans to vote against the ballot measure, the company has declared that such ads are not governed by state campaign finance or disclosure laws.
Noble's move represents a bold step even beyond Citizens United: In effect, a company that turns fracked gas into corporate profits has found a way to stealthily pipe a portion of those riches around campaign finance laws and directly into an electoral process that is supposed to empower workaday Coloradans to regulate fossil fuel development.
"It looks like a potential loophole in the law that does allow a corporation to spend unlimited amounts on influencing ballot initiatives without reporting their spending," said Brendan Fischer of the Campaign Legal Center.
Noble could have simply spent more disclosed money through Protect Colorado — the regulated issue committee that files paperwork with the state. But with Protect Colorado already having saturated the airwaves with so much advertising — and with critics hammering the group for spending so much cash against the ballot initiative — Noble's new unregulated ads could be a deliberate strategy to confuse voters.
"It may be that Protect Colorado, with all of its advertising, has come to the end of a happy run of having a credible brand," election lawyer Mark Grueskin told Capital & Main. "They may want to make it look like there's a bigger, broader political consensus about these issues, and that it's not just all oil industry money protecting oil industry interests."
"We Do Not Disclose Our Advertising Budgets"
Noble's ads are explicit demands that Coloradans vote against Proposition 112 in the upcoming election.
"When you vote, we need your support to stop Proposition 112, so we can continue producing the natural gas and oil that power our daily lives," says one of the ads.
When asked if the spots are political ads, a Noble spokesperson told Capital & Main: "No."
That claim conflicts with FCC filings made by the TV stations airing the ads, as required by federal law.
Since the beginning of September, at least 12 Colorado TV stations have reported direct advertising from Noble in their political files, which are legally required disclosures "of all requests for broadcast time made by or on behalf of a candidate for public office." In FCC records, the Noble advertising is listed under "Non-Candidate Issue Ads" alongside ads from PACs like Fair Maps Colorado and the National Republican Congressional Committee.
The FCC records also show that Noble's ad campaign is being managed by the same consulting and media firms that are being retained by Protect Colorado, the industry-funded committee opposing Proposition 112. Disclosure forms identify Sadler Strategic Media as Noble's representative in placing the ads on Colorado TV stations; the California-based firm has also placed advertising for Protect Colorado. The same forms show that both Noble and Protect Colorado are represented by Pac/West Communications, an Oregon-based lobbying and public affairs firm.
Whereas state campaign finance records allow voters to see the total amount different groups are spending on elections, Noble's move allows the company to obscure those details.
"We do not disclose our advertising budgets," a Noble spokesperson told Capital & Main when asked about the undisclosed ads. "NBL opposes 112. NBL has the right to express its own views."
The lack of transparency stands in contrast to Noble previously touting its alleged commitment to disclosure.
"Transparency also extends to our political activities," wrote the company in 2017. "Noble Energy's participation at the local, state and federal level of government is essential to our long-term success. As part of the process, we disclose our political contributions online through our Political Activity Report…Transparency has proven time and time again to play a critical role in a company's business success."
"This Type of Activity Is Likely Legal"
In his reelection bid, Williams, the Colorado Secretary of State, has presented himself as a tough and impartial enforcer of the state's campaign finance and disclosure laws. However, without conducting any investigation, his office has now preemptively declared that Noble's unregulated and undisclosed ads are permissible.
"This type of activity is likely legal," said Williams' spokesperson Lynn Bartels.
Williams has served as an executive committee member of the Republican Secretaries of State Committee, whose parent organization has received $500,000 from Noble Energy since 2016, according to IRS filings. During Williams' 2018 reelection bid, that parent group, the Republican State Leadership Committee, has funneled $500,000 into a Colorado group whose mission is "to support Republican candidates for state house, state senate and statewide office," according to state records.
In a 2016 interview with the New York Times about the overlap between secretary of state candidates' fundraising and public policy, Williams declared: "When you are trying to raise money, you try to work with people who have an interest in the subjects."
In this situation, Williams appears to be working to interpret Colorado laws to let GOP donors like Noble directly bankroll future election campaigns without restrictions or transparency requirements.
According to the Colorado State Constitution, a group is supposed to be regulated as a political committee if it has "a major purpose of supporting or opposing any ballot issue or ballot question." State law says a "major purpose" is displayed by a group's "production or funding, or both, of written or broadcast communications, or both, in support of or opposition to a ballot issue or ballot question."
Though Noble is leading the opposition to the ballot measure and is broadcasting television ads against the initiative, Bartels asserted that Williams' office believes "it is unlikely Noble Energy would be found to have a major purpose of opposing Prop 112, and therefore wouldn't meet the requirement to register."
"There's been a lot of litigation about [major purpose]," Christopher Jackson, a Denver attorney who specializes in election and campaign finance law, told Capital & Main. "A lot of people have argued that means something like at least 51 percent of your funding would have to be towards this particular issue. [But] because the law says 'a major purpose,' that suggests that an organization can have more than one major purpose, so maybe that doesn't have to be a requirement."
The Campaign Legal Center's Fischer said that while Colorado law requires certain disclosures by groups that are spending to influence candidate elections, those same requirements may not apply to ballot measures like Proposition 112.
"When a group like Americans for Prosperity spends money [on candidate elections] in Colorado, they at least have to report their expenditures, if not their donors," said Fischer, referring to the Koch brothers' advocacy group. "Colorado could require something similar for spending on ballot initiatives, but it doesn't appear that it has done so."
---
Copyright Capital & Main