An Education: How Prop. 32's Backers Have Tried to Ditch Public Schools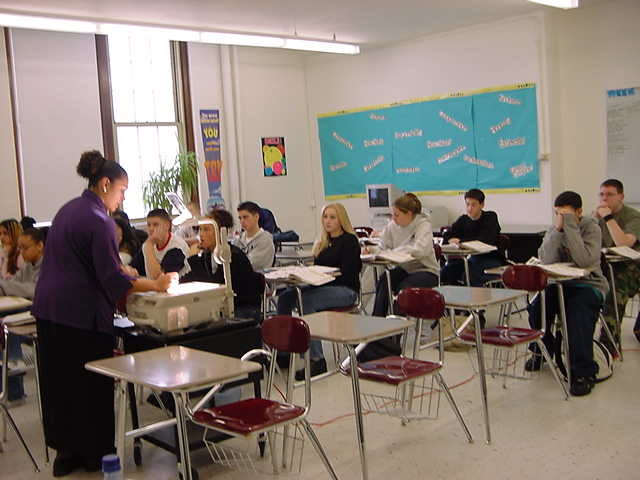 The billionaire backers of Proposition 32 are an eclectic bunch–from bow-tied Tory parodies like Charles Munger Jr., to Bible-thumping fire-breathers like Larry T. Smith, to old-fashioned oil tycoons like the Koch brothers. Over the years members of this crew have combined to push a number of conservative pet projects through the halls of Sacramento's Capitol–on every issue from stripping gay rights to dismantling environmental protections.
But if there's a common philosophical through-line connecting Prop. 32's moneyed donors, it's that almost all of them advocate some version of the full or partial dismantling and privatization of California's public schools and its higher education system. And, above their Prop. 32 efforts, hovers the ghost of a far-right education ballot initiative that was decisively rejected by voters 12 years ago.
The group's most radical anti-public education advocate is third-generation venture capitalist and "viral marketing" guru Timothy C. Draper–who thus far has given $100,000 to push Prop. 32.
In 2000 Draper was the brains and the piggybank behind Proposition 38–arguably the most extreme school voucher effort in recent American history. The measure would have drained California public school coffers to give students up to $4,000 in taxpayer-funded vouchers to pay for private schools. The bill included no means testing, so that children of privilege who were already attending California's prep schools would be given an unneeded subsidy for their elite education.
Additionally, Draper's state vouchers could have been used towards religious schooling— potentially, public money could have been funneled towards the teaching of creationism or homophobic Bible courses.
Draper gave a monumental $23,386,553 to the effort.
He was joined in his pursuit of radical vouchers by his father, William Draper III, who gave $2,044,730 to the cause. The senior Draper is also a major donor to Prop. 32.
The overlap between Prop. 38 and Prop. 32 doesn't stop there. Former Univision CEO Jerry Perenchio gave $1,040,000 to back Prop. 38 and to date has donated $250,000 to Prop. 32. One of the Republican Party's biggest pocketbooks, Perenchio has spent upwards of $50 million in recent years to swing the national political compass rightward. He recently gave $2 million to Karl Rove's American Crossroads PAC and was the national co-finance director of John McCain's 2008 presidential run.
Though Perenchio's pattern of donations to right-wing candidates would seem to imply he is a small-government, starve-the-beast conservative, that philosophy apparently doesn't apply when it comes to acting upon his distaste for public education. In 2000 the California Legislative Analyst's Office estimated that the Perenchio-backed Prop. 38 would cost California taxpayers upwards of $3 billion within five years. Not surprisingly, voters were cold to the idea.
"Do they want their tax dollars taken from public schools and spent on helping rich people send their children to private schools?" George Skelton asked in a 2000 Los Angeles Times column. "Probably not."
With Prop. 38 lagging in the polls, supporters began holding online raffles for Apple iMac computers and Hawaiian vacations in an effort to drum up more interest in the campaign. These weren't enough: Prop. 38 failed by a 70 percent to 30 percent margin.
According to Cynthia Brown, Vice President for Education Reform at the Center for American Progress, there's no empirical evidence to justify a measure as drastic as a Prop. 38-like voucher program–which is likely part of the reason the measure failed so miserably. But that isn't going to stop voucher advocates like Draper from trying.
"Communities of color and poor communities are getting very discouraged with the slow pace of education reform and with poor outcomes," says Brown. "They'll take any means available to get into other schools."
Expect voucher advocates to take advantage of that desperation.
"We're going to see quite a bit of [voucher measures pushed] in the next few years," Brown predicts.
While the Drapers, Perenchio and their Prop. 38 crusade may be the most extreme example of the wealthy's impulse to eliminate public education in California, other Prop. 32 backers aren't far behind.
William Oberndorf is a co-founder of the Mill Valley, California investment firm SPO Advisory Corp. and a $150,000 donor to the Prop. 32 cause. He is also the chairman emeritus and founding board member of the national voucher-advocacy group Alliance for School Choice–which has received donations from the Koch Institute as well as the Walmart heirs' Walton Family Foundation–and gave $376,793 in 2009 to the radical right-wing voucher organization American Federation for Children.
Oberndorf has referred to Indiana's voucher law, passed in 2011, as the "gold standard" of American educational models. Similar to California's failed Prop. 38, the law gives students upwards of $4,500 in taxpayer subsidies annually towards private school tuition. Unlike Draper's California effort, however, Indiana's conservative voucher backers were politically astute enough to means-test their program. Only families earning under $62,000 are eligible for the subsidies–although the bill does grant a universal tax write-off of $1,000 per child already enrolled in private school. Oberndorf is so appreciative of the law and its potential to become a model for California that he recently channeled $10,000 into the reelection of Indiana Superintendent of Public Instruction Tony Bennett.
Vouchers aren't the only public educational boondoggle Prop. 32 backers want to impose on California:
Investment banking billionaire Frank E. Baxter is a member of the Common Core movement to establish a national standardized testing regime on American students.
Public storage magnate B. Wayne Hughes, meanwhile, though largely media shy, isn't afraid to publicly rail against America's "entitlement culture"–which appears to include public funding of higher education.

"

When I went to college, I had to drive a truck to pay," he told

GQ

earlier this year. "I had a partial scholarship, but I took care of myself. Some people don't belong in college!"
Robert J. Oster is v

ice chair of Stanford's conservative Hoover Institute think tank – and

also happens to be the chairman of the board of directors for the massive charter school company Summit Public Schools (where 2010 Republican gubernatorial candidate Meg Whitman is also a board member).
If Prop. 32 passes, its moneyed backers will no doubt fight out their differences on education amongst themselves. The rest of California would just have to wait and see what form the demolition of its public school system eventually takes.

The Climate Summit's Inconvenient Truth: People Need Jobs
Co-published by Fast Company
Much of the recent gathering in San Francisco involved corporate and government backslapping — noble but too easily mocked.

Co-published by Fast Company
Amid the swell of protesters demanding California put an end to oil, and a police force growing irritated with their monotonous chanting ("I'm going to be singing that one in my sleep," said one officer), I met Theodore Hunt. It was not a chance meeting. Earlier, on the first day of the Global Climate Action Summit at San Francisco's Moscone Center, I had rented an electric-assist bike to get to a lunch meeting, navigating the downtown streets by way of Google Maps with my iPhone in the bike's basket. In a rush to lock up the bike outside the restaurant, I left my phone behind.
Hunt was my savior. When I called my number on a borrowed phone, he answered, and promised to leave the phone for me later at the office of the bike company. But the office was far, and I needed my phone, so instead I tracked him down using an iPad and the Find Your iPhone app. When the tiny phone icon showed up at a building across the street, I scurried down three flights of escalators, borrowing phones along the way to sync up my coordinates with Hunt. Cops, security guards, random strangers — by the time we all spotted a tall African-American man on a bright red bike waving from across Third Street, it seemed all of San Francisco had become invested in our saga. When Hunt and I made the handoff and I hugged him with gratitude, a small cheer went up.
It was a magically reassuring moment during an international gathering of climate activists, elected officials and corporate leaders who had come here committed to holding the United States to the terms of the 2015 Paris Climate Agreement, Trump and his administration be damned.
Much of the summit was simple corporate and government backslapping — noble but too easily mocked. What does it matter if General Electric presents its climate ideals when the corporation refuses to back down on plans for a new coal plant in Kenya? Starbucks might have banned plastic straws, but emissions still accumulate in the long lines at its many drive-throughs. And McDonald's? Really?
For protesters outside the fences, maintaining global temperature below the point-of-no-return threshold means that, in some cases, entire industries have to be shut down. "We have to keep 80 percent of the fossil-fuel reserves that we know about underground," the noted author and climate warrior Bill McKibben has written. "If we don't—if we dig up the coal and oil and gas and burn them—we will overwhelm the planet's physical systems, heating the Earth far past the red lines drawn by scientists and governments."
The problem with that strategy is that with those industries, oil and coal, come many thousands of well-paying, often union jobs. "Climate strategies that leave coal miners' pension funds bankrupt, power plant workers unemployed, construction workers making less than they do now," said AFL-CIO President Richard Trumka in a speech on opening day, "fundamentally undermine the power of the political coalition needed to address the climate crisis." The issue of the climate versus jobs will be used by the foes of both labor and clean energy to divide the country, Trumka noted. It already has.
In the near term, if oil extraction were to suddenly come to an end in California, 30,000 people would lose their livelihoods, and thousands more will be out of work in places where industries depend on California oil. In the long term, jobs wouldn't be available to a new generation full of people like Theodore Hunt — smart, honest and capable, but not necessarily pre-armed with the privilege and educational credentials to parlay those qualities into a six-figure job. Hunt, who is 28 and single, told me he works as much as he can: As a mechanic servicing the city's network of electric bikes, he can earn as much as $800 on a busy week. If he meshes his maintenance duties with a food-delivery service, like Uber Eats, he might make $1,200 in a week — a decent living wage almost anywhere besides San Francisco, where he can't afford to live.
But the big weeks are rare, and if Hunt gets sick, or injured, or takes a mental-health break, he doesn't get paid at all. He belongs to the 8.5 percent of California workers whom the University of California, Berkeley Labor Center calls the "unincorporated self-employed." He gets paid when he delivers a meal or services a bike. He does not get paid when he stops to eat lunch. If he wants health insurance, he must buy it himself.
Hunt likes his job: The hours vary, he gets to be outside, he interacts with people. Like so many other "green" jobs, Hunt's is many times more pleasant and safer than mining coal, or working on an oil rig. But it's not a steady living on which to buy a house or support a family.
Nor is installing solar panels on rooftops, a job that generally pays $14 to $20 and hour, rarely with benefits. Trumka told the summit that 4,000 megawatts of solar had been installed in the San Joaquin Valley over the last two decades. "Fifteen million job-hours of union work, at union wages and with union benefits, made that possible," he said. But once those plants are built, it takes only a few people to keep them operating, and no one has to mine the fuel. The same math applies to wind farms: Once the turbines are up, most of the work is done.
Paul Getsos, national director of the People's Climate Movement, has spent more than a decade thinking through what it means to bring the labor movement into the climate fight by way of a just transition for workers. He organized in disadvantaged communities around the Obama administration's stimulus package. Later, he assessed green jobs for the Center for Community Change, and found that "the promise of 'green jobs' wasn't fulfilled for a lot of communities. There's a very narrow view of what a 'green job' is." The solution to the worker-transition conundrum for a 100 percent clean energy economy is to expand that definition. "Manufacturing electric cars is a 'green job,' said Getsos. "Rebuilding infrastructure in North Carolina to keep people safe from coal ash — that's a 'green job.'"
Retrofitting homes and business to use less energy is also a green job — and one of the best, according to Getsos: "[Energy efficiency] is one of the areas where there is access to new jobs that don't require higher education." It's also ripe for job growth. In New York City, a mandate to retrofit the city's buildings — which account for two-thirds of the city's greenhouse gas emissions — will yield 17,000 jobs between now and 2030.
Energy efficiency isn't a big field in some of the smaller towns where dirty fossil-fuel plants exist. In Centralia, Washington, where a coal plant employing 300 workers making $80,000 a year will begin shutting down in 2020, environmentalists and labor negotiated an agreement with the city and the plant operator, TransAlta, to invest $55 million in worker retraining and community development in exchange for an expedited permit to build a natural gas plant on the same site. (Natural gas isn't perfect, but for the climate it's better than coal.)
Legislators could also intervene with laws granting benefits and collective bargaining rights to people like Theodore Hunt. As smart technology expands further into transportation and utilities, some necessary jobs will become more fluid for employers and less rewarding for workers. California Assemblymember Lorena Gonzalez Fletcher has introduced two bills over the past few years to give contract employees workers' compensation benefits and the right to form and join unions, and Assemblymember Evan Low last session brought up a bill that would guarantee contract workers portable benefits. None have yet made it to the governor's desk.
"We can't just say 'green jobs'," Getsos said. "We need to say green jobs, good jobs and worker access."
Those principles might be as consequential to the clean-energy economy as are the protesters' demands.
---
Copyright Capital & Main