Amy Klobuchar's Uneasy Middle Ground on Climate Change
The presidential candidate has staked out a political stance between incremental change and panic over our warming planet.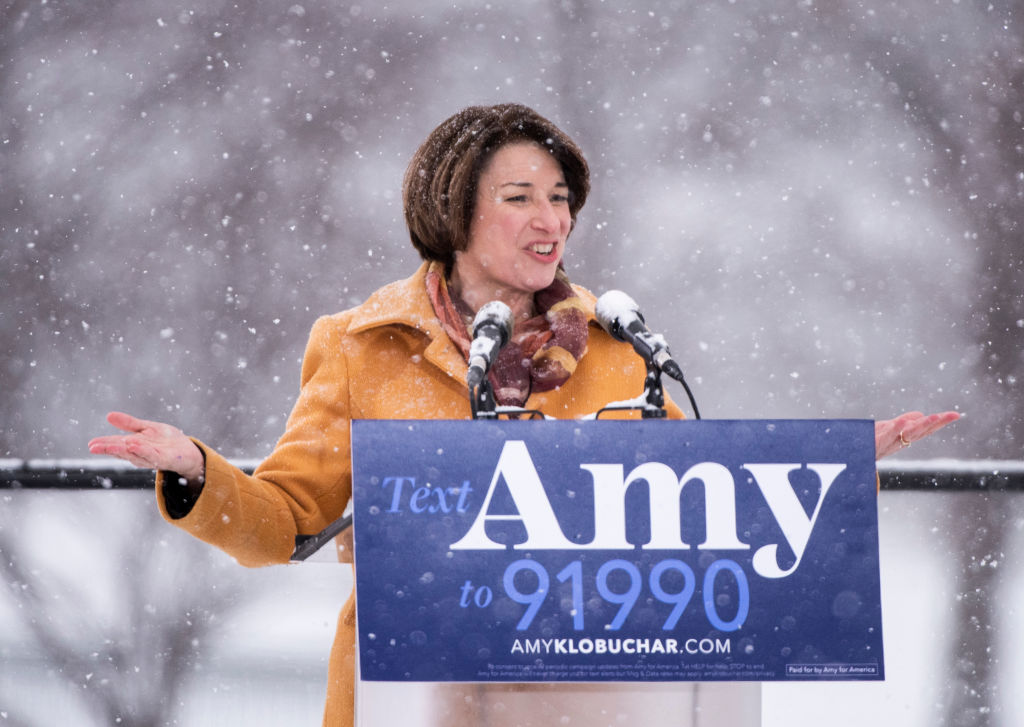 In the months before the Iowa caucuses, while Democratic presidential hopefuls were glad-handing and baby-kissing and rallying throughout the state, the nonprofit Bold Iowa sent out its environmental activists on a mission: To press each candidate on their climate stances and document their responses on video. "We had about 250 people who had agreed to birddog candidates on climate,'" says the group's "agitator-in-chief," Ed Fallon.
The volunteers, some dressed up as penguins to memorialize the loss of the world's second-largest emperor penguin colony last April on Antarctica, were especially concerned with whether candidates supported the Dakota Access Pipeline, which crosses 18 Iowa counties carrying oil from North Dakota to Illinois. The proposal by the Texas-based company Energy Transfer to double its capacity is "hands down the biggest climate story here in Iowa," Fallon says.
---
"The Heat 2020" explores the nexus of climate change and politics in the current election year. It will cut through the sound bites and press releases to chronicle a most fateful year for our environment and country. 
---
Nearly every candidate, from Sen. Bernie Sanders to Tom Steyer, has opposed the pipeline expansion. Some, including Sanders, Sen. Elizabeth Warren and former mayor Pete Buttigieg, have signed the "No Keystone XL pledge," promising to reverse two of Trump's executive orders — one permitting TransCanada's 1,200-mile-long pipeline through the west-central U.S., and another expediting the Dakota Access expansion.
Andrew Yang wouldn't take a position, but he at least got a kick out of the penguins. "We saw him at the Polk County Steak Fry, and he walked up to the penguins and gave them a big hug," Fallon says.
Minnesota Sen. Amy Klobuchar, however, was not amused. "We had three penguins sitting right in front of her at an event in Iowa Falls," Fallon remembers. "When it came time for questions, she said, 'I'll [call on] humans first.'" After that, she ignored them.
"The penguins kept raising their little fins," Fallon laments. "No response." Finally, Fallon, who was not "penguined up," raised his hand. Klobuchar let him speak.
Said Fallon: "I'd like to defer to the penguins."
  *   *   *
Amy Klobuchar is not a climate denier. Instead, she has staked out an uneasy middle ground between incremental change and panic over our warming planet. She would restore Obama-era fuel efficiency rules and allow California to regulate its own tailpipe emissions, but not order a quick transition to zero-emission cars. She would restart the Clean Power Plan, established in 2015 to cut carbon emissions from power plants and unceremoniously disabled by Trump two years later, but stops short of demanding 100 percent carbon-free electrical generation within the next 10 years, as Sanders and Warren have promised to do.
"[She] rejects the [stick] aspect and thinks all we need are carrots," says Brett Hartl, director of government affairs at the Center for Biological Diversity. "It's like tying one hand behind your back to solve the greatest threat to the planet in human history."
Nor, Hartl argues, would it make progress fast enough to save humanity. "Science says that if we don't get off fossil fuels in the next 10 years, the math just doesn't work."
Yet Klobuchar is also the granddaughter of a miner from Minnesota's Iron Range. The region was once reliably aligned with Minnesota's Democratic-Farmer-Labor party and its early history of progressive labor activism. But since the market for iron ore declined and its economy cratered, northeastern Minnesota has been trending increasingly conservative. Klobuchar has benefited by not alienating its voters: In 2018, she prevailed in Minnesota's Itasca County — site of the state's richest iron ore deposits — by more than 10 points. Two years earlier, Trump had won the county by 16.
Klobuchar has not only refrained from making any promises to speedily phase out fossil fuels, she has touted natural gas as a "transitional fuel," despite new research that finds atmospheric methane, the primary component of natural gas, has "more than doubled" since the preindustrial era. (Methane, which leaks from natural gas facilities, dissipates faster than carbon dioxide, but before it does it warms the planet with exponentially more force.)
Such moderate pragmatism on the environment — Klobuchar has also supported delisting the gray wolf and equivocated on a copper mine proposed near the state's pristine Boundary Waters Canoe Area Wilderness — is no doubt part of the secret to the senator's bipartisan success. Ironically, however, it could cost her Democratic delegates. Seventy-eight percent of Democrats surveyed in a February 13 Pew Research poll name climate change as a top policy priority for the president and Congress.
Klobuchar is still favored to win her home state on Super Tuesday, March 3 (and she would handily beat Trump there in the general). But her climate platform will likely cut into her margin of victory. Minnesota, as it happens, has its own pipeline problem: The Canadian oil distributor Enbridge Energy wants to replace its aging Line 3 pipeline to bring even more crude from Alberta's oil sands through 282 miles of Minnesota's north country to Superior, Wisconsin. The project would add 193 million tons of carbon dioxide to the atmosphere every year, more than the annual carbon emissions of Minnesota's entire economy.
"I have no crystal ball on it," says Andy Pearson, Midwest tar sands coordinator with the Minnesota chapter of the climate nonprofit 350.org. "But I know a lot of people for whom the pipeline is a make or break issue. It's a fundamental climate test."
Early in her campaign Klobuchar accepted donations from Enbridge's Robert Kratsch, a projects manager in Superior. She has since returned the money. Now she says she'll side with the state's DFL governor, Tim Walz, and wait for more environmental reviews.
To Brett Hartl, there's only one sure way around all the pipeline controversies: A president who does what climate scientists and their allies are calling for and halts all fossil-fuel exports with a day-one executive order. Sanders and Warren have promised to do so; the rest of the field have not.
"If you ban all the exports, you have very few incentives to build pipelines," Hartl says. "That's what's really important."
Amy Klobuchar's campaign did not respond to repeated requests to comment for this story.
---
Copyright 2020 Capital & Main