AMP-ing Up the Fight Against Evictions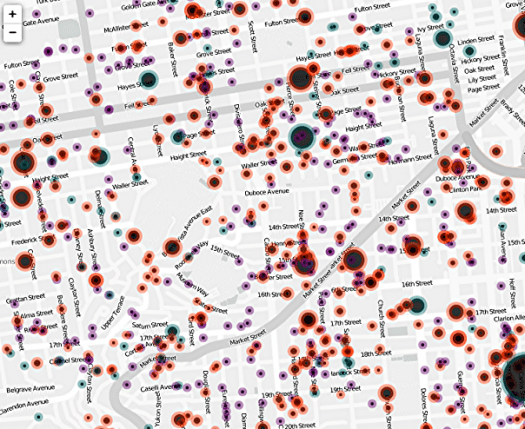 Portion of map showing San Francisco evictions.
The Anti-Eviction Mapping Project (AMP) was formed to show how speculators target Bay Area communities — and, in our small way, to assist in affecting change. The volunteer AMP collective grew from tangential connections of concerned strangers in April, 2013. Four core members—Erin, Julia, Olivia and myself—have expanded to 12 and counting. We share a deep concern for the growing displacement of our friends and neighbors, yet as individuals, we were initially unsure how we could participate in stopping it.
AMP's members have varying strengths in data analysis, research, web design, programming and direct action which all complement each other. We hope that our maps and digital storytelling can de-isolate the victims of no-fault eviction and also serve as tools for collective resistance.
San Francisco, like most large cities, is predominantly composed of renters—65 percent. Renters feed the city apparatus as voters, small business owners, and vital service providers such as schoolteachers, nurses and trade workers. However, when stories appear about impossible rents and the trauma of eviction, speculation apologists will say in that if you cannot afford a city, you can move elsewhere—as if residents are merely worn-out dollar bills rather than citizens invested in a city's dynamic culture. As we have seen with the foreclosure crisis, even home owning offers little protection from unfair housing practices.
The Ellis Act is a state law that allows property owners to get out of the business of being landlords. It is typically enacted by new owners who within months of purchase give notice to remove all tenants—including model tenants who have paid on-time for decades—to create condominiums for more affluent people. Precious rent controlled units, which have allowed the working class to remain in the city, are permanently removed in the process. Since the epidemic use of the Ellis Act seems particularly concentrated in San Francisco, it is difficult to gather the statewide pressure needed for reform. We are at the mercy of a distant Sacramento as our neighborhoods are torn apart. Recently AMP has teamed up with Tenants Together, a statewide tenant organization, to create visualizations as they push for Ellis Act reform.
Our first map showed the cumulative effects of Ellis Act evictions on San Francisco over time. We intend to show that serial abuse of the Ellis Act often comes from out-of-state entities or individuals who hide their actions by setting up multiple limited liability corporations.
San Francisco's housing activists are engaged in a three-pronged strategy which is starting to see some success. There are established nonprofits working on crafting better legislation; direct action groups empowering victims and making their concern visible on the streets; and story tellers, such as ourselves, who attempt to paint a more complete picture and reiterate the human costs of the profit drive. The three prongs are in constant conversation with each other. Our city's board of supervisors has increased its attention to displacement and some supervisors now appear at anti-eviction rallies to show their support.
As activists have managed to draw national attention to San Francisco's affordability crisis, the mainstream media have tried to paint the conflict as a clash between the "new economy of tech workers" and stubborn residents who don't realize the world is changing around them. However, tech comprises only eight percent of San Francisco's jobs. What is missing from this narrative is the fact that $3,000 for a small studio is too much to pay – whether you are a tech worker or a fourth generation working class San Franciscan.
The focus on San Francisco's misunderstood "tech clash" is ironic because many Bay Area activists (our collective especially) feel akin to the communalistic ethics of some hacker spaces. Some of our members are even found in these spaces. San Francisco may have 1,600 new millionaires from Twitter's IPO, but it also contains the Electronic Freedom Frontier and Craigslist. We feel stories about indifferent tech workers are a diversion from the real culprits behind speculation. AMP's attempt to illuminate the serial evictors and the real estate investment companies engaged in cruel forms of displacement, will hopefully refocus the debate.